Whether you're a novice or an expert in the kitchen, it goes without saying that cooking is indeed an art that can be mastered by everyone. If you've been following our blog, you'll be familiar with the launch of our first global digital cookbook, Culinary Perspectives, which comprises eight delectable dishes curated by an award-winning food writer and director, Joshua David Stein.
We're taking you through one recipe each week so you can master the craft. On the menu today: keema curry, a recipe by Takeshi Fukuyama.
INSPIRATION FOR KEEMA CURRY
A collaborative effort between Gaggan Anand and Fukuyama, Keema curry, which originates from India, is often made with minced mutton and peas (Keema means minced). Here, Fukuyama and Anand have used their own interpretation of the dish by using minced pork, cooked in a delicately flavoured vegetable curry. Crafted specifically to cook at home, the dish represents friendship and the embarkation of the new GohGan project.
INGREDIENTS FOR KEEMA CURRY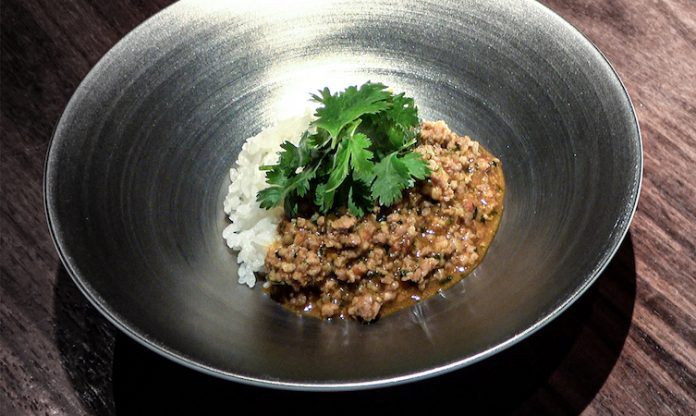 Here are all the ingredients you will need to create keema curry.
600g minced pork
30g garlic
75g onion
45g carrot
45g celery
3 bay leaves
3 – 5 tomatoes
3 –10 green chilis
3 – 10 head of coriander
3g turmeric
3g chili powder
1.8g cardamom powder
30g ginger
120ml salad oil
180ml bouillon
9g salt

DIRECTIONS
Mince all vegetables except the tomatoes.
Cut tomatoes into 1 cm cubes.
Add salad oil to a pot and fry the garlic over the heat.
When the smell comes out, add the onions, carrots, celery, a pinch of salt, bay leaves and sauté well.
Add green chilies, corianders and cardamom and sauté.
Add the tomatoes, chilli powder and turmeric and sauté until a paste.
Add the minced pork, the rest of the salt and sauté until it gets brown.
Add the ginger, and bouillon and simmer lightly to taste. Serve it with rice and top with coriander if you like.
Click here to download the recipe card.
ABOUT CHEF TAKESHI FUKUYAMA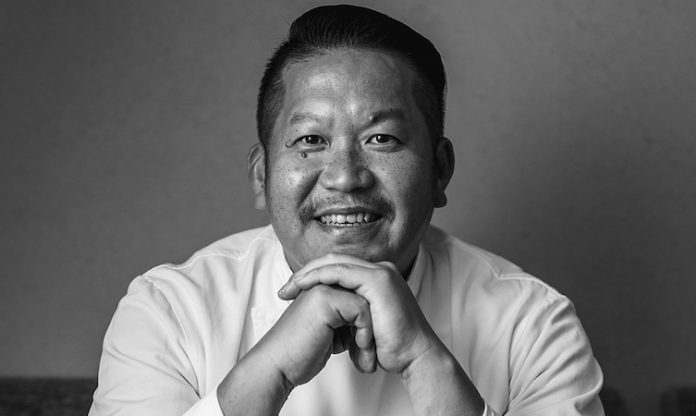 Chef Fukuyama grew up in Fukuoka, on the northern shore of Kyushu island, but has trained at the highest levels of French cuisine since he was 18 years old. First at ile de France and later at Mercury Wine Bar. Fukuyama has developed an exquisite sense of hospitality which he brings to Maison de la Nature Goh, a restaurant he founded in 2002. Since then, the perpetually booked restaurant has earned a number of accolades, including a spot on the prestigious Asia 50 Best list. In 2020, after meeting Indian chef Gaggan Anand, Fukuyama decided to change his focus to the creation of a collaborative restaurant featuring both chefs, called GohGan.
PERSPECTIVE
"I don't think you need to pay a lot of money to eat out if you just want to fill your stomach," says Fukuyama. "Still, there are people who come to my restaurant. I want to try my best to satisfy them." A master of omotenashi, the Japanese word for hospitality, Fukuyama painstakingly records his guests' preferences so the next time — if they're lucky enough to book one of the limited number of seats — he'll know what to avoid and what to feature. The cuisine at Maison encapsulates rich local ingredients, prepared with haute French cuisine and served with deep care for the guests.
Read more: Lexus launches its first cookbook: Culinary Perspectives
Read more: Prosciutto and Gribiche on Toast recipe by Neil Perry
Read more: Chicken Meatballs recipe by Yuta and Sharlyn Kobayashi
Read more: Tom yum chicken consommé recipe by Charles Tan
Read more: 48 Hour Cured Mahi-Mahi recipe by Yang Po-Wei
Read more: Beef nigiri and asparagus with black sesame by Sachi Nomura