Christmas is a time of traditions, but why not create some new ones this year? For a fresh twist on your festive rituals, take inspiration from Japan – one of the world's most hospitable and creative nations – to incorporate new flavours, decorations and philosophies into your celebrations. Read on to discover our ideas and advice, plus Japan's own (rather unexpected) traditional Christmas dinner…
Embrace omotenashi
If it's your turn to host the family this Christmas, be inspired by the ancient art of omotenashi to make the day extra special. It is the Japanese philosophy of 'ultimate hospitality': anticipating your guests' needs before they even realise them, which is practised everywhere from traditional tea ceremonies to Lexus's own award-winning showrooms.
Small touches are paramount, such as laying the table with your guests' favourite condiments, arranging thoughtful place settings, and seating nobody too far from (or close to) a radiator. Can you arrange off-road parking for your guests? If they're staying overnight, how can you make them feel truly at home? For more ideas, check out our 12 omotenashi secrets for hosting the perfect Christmas.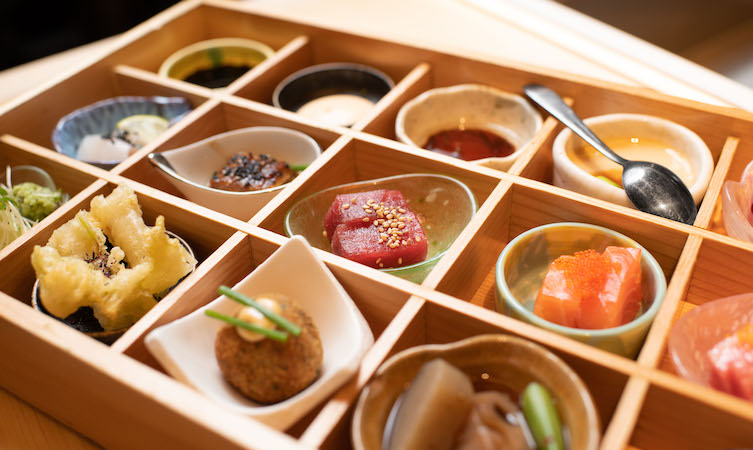 Make dazzling decorations
Japan's traditional paper crafts are ideal for decorating your Christmas dinner table – whether that's folding origami Christmas trees (YouTube has countless tutorials), mastering Lexus's own cat-themed design, or sharpening a scalpel to create a beautiful pop-up kirigami scene. Use double-sided gift wrap to give your origami real festive flair, or go traditional Japanese with suminagashi (ink-marbled) paper: this Shuko Suminagashi Christmas Paper Star kit is a great place to start.
Give turkey a miss
In Japan, the main Christmas dinner dish isn't turkey – it's KFC. Believe it or not, this finger-lickin' fast food is the nation's favourite on 25 December, with long queues at outlets everywhere from Tokyo to Sapporo, and a festive-inspired menu to mark the occasion. Yes, fried chicken is a long way from Britain's traditional turkey and trimmings, but it would certainly cut down on washing up – and you must admit it's tempting to order a delivery and keep your feet up…
Wrap it differently
For a stylish, environmentally friendly alternative to wrapping paper, why not try furoshiki? This Japanese tradition involves wrapping decorative fabrics around your presents, and tying them up with a knot: no sellotape, no scissors, and no waste. The
fabrics can be recycled year after year, and you can even buy special festive prints from the likes of Hanabee, Wrappucino and Fabrap. See our furoshiki tutorial for tips.
Christmas dinner: re-think your drink
For a new twist on your festive tipple, ditch the mulled wine: it's time to give hot sake a go. During Japan's cold winters, sake is often served as nurukan (warm) or atsukan (hot), gently heated to soften its flavours and enrich its aromas – ideal for warming your cockles this Christmas. Browse Japan Centre's authentic sake collection for inspiration.
Christmas dinner: end the year on a sweet note
In Japan, it is traditional to celebrate the new year by making, giving and eating mochi rice cakes. The cooking process is long and complex, involving the steaming and pounding of rice – but ready-made mochi provide a simpler sweet fix. Japan House London sells matcha (green tea) and white peach flavours, or try Ai No Mochi's Nutella and peanut butter varieties. Serve them with refreshing cups of green tea (a great after-dinner palate cleanser), or with Prosecco and yuzu purée – a Japanese twist on a mimosa cocktail.