Everything is bigger in America, from the landscape to the food offerings. From the Grand Canyon to an 8lb burger, I'd seen and tried it all on my recent journey across the States with the Lexus LS 460.
I wanted to find out for myself if the same is true for car sales across the pond, so I took a detour to El Monte, a suburb in north-east Los Angeles, to visit Longo Lexus.
One of the first Lexus dealers in the world, Longo has been with Lexus since the brand's inception in 1989 and has consistently ranked as the number one dealership in the Western United States.
Arriving on a scorchingly hot day, the scale of what lay ahead was stunning. While just a few new models were on display in the traditional-looking showroom, many more were held in a brightly lit underground showroom that was once a cold war bomb shelter.
The hundreds of vehicles on display, all neatly lined up in rows, were breathtaking, if a little overwhelming. It's not unknown for a customer to change their mind on a car's colour simply because the one they want is parked so far at the back of the showroom!
Once you've decided to buy (or even if you haven't), the rest of the facilities on site are available for you. There's a finance area for you to arrange payments on your new Lexus, while AAA is there to provide breakdown cover, official department of motor vehicle services and, should you need it, help with airline and hotel reservations as well as discounted movie and local attraction tickets.
If you already have a Lexus, then the 122 service bays should mean that you'll have no difficulty getting the car in for its routine maintenance. Courtesy cars are available, as you might expect, along with courtesy buses to get you to the office. If you want something more flexible, there's an on-site Enterprise Rent-A-Car facility.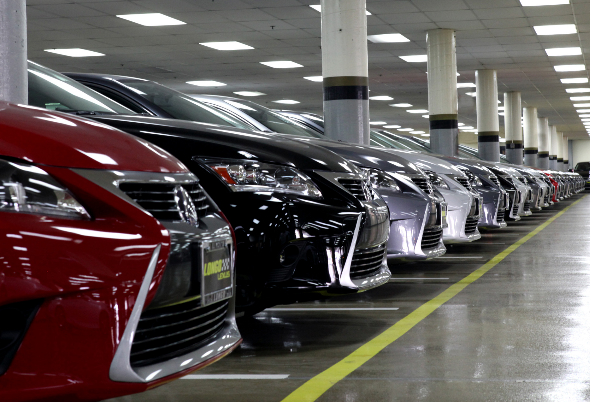 Of course, you could avoid the hassle of going to the service area entirely by taking advantage of Longo's mobile service offering. The team will visit you at home or work and perform routine maintenance right outside your window, or you could opt for a vehicle collection for more major work.
If you do make your way to Longo, you won't want for much while waiting. Right by the service area is a full-size Starbucks for your coffee fix, but if you're a little hungrier then a Subway store sits next door offering sandwiches, salads, wraps and more.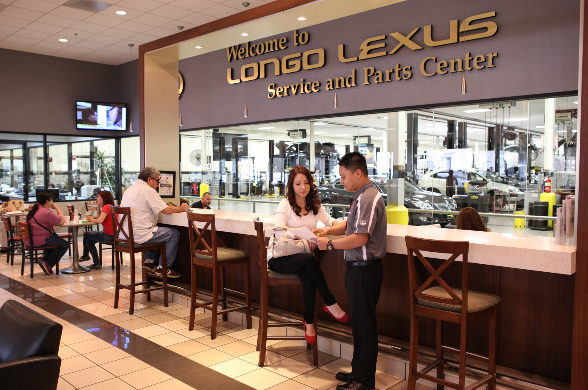 Fed and watered, you can sit back in the business lounge where fully specced computers wait for you to use, or take advantage of the free iPad loans. Naturally there's free wi-fi across the entire site. You may need mobile internet instead though so, should you have also left your phone at home or found it out of contract, the on-site Verizon store will get you connected there and then.
This, then, is something beyond what you would find in the UK. The scale of the dealership is difficult to comprehend, with Longo taking up 52 acres of California real estate alongside its Toyota sibling. That's more the two Millennium Domes, to put that into some kind of perspective.
The Lexus side of the set up employs some 200 people, and Longo looks after them extremely well. Parking up in a newly built five-level multi-storey car park, employees have access to an on-site gym, fitness centre with a full-time coach available and a comprehensive Wellness programme for each member.
Personal development is key, with many staff spending decades with the company, improving their skills as they go along. New technologies and methods are taught at the Penske College that sits in the middle of the building.
Motivated and skilled, the staff turnover is very low – a sign of a good employer – but they're worked hard.
The service department expects to work on around 175 cars each and every day across the 122 service bays, while the body shop can virtually build a car from scratch. Both areas are fully approved to work on Lexus' halo car, the LFA.
A small internet department deals with web enquiries and orders, the six-strong team selling as many as 90 cars each and every month. The rest of the staff are tasked with topping that up 550 sales in May, figures that UK dealers would dream of.
It's an ambitious target, but Longo exists to sell as many cars as possible – with 11 competing Lexus dealers within 30 miles, there's little choice – so make use of two tried and tested techniques.
Firstly, margins are cut wafer thin offering buyers the best value in the area. Secondly, and far more importantly if the number of repeat customers is anything to go by (68%, as you ask), there's an ingrained commitment to excellent customer service that comes from the very top and permeates every level across the dealership.
Does bigger mean better? Maybe…
See also:
Lexus LS takes on Route 66
Lexus LS on Route 66: halfway home
Lexus LS on Route 66: end of the road
Northern Lights: Lexus in the Arctic circle