When the clocks go forward to British Summer Time on the last Sunday of March, and back to Greenwich Mean Time on the last Sunday of October, we're faced with the challenge of remembering how to adjust the time on the many clocks in our possession.
So to make your life a little bit easier, here's how to adjust the clock in all models within the current range. Broadly speaking, the clocks fall into two categories – those with physical buttons for adjustment, and those adjusted via the car's Remote Touch Interface.
Adjusting the time using physical buttons
On CT and IS models without satellite navigation, the clock is adjusted using physical buttons located close to the clock display.
In the CT, the digital clock has three buttons located beside it. The two on the left – 'H' and 'M' – correspond to hours and minutes, and pressing the button will advance the relevant digit. The button on the right is marked ':00', and when pressed will round the clock to the nearest hour.
The IS has an analogue clock which is flanked on either side by two small buttons. Press the button on the left to move the hands anti-clockwise and rewind the time, or the button on the right to make the hands advance clockwise until the desired time is reached.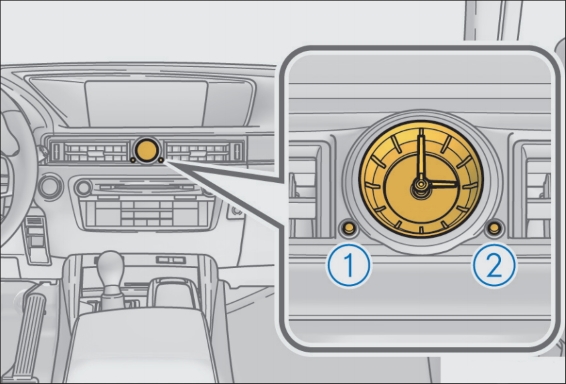 Adjusting the time using the Remote Touch Interface
Most new Lexus models do not use physical buttons to alter the time. Instead, it is automatically set in line with the navigation's GPS. However, it is still possible to adjust the settings or manually adjust the time using the car's Remote Touch Interface.
On the Remote Touch, press the 'MENU' button and then select 'General settings', followed by 'Clock'. Here there are three options that you can set: your time zone, whether you want daylight saving to be active, and whether you wish the clock to auto-adjust.
What if I own an older Lexus?
Adjusting the time in Lexus cars from recent years is likely to be similar to the processes set out above, but for instructions relating to your specific vehicle, it's simple to download an owner's manual from the My Lexus customer portal. If you've not already set up your My Lexus account, simply sign up, log in and head for the e-Manuals section to download the correct manual for your car straight away.
Remember that if you have any query as to the operation of your Lexus, feel free to pop in at your local Lexus centre for help from their trained technicians or contact us on social media and we'll try to help!