As part of its sponsorship of the recent Hampton Court Artisan Festival, Lexus was delighted to be able to offer visitors its own unique celebration of takumi craftsmanship. Throughout the three-day festival, artist Claudia de Sabe was invited to create an original artwork inspired by our theme of electrification – exemplified by models such as the all-electric Lexus UX 300e and plug-in hybrid NX 450h+.
Lexus and de Sabe began their collaboration with the world-first 'tattooed' Lexus UX (below), which quickly became known as a symbol of fine craftsmanship and traditional Japanese artistry. The large tiger mural represents the latest commission from Lexus, so we caught up with Claudia at the Artisan Festival to hear more about the inspirations that led to its design and the effort involved in creating an artwork with an audience.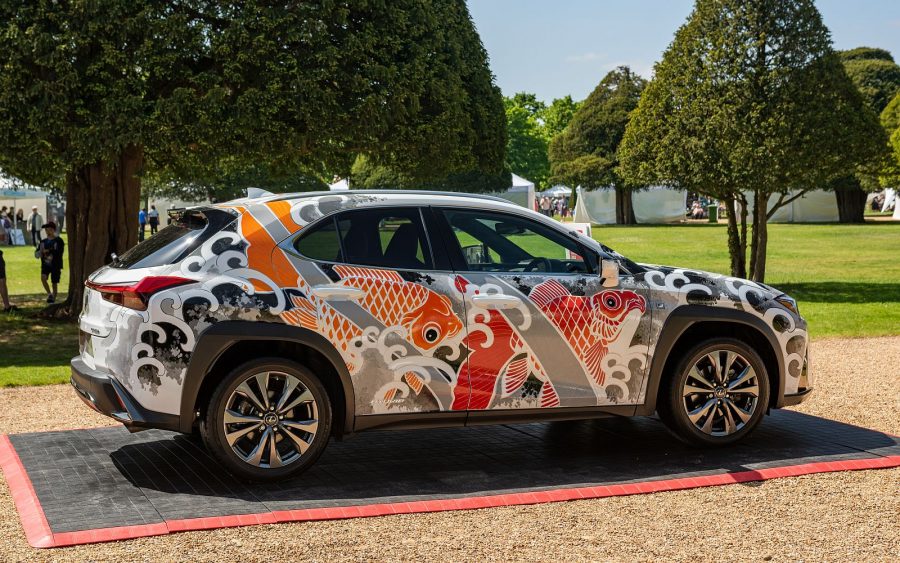 Interview with Claudia de Sabe:
Lexus: What made you want to work with Lexus?
Claudia: "Lexus originally approached me with the idea of a tattooed car, and I thought it was a daring and intriguing concept with lots of design freedom. The collaboration went well so we have continued to work together, earning a mutual respect and generating an organic exchange of ideas."
How did you come up with the concept for this original artwork?
Claudia: "My work is very much influenced by Japanese art, which of course I approach and interpret from the perspective of a westerner. This particular concept started with a simple conversation and the knowledge that 2022 is the Year of the Tiger. Then I starting thinking about various artworks and Japanese screens I had previously seen, which were decorated with water ripples, cherry blossoms and plenty of gold leaf. I took inspiration from each of these and wanted to combine them in one large mural."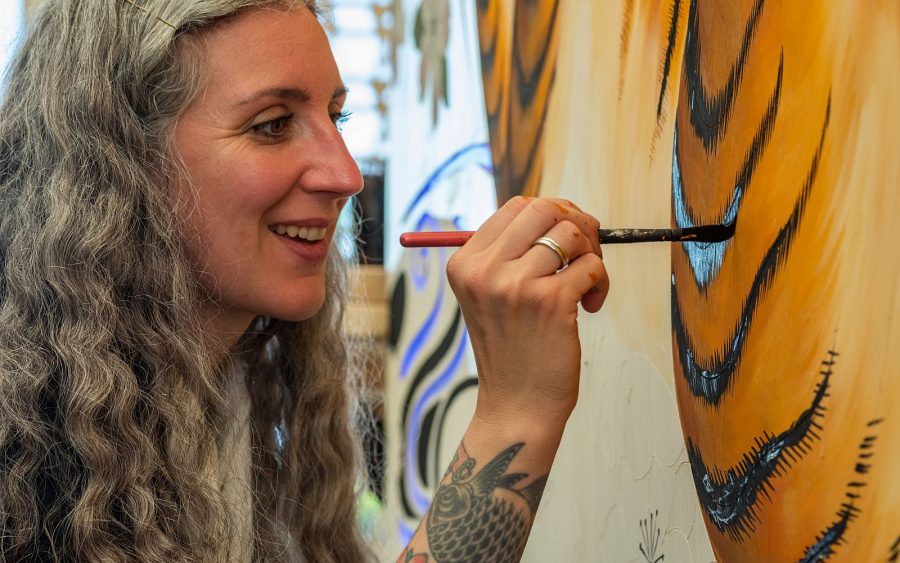 What influence did the Lexus theme of electrification also have on this mural?
Claudia: "I wanted to find elements of electricity that could be brought to life within the overall aesthetic. Electricity reminds me of thunder storms, which inspired me to include streaks of lightning at the top of the artwork and reflect them in the water below to balance out the artwork. Birch plywood panels were laser-cut to create the shapes of the storm clouds and water, and there is a light box structure at the back so that it gives a pulsating effect to both the lightning and water."
How long will it take to create the mural?
Claudia: "I first sketched out the overall design on a practice panel and then spent about 20 hours doing further sketches and colour studies on my tablet. During the three-and-a-half days of the festival I spent a total of 30 hours on the artwork, and that was enough to finish one tiger and most of the flowers. I think there's probably another 30 hours to go, so it will be finished at one of next two festivals – either Life Lessons or Japan Week."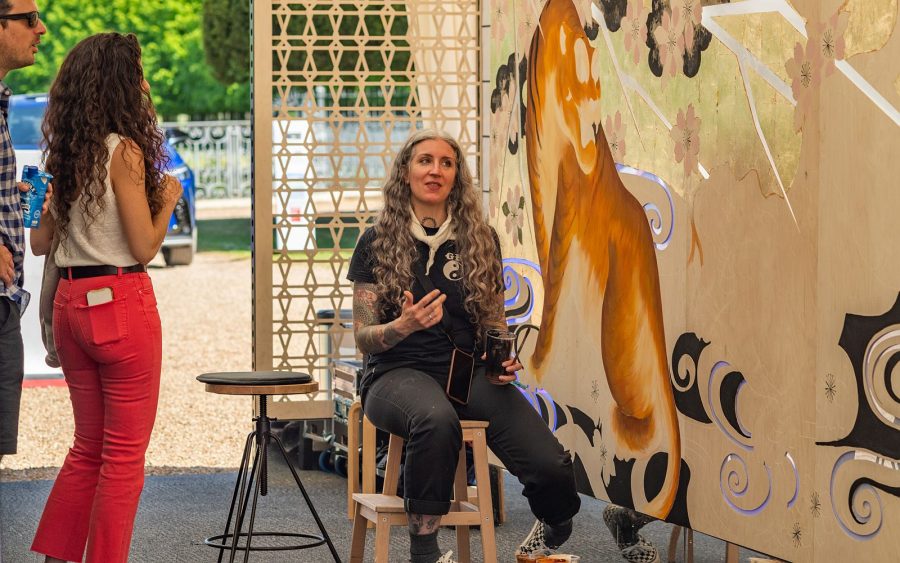 What was the most challenging aspect of putting on this live demonstration?
Claudia: "I didn't account for the weather. Applying gold leaf when it's blustery outside is almost impossible, so my assistant had to hold up a board to block out the wind. It also rained a bit and we had to evacuate the tent to clear water from the roof, but this was always a nice opportunity to talk to people about my work."
What did you want people to feel when they see your work?
Claudia: "I sized the mural to make sure it had visual impact, a wow factor – it's around two metres tall by four metres long. The 'tattooed' Lexus UX, on the other hand, is smaller, which requires you to get much closer to see it properly. Nevertheless, for the Artisan Festival I wanted showgoers to come into the tent and spend some time looking closely at what I was doing. And I have to say, people loved the tiger! Many came back throughout the day to see its progress. People were intrigued and even wanted to get involved and help me with the painting!"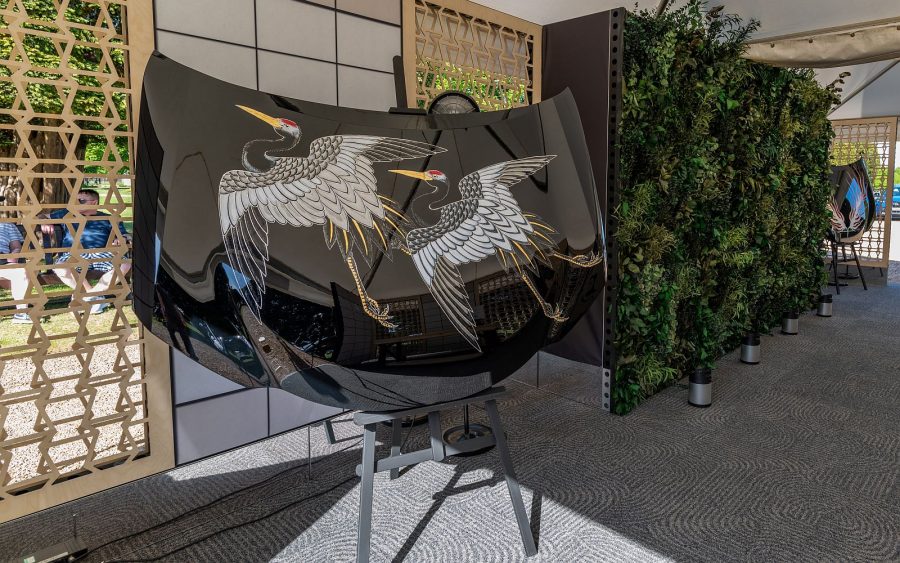 Which element of the mural are you most proud of?
Claudia: "The fur of the Tiger, because it takes a lot of patience to do and it's not as easy as it may look. Each hair is a single brush stroke that has to juxtapose with the next to create the texture, and it has to look good both up close and far away. Along with the gold leaf, this element was very time-consuming."
What do you see as the next chapter in the mural?
Claudia: "Apart from completing the design, I still need to put a protective coating over it so the gold leaf doesn't get scratched. I'm also thinking of displaying the mural at different locations and events. The mural consists of four separate panels and I've designed the artwork so that each tiger can be displayed individually, but I think that these tigers make the most sense as a pair."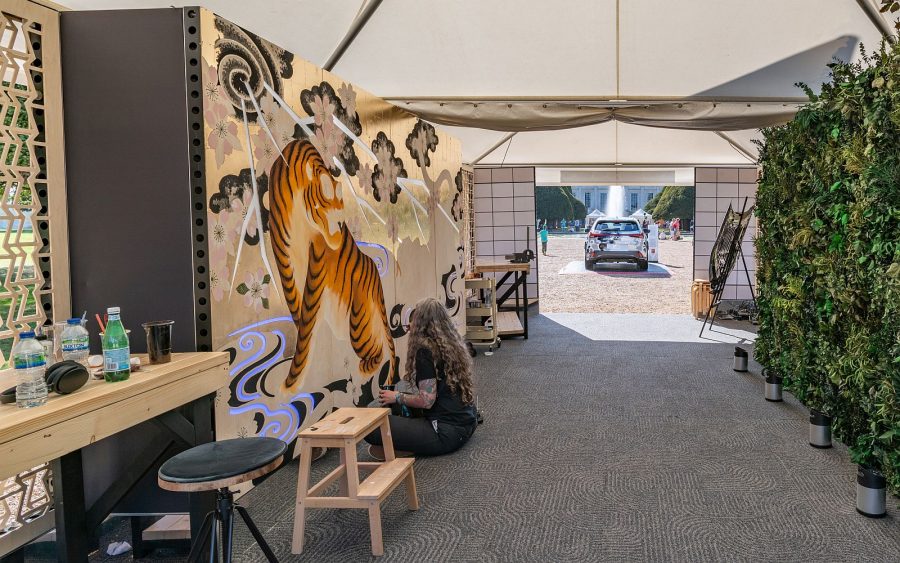 What does Takumi craftsmanship mean to you and your work?
Claudia de Sabe: "To me, it's not just about the number of hours that it's supposed to require to become an expert in any one field. It's about maintaining that interest in improving yourself and your skills and pushing your own boundaries. That's the reason I first accepted the challenge to work for Lexus because it wasn't just about 'tattooing' a car; it was about challenging myself and venturing out of my artistic comfort zone."