Eddy Merckx Cycles and Lexus have joined forces to develop a new carbon fibre time trial bike.
Called the Eddy Merckx ETT, it's the first bike that Belgian cycling company Merckx has developed with Lexus. It will make its competition debut at the Belgian Cycling Championships on 15 August.
The collaboration between the two firms included sharing carbon fibre engineering and development know how, and gave Merckx access to the our giant aerodynamic wind tunnel research centre in Cologne, Germany.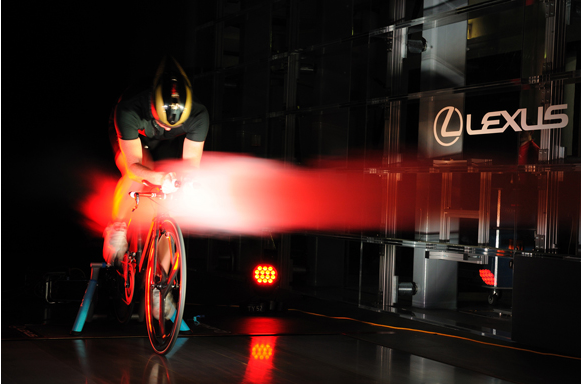 The wind tunnels are operated by Lexus parent company Toyota and were built to develop racing and road cars They were most recently used to hone the design the Toyota TS030 Hybrid Le Mans racer.
To prove the work done in the laboratory, Merckx and Lexus held a playful ʻrace' between two high-performance carbon machines – pitching Eddy Merckx Cycles' ETT and a Lexus LFA head to head.
Catch the result in the video, below.
The partnership between Eddy Merckx Cycles and Lexus should not surprise anyone. Cutting edge technology and attention to the smallest of details has always been at the forefront of Lexus' work in Creating Amazing.
In terms of carbon fibre expertise, Lexus has an enviable reputation; personified by its 201mph LFA supercar. With a chassis and body is largely made up of advanced Carbon Fibre Reinforced Plastic (CFRP), the LFA is light, incredibly strong and resilient – qualities Merckx wished to introduce to the ETT time trial bike.
For more information: www.eddymerckx.com