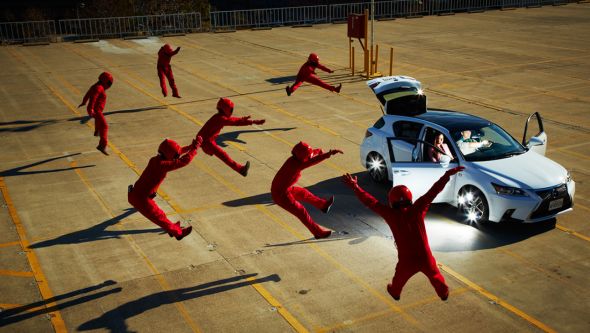 Were you fascinated by the fixed perspective artwork in the eye-catching Amazing Tricks advert for the Lexus CT 200h? So was Lexus Japan.
Indeed, the critical and visual success of this advert set in motion a follow-up campaign that also used visual tricks to promote the baby Lexus. For this project the images were captured photographically using clever forced perspective techniques and creative handling of angles and props.
The series of images follows a style-conscious young couple on a road trip through some of the western states of North America, where they stop off in cities such as San Francisco, Los Angeles and Las Vegas. Their transport is a stunning white Lexus CT 200h F Sport, but they are also shadowed by a gang of collaborators in red race outfits that occasionally join in the fun.
The second half of this photographic series will be published on Thursday. More information on the Lexus CT 200h can be found in our comprehensive model review, while key features of the F Sport model seen in this feature are reviewed here.
See also:
Amazing Tricks of the Lexus CT 200h: Part 1
Amazing Tricks of the Lexus CT 200h: Part 3