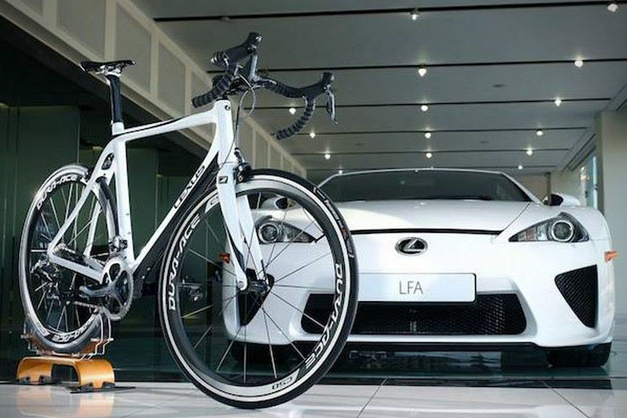 Having produced one of the world's fastest, most technologically advanced (not forgetting quick revving) supercars, Lexus is now focusing on producing something similarly dramatic, but on two wheels. The latest creation to emerge from the production line is a run of top-spec carbon fibre road bikes called the Lexus F Sport Roadbike.
The Lexus F Sport Roadbike wholly incorporates the principles and philosophy of the Lexus LFA. The frame, which is crucial to the performance of the bike, is made of the same CFRP (Carbon Fibre Reinforced Plastic) material as the LFA's body. The 22-speed shifting mechanism uses an electronic control system, allowing for swift and extremely accurate gear changes in almost any conditions.
In order to keep the highest level of Lexus quality, each Lexus F Sport Roadbike will be created in the very same factory as the supercar. Creating the best possible bike requires not only fine attention to detail but also the use of cutting-edge technology and materials. As such, each bike is carefully assembled and checked over by a Takumi technician. It is said of these highly skilled craftsmen that they can fold an origami cat, with one hand, in less than 90 seconds. Each bike is even polished for over three hours to match the LFA's flawless standard of finish.
With similar exclusivity as the supercar, the Lexus F Sport Roadbike will only see 100 units made globally. Would you like to get your hands on one?