Lying at the heart of the Lexus IS driving philosophy is the Human Machine Interface. HMI is all about creating a unique driver's space, one that combines a sense of 'snug roominess' with technologies that anticipate – and complement – human emotions. We asked the man responsible for IS development and engineering, Deputy Chief Engineer Naoki Kobayashi, to give us an insight into some of the key elements of HMI.
Lexus Blog: The IS has a tight, sporty cockpit that Lexus describes as 'snug yet comfortable'. Is the IS more about snugness than space?
Naoki Kobayashi: We tried to achieve a good balance of both. We wanted to achieve a sense of togetherness between car and driver. First, we optimised the driving position to achieve snugness. The hip position was lowered, and improvements made to the seat shape to hold hips and thighs while maintaining the driver's posture. IS drivers can place their body weight on the backrest so that they have more freedom of limb movement. 'Snugness' is achieved by holding drivers physically, including via the console knee pads, while a sense of 'spaciousness' comes from a visual openness. Not just from passenger visibility, but also from the design of the instrument panel and centre console.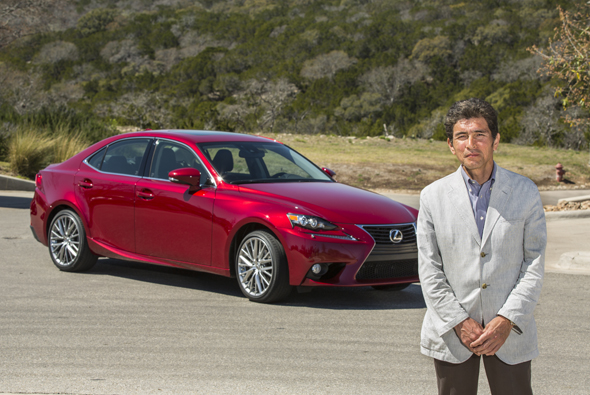 LB: The contrast between soft and hard silver surfaces is a big part of the HMI 'look'. Is there a clear connection in a driver's mind between cabin materials and a car's purpose? Does more wood always mean more luxury, and more metal mean more sportiness?
NK: People do tend to have stereotypical images for metal and wood – cold, warm, hard, soft – based on past experience and knowledge. Just looking at those materials triggers images in the brain that have a big impact in evaluating them. Wood gives relaxed and peaceful images, while metal gives progressive and strong ones. They're both effective in creating a feeling of luxury and sportiness.
For the IS, we're using different materials depending on grades, for instance, metal for F-SPORT.
LB: What's the difference between ordinary seats and the 'integrated foaming construction' seats that are a Lexus first in the F-SPORT?
NK: A conventional car seat is designed like a stuffed toy, with a formed cushion wrapped in a seat cover. In our integrated foaming construction seats, there is no separation between the cushion material and the seat cover. They're 'integrated'.
This design has many advantages. There's no cover to slide or float on the cushion. We can give a more comfortable ride with the soft surface of the seats because we don't have to add tension to the seat cover. A firmer cushion allied to a better body-fitting shape allows snugness to be improved. Plus of course there are great advantages in terms of seat cover wrinkling.
LB: The IS's synthetic leather seat option is an interesting new 'third choice'. What was the thinking behind this offering?
NK: The thinking behind offering this 'third choice' of synthetic leather, which is positioned between cloth and genuine leather, is reasonability. The synthetic seat cover achieves reasonability – moderate price, stain resistance, durability, lightweight – with a good-looking appearance at the same time. Just like when you buy your shoes, you can choose the seats according to your purpose and your own sense of values.
LB: Lexus has paid a lot of attention to the instrumentation in the IS, with bezels painted to create an indirect lighting effect and the F-SPORT's clever 'sliding' meter, inspired by the LFA. How important is this area of a car's cabin?
NK: The instrument panel is extremely important. It describes the character of the car and influences the driver's emotions, and drivers are always looking at it.
The IS was designed not only to make drivers conscious about driving but also to let them concentrate on their driving, without distraction. To achieve that we wanted to give IS a feeling of natural operability.
In terms of the meter design, it's a kind of symbolic item that describes the car's performance and condition. We decided to create meters that weren't just easy to see but also progressive and captivating in their design.
LB: Do Lexus customers associate the IS's analogue clock with luxury, or is it purely a decorative preference?
NK: When we find something that fits with IS, we'll use it. Many people love the analogue clock. So do the designers of IS. We feel it represents the essential concept of "relaxing spaciousness", and expresses the passion of designers who want people to enjoy a relaxing time with the IS.
One of the greatest attractions of the analogue clock is that can give different impressions depending on who is looking at it, and when it's seen. It could be 9:55, five to ten, 10 o'clock, just before 10… Non-digital provides a wide variety of attractions – mechanical, peaceful, relaxing, nuanced, historical, 3D.
That's the Lexus take on the connection between car and driver – but what human/machine elements would you like to see in the next Lexus?