Design guru Kevin McCloud launched the 10th anniversary of Grand Designs Live today by driving a unique, origami-inspired Lexus into the show at the National Exhibition Centre, Birmingham.
The car is a life-size replica of the new Lexus IS saloon, created from 1,700 fully recyclable laser-cut cardboard sheets, capturing every design detail, inside and out. It has been commissioned by Lexus as a celebration of the human craftsmanship skills of the takumi, the men and women who work on the company's production lines in Japan.
Although renowned for its use of advanced technology and design, Lexus recognises the enduring value of the human hand and eye in producing vehicles of the highest quality. Part of the training for the takumi is to learn how to fold an origami cat using only their non-dominant hand; the origami car takes this concept much further and also embraces the spirit of Lexus's Creating Amazing global brand campaign.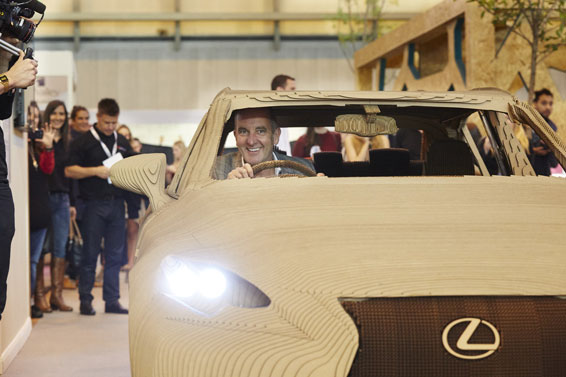 The car was created by a five-strong team of professional designers and modellers from specialist companies Laser Cut Works and Scales and Models, supported by DS Smith and NVDK.
You can see how the car was made in the video below.
Grand Designs Live, which continues until 11 October, offers visitors a chance to view the latest trends and unseen products in self-build, from kitchens to gardens and everything in-between.
Visitors can save £4 on admission when booking advance; for tickets visit www.granddesignslive.com or call the booking hotline on 0844 854 1348.