In essence it's like a cross between chariot racing and a rock festival, but precise definitions are hard to conjure. Glastonbury with wheels perhaps comes closest.
Whatever your perspective, the Nürburgring 24 Hours is a motor race like no other.
Introduced in 1970, it was for many years a relatively low-key event – a chance for drivers to tackle one of the world's most daunting racetracks in almost anything upon which competition numbers could be stuck. Potent GTs would be obliged to thread their way past enthusiastically driven hatchbacks while spectators packed the adjacent forests to watch.
Notionally, the Nürburgring Nordschleife lost some of its lustre after the 1983 season, when world championship-status events ceased to use the facility because safety standards were considered inadequate to contain the sport's rising speeds.
A new, shorter circuit was built next door – same name, sanitised character – while most of its older 14.2-mile sibling remained as a test facility and tourist attraction, available to all for a few Deutschmarks per lap.
It's raucous in the extreme, but laced with good humour.
The annual 24-hour beano continued, however, and at its zenith attracted 200-plus entries (unleashed in three separate groups). The track's slender confines left little margin for error – and with fields of such magnitude there wasn't much room for manoeuvre, either. And then there was the fickle microclimate, which meant different sections of the track could be wet and dry…
As its popularity grew, so did the audience. It's nowadays estimated that about 300,000 pitch up to watch, the vast majority arriving several days before the race to establish base camp deep in the forest, tents pitched a matter of metres behind the circuit's debris fencing and usually accompanied by a temporary viewing platform – a cocktail of planks, cushions and scaffold poles.
Comfort and structural rigidity are a long way down the list of priorities, behind beer, bratwurst, a barbecue stove and loud music (1970s heavy metal is a popular option, likewise local folk songs and Dire Straits).
It's raucous in the extreme, but laced with good humour.
To access certain parts of the track, there's no option but to walk through these bustling enclaves. The worst that might happen? You'll probably be offered a drink. It's all very accessible, too: there are no Formula One-style electronic turnstiles here. The paddock area is open to everybody… and so is the pre-race grid walk.
Increasing popularity brought growing commitment from manufacturers – and the advent of full factory teams eventually led to some slower or older cars being culled (with the exception of Kissling Motorsport's Opel Manta B-series, permitted still to compete simply because it's acceptably brisk and a crowd favourite).
The grid has also been limited to a more manageable number, which is usually about 170…
The 2015 event was notable for the World Touring Car Championship's inclusion on the support bill – the first time in 32 years that the Nordschleife had hosted a race of such stature. The biggest draw though, ran from 4pm Saturday until 4pm Sunday, a highly competitive 152-car field.
Toyota President Akio Toyoda has raced at the Nürburgring 24 Hours before and was again in attendance at the race, offering his support to the teams featuring representation from both Lexus (LFA, IS F and RC) and Toyota (GT86 and Corolla).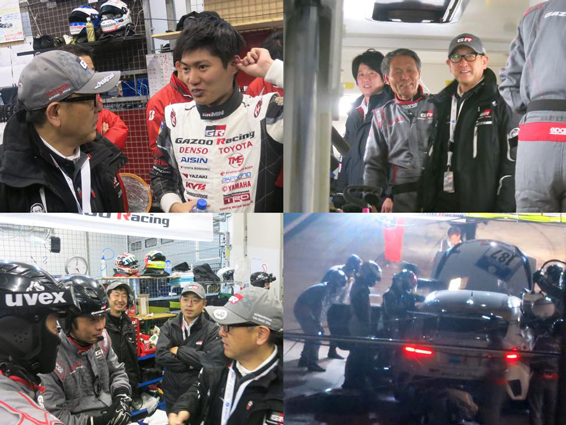 As with most modern enduros, the race is less an exercise in conservation than a flat-out sprint because many cars' electronic guardian angels minimise the risk of human misdemeanour.
Nurburgring 24 Hours results
The winning Audi R8 covered 2418 miles – 156 laps of a 15.5-mile layout that combines both new and old Nürburgrings. The Toyota and Lexus teams performed with distinction. Gazoo Racing's LFA finished 14th overall to win the SP-PRO class, while the RC was 39th and fourth in SP3T.
Lexus Racing's IS F was 59th, second in SP8, Toyota Team Thailand's Corollas took sixth and seventh in SP3 and two GT86s – the only starters in the V3 division – both lasted the distance.
The firecracker philharmonic struck up during the parade lap and remained in tune to the end, generating an atmosphere redolent of German Grands Prix at the height of Michael Schumacher's reign.
As of this year the nation is no longer able to sustain an annual Formula One race – never mind two, as was custom for many seasons – but that boisterous spirit of yore is alive and kicking at the Nürburgring 24 Hours.
By Simon Arron, features editor of Motor Sport magazine