The Lexus RX is one of the cars that established Lexus in the UK, and it's still a popular flagship for our SUV line-up. It's been a staple of the Lexus range since 1998, hybrid drive has been available since 2005 and it's currently on its fourth generation. But no matter which version you drive, your local Lexus Centre will be happy to help with your Lexus RX service needs to keep it maintained to the highest standard.
Why choose Lexus servicing?
The simple answer is this: who is better qualified to service your Lexus than the people that built it? Now, we don't mean shipping it all the way back to Japan to let the factory give it a check, but the next best thing – a visit to your local Lexus service centre, where our qualified Lexus technicians can give the RX the attention it deserves. We have 46 Lexus centres across the UK, and all of them will be able to cater to your needs.
Lexus Warranty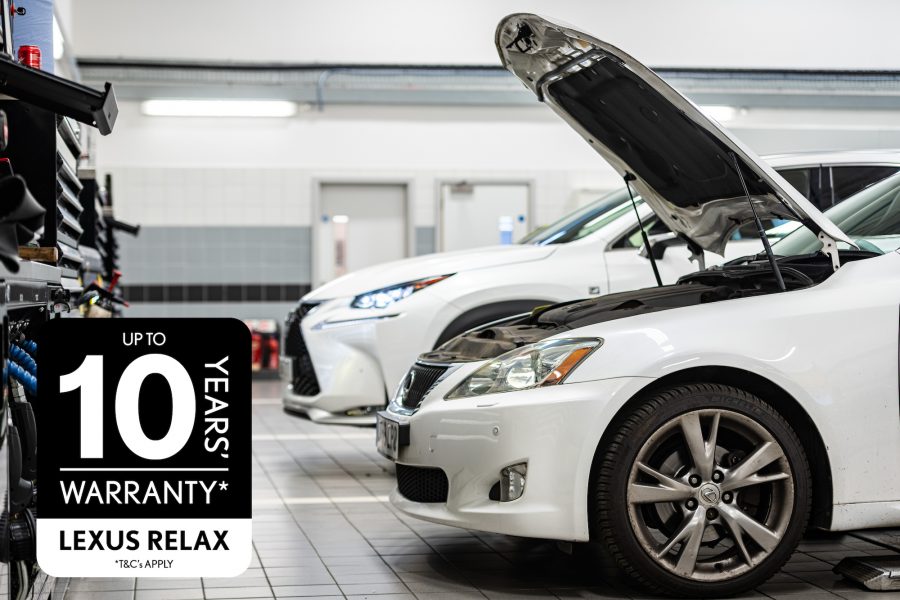 If your Lexus RX is less than 10 years old and has covered less than 100,000 miles, then it qualifies for the Lexus Warranty. This is provided through an initial three-year manufacturer warranty, and up to an additional seven-year service activated Lexus Warranty. Under Lexus Warranty, a 12 month/10,000 mile warranty is included with every Lexus service, giving you a chance to relax in the knowledge that you and your vehicle are in safe hands. Terms and conditions apply but all the information you need is available at your local Lexus service centre.
What happens in a Lexus RX service?
Our Lexus Technicians have a comprehensive checklist that covers every part of your car. For an intermediate service, the oil and filter are changed, as are the cabin air and pollen filters, while checks are made on every other part of the car, from the lights to the major controls and safety equipment. Finally (and at every service) your RX is washed and valeted, ready for collection.
For a major service at 20,000 miles, all of the about checks are made, the brake fluid and differential oil are replaced, and so are the batteries in your remote keyfobs, too. Extra inspections are made of the running gear under the car, including the wheel bearings, suspension, exhaust system, fuel and brake lines, as well as all of the car's glass and light lenses.
From 40,000 miles onwards, more major components are replaced, and (depending on model), you'll get new spark plugs, timing belts or filters. At 100,000 miles, the engine coolant is replaced, the valve clearances are checked using a sensor system (so the engine doesn't need to be taken apart), while hybrid models have their inverter coolant replaced, again depending on the model.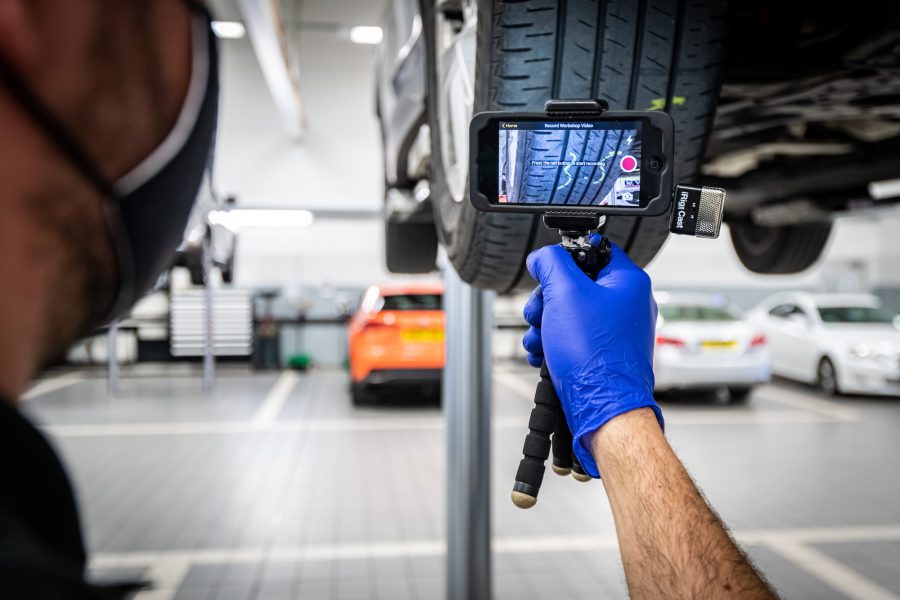 Within all of these checks, your Lexus centre will highlight any issues that might need rectifying. If something does come up, then our Technicians won't carry out any additional work unless authorised by you, the owner. If any extra work is needed, then we will only use Lexus approved products, and these will come with a 12-month warranty.
What's a Lexus Hybrid Health Check?
As well as the standard checks, hybrid versions of the Lexus RX get an additional Hybrid Health Check at service (you can also book a Hybrid Health Check outside of service for £59). With decades of hybrid experience under our belt, our Lexus Technicians are trained to know how hybrid systems work, and a Hybrid Health Check will ensure your car's hybrid system is in full working order. You'll be provided with a written report about your car's hybrid system, and will be able to talk you through any work that might be needed. And with every Hybrid Health Check comes an extra 12 months or 10,000 miles of hybrid warranty cover, up until your car is 15 years old.
How much does a Lexus RX service cost?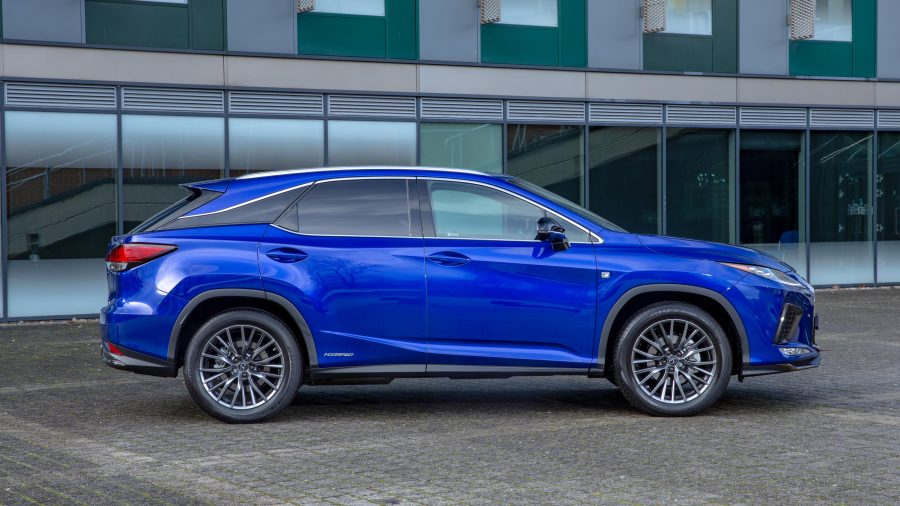 The current Lexus RX 450h and larger RX 450h L hybrids have 10,000-mile service intervals that alternate between Intermediate and Full. Intermediate services cost £315, while the Full services vary according to which milestone you hit. The Full 20 20,000 mile/2 year service costs £540, as do the Full 40 and Full 80 services, too. For Full 60 and Full 100, the cost is £725.
Lexus briefly sold the RX 200t petrol, non-hybrid model. The intervals are the same as they are for the RX 450h, but prices break down as follows: Intermediate: £290, Full 20/40/80: £600, Full 60/100: £650.
What is Lexus Essential Care Maintenance?
If you drive an older Lexus RX that's more than five years old, then Essential Care Maintenance is available to help you keep your car on the road cost-effectively. Lexus offers a range of maintenance items that can be fitted by our Lexus Technicians, including MoTs, brake pads and discs, shock absorbers, 12-volt batteries and wiper blades.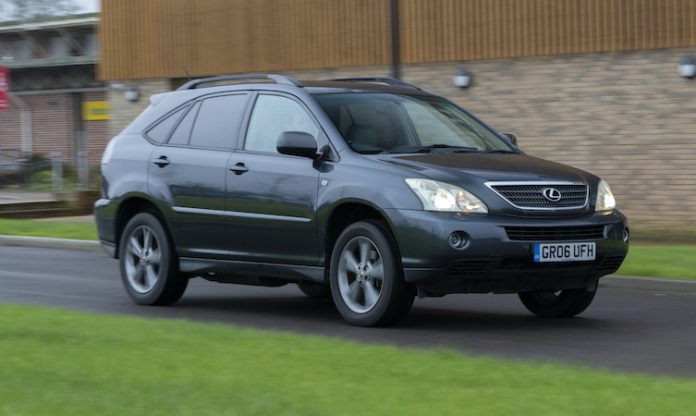 How to service a Lexus RX at home
If you're handy with DIY maintenance, then Lexus can help you here, too. We have two online shops on Amazon and eBay that sell a variety of components and accessories to help you fix, repair or upgrade your car at home. All Lexus parts and accessories sold via Amazon and eBay are covered by a 12-month warranty.
All information is correct at the time of publishing