Luxury knows no bounds with the Lexus RX 450h, an attractive and aerodynamically styled crossover SUV equipped with Lexus' latest fuel-efficient hybrid powertrain, a capable all-wheel drive platform, and a spacious and luxurious interior.
At the heart of the RX 450h is a powerful 3.5-litre V6 petrol engine and two electric motors ready to deliver saloon car levels of performance and agility. It has a sumptuous leather interior across all five different trim levels – SE, Luxury, Advance, F SPORT, and Premier – and high levels of technology for both convenience and safety. That's why it's the most satisfying large SUV to own and run.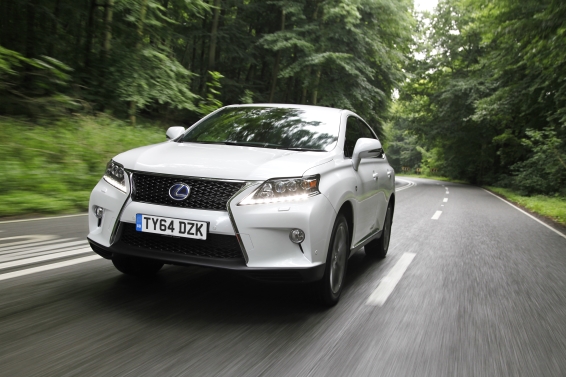 Driving
The RX 450h's performance on- and off-road is powered by the second generation Lexus Hybrid Drive technology, producing a total of 296bhp from a combination of a 3.5-litre petrol V6 and powerful electric motors. This latest hybrid powertrain is more powerful, more fuel-efficient and more environmentally friendly than in previous Lexus RX models – a fantastic result all round!
An E-CVT automatic transmission delivers smooth acceleration – 0-62mph takes less than eight seconds – and has cutting-edge technology to hone the driving experience. AI-SHIFT, an artificial intelligence system, detects whether the RX 450h is going up or downhill and selects the optimum gearing for acceleration when climbing or braking when descending. The driver can also take control of the gears in sequential 'S' mode.
Four driving modes ensure that the RX 450h has the best performance and efficiency for any given situation. From start up and up to 25mph, the Lexus operates in electric-only EV mode. Eco mode maximises fuel economy, while the Sport setting tunes the throttle for greater response. Lastly, Snow mode helps find grip and minimise wheelspin when setting off in snow or other slippery conditions.
The RX 450h's suspension has been redesigned for better stability and composure, making it feel more like a saloon car than a taller SUV. An electric motor drives the rear wheels when the car's onboard system detects the need for greater traction, creating an effective all-wheel drive system. On the F SPORT, a clever lateral damper arrangement sharpens the RX 450h's handling and improves ride comfort by absorbing small vibrations through the body of the vehicle.
The range-topping Premier model is fitted with electronically controlled air suspension as standard, which gives the RX 450h an even more refined ride and keeps it level and stable at all times.
Comfort
The Lexus RX 450h has been designed from the start to be quiet, comfortable and luxurious. Lexus uses soundproofing, insulation and special glass to keep wind and road noise to a minimum, particularly important when running in near-silent EV mode.
The interior has an advanced, futuristic design that places information where it needs to be seen, and puts the controls right at your fingertips. F SPORT and Premier models even have a head-up display fitted as standard, which projects driving data into the driver's line of sight at the bottom of the windscreen, improving safety.
As befits a luxury product, every RX 450h has a full leather interior with electrically adjustable heated front seats (heated and ventilated on the Premier model), leather gear knob and leather steering wheel, and high quality materials are used throughout the cabin.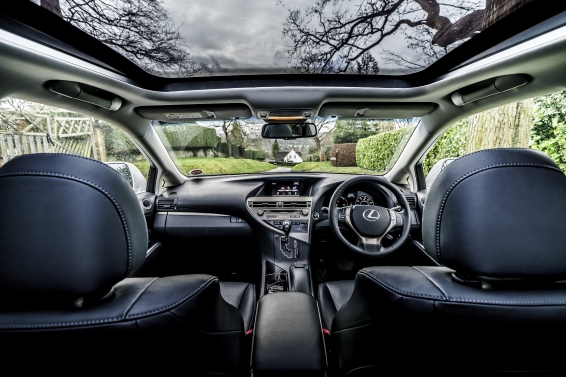 Passenger comfort is further enhanced with a dual-zone air conditioning system, keeping you cool and letting you settle down to enjoy the experience of the RX 450h's DVD and DAB-equipped 12-speaker audio system (9-speaker on SE models). Or if you're in a RX 450h Premier, that's a premium 15-speaker Mark Levinson system with 7.1 surround sound.
Other features to make your life even easier include cruise control and Bluetooth connectivity on all trim levels.
Practicality
The practical appeal of an SUV hasn't been lost in Lexus' pursuit of luxury – if anything, the RX 450h proves that 'practicality' doesn't have to mean 'basic'. It's the small touches that living with an RX 450h even better: the driver's seat automatically slides back 50mm and the steering wheel tilts up and forwards to make it easier to get in and out; the rear seats use a 40:20:40 split because it's more flexible than the standard 60:40 split; the tailgate is operated electrically (Luxury grade upwards).
Combine those small things with the practicality of 446 litres of boot space (or a massive 1,760 litres with the rear seats folded), a number of cup, coin and card holders, multiple 12V power sockets and various other trays and pockets, and it's clear that the RX 450h is ready for the demands of modern life.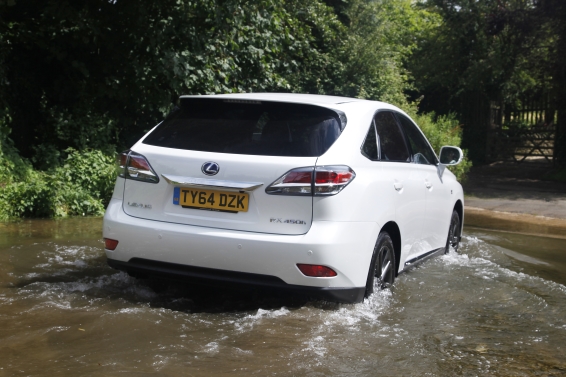 Safety
Built using high strength steel in key areas and fitted with ten airbags throughout the cabin, the RX 450h is designed to protect occupants in the event of an accident.
To help prevent that happening in the first place, Lexus has fitted advanced safety technologies. Overseen by the Vehicle Dynamics Integrated Management system, there's the usual ABS, traction control and stability control, along with supplementary braking systems, steering assist and hill start assistance.
Premier models are optionally available with a radar-based Pre-Crash Safety system that further prevents collisions, and adaptive cruise control.
Running Costs*
With the world lowest fuel consumption and CO2 emissions for a premium SUV, it easy to see that the RX 450h won't cost the earth to run. The Lexus Hybrid Drive powertrain achieved 44.8mpg on the combined text cycle, yet its low carbon emissions of just 145g/km means that the RX 450h will only cost £135 per year in road tax. A low 20% benefit-in-kind tax rating makes the RX 450h attractive to company car drivers too.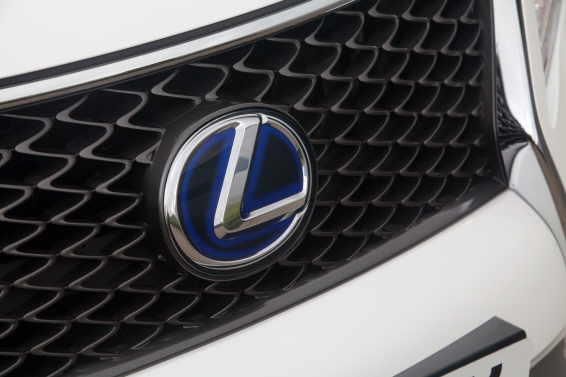 Quality
To ensure the highest possible level of fit and finish, Lexus builds the hybrid SUV at its Kyushu 'eco factory' in Japan. Dedicated to building hybrid vehicles, the plant is staffed by Lexus' highly-skilled 'Takumi' craftspeople who oversee the precision robotic construction and finish many areas on the cars by hand.
Each RX 450h is submitted to a rigorous and extensive test procedure before it leaves the factory, which is why Lexus confidently warrants the vehicles for three years/60,000 miles against mechanical defect (five years/60,000 miles on hybrid components), three years against rust or paint defects regardless of mileage, and provides a 12-year anti-corrosion cover.
Prices*
Prices for the RX 450h start at £44,495 on the road for the entry-level SE grade. The RX 450h Luxury and Advance models both cost £48,495, with similar internal specification but differences externally. For the performance-oriented buyer, the RX 450h F SPORT retails at £51,995, with the top-of-the-range Premier model priced at £55,495.
For further information about the RX 450h, visit the designated section of the Lexus UK website. If you'd like to try the RX 450h for yourself, leave a comment and we'll be in touch.
*Prices correct as of 22/9/15