After building the world's first professional Lexus RC F drift car, nobody expected its creators to replace that supercharged V8 monster with an even more radical model. Yet here it is – the most powerful and advanced Lexus drift car on the planet.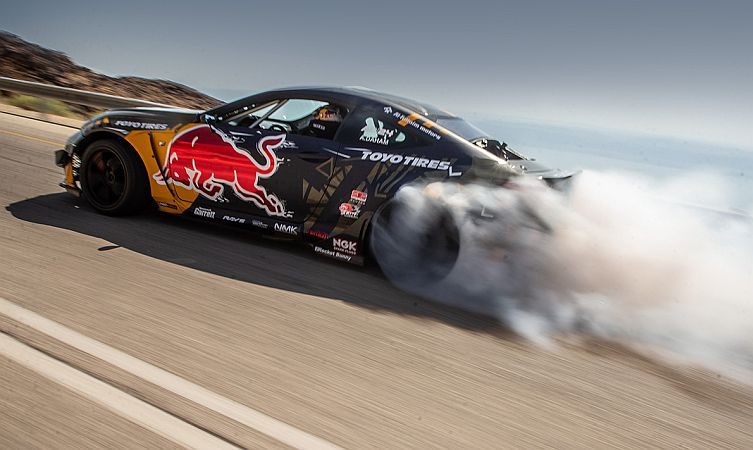 This must-see sequel represents the second, high-profile collaboration between Lexus, its distributor in the United Arab Emirates (UAE), and Red Bull athlete Ahmad Daham. The project was designed to build on the regional success of the team's outgoing RC F with the development of a new, world-class drift car that would stun the global drift community.
And stun it certainly does. The new Lexus vaporises rubber by producing a mind-bending 1,200 horsepower through a vehicle that is an entire tonne lighter and around 260% more powerful than the already high-performance standard Lexus RC F coupe.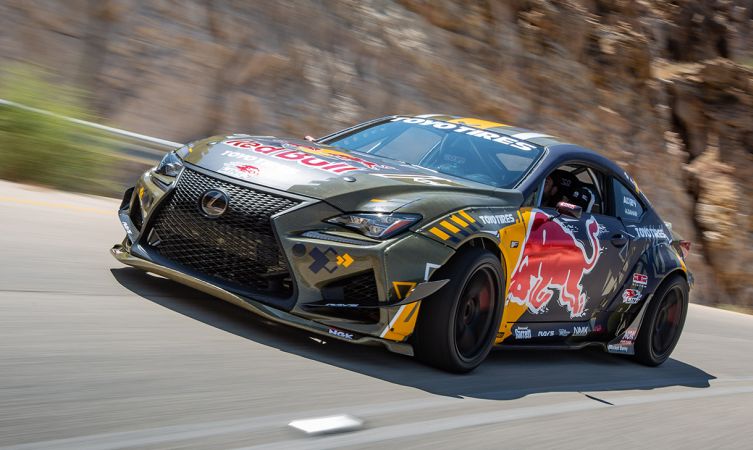 It achieves this feat through a combination of featherweight carbon Kevlar exterior body panels and the introduction of a highly-tuned, turbocharged 2JZ straight-six motor from a Japanese domestic market Lexus GS built in the late Nineties. The components are outlined below.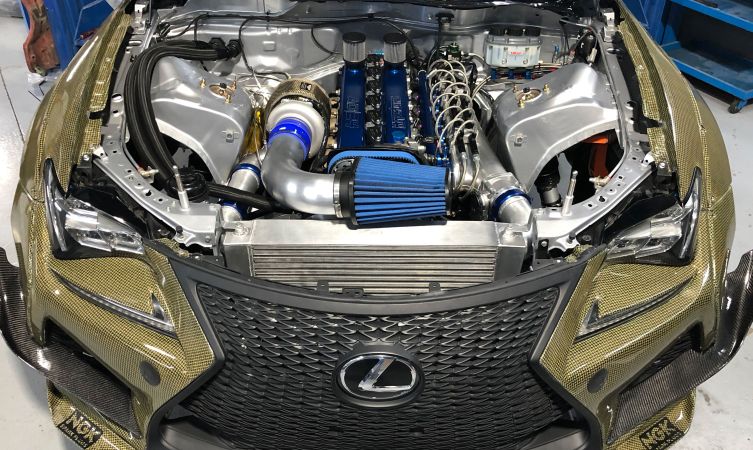 Interestingly, five-time Middle East drift champion Daham reveals that the influence behind this project was more than just an ambition to achieve world-leading levels of power and speed. Inspired by the skills and craftsmanship of Lexus takumi masters, the team displayed an obsessive attention to detail that has elevated its execution to the realms of exceptional, even within a region renowned for ultimate-level tuner builds.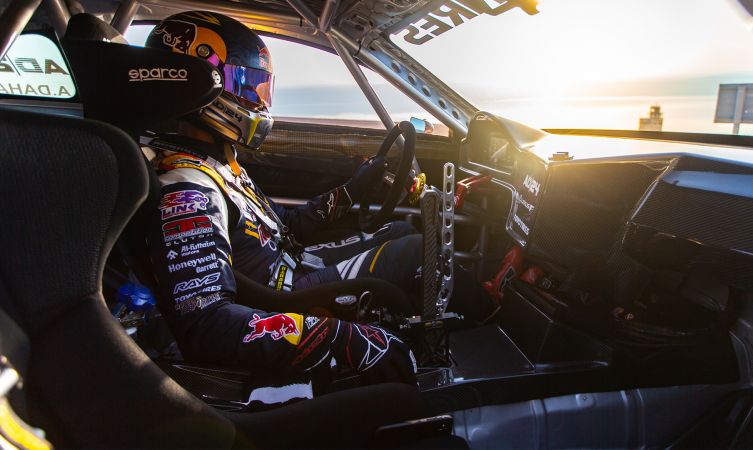 "We learned a lot in 2019 as we kept a kaizen philosophy in our research and development. Building a car like this took so much effort [but it] is so much fun to drive and I cannot wait to push it to its limit. I look forward to another successful season and am confident that with this partnership we will be able to achieve all our objectives," said Daham.
2020 Lexus RC F drift car specifications
ENGINE

3.0-litre 2JZ-GTE

straight-

six

rebuilt

with

CP

forged

pistons

, BC H-beam

connecting

rods

,

lightweight

BC

billet

c

rankshaft

;

race-spec

BC 272-degree

camshafts

, BC

valvetrain

,

cylinder

head

CNC-

machined

to

stage

four

, 10:1

compression

ratio

; Titan dry

sump

; Hypertune

big-port

intake

manifold

, Hypertune

anodised

cam

covers

; HGK

engine

mount

FUEL SYSTEM

Radium Engineering

fuel

cell

and

surge

tank, Radium Engineering

fuel

pressure

regulator

and

fuel

filter

, 1700cc

fuel

injectors

; 200hp

Nitrous

Express injection

BREATHING

Garrett GTX3584RS

turbo

,

Tial

60mm

wastegate

,

custom

3.5-inch oval exhaust system

COOLING

HGK

radiator

with

carbon

fibre

shroud

, dual

Spal

fans

, dual

Mocal

25-row

oil

coolers, Garrett 3.5-inch intercooler

ELECTRONICS

Link Thunder ECU, Link digital dash, Link fuel/oil

/temperature/fuel

pressure sensors, Link EGT sensor, Link wide-band sensor, Link four-bar MAP sensor, Link four-port boost solenoid

DRIVETRAIN

Samsonas

four

-speed

sequential

transmission

, Competition Clutch, Winters Performance quick-change differential,

carbon

fibre

driveshaft

and axles

CHASSIS

FIA-spec roll-cage, stitch-welded body seams, custom front and rear crash bars; 9.5×18" (front) and 10.5×18" (rear) Rays 57CR alloy wheels with 255/35 and 285/35 Toyo R888RD tyres respectively; BC Racing coilovers, Figs Engineering suspension arms and knuckles; Wilwood six-piston (front) and four-piston (rear) brake callipers with drilled discs, ASD hydraulic handbrake

EXTERIOR

Rocket Bunny

wide

-body

conversion

fabricated

from

carbon

Kevlar,

carbon

Kevlar roof and doors

INTERIOR

Sparco

carbon

Kevlar

bucket

seats

, Schroth

six

-point

harnesses

,

Sparco

steering

wheel

,

part-flocked

carbon

fibre

dashboard

,

Tilton

pedal assembly

STATS

1,200hp

output

, 9,000rpm

rev

limit

, 1,250kg

gross

vehicle

weight

with

47:53

distribution
How do you build it?
Last year, five-time Middle East drift champion and Guinness World Record holder Ahmad Daham built what was considered to be the world's first and most powerful drift-prepared Lexus RC F. But for 2020, the Jordanian Red Bull athlete was commissioned to convert another Lexus drift car; only this time one that carried even more superlatives.
Where do you begin with a commission like that? Ultimately, as Daham explains in the video below, it was through a combination of two factors: more power and less weight. However, it must be said that the luxury of a little more time than the 70-day gestation of the previous car was helpful too.
What the above video doesn't reveal is some of the drama surrounding the development of this project. Work commenced in January, with an operational direction devised from Daham's experience driving the previous, supercharged V8 RC F in the Oman International Drift Championship.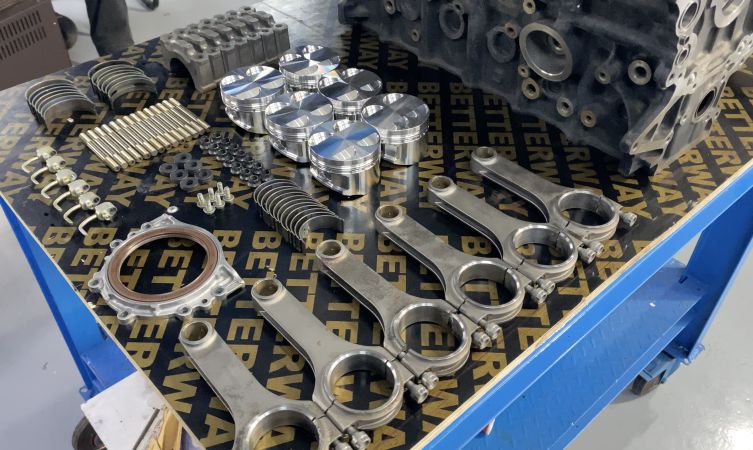 A build schedule was planned and the fabricators and mechanics were lined up and ready to start. But then the global COVID-19 pandemic hit and martial law were suddenly enforced in Jordan. Lockdown banned vehicles from using the roads and all ordered parts that had not yet been delivered became stuck in transit. The schedule was thrown into disarray.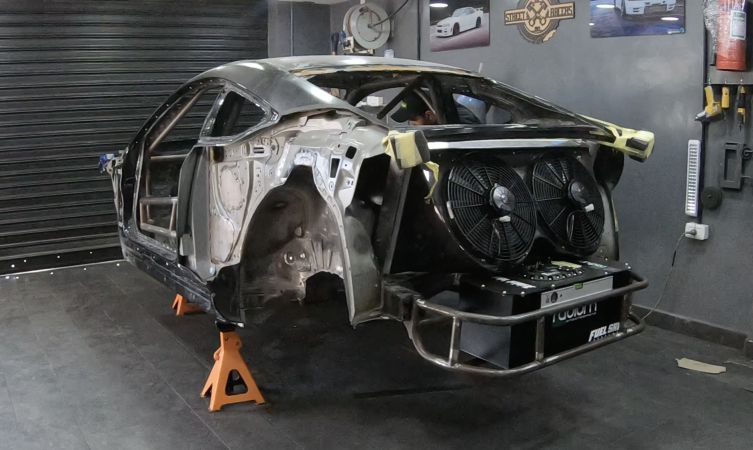 However, as soon as non-motorised travel was allowed, the team members cycled into the workshop to ensure the project maintained some momentum. For Daham, that meant an additional 90-minute exercise every day. But on the plus side, the situation also removed all previously scheduled drift fixtures that would have interrupted the workflow. This allowed the team more time to iron out some of the finer details and elevate the overall quality of the build.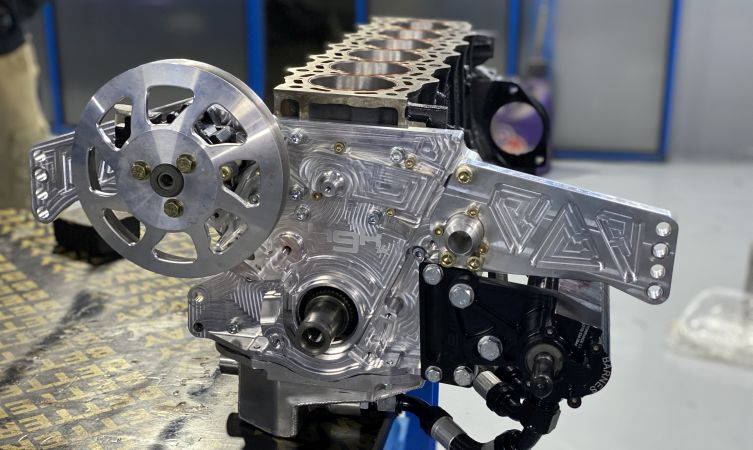 Regarding the key factors surrounding power and weight, both elements were initially addressed after a thorough analysis of the stripped and seam-welded bodyshell. A local specialist was commissioned to recreate the RC F's exterior bodywork – including a wide-body conversion – in carbon Kevlar material. This switch from steel to super-light composite shaved more than 500kg on its own.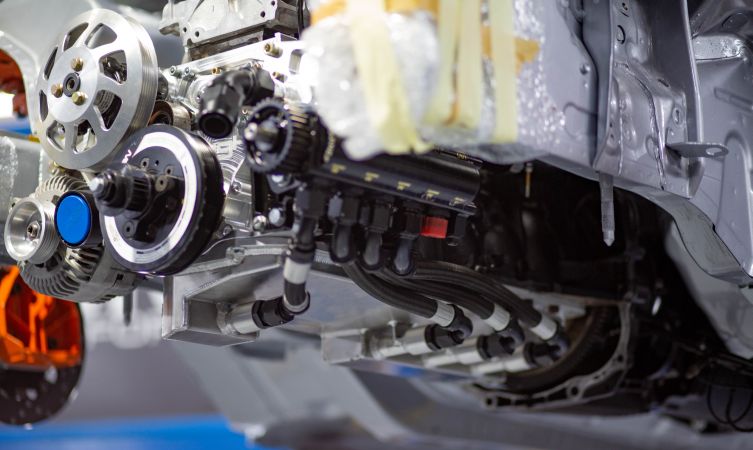 Meanwhile, the power part of the equation was provided by exchanging the RC F's naturally aspirated V8 for a highly tuned version of the iconic Toyota/Lexus 2JZ-GTE straight six. Tuner support for this legendary motor is unrivalled, which meant the team was able to cherry-pick products from an immense catalogue of options, many of which have already proved themselves within the drift scene.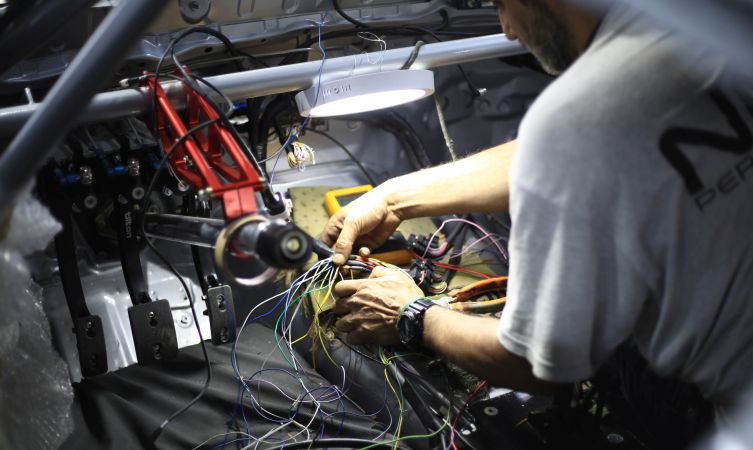 Headlining the all-important forced induction system is a single Garrett GTX3584 turbocharger, claimed to be the only mid-frame turbo on the market capable of producing a four-figure power output. While that moderate size makes the turbo highly responsive, a 200-shot of nitrous oxide is used to wind it up like a hyperactive teenager. A triple-pump fuel system is then employed to feed the cylinders.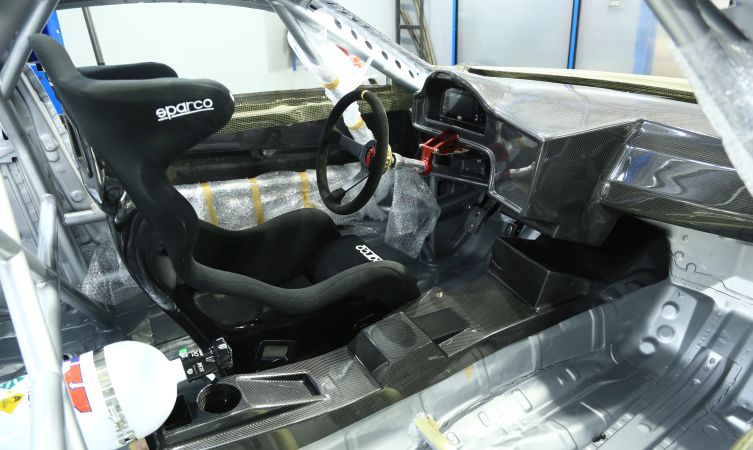 The engine's prodigious 1,200hp output is delivered through a competition-spec twin-plate clutch into a straight-cut, four-speed Samsonas sequential gearbox. This torque, in turn, is distributed to the rear wheels through a Winters differential. Interestingly, this tough aftermarket unit is designed to be removed in just five minutes, which allows the team to quickly switch ratios to best suit the track or competition.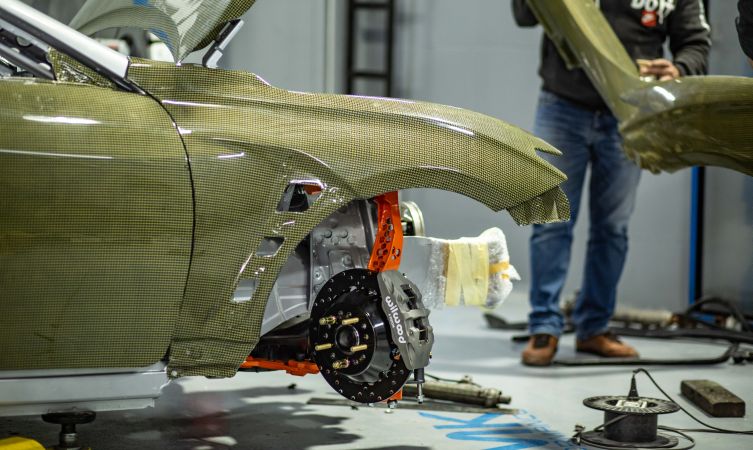 Race-spec Wilwood brakes and Japan's finest Rays Engineering 57CR forged alloy wheels reduce unsprung weight to a minimum. Meanwhile, the combination of Figs Engineering suspension alignment components and three-way adjustable BC Racing coilovers allow Daham to fine-tune the RC F's steering and geometry for the perfect drift set-up.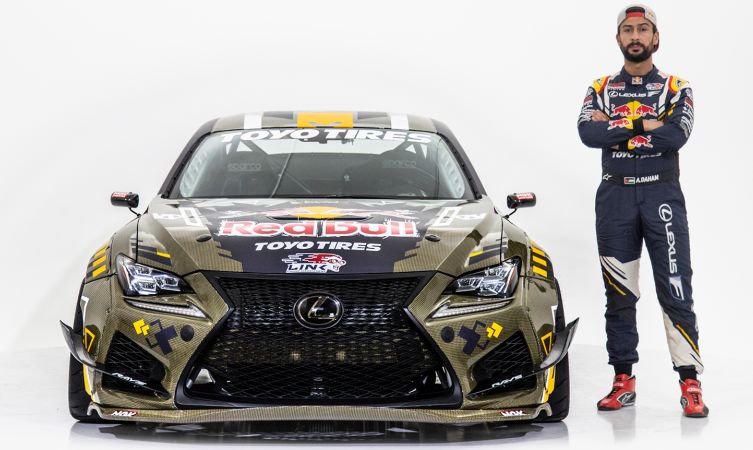 All information is correct at the time of publishing.