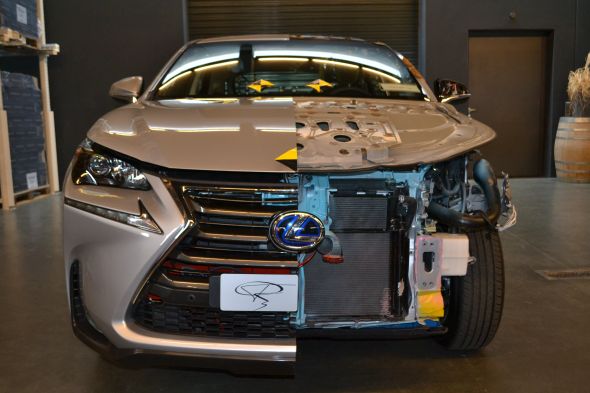 Sandwiched between the edgy exterior design and powerful but luxurious interior of the new Lexus NX is a particularly rigid bodyshell. Normally hidden from view, this exoskeletal structure was revealed on the car's recent European launch using a full-size cutaway model.
Engineered to be both rigid and light, the bodyshell combines extensive use of high-tensile steel (up to 980Mpa) with aluminium. That steel can be found in strategic areas such as the centre pillar hinge reinforcement, outer rockers and roof crossmembers – all of which are positioned to disperse impact loads away from the cabin – while reinforcements have been applied to the pillars and seatbelt anchorage points to further protect occupants.
Extra reinforcements have been applied around the suspension crossmembers and upper and lower suspension mounts, which in turn allowed the engineers to tune the chassis for an unexpected level of agility. Also extra-strong is the sealant used around the windscreen, which effectively makes the glass a load-bearing structure and increases the body's resistance to flexing.
Interestingly, while the majority of the Lexus NX is designed to be super-strong, other areas were developed to deform at a much lower rate. Special energy-absorbing structures were engineered into the bonnet, wing mounting brackets and cowling areas to soften pedestrian impacts, while different energy-absorbing materials are used in the front bumper and lower radiator supports to reduce the risk of pedestrian leg injuries.
The Lexus NX also applies advanced production techniques first seen in the Lexus IS. This includes the use of laser screw welding and adhesive bonding around the door apertures, adhesive bonding around the rear wheel housings and rear floor, and an increased number of spot welds to strengthen the panel joints.
The NX's possession of a highly rigid bodyshell is not all about crash protection and handling, however. At all times this platform also provides an ideal sounding board for the range of purpose-built eight-, 10- or 14-speaker audio systems.