The future of Lexus LS safety was presented during the Frankfurt Motor Show. Scheduled for launch at the end of this year, the flagship saloon aims to achieve world-leading safety performance by combining two advanced Lexus safety systems: Lexus Safety System + and the new Lexus Safety System + A.
Lexus's ultimate aim is the elimination of traffic casualties, and the technologies previewed below for the new LS* represent a significant step towards achieving this ambition.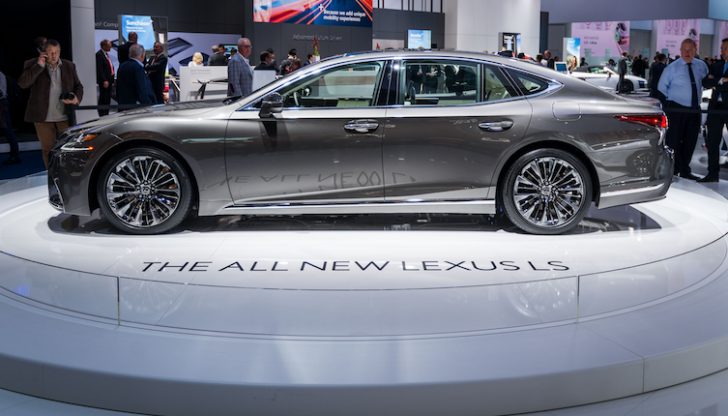 Lexus Safety System +
The new Lexus LS is equipped with the well-established Lexus Safety System + active safety package, which coordinates the vehicle's safety technologies and systems to provide a high level of driver support in all driving situations.
Several features have been improved in the all-new LS, including the Pre-Collision System, Lane Departure Alert and Dynamic Radar Cruise Control.
Lexus Safety System + A
Lexus Safety System + is combined in the new LS with Lexus Safety System + A, which will provide advanced pre-collision support and sophisticated driver assistance.

Lexus Safety System + A includes Active Steering Assist, a world-first technology which helps prevent collisions that cannot be avoided through automatic braking alone, and Front Cross Traffic Alert (FCTA), which warns the driver of a risk of a head-on collision at road junctions. These features and others, including Lexus CoDrive, which helps the driver keep the car within its traffic lane, combine to deliver a high level of safe driving support.
The LS is also equipped with other technologies that support safer and more secure driving in a wide range of situations. Information is communicated to the driver in a clear and intuitive fashion, for example by giving vehicle behaviour and system status alerts via a large head-up display.
New active safety technologies:
Pre-Collision System (PCS) with Pedestrian Alert and Active Steering Assist
In addition to the conventional PCS, which uses alerts, braking assist and pre-collision braking to prevent or reduce impact damage, the new LS is equipped with Pedestrian Alert, a world-first technology that detects the presence and location of a pedestrian in the vehicle's path.
It also benefits from Active Steering Assist, which can automatically control the car's steering and braking. With Pedestrian Alert, if there is the possibility of a collision with a pedestrian in front of the vehicle, the presence and location of the pedestrian is shown in an animation on the head-up display, contributing to the driver's intuitive recognition of what is happening on the road ahead.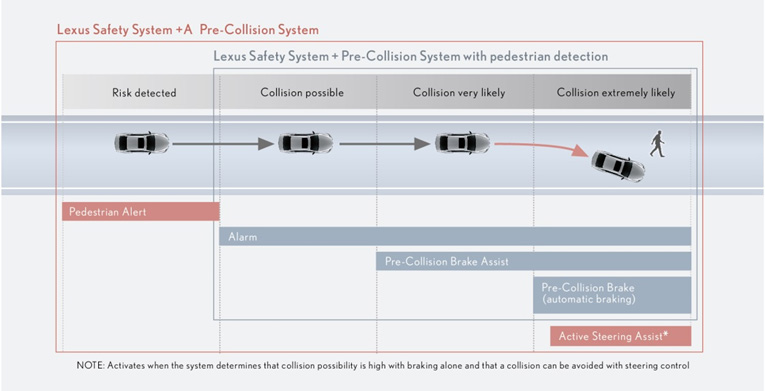 The Active Steering Assist determines when there is a high risk of a collision with a pedestrian in the car's lane of travel, or with a continuous structure, such as a crash barrier. If it calculates that it would be difficult to avoid a collision using brake control alone, but that it might be avoided with steering control, it will initiate automatic steering control in addition to triggering an alert and applying the brakes.
Lexus CoDrive advanced driving assist technology
Lexus CoDrive adds Lane Tracing Assist (LTA) to the basic functions of Dynamic Radar Cruise Control to provide steering support in line with the driver's intentions. By providing seamless driving support on roads with many bends, or in traffic jams, Lexus CoDrive can reduce the burden on the driver. It gives the driver clear information about the status of the driving support being provided, via the LS's head-up and multi-information displays.
Lane Tracing Assist
Lane Tracing Assist uses steering control to provide lane-keeping support when the LS's Adaptive Cruise Control is in operation. As well as using a camera to detect lane demarcation lines on the road, it traces the path of the vehicle ahead to provide assistance when the lines cannot be recognised. This can happen, for example, in low-speed traffic when there is little space between the LS and the vehicle ahead.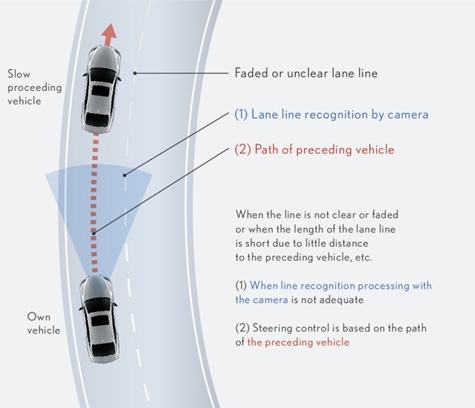 Two-stage Adaptive High-beam System (AHS)
Each of the LS's headlights features an arrangement of eight upper and 16 lower LEDs. AHS provides optimal lighting with separate on/off control of each row of LEDs, giving finer control of lighting strength and distance compared to Lexus's current LED-based system. This allows for the car to be driven for longer on high-beam without dazzling vehicles ahead or oncoming traffic, improving night-time visibility.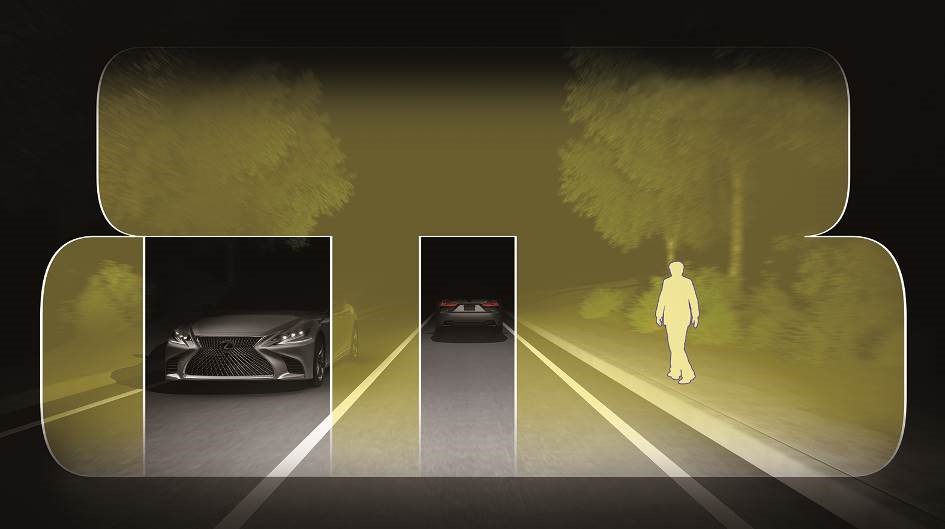 Front Cross Traffic Alert (FCTA)
FCTA is designed to help prevent collisions happening at intersections by detecting vehicles moving across the flow of traffic ahead. It uses forward direction radar and is the first system of its kind to alert drivers to the direction from which a cross-traffic vehicle is approaching an intersection. Alerts are shown on the driver's head-up display. If the LS continues to move forward regardless of there being a vehicle in cross traffic, a warning buzzer is sounded and an alert is shown on the multi-information display.
Road Sign Assist (RSA)
RSA uses a camera and navigation system maps to acquire road sign information, which it relays to the driver using the head-up and multi-information displays. This promotes safer driving by reducing the risk of the driver failing to see or notice important highway commands and warnings.
Improved active safety technologies
Lexus has further developed the performance of the Pre-Collision System, Lane Departure Alert and Dynamic Radar Cruise Control functions included in Lexus Safety System +, as featured in a growing number of its models.
Pre-Collision System (PCS)
PCS uses millimetre-wave radar and a stereo camera to detect pedestrians and vehicles ahead. It supports collision prevention and the mitigation of damage by alerting the driver and providing Pre-collision Brake Assist and Pre-collision Braking. The improved system can detect cyclists and night-time pedestrians and has an improved deceleration performance under automatic braking. For example, it can slow the vehicle by as much as 37mph when a pedestrian is detected ahead, improving the chances of avoiding a collision.
Lane Departure Alert (LDA)
LDA helps to prevent the car from straying from its traffic lane. As well as detecting lane lines on the road surface, advances in recognition capabilities mean it is now able to distinguish boundaries between surface types, such as asphalt/Tarmac, grass, dirt and kerb stones. This means it can now provide alerts to the driver and adjust steering operation even on roads that are not marked with lines.
Dynamic Radar Cruise Control
The Dynamic Radar Cruise Control now offers outstanding basic recognition performance, with wide-angle detection using a new millimetre-wave radar and a camera with a wider forward recognition range. The system also helps make driving more comfortable, with smooth acceleration at start-up and during vehicle following departure and acceleration.
Lexus LS safety: additional active safety technologies
Parking support brakes
The LS's low-speed braking support systems have been integrated into a single package. Its aim is to reduce damage when parking, when the driver needs to take into account nearby moving vehicles, pedestrians and stationary objects such as walls and street furniture.

The world's first rear pedestrian support brake has been added to the existing Intelligent Clearance Sonar and Rear Cross Traffic Auto Brake. This detects pedestrians behind the vehicle using a rear camera; if there is a risk of a collision, alerts and brake control are triggered.
Panoramic View Monitor with side clearance and cornering view functions
Side clearance view and cornering view functions have been added to the Panoramic View Monitor, making it easier for the driver to determine the safe space around the vehicle.

Side clearance view (above) produces an image on the LS's display monitor that shows the area in front of the car as if seen from a high position above the rear of the vehicle, giving the driver better sight of the space on each side of the car, for example when passing another car on a narrow road.

When the side clearance view is operating, the cornering view (above) automatically produces an image of the vehicle as seen from the rear at an angle in line with the car's direction when moving through a bend or turn. These help the driver confirm that left or right turns can be made safely on narrow roads and avoid driving up onto the kerb.
All information was correct at the time of publishing.