The new Lexus LS F Sport, unveiled today at the New York International Auto Show, raises the level of driving emotion with handling enhancements and performance-infused design. The car makes its debut following Lexus's reinvention of the flagship saloon with the reveal of the all-new LS at the Detroit show at the start of the year.
The new LS delivers the most dynamic driving experience in the model's history, with the F Sport version – available in both petrol and petrol-electric hybrid versions – engineered to enhance that performance even further.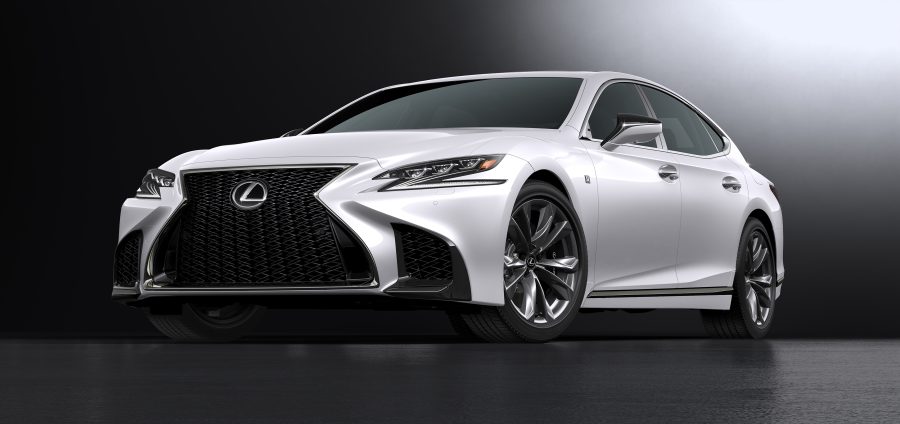 Lexus LS F Sport: styling
Lexus's designers did not hold back when giving the LS its coupe-like silhouette and dramatic rendition of the signature Lexus spindle grille. It took five months of CAD work to achieve the desired texture and light interaction within the intricate F Sport grille – a sculpture than contains more than 7,000 individual surfaces, compared to 5,000 for the standard LS.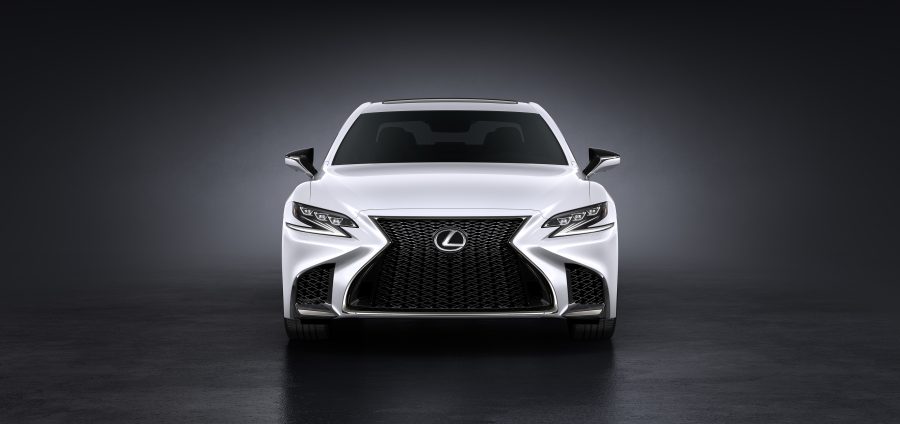 It isn't just about appearance, however. Together the front and enlarged side grilles help maintain the car's cooling performance.
The special F Sport grille, rocker panel and boot mouldings accentuate the saloon's rakish profile, while F Sport badging on the wings and 20-inch alloy wheels complete the exterior transformation. For those truly wishing to stand out, the new White Nova and Heat Blue colours will be exclusive to F Sport*.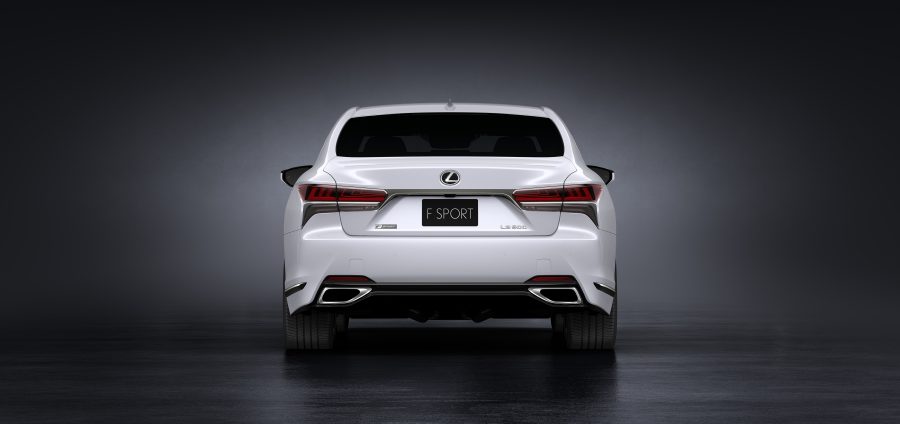 Interior
Lexus has shifted the cabin into F Sport specification by applying exclusive trims and features. At the same time, the Omotenashi spirit of the Japanese hospitality traditions remains a defining quality. It informs the way in which the driver and passenger are cared for, anticipating their needs, attending to their comfort and helping protect them from any hazards. The F Sport adds a performance attitude to these qualities.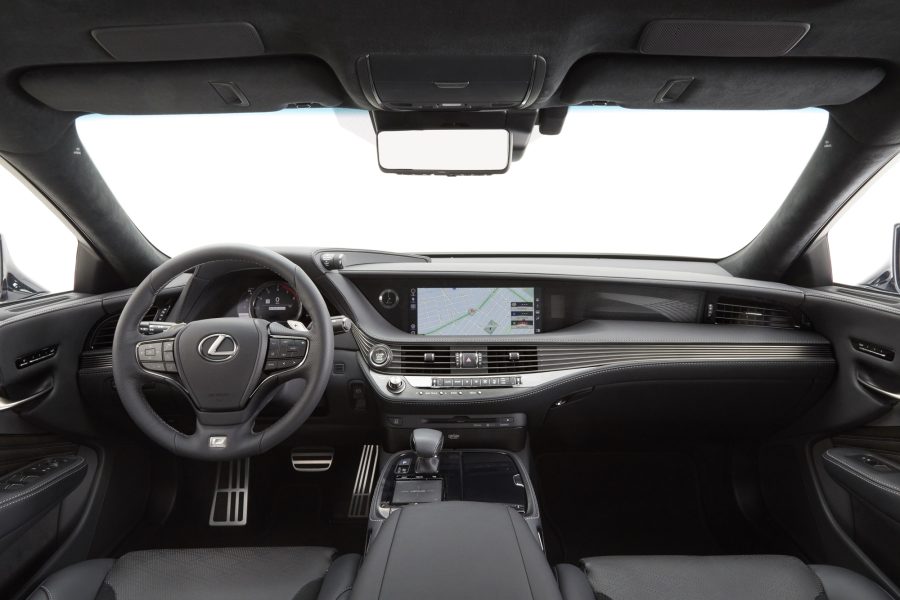 The F Sport persona is evident throughout the cabin, starting with an exclusive front seat design that gives greater support for dynamic driving. The sporty treatment can also be seen in the perforated pattern on seating surfaces and scored aluminium trim elements.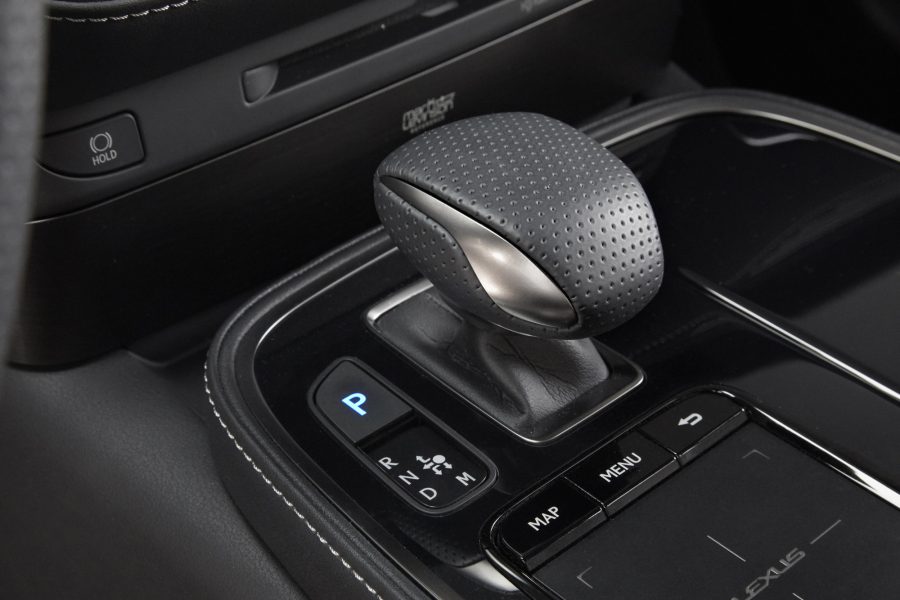 The car is equipped with a special F Sport steering wheel and instrumentation that presents a speedometer and tachometer in a moving meter display, adapted from the technology and design created for the LFA supercar. Fine attention to sporting detail includes the aluminium pedals and footrest and F Sport perforated gear shift lever. The use of Ultrasuede material across the seats and headliner is a crowning touch. A new red interior finish will be offered exclusively for F Sport models*.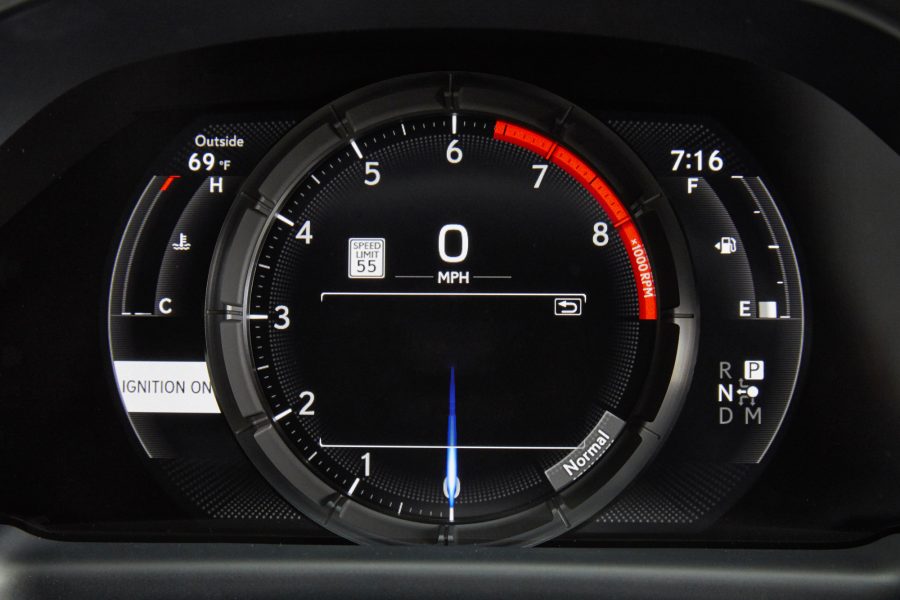 Chassis
The LS F Sport is equipped with the latest generation of Lexus's Vehicle Dynamics Integrated Management (VDIM) advanced chassis control technology.
VDIM has been constantly refined since its introduction in 2004 as the first integrated control system to bring together the previously independent operation of ABS, traction control, vehicle stability control, electric power steering and other functions into a single coordinated system.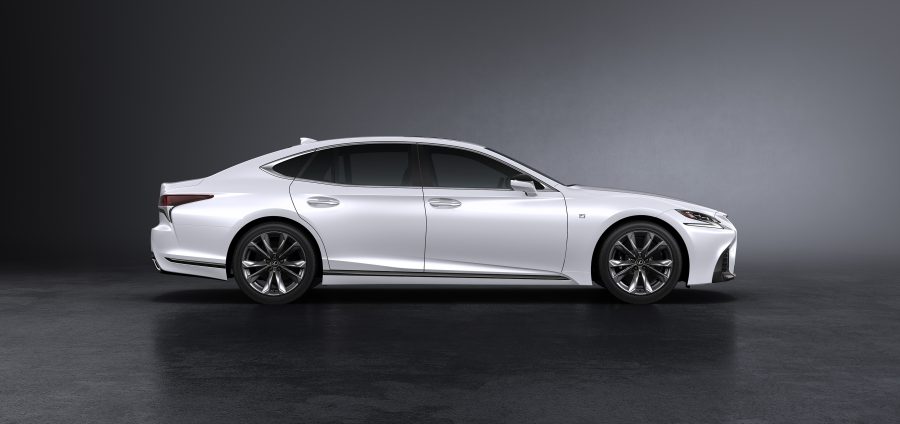 In 2012 Lexus debuted Lexus Dynamic Handling (LDH) in the GS saloon, a four-wheel active steering integrated control system that provides a higher level of safety and performance that responded even more directly to the driver's intentions.
The new VDIM system implements cooperative control of all vehicle sub-systems – braking, steering, powertrain and suspension – to control the motion of the car. Optimal control of vehicle behaviour helps achieve exceptional ride comfort, better traction and safety, and more agile handling. It also allows for a flatter vehicle posture when cornering and a more comfortable, stable ride overall.
Lexus LS F Sport: sporting genes
The LS is constructed on an extended version of the global architecture for luxury vehicles (GA-L) platform Lexus has used for its new LC flagship coupe. This provides the foundation for enhanced handling, ride smoothness and cabin quietness. The LS F Sport capitalises on the platform's inherent responsiveness and agility.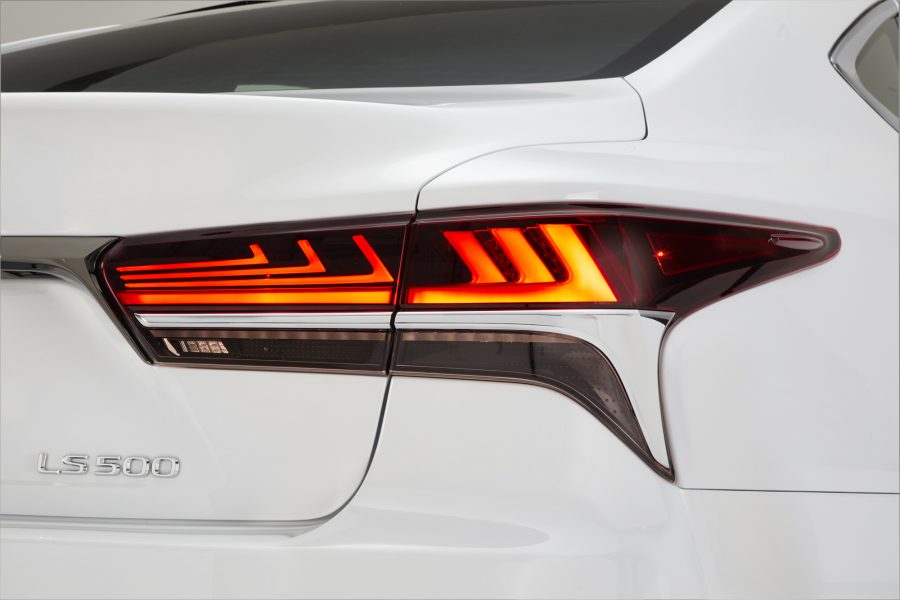 The LS F Sport is fitted with 20-inch alloy wheels as standard with 245/45 RF20 front and 275/40 RF 20 rear tyres. The brakes are larger, with six-piston callipers at the front and four-piston units at the rear, unlocking more of the platform's performance capability.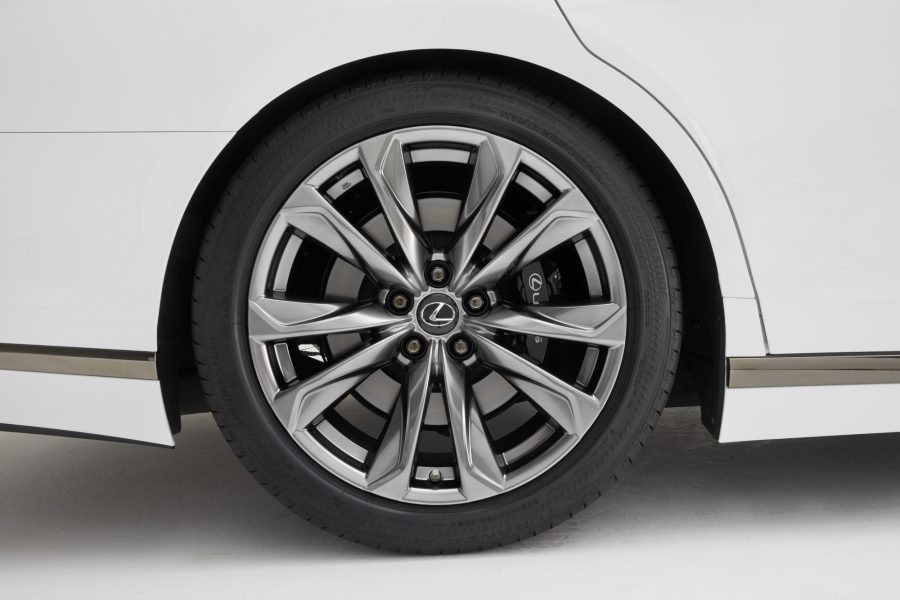 LDH (with Variable Gear Ratio Steering and Dynamic Rear Steering**) is also provided as standard, together with sport-tuned air suspension. The result is a full-size luxury saloon that responds more like a sports coupe on twisting roads, helping underline what F Sport stands for.
Lexus LS 500 F Sport: powertrain
Lexus designed an all-new 3.5-litre V6 engine specifically for the new LS 500, equipped with twin turbochargers developed using Formula 1 technology. The new unit delivers V8-level performance – 415bhp/310kW and 600Nm of torque – and is paired with the first 10-speed automatic transmission to be used in a luxury saloon.
The engine's broad torque curve is perfectly in tune with the F Sport spirit, contributing to instant acceleration and a constant build-up of torque towards the red line. The car is undeniably quick, with nought to 62mph achievable in just 4.5 seconds. Electronically controlled turbo waste gates are among the features which help secure rapid engine response.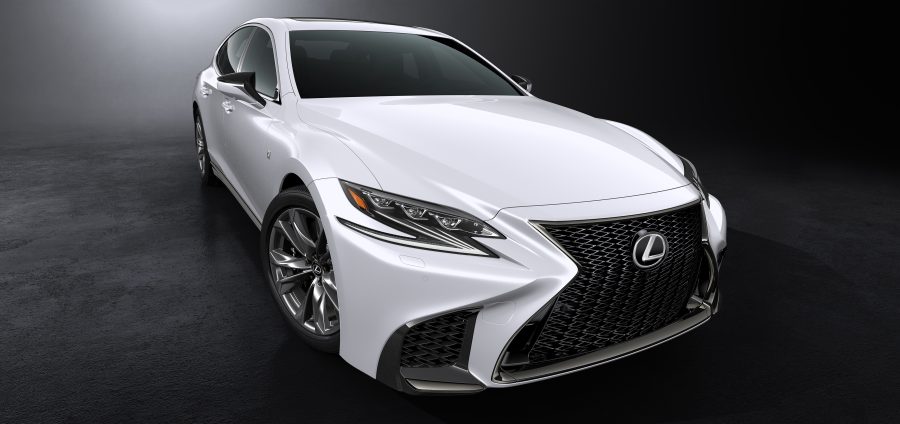 The driver can tailor the performance to suit personal preference or driving conditions by selecting Normal, Sport S or Sport S+ modes, with just enough of the exhaust note audible to enhance the sportier quality of the drive.
Lexus LS 500h F Sport: performance and hybrid efficiency
The LS 500h F Sport adds high efficiency to the sporting formula. The powertrain is equipped with Lexus's Multi Stage Hybrid System, a breakthrough technology that transforms hybrid powertrain performance.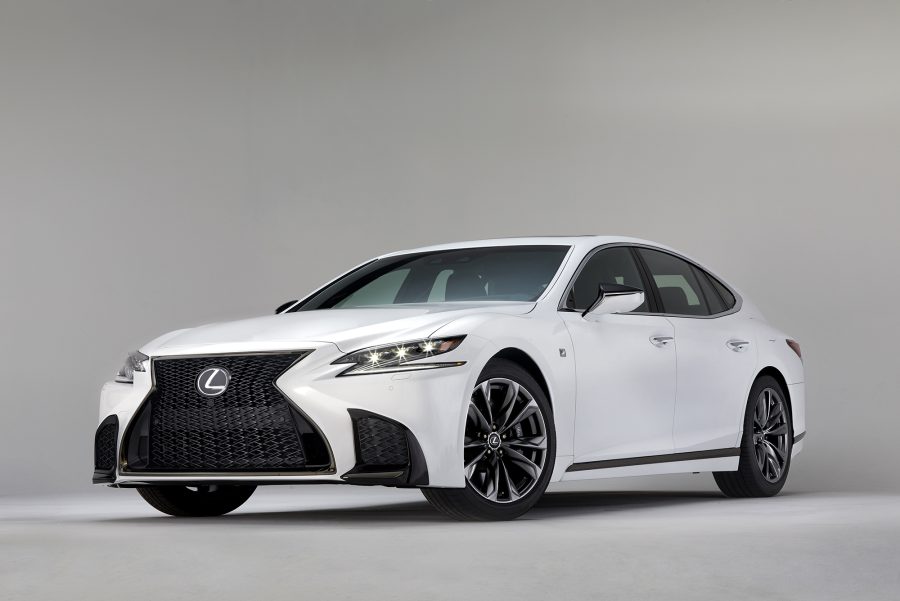 The system adds a four-stage shifting device to the Lexus Hybrid Drive combination of a 3.5-litre V6 petrol engine and two electric motors. The result is a more direct response to driver inputs and an elevation of dynamic performance driving pleasure while maintaining the characteristic smoothness and efficiency for which Lexus hybrids are renowned.
In a conventional full hybrid vehicle, engine output is boosted by the electric motor via a reduction gear. But with the new Multi Stage Hybrid System, the power from the V6 engine and hybrid battery can be amplified by the four-stage shifting device. This allows greater drive power to be generated when accelerating from stationary-nought to 62mph being dispatched in 5.4 seconds.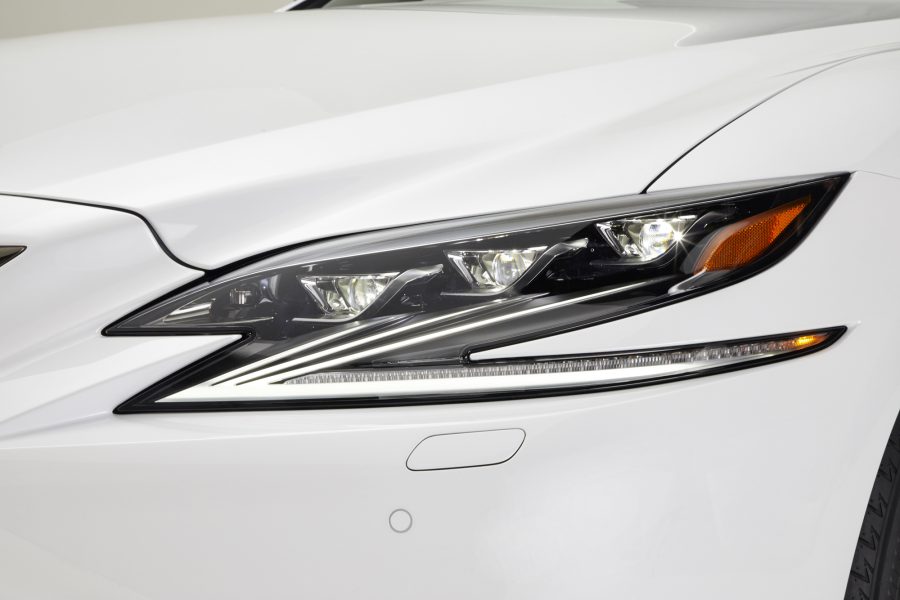 Meanwhile, high-speed cruising can be enjoyed at lower engine revolutions. The LS 500h is able to run at up to 87mph with the petrol engine shut down.
Although the unit has four speeds, the driving range has a simulated shift control pattern that delivers the feel of a 10-speed gearbox when manual mode is selected, allowing the driver to make shifts using the paddle controls on the steering wheel. As vehicle speed rises, engine speed increases with a linear, direct and continuous acceleration feel, free from the 'rubber band' effect witnessed in some continuously variable transmissions. In the 10th gear range, CVT control allows for high-speed cruising at lower engine revs for quiet, smooth and fuel-efficient performance.
Technical specifications
LS 500
LS 500h
Engine
3.5-litre petrol V6, D-4S direct fuel injection, twin turbochargers
3.5-litre petrol V6 hybrid engine
Valve mechanism
24-valve, DOHC, chain drive, with Dual VVT-i
24-valve, DOHC, chain drive, with Dual VVT-i
Cylinders
6
6
Layout
Front engine, AWD
Front engine, RWD*** or AWD
Transmission
10-speed automatic
Multi-Stage Hybrid Transmission
Max engine output (bhp/kW)
415/310
295/220
Max engine torque (Nm)
600
350
Total System Output (bhp/kW)
n/a
354/264
Hybrid battery Type
n/a
Lithium-ion
Battery Voltage (V)
n/a
310
Acceleration 0-62mph (sec)
4.5 sec (RWD)**
5.4
Wheelbase (mm)
3,125
3,125
Overall length (mm)
5,235
5,235
Height (mm)
1,450
1,450
Width (mm)
1,900
1,900
Wheels
20-inch alloy
20-inch alloy
Tyres

Front 245/45 RF20

Rear 275/40 RF20

Front 245/45 RF20Rear 275/40 RF20
*According to market availability
**LDH only available on rear-wheel-drive versions
***Rear-wheel drive LS 500 not available in Europe
All information was correct at the time of publishing.