Within the specification released about the new Lexus LC 500 was precise sizing information on the high-performance tyres that would be fitted to our forthcoming flagship coupe. Such specifics are unusual to find in show car data, and prompted further investigation.
The tyres worn by the Lexus LC 500 unveiled at Detroit were custom-made for the event and incorporated elements of Lexus design language in their aesthetic.
Lexus LC 500 tyres
However, details have since come to light that the Michelin Pilot Super Sport ZP tyres that formed the basis for the show tyres and are planned for the production LC 500 are the result of a collaborative effort on the part of development teams from both Michelin and Lexus.
Interestingly, the construction of the Pilot Super Sport ZP is such that it affords the vehicle manufacturer the opportunity to fine-tune the tyre's characteristics to match the specific vehicle application. During this intensive development period, the project included more than 1,200 prototype tyres and countless hours of testing at Michelin facilities in the USA and France, as well as Lexus's Higashi-Fuji proving ground and the Japanese Automobile Research Institute in Shirosato, Japan.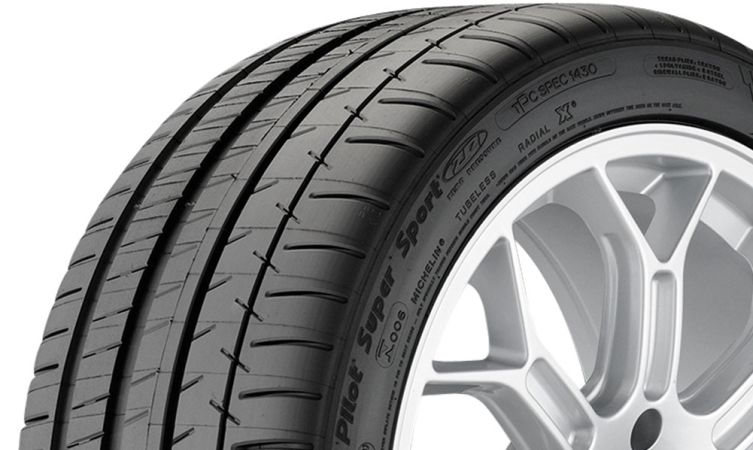 Also under the surface of the tyres is Michelin's new Zero Pressure hybrid technology – hence the 'ZP' designation. This advancement adopts a single- rather than two-ply side wall to reduce the car's unsprung weight and improve ride quality, but reinforced with special run-flat inserts to temporarily carry the weight of the entire car in the event of a serious puncture.
As well as having load-bearing qualities, the tyre walls are embedded with twin steel belts set at custom angles and reinforced with spirally wound polyamide cord. This makes them incredibly resistant to lateral forces in order to optimise handling performance, yet balanced with excellent ride comfort. Meanwhile, the assymmetric tread design offers high grip characteristics, efficient water displacement, and relatively low rolling resistance.
"Michelin's global development team worked very closely with the Lexus team to develop a Pilot Super Sport that helps meet the high performance and safety needs of the Lexus LC 500," said Thom Roach, Michelin North America's vice president of original equipment marketing.
He continued: "Owners will enjoy the peace of mind that Michelin run-flat technology offers without giving up the quiet cabin and comfortable ride that Lexus owners value."
The staggered tyre sizes for the North American specification Lexus LC 500 are 245/40 R21 (front) and 275/35 R21 (rear).
Learn more: How one UK motoring journalist took part in the development programme