The Tokyo Auto Salon is recognised as the first major car event of the year but it is also one of the world's biggest and most entertaining. Held annually in Chiba's futuristic waterfront district, the show is dedicated to Japan's thriving tuning scene. And like the automotive equivalent of a New Year's resolution, trends launched here have a habit of affecting other western markets for the rest of the year.

The diversity of cars displayed at the huge Makuhari Messe venue is astounding. If you can imagine any genre, sub-genre or niche within the automotive aftermarket, you will be able to find a company with designs on it. Fortunately, the fact that Lexus specialises in delivering a luxury experience has focused the outcome somewhat, but that hasn't stopped companies using that theme to embrace new challenges.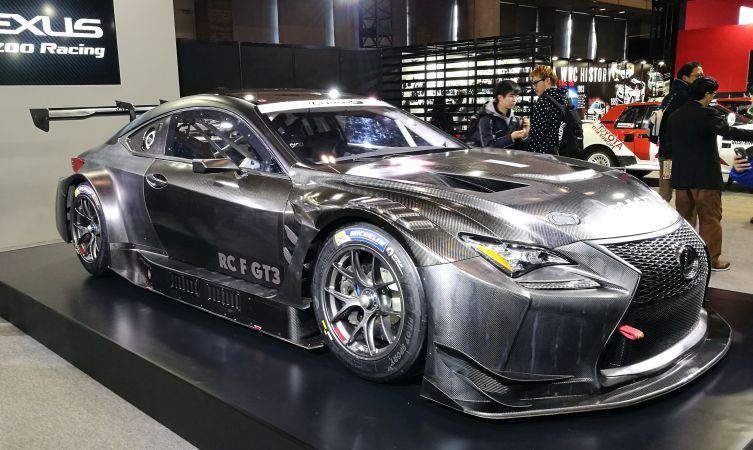 Leading the way here was Lexus itself, revealing the new production-based Lexus RC F GT3 to the world's stage. This carbon-skinned beast will be unleashed in North America in the IMSA WeatherTech SportsCar Championship under 3GT Racing, and in the GT300 class of Japan's Super GT series under the LMcorsa team.
If that wasn't dramatic enough, Lexus also showed its bold new competitor (above and below) for the highest echelon of the Super GT series, GT500. Come the start of the 2017 race season the new LC 500 racer will be adorned in team livery but we can't help thinking that the naked dry carbon offers an incredibly intimidating, Batmobile effect.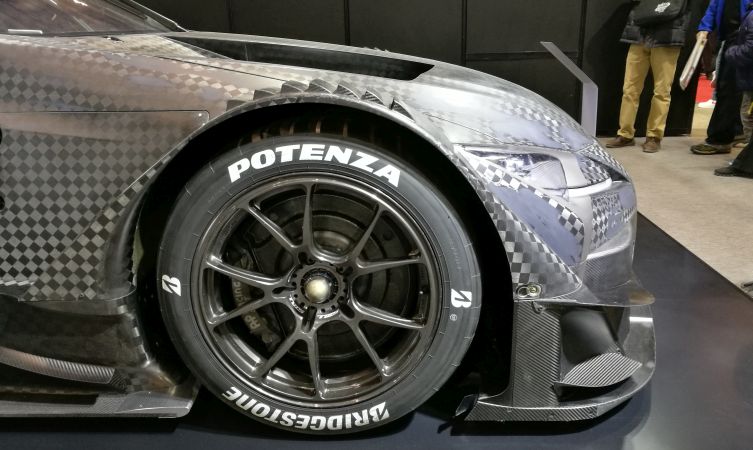 Showing what the new challenger had to live up to, the LC 500 stood alongside last year's champion – the Denso Kobelco Sard RC F driven by Heikki Kovalainen and Kohei Hirate.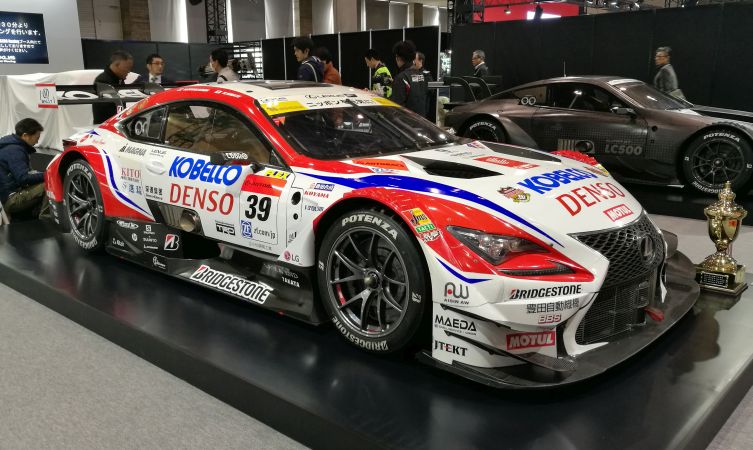 Talking of Sard, the tuner's race experience has been put to good use in development of a new LSR Edition aerodynamic system for the RC model. The full package is shown below, which consists of a carbon fibre front splitter, vented bonnet and neat ducktail rear spoiler. Also fitted is the company's exhaust, chassis and brake components.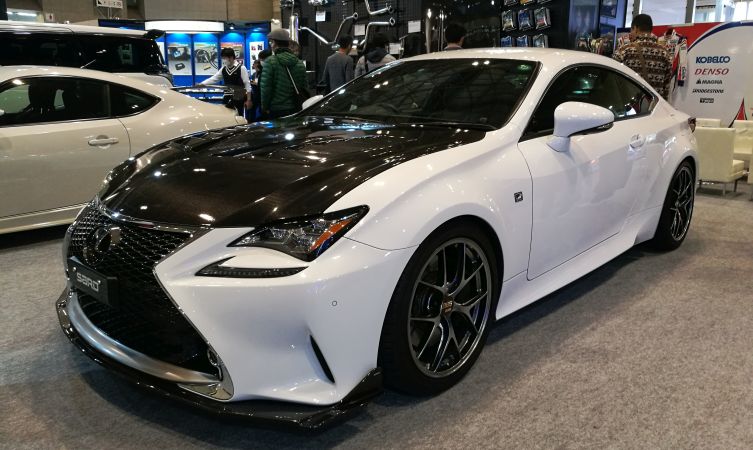 Super GT was also the inspiration for fellow tuner/race team TOM'S, which put on a masterclass of understatement with a pair of current F-line cars decked in spotlight-popping Sonic Silver. Would you believe that a total of 26 different products enhance this GS F below, extending from body and chassis to engine and interior. Definitely one of our favourite cars of the show.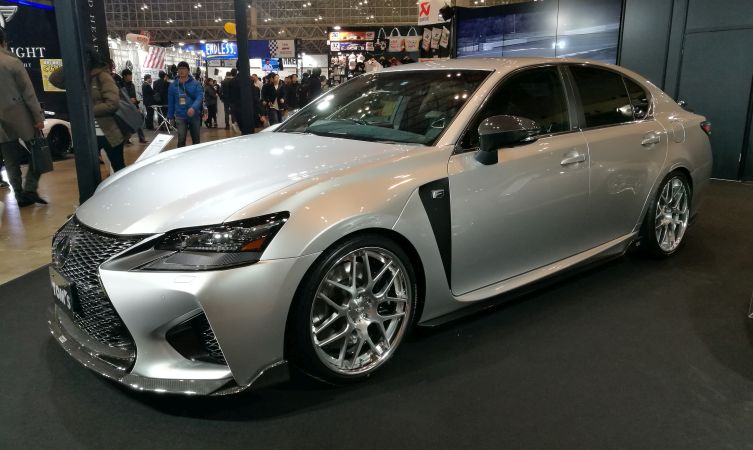 Similar thinking was applied by Novel, which also displayed an RC F and GS F, alongside its race-prepared IS F that came third-in-class in last year's 24 Hours of Nürburgring. Products fitted to the race car have informed the development of an attractive yet functional series of aero, chassis and engine parts.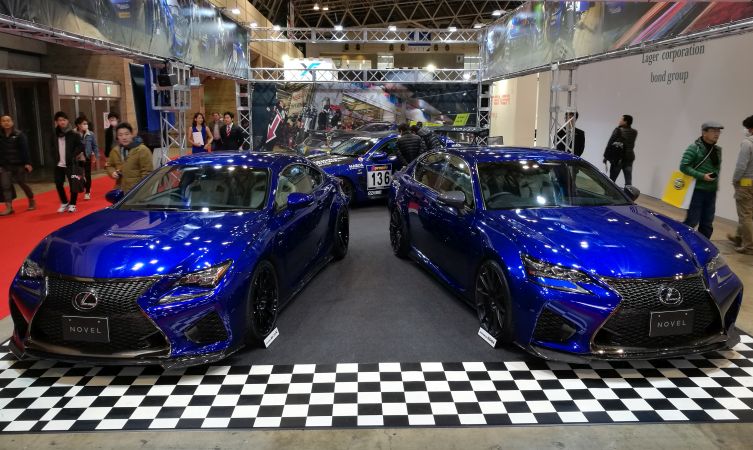 Carbon-over-white colour schemes are popular among Lexus tuners, especially those which aim to retain an air of restrained dignity with their demo cars. This was true of the subtle Black Label RX and IS models displayed by Artisan Spirits below (the same company behind the yellow LC 500 at SEMA)…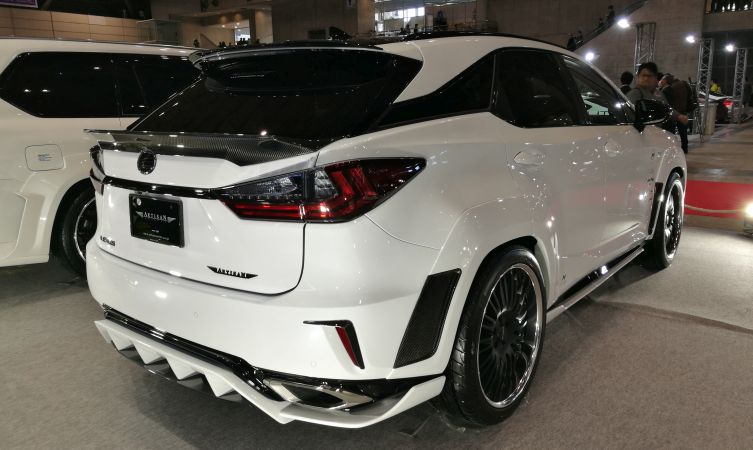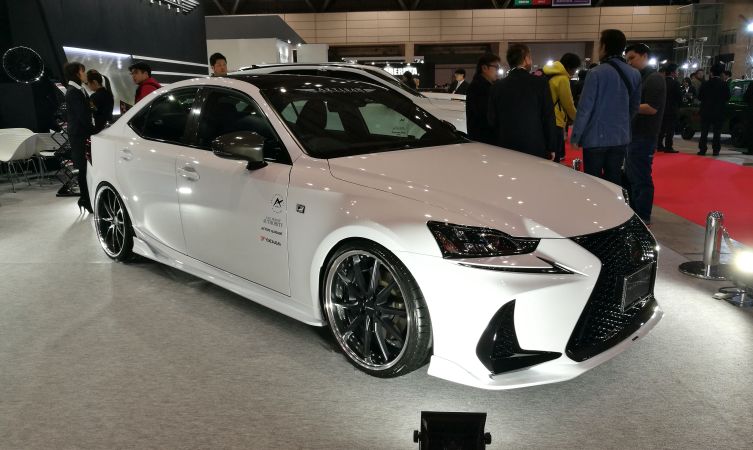 … and this M'z Speed RX, equipped with a Zeus aero package from the company's LUV line.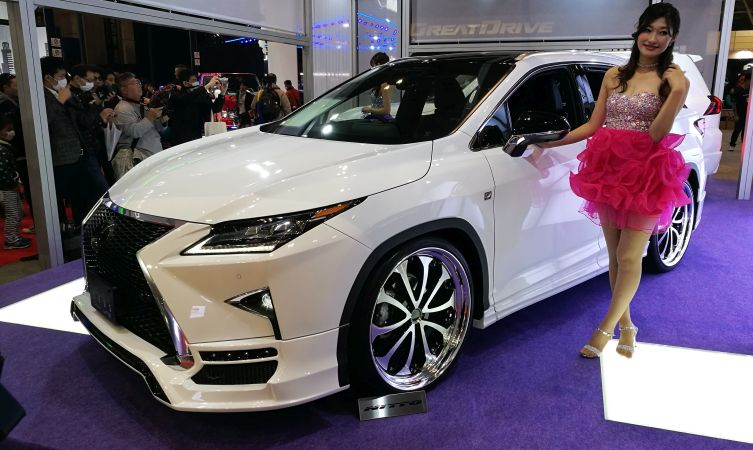 At first glance, the Lexus IS below appears to follow a similar theme. But look a little more closely and you realise that it is a second-generation model with a spindle grille conversion. This convincing makeover is produced by Fixer and is also available for the fourth-generation LS – a modification that might prove popular following the announcement of the next-generation flagship.
If there is one area of the aftermarket that Lexus has got sewn up, it's VIP style. Contrary to the perceived understanding of the initials, VIP isn't a who, it's a trend associated with large, rear-wheel drive cars. Always impossibly low-slung, the style requires the right stance – dished alloys and negative camber geometry in order to squeeze the widest possible wheels within the arches. Cars modified in a VIP style are not about going fast, they're designed to cruise along and look good.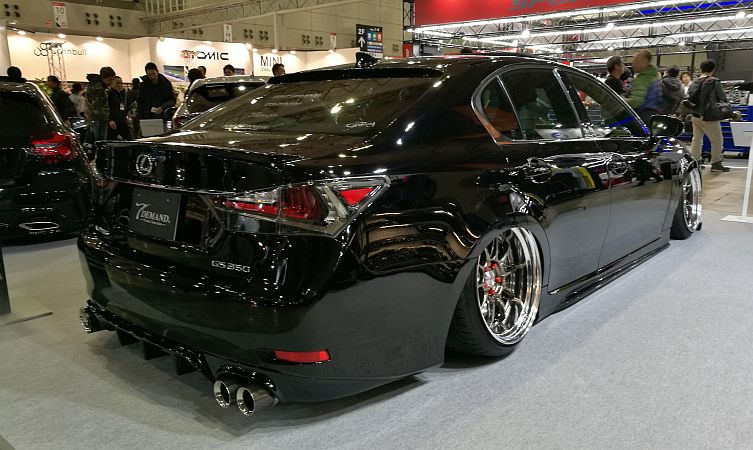 T Demand's GS 350 (above) exemplified this VIP approach, using its air suspension system and staggered SSR 19-inch wheel set-up to achieve the desired effect. However, the car's incredibly shiny black paint reflected every surface and made it almost impossible to see. A similar approach is also seen on this RC F Sport on the XO Luxury Wheels stand.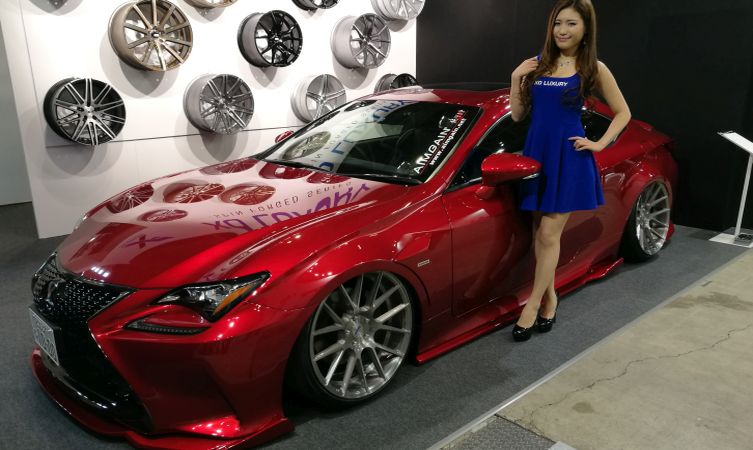 From this foundation, all sorts of fun and games ensues as tuners take the rule book and rip it to shreds. Which is precisely what the Tokyo Auto Salon is all about.
WARNING: The following images may make your eyes widen.
Vehicle stance is being pushed beyond the boundaries of surrounding bodywork. Just because the top of the tyre needs to be covered by the body, that doesn't mean the rest of the wheel has to. This is seen in 326 Power's show-stopping RC 350 below, the rear tyres of which are so stretched over the alloys that the rims sit a good 40mm proud of the sidewalls.
Wide wheels do not have to mean stretched tyres, as the popularity of race-inspired over-fenders has now been adopted by the VIP crowd in order to increase the car's footprint. For instance, Aimgain's Lexus LS 460 F Sport (below) manages to completely swallow its 21-inch Savini alloys with the help of a JUN VIP GT aero kit, which includes front and rear over-fenders that are 50 and 80mm wider than standard respectively.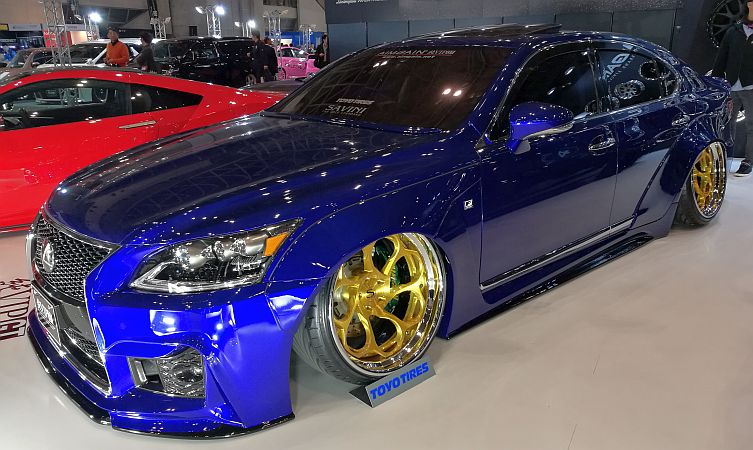 Want even more width on your LS? Not a problem. Why not try Liberty Walk's conversion, as seen on this model by K-Break.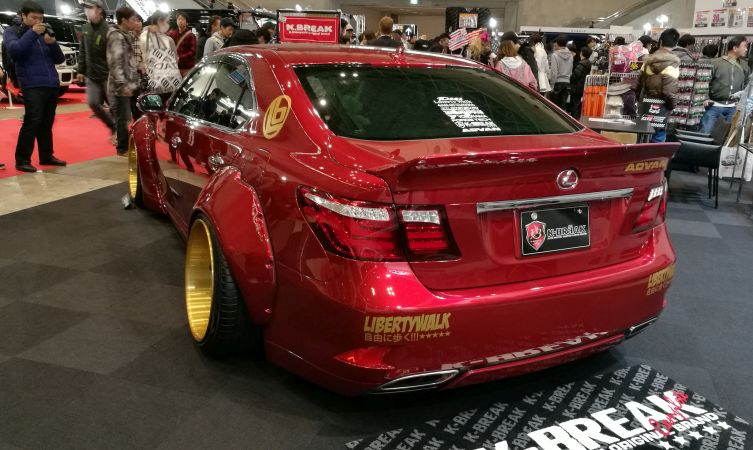 It is common to see exposed fixing screws around the edges of over-fender conversions. This may not be to everybody's taste, so you could blend everything in for a more homogenous look…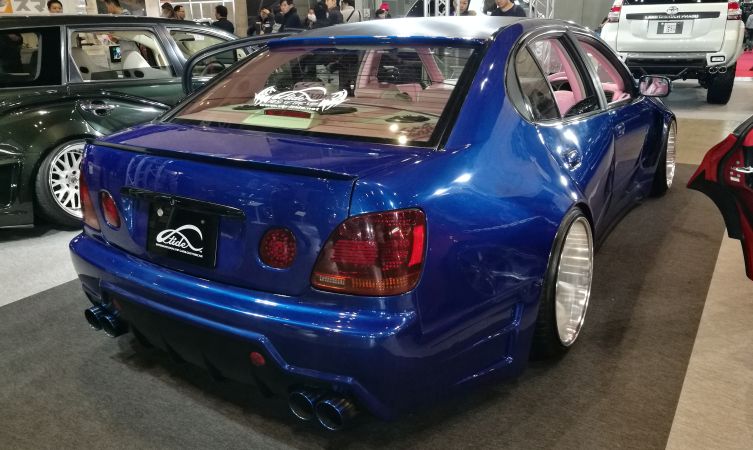 … or copy the example of this IS 250 and continue the exposed screw look throughout the rest of the car.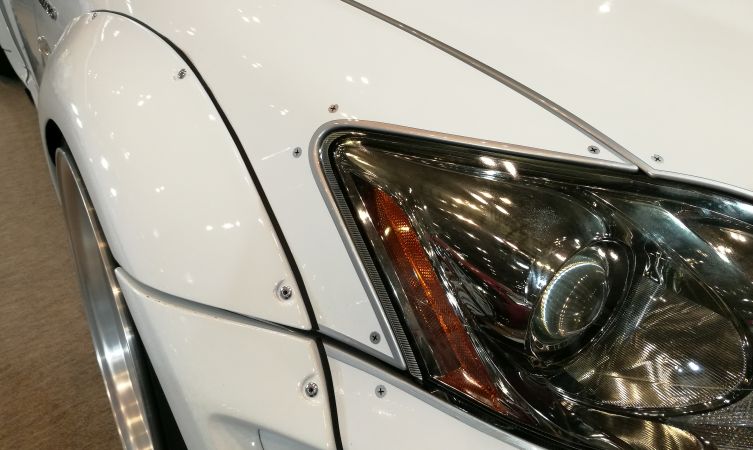 But if all else fails and you want to wow the crowds, it seems that the most effective way is to simply strap a custom motorbike to the back!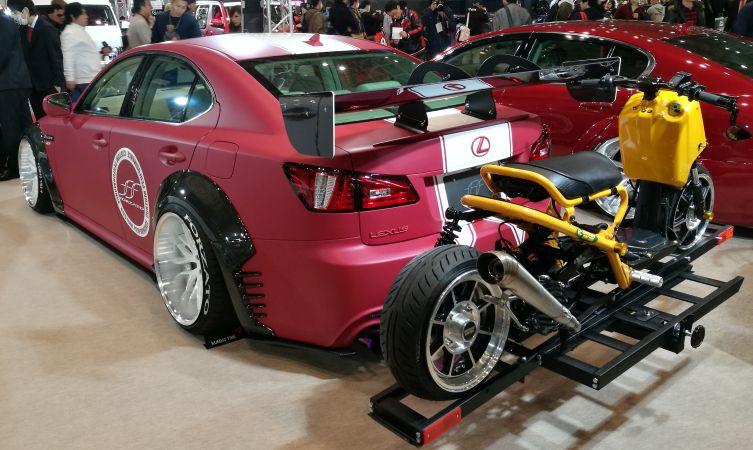 2017 Tokyo Auto Salon: bonus Lexus images