Lexus is commemorating its tenth anniversary at the SEMA show with a stunning showcase of cars. In addition to a collection of modified current generation 'F' models, attention was drawn magnetically to the centrepiece – the world's first tuned Lexus LC 500.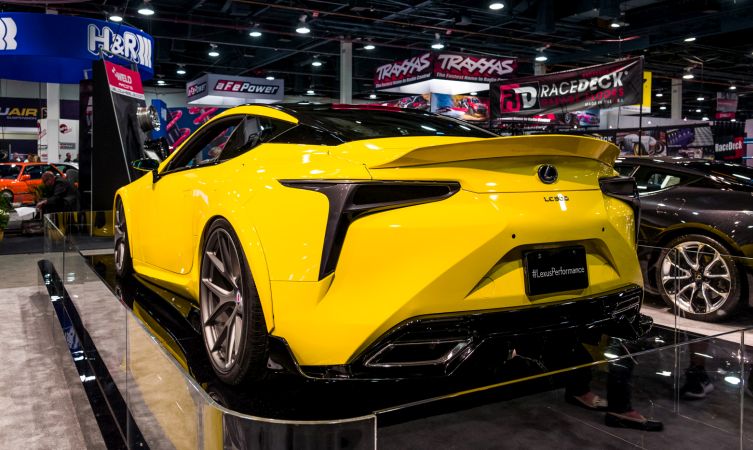 Held in an enormous convention centre in Las Vegas, USA, the annual SEMA show celebrates every aspect of the multi-billion-dollar automotive aftermarket. It attracts trade visitors from all over the globe and is known to cement emerging trends within the tuning industry.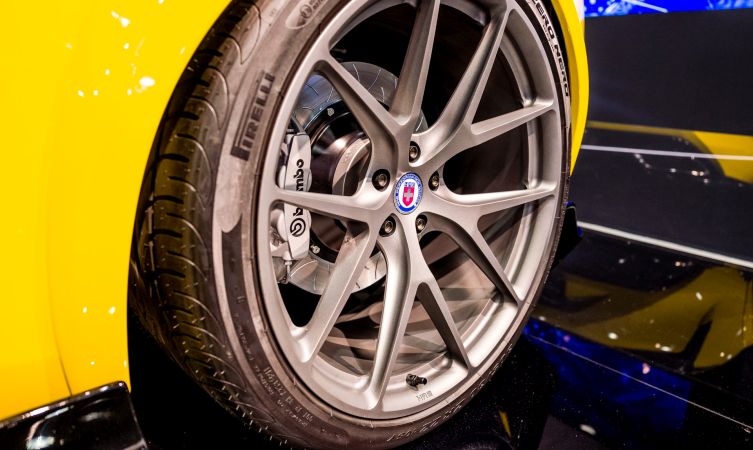 Such is the power of the aftermarket that many of these trends revolve around new models, even yet-to-be-released vehicles. Evidence of this was clear to see on the Lexus stand.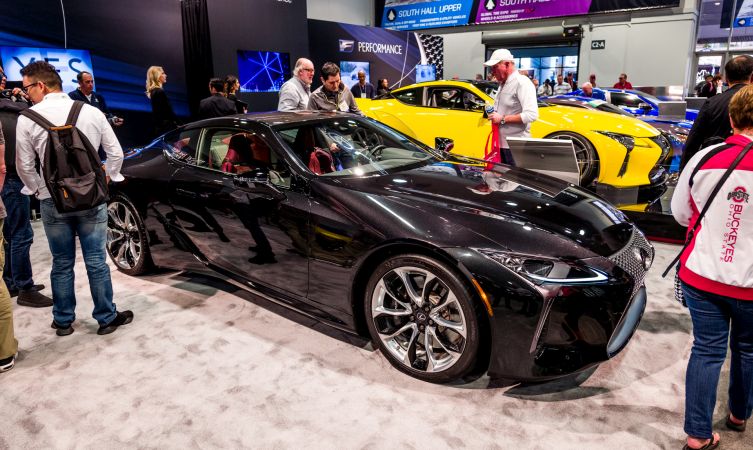 SEMA is perhaps the one place on earth where the privilege of being able to experience the Lexus LC 500 well ahead of its launch date is overshadowed. The culprit was, of course, the bright yellow LC 500 presented by Gordon Ting and Beyond Marketing, which drew admiring crowds like moths to a flame.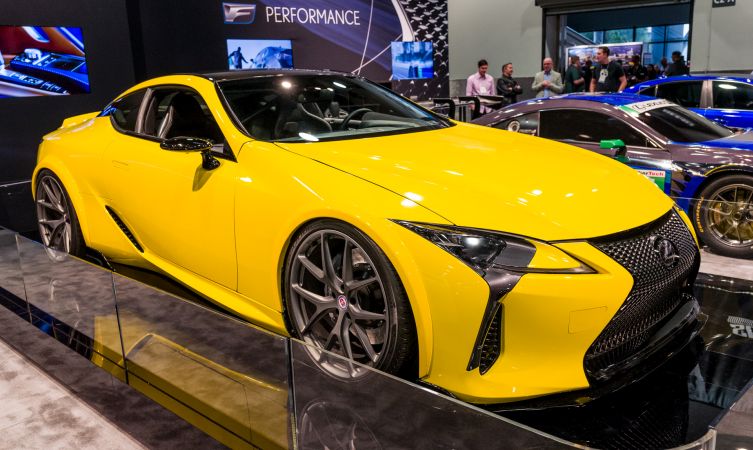 There was no existing support from the aftermarket to produce this vehicle, but with input from Lexus Japan and some key suppliers it is remarkable that the independent team managed to usher through such a comprehensive makeover on this pre-production model.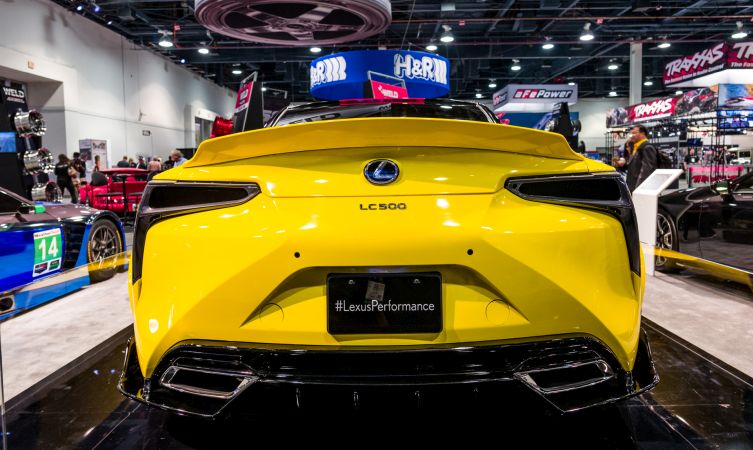 The package includes a custom aero kit (front and rear diffusers, arch flares, side skirts and rear wing) that apparently took 10 months to perfect, a custom roll-cage and interior, staggered 22″ alloy wheels, and a height adjustable suspension system.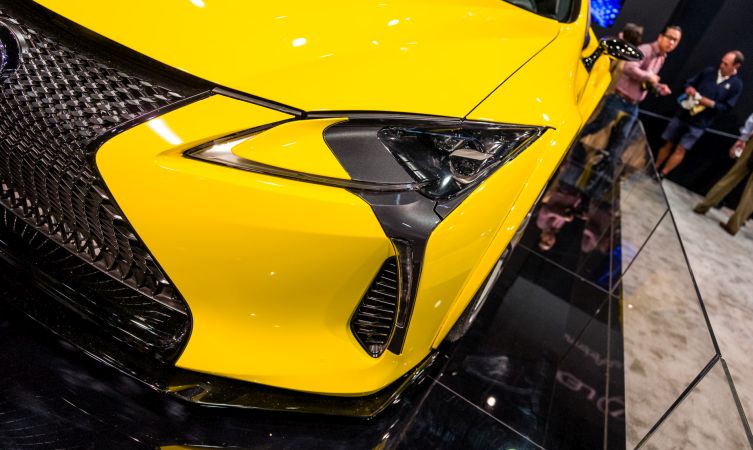 What's more, building on the cutting-edge technologies of the model's engine, the original V8 has been increased to 5.6-litres and rebuilt to handle more than twice the standard power output. Currently, however, this has been capped at 525bhp, which also happens to be comparable to the vehicle sitting next to it.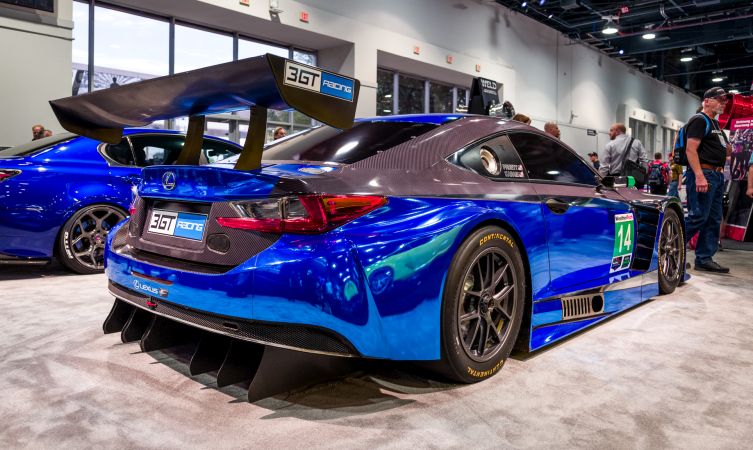 This is the dramatic Lexus RC F GT3 racecar put together by Paul Gentilozzi and his 3GT Racing team. Developed to further the Lexus race programme in the United States, the RC F will compete in next year's IMSA WeatherTech SportsCar Championship series.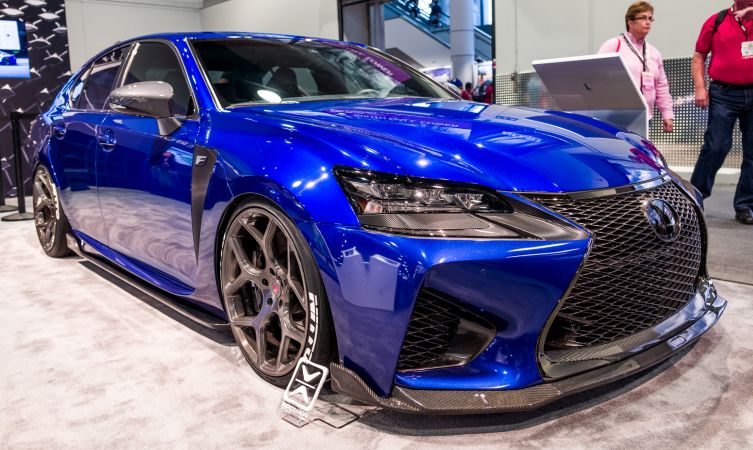 Returning to road cars, the Lexus stand was flanked by two rather more understated high-performance models, both of which were developed by Clark Ishihara to exaggerate the admired 'F' model aesthetic and performance.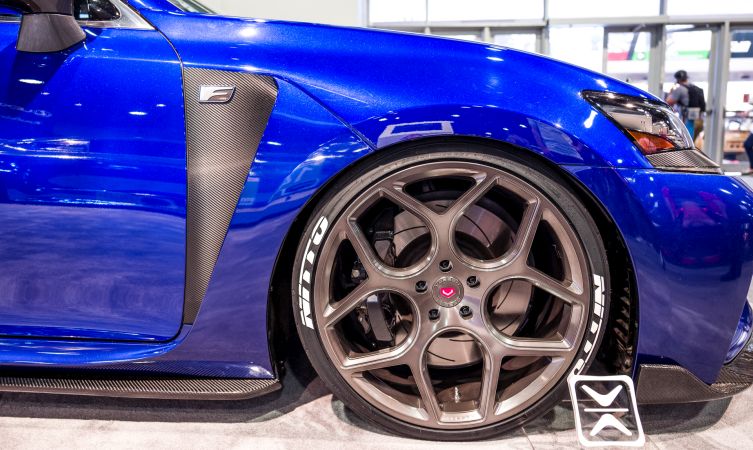 The 'Enhanced Body' GS F retains the original body lines but uses custom-machined 20″ alloys and air suspension with automatic levelling to give it a wider, racecar stance.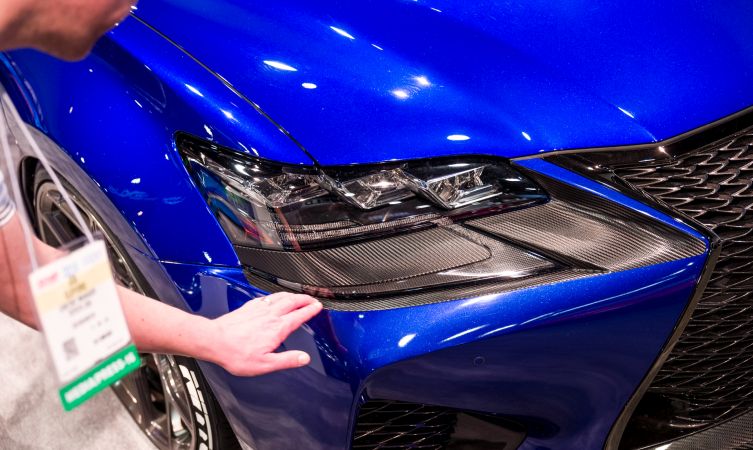 Carbon fibre accents are used to visually boost key styling cues around the headlights and front wing vents, while new diffusers and side skirts enhance the vehicle's ground control.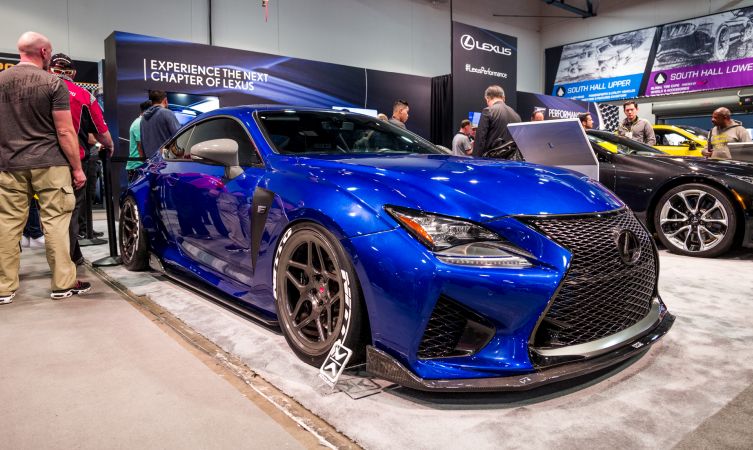 Similar details can be found on the RC F, however the Enhanced Body approach is turned up a few degrees with extended rear arches, wider alloys and a more focused interior. Race seats replace the original front seats and the rear bench has been deleted in favour of a custom harness bar. Performance has also been enhanced with a cold air intake and a new free-flowing exhaust system with titanium tailpipes.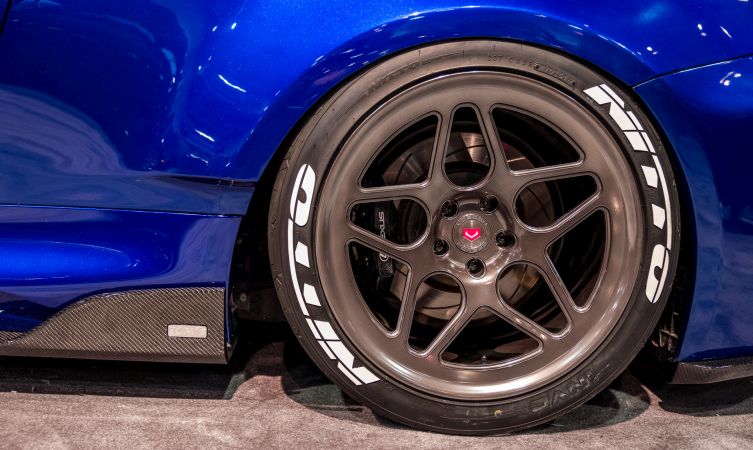 Away from the official stand, Lexus models are common display vehicles throughout the SEMA show and respond well to modifying because of their high-quality engineering. However, a greater concentration can always be found in areas dedicated to VIP styling, a trend that started back in Japan but has spread throughout the world.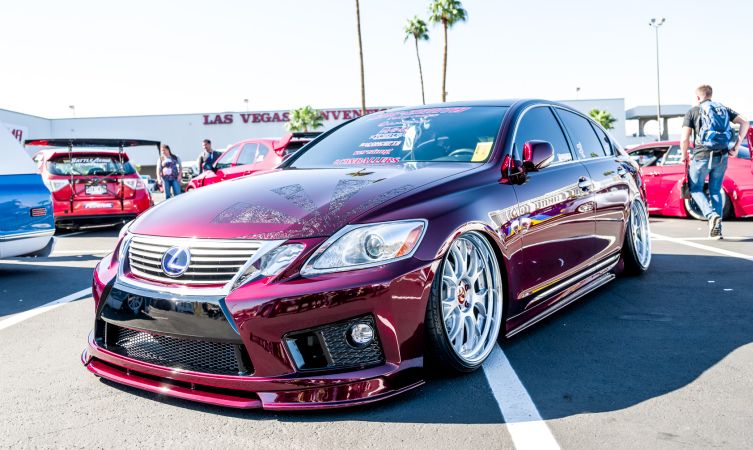 Belly-scraping ride heights are a given within this sphere of the tuning market, but you can find fascinating cues that show real attention to detail.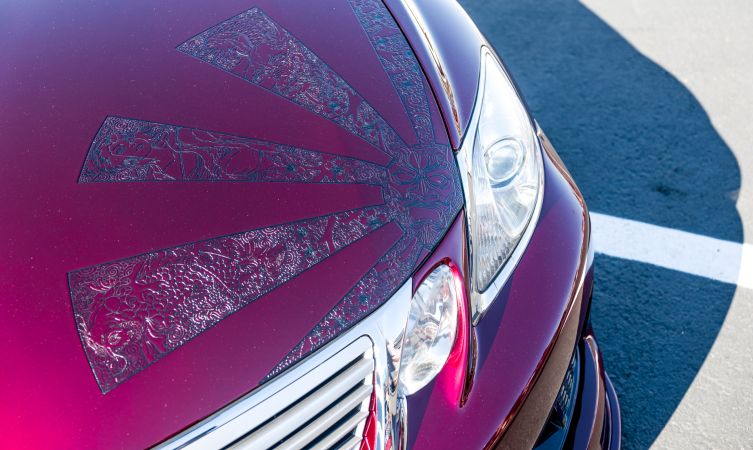 Tattoo-like engraving is becoming increasingly popular for adding an extra artistic dimension to body panels, while others have carefully integrated later model styling cues to update the appearance of their cars. Look at the example below, which is a second-generation Lexus IS equipped with the spindle grille from a third-generation model.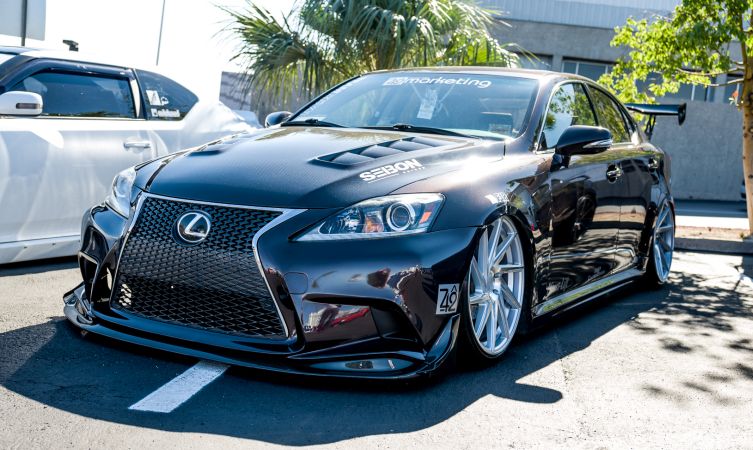 Interestingly, Lexus has endowed its current models with such creative exterior designs that sometimes all that is necessary to transform road car to show car is the right factory paintwork, forged aftermarket alloy wheels, and a height-adjustable suspension system.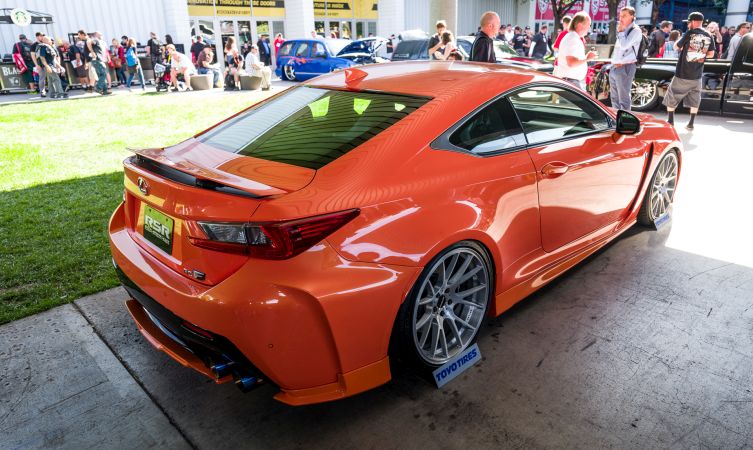 At other times, that same paintwork, plus a little arch massaging to accommodate wider alloys also does the trick.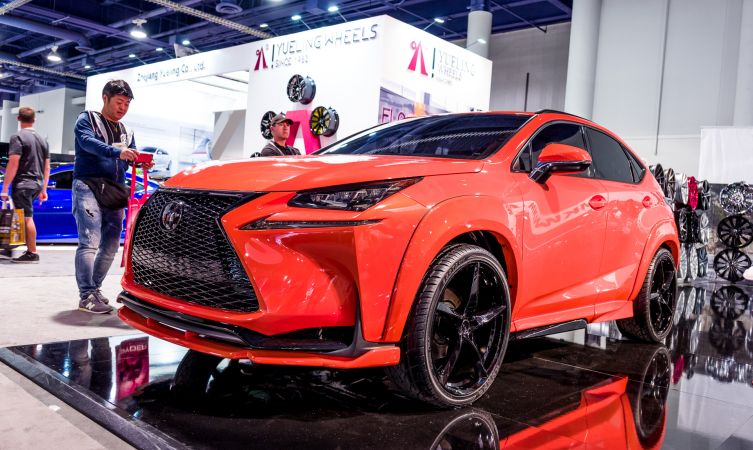 While it can be argued that motorsport inspired the ongoing obsession for wide-body conversions, particularly popularised by Japan's 'Rocket Bunny' aero, modifying is primarily about personalising your vehicle and standing out from the crowd.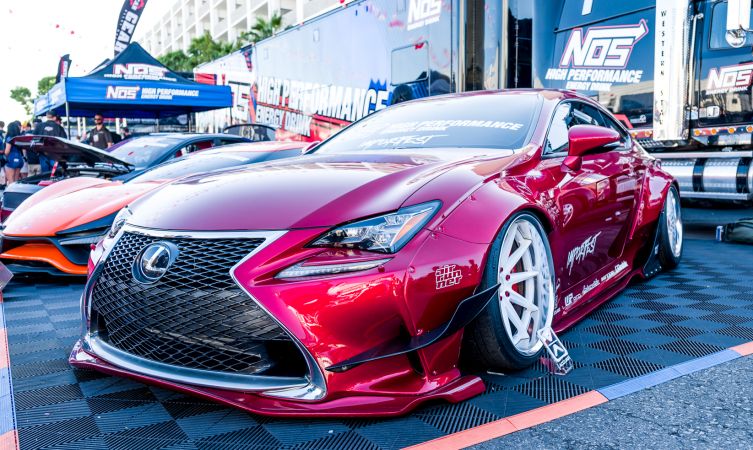 In that respect, Lexus definitely used its tenth anniversary SEMA display to transform itself from being a follower of the aftermarket tuning industry to a stand-out leader. It makes us wonder what might be in store for next year…