The world debut of the fifth-generation Lexus LS at the North American International Auto Show in Detroit demonstrates how Lexus has consistently raised the benchmarks set by its original model.
The LS is all-new, inside and out, reflecting a strong and uniquely Japanese identity, while designed as a true global car, destined to be available in around 90 countries worldwide.
"Not only will LS symbolise the Lexus brand, it will become the definitive new generation luxury car, embodying Japanese tradition and culture," said Toshio Asahi, LS Chief Engineer. "As such, it must go far beyond what the world expects from a luxury car."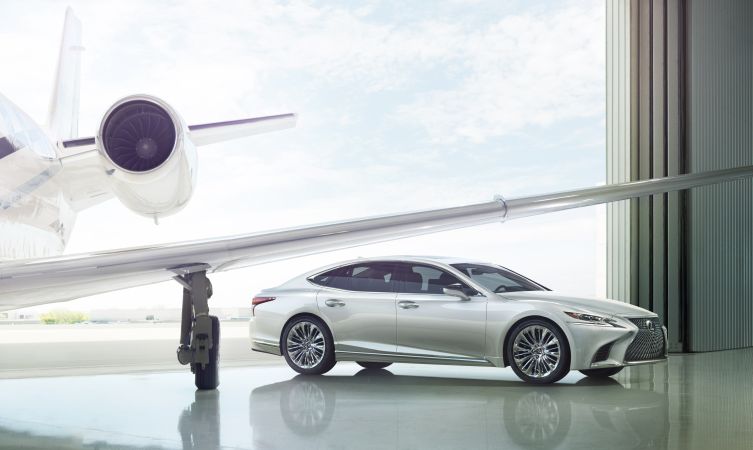 Lexus LS: longer, lower, wider and more exciting
The new LS is longer and lower than the model it replaces, and debuts a striking coupe-like silhouette, punctuated by the new Lexus design language. A driver-centred, performance feel comes from the car having been built on Lexus's new global architecture for luxury vehicles, an extended version of the rear-wheel drive GA-L platform that also underpins the new LC luxury coupe. This helps secure a more dynamic driving experience while at the same time raising the level of renowned Lexus ride comfort.
The original LS won acclaim by anticipating what luxury customers would want, rather than simply amplifying what established prestige automobile brands offered at the time. In that same spirit, the new LS's spacious cabin, unique appointments and forward-thinking technology will redefine what is expected of a global flagship saloon.
Chief Engineer Asahi said: "We set previously unheard of targets and resolutely pressed ahead towards these unprecedented goals. The customers who are going to want to own a Lexus LS are already surrounded by luxury in their day-to-day lives, people who have a sharp eye for authenticity from the start. We wouldn't turn their heads with a conventional premium product."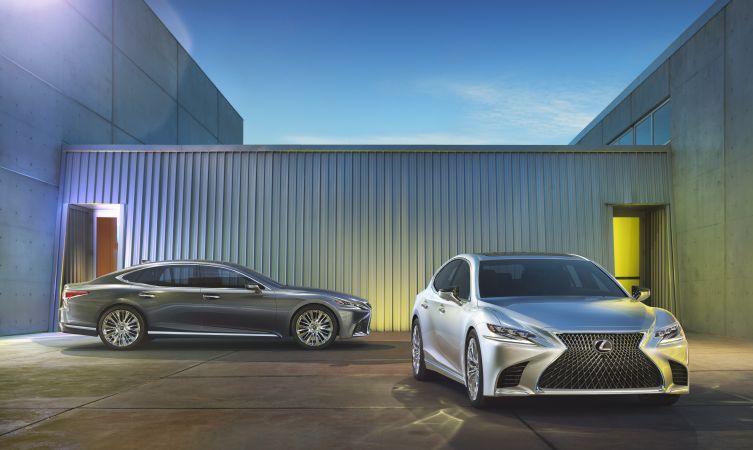 Lexus LS: a flagship reborn
The new LS is true to Lexus's more dynamic direction. Each previous generation of the model marked advances in luxury, craftsmanship, performance and safety, with the most recent version adding much more emotional design and engaging performance to the mix.
To create the new LS, Lexus started afresh, reimagining what a flagship saloon should be, as if it were launching its brand all over again. The goal was not to improve on what has been done before, but to exceed the expectations of luxury customers worldwide.
Omotenashi, the Japanese concept of hospitality, remains a common thread that runs through all LS models. In the context of a luxury automobile, it means taking care of the driver and passengers, anticipating their needs, attending to their comfort and protecting them from hazards.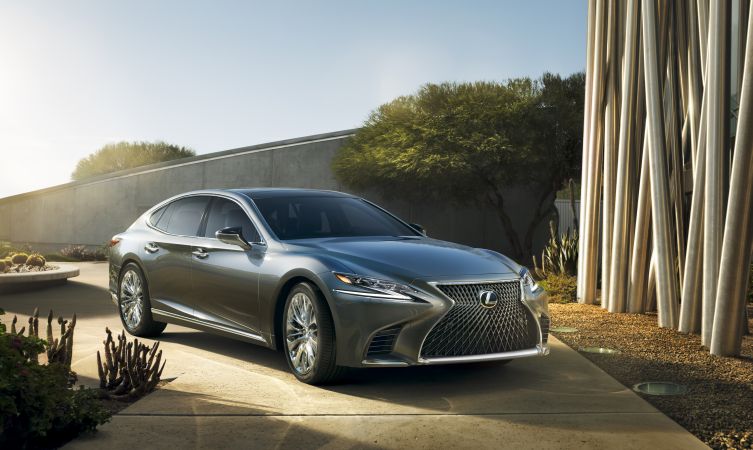 Lexus LS: crafting a unique identity
"The LS is the flagship of the Lexus brand," said Chief Designer Koichi Suga. "More than any other model, it embodies the history and image of Lexus and serves as a symbol for everything the brand stands for."
Following the "Yet" philosophy that has been passed on through successive generations of the LS, Lexus created a design offering the room and comfort of a prestige three-box saloon, yet with the stylish silhouette of a four-door coupe – a look that holds a stronger appeal for younger luxury customers.
Lexus designers took full advantage of the new platform, with a lower profile and length on a par with a prestige, long-wheelbase saloon. Compared to the current LS, the new model sits about 15mm lower, while the bonnet and boot are 30 and 41mm lower respectively. This is the first Lexus saloon to feature a six-side window design, and the first to feature flush-surface windows that integrate smoothly with the side pillars.
There is also a unique rendition of Lexus's signature spindle grille, with a mesh texture that appears to change in different light, created using intense CAD development and the hand-adjustment of thousands of individual surfaces.
Five new wheels have been produced for the LS, including new 19 and 20-inch designs. The 20-inch premium wheels have a brilliant finish, created with an electroplating technique known as spluttering. All but one of the designs feature a hollow rim structure that helps reduce resonance generated by the tyres.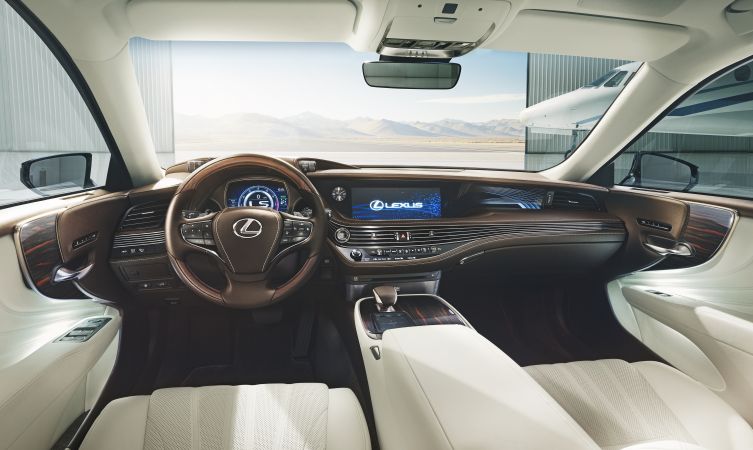 Lexus LS: progressive comfort with traditional inspiration
Creating a new standard of flagship luxury is not simply a matter of adding more features. Inspired by the principles of omotenashi, Lexus sought to instil a luxury in the LS's cabin that welcomes and envelops the occupants and treats the driver like a partner.
"I suggest that you simply open the door and experience that immediate, intuitive sense that you're looking at an interior that is unlike any luxury car before," said Chief Designer Suga.
New seat designs, including 28-way power front seats with heating, cooling and massage functions, exemplify this approach. The organically shaped dashboard design clusters information displays at a uniform height to support the seat-in-control layout – the driver can operate all systems without having to change their posture.
While making the new LS more of a driver's car, Lexus also lavished attention on the rear seats, producing a design that provides seamless continuity between the trim and seatbacks. There are heating, cooling and massage options for rear seat occupants, while power-controlled rear and front passenger seats are available with a shiatsu massage function and a raised ottoman leg rest as part of an extensive rear seat luxury package that offers more legroom than in any previous LS. With this optional package, the seat behind the front passenger can be reclined up to 48 degrees, and raised up to 24 degrees to make it easier to exit the vehicle.
Because the new LS is lower than previous models, Lexus has equipped the optional air suspension with an access function. Activated when unlocking the car with the smart key, access mode automatically raises the vehicle and opens the seat bolsters to welcome the driver behind the wheel.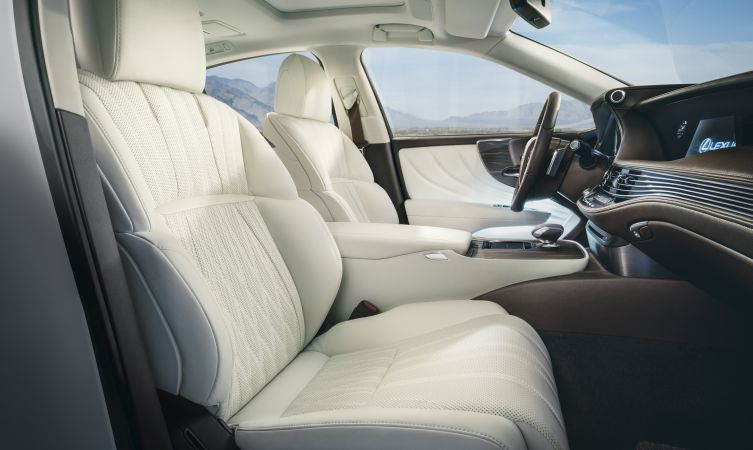 Lexus LS: intersection of tradition and technology
The lighting and an all-round attention to detail express the unique aesthetic Lexus has produced in the new LS. It again turned to Japanese culture for a new approach to creating trim elements, combining traditional influences with advanced manufacturing techniques. This can be witnessed in signature touches, such as ambient lighting inspired by Japanese lanterns and armrests that appear to float next to the door panels.
Natural woodwork and the application of sophisticated sliced wood and laser cutting technologies are used, inspired by the patterns found in shimamoku wood, creating new interior finish options. Compared to the straight grain shimamoku pattern, the LS's new cross grain is larger with sharper contrasts between light and dark, creating a more vibrant look.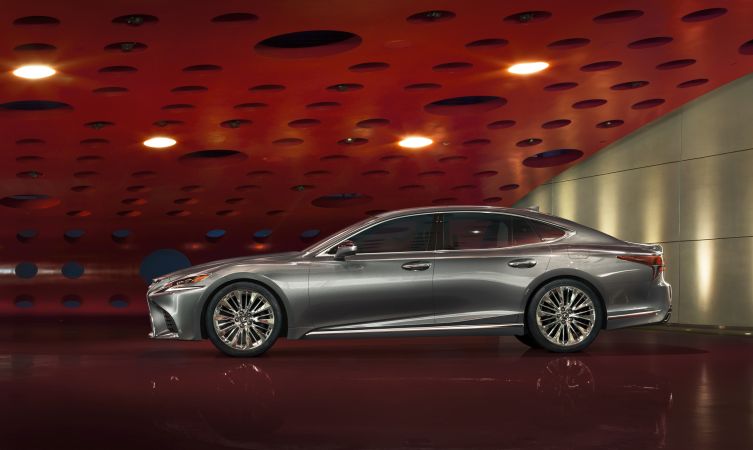 Read more: Dynamics of the all-new Lexus LS