Lexus appreciates that nothing conveys the anticipation and excitement of driving as effectively as motorsport. More than simply providing an amazing experience, motorsport directly contributes to the development and technologies of future production models.
With that in mind, what fields of motorsport does Lexus compete in, and what important series has been added to the programme since last year? Please scroll down for an outline of Lexus's recently announced motorsport programme for the remainder of 2018, as well as the teams and drivers that will be at the sharp end of these activities.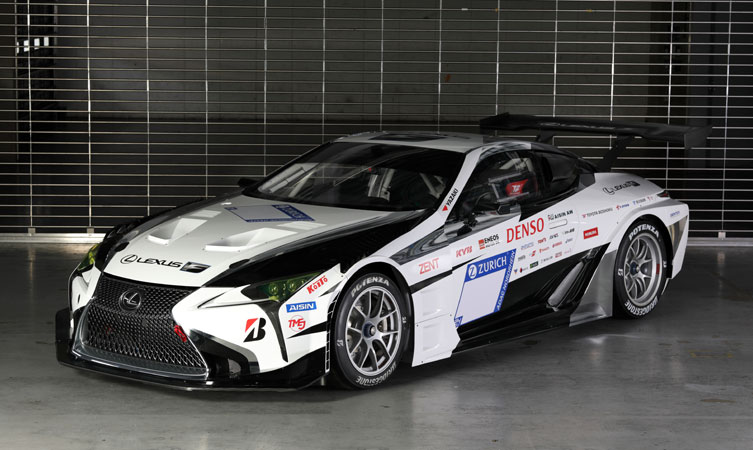 Germany: Nürburgring 24 Hours endurance race
This year marks the 12th consecutive year of participation in the 24 Hours Nürburgring, the world-renowned endurance race that Lexus regards as vital in the development of its road cars. The 2018 event takes place on 12-13 May.
Making its European motorsport debut in this race will be the Lexus LC above, which has been specially modified to comply with regulations. It also incorporates a number of advanced development technologies that will be used in future production cars. These include stiffening yet reducing the weight of the body, improved aerodynamics, power and fuel economy increases, and suspension refinements to enhance responsiveness.
Team
Lexus Gazoo Racing
Vehicle / Class
Lexus LC/SP-PRO (planned)
Main Specifications
Engine
2UR-GSE modified
Tires
Bridgestone
Drivers
Takeshi Tsuchiya (Japan)
Takamitsu Matsui (Japan)
Naoya Gamo (Japan)
Yuichi Nakayama (Japan)

Japan: Super GT (GT500 class)
Super GT is the most exciting and influential car-based race series in Japan. Following its championship-winning debut last year, Lexus Gazoo Racing will continue to campaign the Lexus LC 500 in 2018, offering direct support for six of the race teams while the remaining six teams will be supported via the TRD sports subsidiary of parent company Toyota.
Class

Team

Vehicle

No.

Driver

Tyre

GT
500
LEXUS TEAM KeePer TOM'S
KeePer TOM'S LC 500

1

Ryo Hirakawa (Japan)

BS

Nick Cassidy (New Zealand)
LEXUS TEAM LEMANS WAKO'S
WAKO'S 4CR LC 500

6

Kazuya Oshima (Japan)

BS

Felix Rosenqvist (Sweden)
LEXUS TEAM WedsSport BANDOH
WedsSport ADVAN LC 500

19

Yuji Kunimoto (Japan)

YH

Kenta Yamashita (Japan)
LEXUS TEAM au TOM'S
au TOM'S LC 500

36

Kazuki Nakajima (Japan)

BS

Yuhi Sekiguchi (Japan)
LEXUS TEAM ZENT CERUMO
ZENT CERUMO LC 500

38

Yuji Tachikawa (Japan)

BS

Hiroaki Ishiura (Japan)
LEXUS TEAM SARD
DENSO KOBELCO SARD LC 500

39

Heikki Kovalainen (Finland)

BS

Kamui Kobayashi (Japan)

Japan: Super GT (GT300 class)
In the GT300 class, Lexus is represented by three RC F GT3 models. Two of these are run by Japanese teams, while the other is prepared by a team from Thailand. All GT300 and GT500 class cars run on the track at the same time.
Class

Team

Vehicle

No.

Driver

Tyre

GT
300
arto-Panther Team Thailand
arto RC F GT3

35

Nattavude Charoensukhawatana (Thailand)

YH

Nattapong Hortongkum (Thailand)
LM corsa
SYNTIUM LMcorsa RC F GT3

60

Hiroki Yoshimoto (Japan)

YH

Ritomo Miyata (Japan)
K-tunes Racing LM corsa
K-tunes RC F GT3

96

Morio Nitta (Japan)

BS

Yuichi Nakayama (Japan)

Global: Lexus GT3 customer motorsport
Through global sales and customer support of the Lexus RC F GT3, Lexus Gazoo Racing enables customers from around the world to enjoy competing in GT3 races and enhancing the image of Lexus in motorsport. In turn, Lexus also receives feedback from these privately-run teams to help develop its production vehicles.
Moving into 2018, the Lexus RC F GT3 will appear in five separate race series. This includes North America's popular IMSA WeatherTech SportsCar Championship and, for the first time this year, Europe's Blancpain GT Series, widely regarded as the world's premier sports car series.
Region
Series
Class
Team/s
Number of
Vehicles

U.S.

IMSA WeatherTech SportsCar
Championship

GTD

3GT Racing

2

Europe

Blancpain GT Series

Pro

Emil Frey Lexus Racing

2

VLN Langstrecken Meisterschaft
Nürburgring

SP9

TBD

TBD

Japan

SUPER GT

GT300

Arto-Panther, LM corsa, K-Tunes

3

Super Taikyu

ST-X

MAX Racing

1
Learn more: Lexus motorsport milestones