E-Four is our advanced all-wheel drive system. Fitted exclusively to our hybrid SUV line-up, this light and compact safety technology avoids the efficiency compromises associated with conventional mechanical all-wheel drive systems.
It offers Lexus drivers peace of mind in knowing that their vehicle will automatically deliver surefooted behaviour, especially when winter weather brings unpredictable road conditions.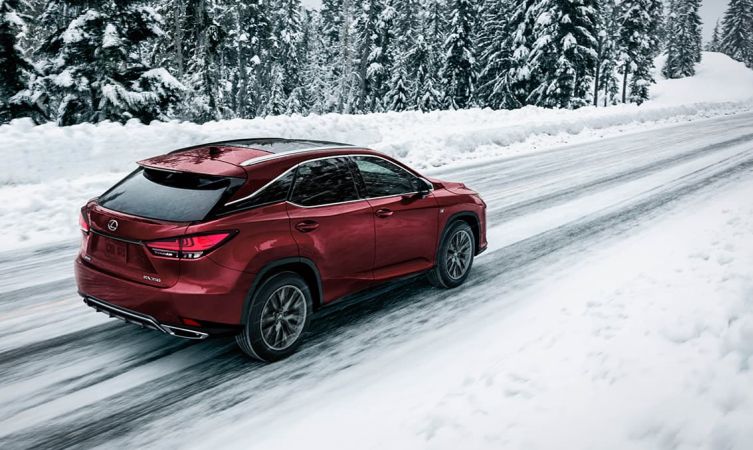 How does it work?
E-Four delivers all-wheel drive through an additional electric motor integrated into the rear differential. In normal conditions, E-Four is in standby mode and the SUV is driven by the front wheels for maximum efficiency. But when the stability control system detects wheel spin or loss of grip across the front axle, the secondary motor immediately supplies torque to the rear wheels to provide extra grip and enhanced vehicle control. The precise distribution of power between the front and rear axles is balanced by the stability control system and is determined by prevailing conditions and data coming from the sensors.
E-Four made its UK debut in 2005 in the Lexus RX 400h. Since then its performance and capabilities have been constantly improved, most recently with a significant performance upgrade in 2018. This made 30% more torque available to the rear wheels, enabling the vehicle to deal with more challenging low-grip conditions than before. An AWD Integrated Management (AIM) system ensures optimal power distribution.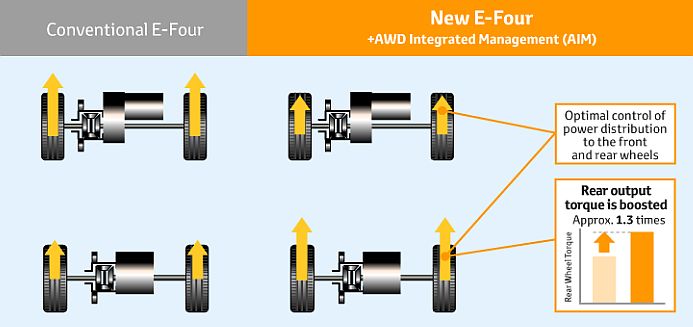 The sophistication of AIM has allowed E-Four to extend its advantages. By coordinating torque distribution and the application of brakes across the rear axle, mid-corner stability is enhanced, allowing the system to counter over- and understeer and trace a line that is faithful to the driver's intentions. It also helps secure stable progress when pulling away on snow, sand or other tricky surfaces.
The rear motor additionally serves as a generator for the car's regenerative braking system, increasing the amount of kinetic energy that can be captured when braking or decelerating and storing it as electric power in the hybrid battery.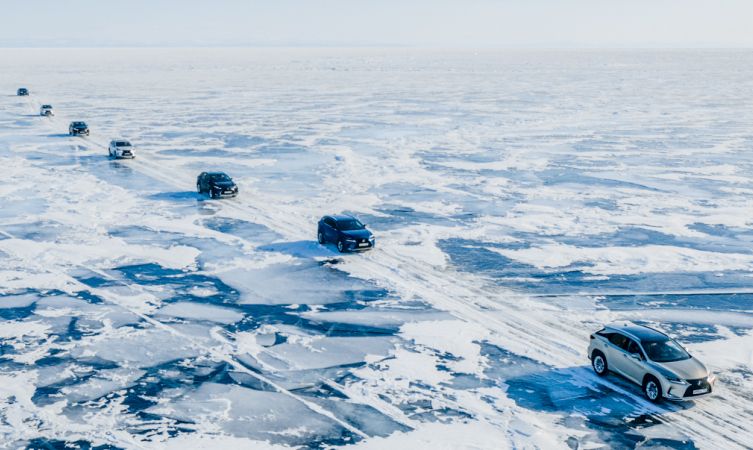 Which Lexus models are equipped with E-Four?
The latest version of E-Four is fitted as standard to all versions of the full-size Lexus RX and seven-seat RX L. Similarly, all versions of the mid-size NX model are also equipped with E-Four, although the entry-level model can be specified in front-wheel drive. E-Four is only available on selected higher specification derivatives of the compact UX.
Learn more: Lexus SUV sizes explained