Lexus offers a comprehensive, four-strong range of hybrid SUV models: UX, NX, RX and RX L. Each model is identified by a descriptive, two-letter acronym – for example, UX is a stylised contraction of Urban Crossover.
Learn more: Lexus model name meanings explained
These acronyms do not necessarily offer an immediate indication of the relative size of each model. But we realise that understanding their size is vital in determining which Lexus SUV is the best possible fit for your needs and lifestyle… or even your garage.
We therefore hope that the following video and table are helpful in illustrating the comparative dimensions of each model.
Lexus SUV dimensions: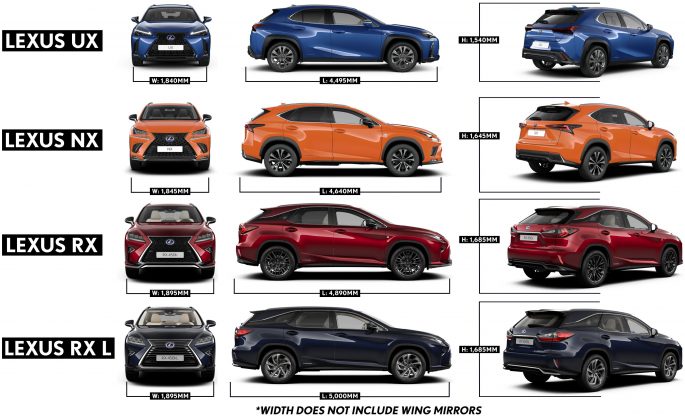 The Lexus UX is positioned as the smallest and most urban-friendly model in our crossover range. It is more compact than the mid-size NX, which in turn is smaller than the full-size RX and seven-seat RX L.
This hierarchy is also reflected in the self-charging hybrid powertrains installed in each model. The Lexus UX is equipped with a 2.0-litre four-cylinder petrol engine; the Lexus NX is equipped with a 2.5-litre four-cylinder petrol engine; and the Lexus RX and RX L is equipped with a 3.5-litre V6 petrol engine.
Learn more: How does Lexus Hybrid Drive work?