The LC Convertible may have received glowing reviews from the automotive press recently, but the fast, sweeping 3.8-kilometre Goodwood circuit in West Sussex provided an altogether different challenge for the V8-powered soft-top. Lexus UK ambassador Michael Bentwood was given the enviable task of driving the stunning new Lexus LC Convertible at Goodwood SpeedWeek.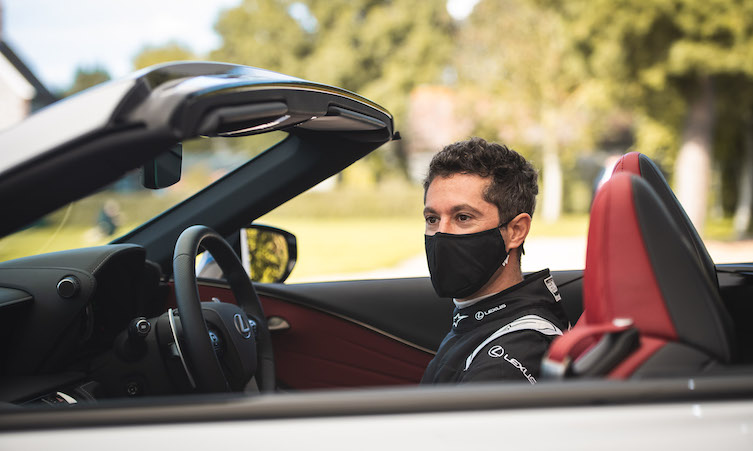 A successful former racing driver, Bentwood is no stranger to Lexus machinery, having driven everything from the Lexus UX to the fire-breathing Lexus RC F GT3 racing car, so there's no better person to judge how the car performs on the track. We chatted to Michael at the event to get a racing driver's perspective of what the Lexus LC Convertible is like to drive at speed, shortly after his run in The Supercar Run.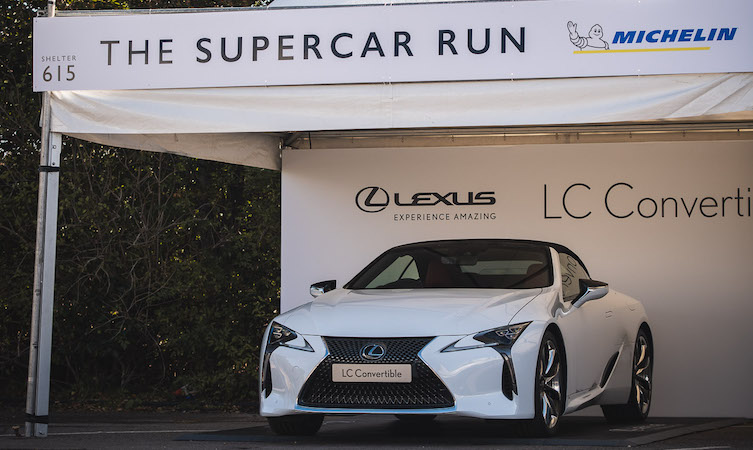 What was the Lexus LC Convertible like to drive around Goodwood Circuit?
Having driven the coupé and the convertible, they are both pretty similar – but you have the roof missing! Every manufacturer that makes a convertible has to go through the process of strengthening and making sure it meets all the crash criteria. The LC Convertible has lovely road manners and on the track it's closer to a sports car than a GT, despite being Lexus's first GT. The car feels pretty dynamic on track, but the convertible is perhaps a little more laid back than the coupé and the damping feels a little bit different. But it's still just as entertaining and really quite capable.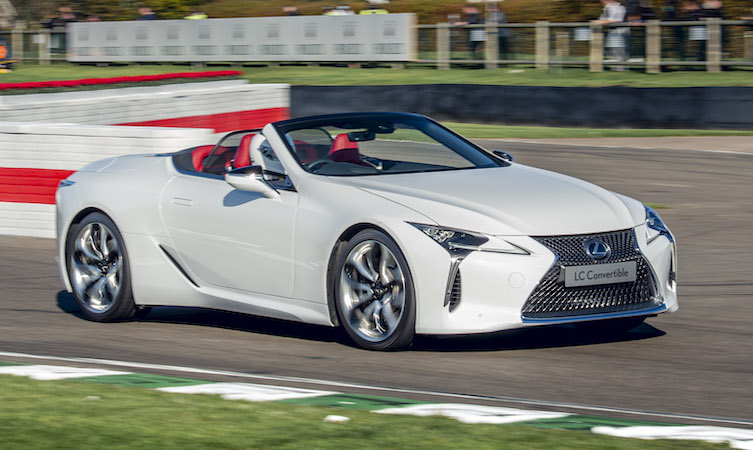 And Goodwood's a great race track, isn't it?
Yes, it's challenging because there are very few features and reference points. Traditional race tracks have these big, beautiful kerbs with red and white edging, but there's none of that here. There's a little bit of kerbing on the apex, but nothing on the outside, just track and grass. So you have to pay attention and not drop a wheel on the grass. The car sounds great too, with a normally aspirated V8 and you can hear it bouncing off the limiter here.
What's it like driving at speed with the roof down?
At normal speed, the air net behind the seats reduces buffeting. I had the windows down and my head was quite stable, even up to 200kph. There was quite a bit of wind noise on the track at high speeds and with a tight helmet on you can quite hear the engine and tyre performance. But on the road it's pretty good.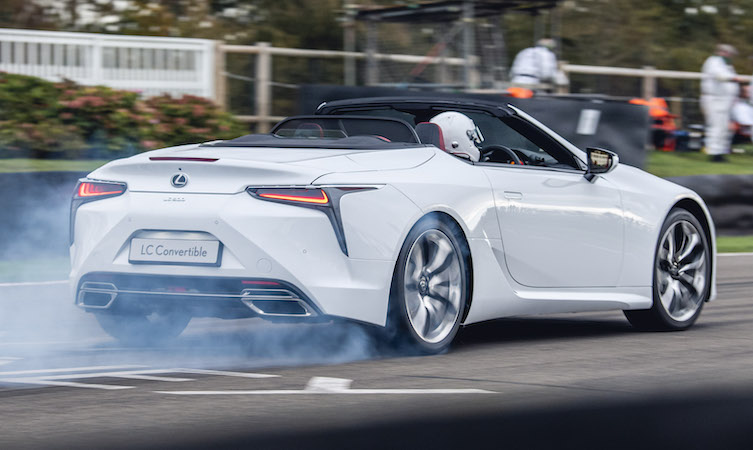 How does it compare with the coupé?
It's just a bit more relaxed, compliant and softer. They have tried to retain that personality. They are not hugely different, you'd usually anticipate a big difference between coupé and convertible, but I haven't really experienced that with this. They've worked hard at keeping all the original elements. They've backed off damper rates and clearly you are going to get a bit more movement in the chassis compared to a coupe and you always will when you take the roof down. But the nice thing is you can hear the V8 better.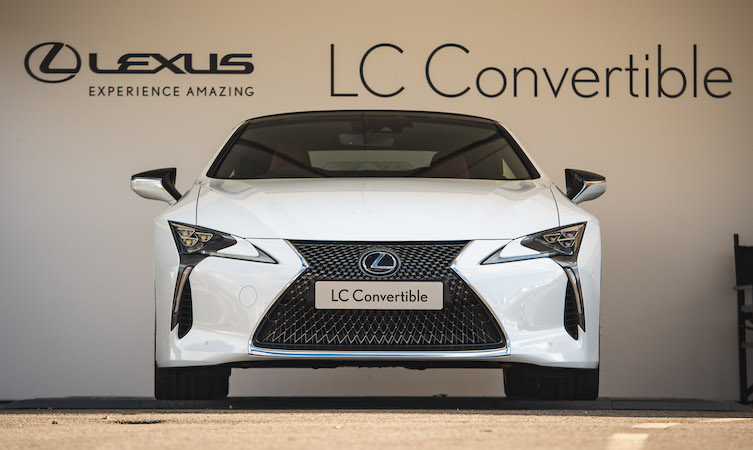 Technically, what makes the LC Convertible so good to drive?
Wow, where do you start? They have looked at everything. The dashboard is from LFA and looks like someone from NASA designed it. It feels quite tactile and the steering feels really wholesome considering its electronic. They've done a lot of work on the steering, it's pretty dreamy and they are trying to hang on to an analogue feeling. Also, the suspension for me is a standout feature. You only have to take a look at the front wing and you can see the suspension geometry. They've been able to give the car a really good ride quality on the road by reducing unsprung mass and the benefit of this set-up on the front gives you a much better footprint, and that generates more lateral grip. That's why in a way it feels closer to a sportscar than a GT car. It's a privilege to drive it.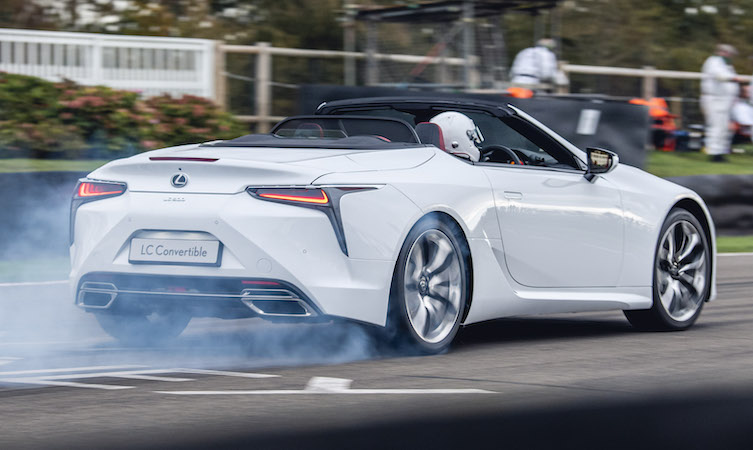 In your opinion, what makes the LC Convertible stand out?
It's got to be the heart and soul of the car: the engine, a normally aspirated V8. Lexus are well known for their hybrids and have gone into the electric field now. We've got the LFA supercar, which if you look at it you wouldn't think it's 10 years old, and now they have filled the gap with a GT car to appeal to a broad audience. There's lots of choice, which is what customers want, and we're giving it to them.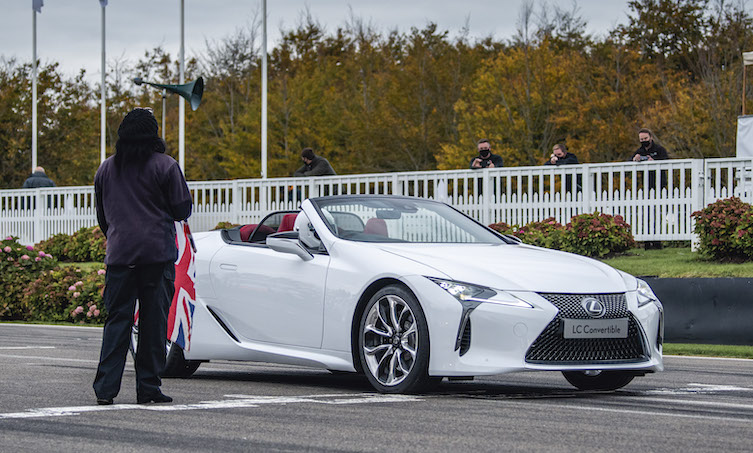 What do you think of Goodwood SpeedWeek as an event, especially in light of the current global climate?
You have to say fair play and well done to Goodwood. Everyone welcomes it and who knows, it could become a standalone annual event. It could evolve into something new. But it feels strange that the petrolheads and enthusiasts can't get close to the action. It's like football at the moment, where fans just have to watch on a screen. But well done to everyone for putting on a show, because it is certainly better than nothing.
A big thank you to Michael Bentwood for taking the time to talk to us.