The defining element of this one-off Lexus RC F Track Edition 'Hakuji' model is its satin white paintwork. As explained in our introductory article, this unique paint has a finish and pure white tone inspired by Japanese fine porcelain. The lightweight CFRP elements, on the other hand, are sealed with a contrasting gloss lacquer.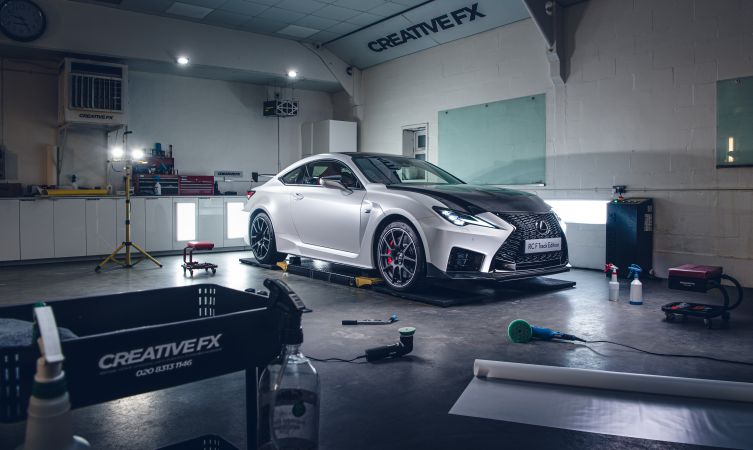 As a result, the cleaning and maintenance procedure would have been similar to that of the RC F 10th Anniversary model in that its matt paint also required special care. We say 'would have been' because as soon as the Hakuji edition landed in the country Lexus UK arranged for the specialists at Creative FX to cover the entire body in high-quality Xpel protective film.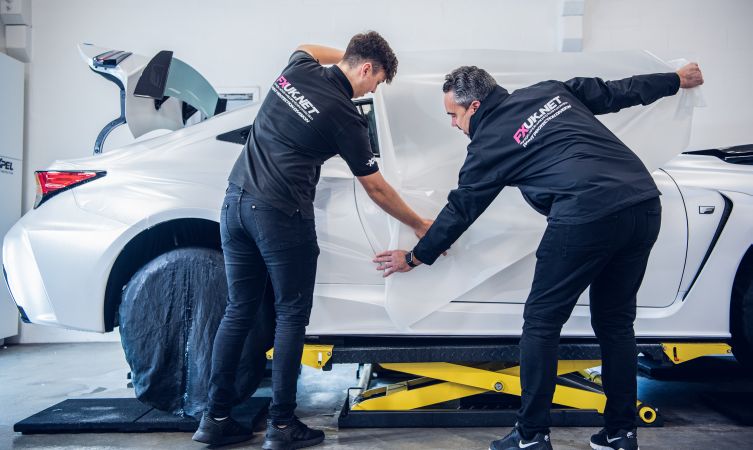 Invisible to all but expert eyes, the elastomeric polyurethane film preserves the Hakuji edition's unique combination of satin and gloss finishes, while allowing the exterior to be treated as a single entity when cleaning. And what's more, the film's self-healing property and resilience to ultra violet light means it is guaranteed to protect the car's visual appeal for the next ten years.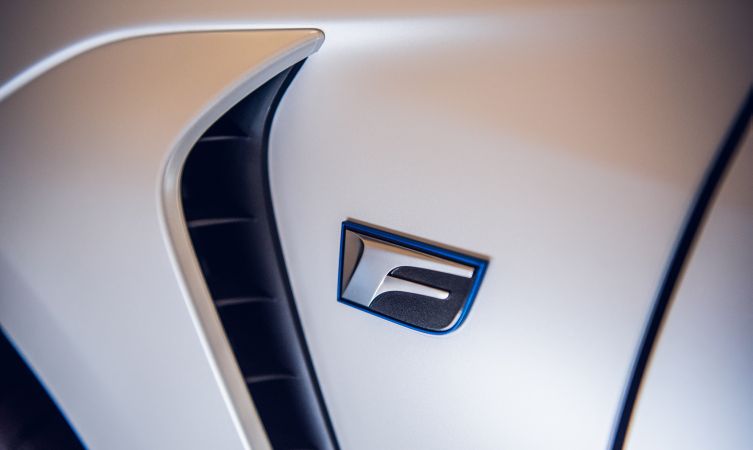 Intrigued to learn more about the application process, we arranged to follow the procedure at the company's studio in Bromley, southeast London.
'Hakuji' edition: protecting its appearance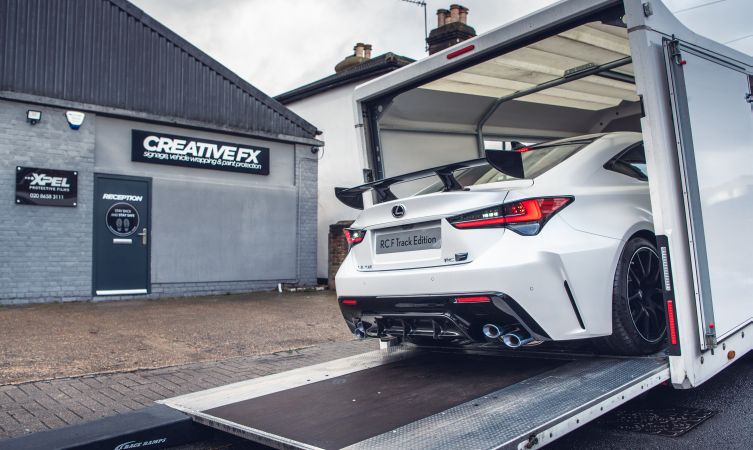 As a brand-new 2021 model year car, the Lexus RC F Track Edition 'Hakuji' was transported VIP-style in an enclosed trailer. After being off-loaded, Creative FX director Tom Hulett examined the car almost at a forensic level, taking in every detail in order to ascertain how best to apply the film and where additional measures needed to be applied.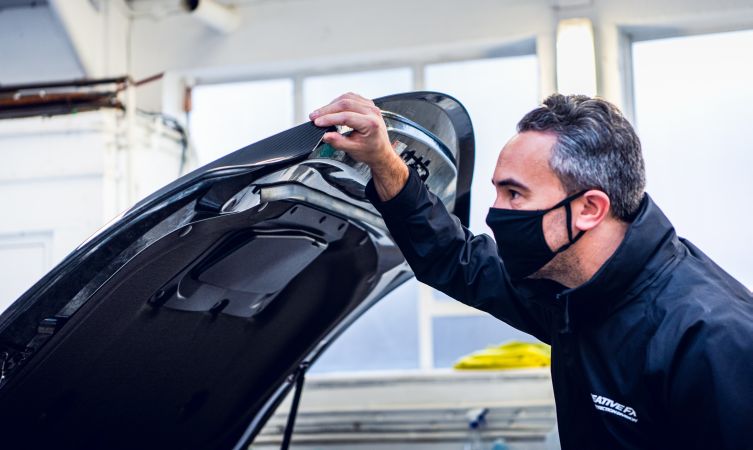 Working around the car and comparing what he saw with Xpel's digital film templates, Tom identified a couple of areas where a few millimetres of extra material should be added in order to wrap certain edges and create the most seamless finish.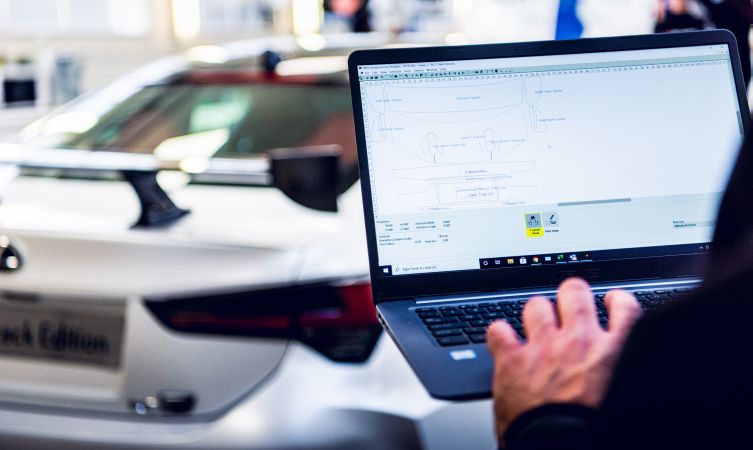 Interestingly, the digitised CAD templates are so precise that they include cut-outs for features such as the badges and door handles. This speaks volumes for the consistency of Lexus manufacturing but it also means that no scalpel or sharp object should ever go anywhere near the car. Tom is proud to report that in most cases, all the team has to do is remove the vehicle's number plates.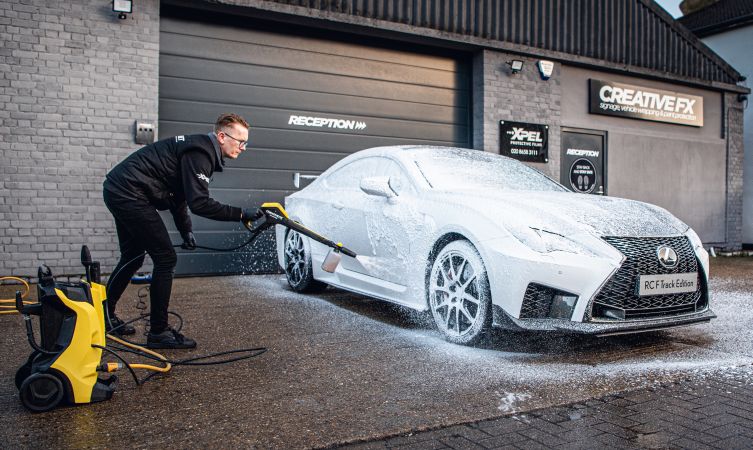 Once happy that his modified templates could now be cut on the vinyl plotter, Tom handed over to colleague Daniel Fuller to give the RC F a thorough clean with pH neutral chemicals. Although factory fresh and never having spent any time outside, it was imperative that the coupe's external surfaces were as clean as a surgeon's operating table, otherwise any surface contamination would end up trapped beneath the film.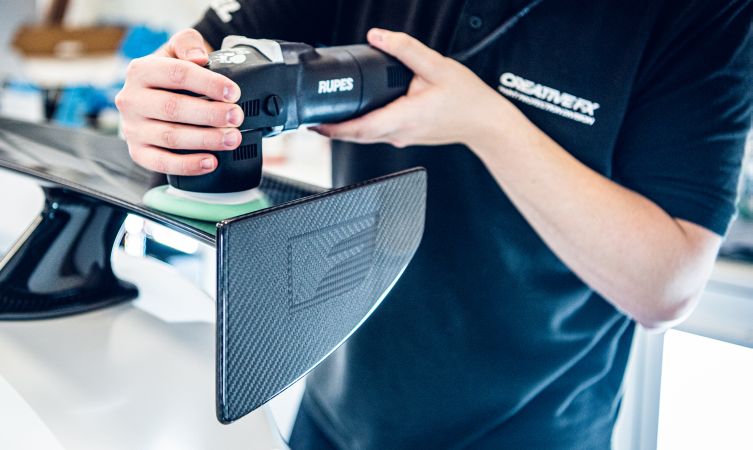 Back in the studio, the RC F was placed over chassis ramps and dried off, while gloss areas were machine-polished in case there were any swirl marks from previous wipe-overs. The car was then left overnight in order for it to acclimatise to the ambient temperature of the studio – a precaution that ensures the protection film behaves predictably when fitting.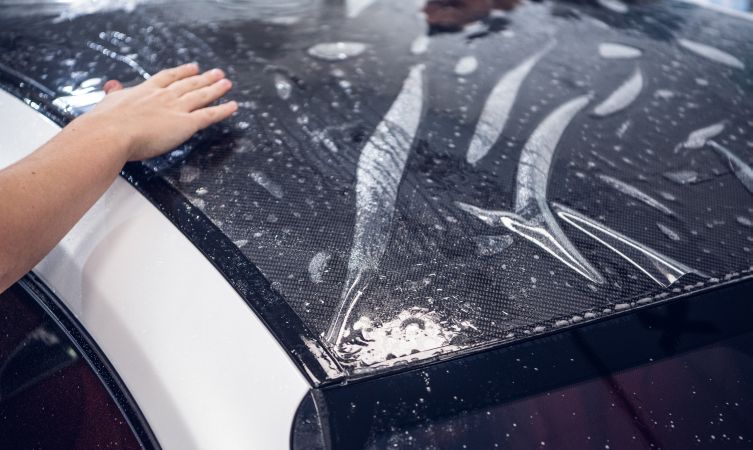 The next day, Tom and installation manager Alex Longley worked methodically around the car, floating the pre-cut pieces of film into place using squirts of water diluted with a mild application lubricant. This slippery liquid stops the film sticking immediately and allows trapped air and water to be chased out with a rubber squeegee for perfectly invisible adhesion.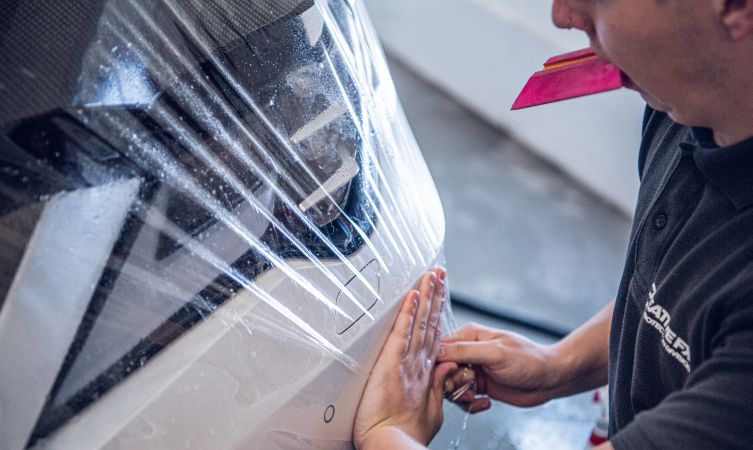 The elastomeric properties of the material means that only very gentle stretching is required for the film to conform around double curves. This ensures the film retains as much of its 800-micron depth (about four times the thickness of a traditional vinyl wrap) and impact protection as possible. For complex areas, such as the sculpting around the headlights and rear spoiler uprights, the film is encouraged into place with a warming blast from a hot air gun.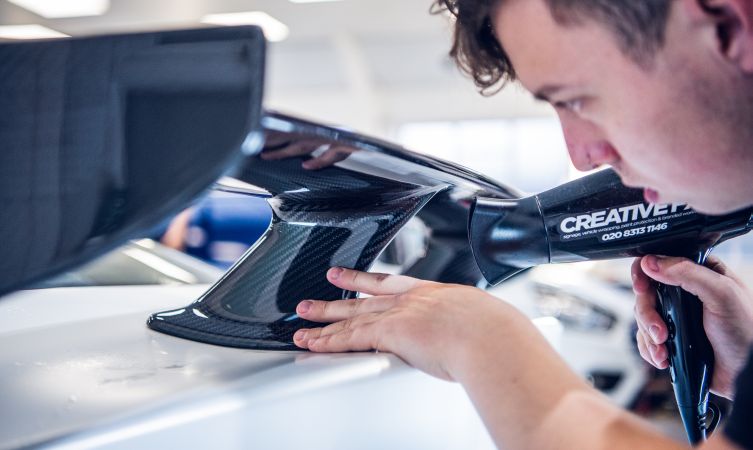 In order to perfectly match the original contrasting reflective finish of the RC F Track Edition 'Hakuji', Tom and Alex applied mirror-smooth Xpel Ultimate Plus protection film across the CFRP parts, rear diffuser and headlights, while satin finish Xpel Stealth protection film was applied to the Hakuji white paintwork.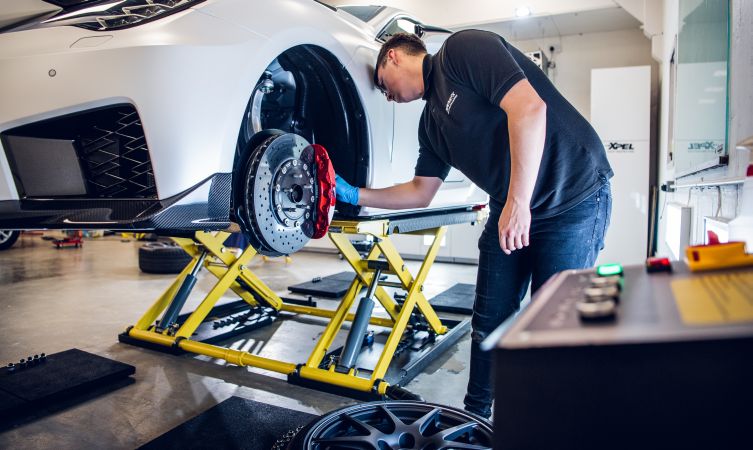 Adding a final layer of all-round protection, a liquid ceramic coating was applied to every external surface, as well as the 19-inch alloy wheels and bright red brake calipers. This high-end detailing product creates a beautifully hydrophobic top layer that instantly beads water into diamond-like droplets. After a final buff with a clean microfibre cloth, what's left is a lagoon deep shine and the sort of ceramic coating that dentists would be proud of.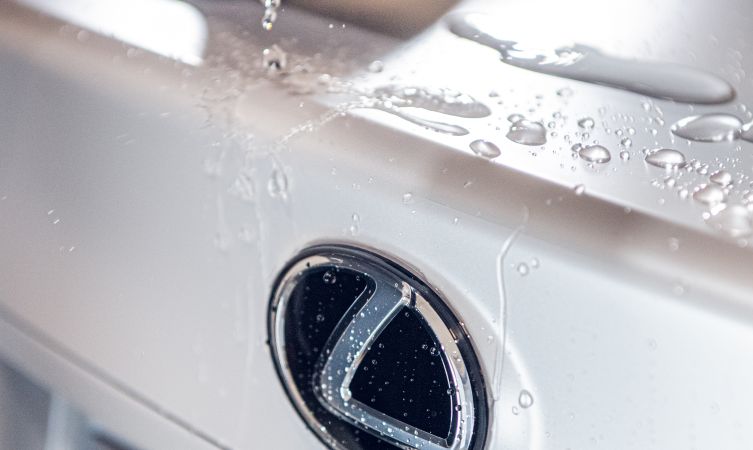 Looking at the finished car, perhaps the finest compliment you can make about Creative FX's work is that it is virtually invisible. Indeed, it was vital that no aesthetic change was made to this one-off vehicle. The protection film has not only delivered on this brief but provided a durable first line of defence against minor scuffs, stone chips and day-to-day wear. We have no doubt that the future owner of this Hakuji edition will be delighted with every aspect of its performance.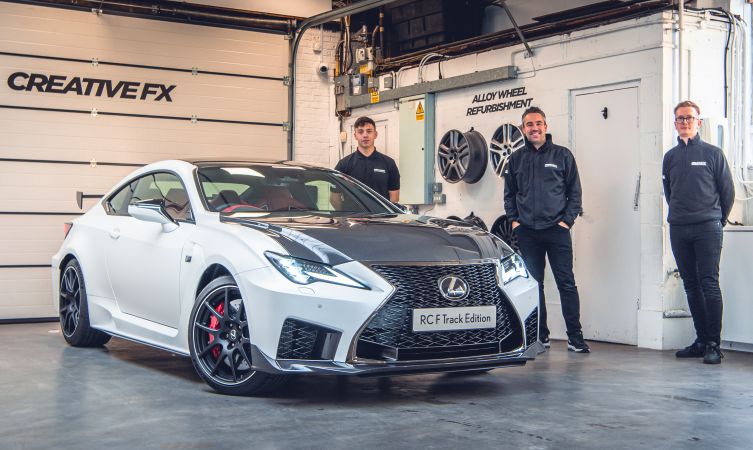 The one-off 2021 Lexus RC F Track Edition 'Hakuji' is available to purchase now for £81,415 on the road. All costs associated with the application of the protective film and ceramic coating is included in the price of the vehicle.
All information is correct at the time of publishing.