Following the easing of national restrictions, all Lexus centres throughout the United Kingdom are open for business and fully operational. However, some of the usual processes have been adapted in order to implement extra safety measures for both customers and staff. How has this affected the Lexus test drive, a crucial step in deciding whether to buy a new or used car?
We paid a visit to our local centre, Lexus Gatwick, to understand what a customer can expect when arranging such a test-drive. What we found will be representative of all locations, though customers may come across minor differences at each specific centre.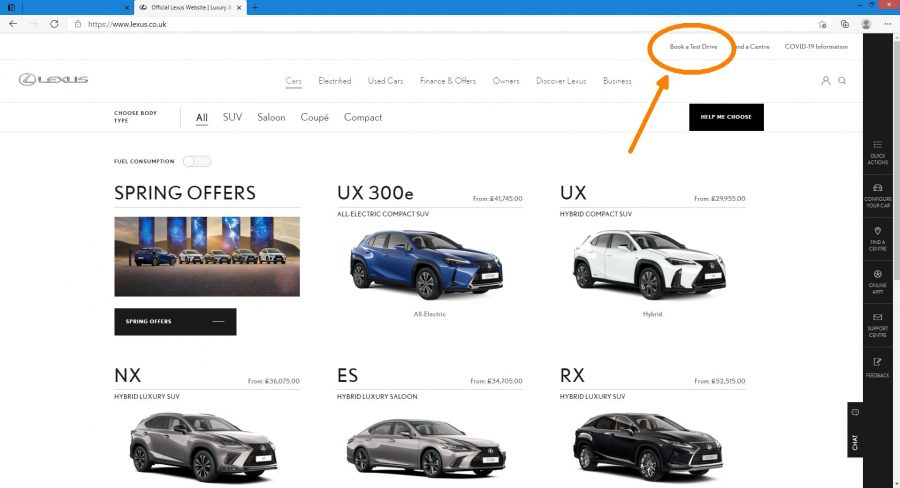 The test-drive process always begins with a booking request. This must be arranged in advance, either through an online application via the 'Book a Test Drive' tab at the top of the Lexus UK homepage (above), or by simply calling the chosen Lexus centre directly.
Once the request has been received by the Lexus centre, a sales executive will contact you by telephone in order to arrange a date and ascertain some necessary qualifying details. This may include such information as your driving licence, whether you have a vehicle to part-exchange, or require finance. The purpose of this is to ensure the executive is well-prepared and able to offer an individually tailored service as they host your visit.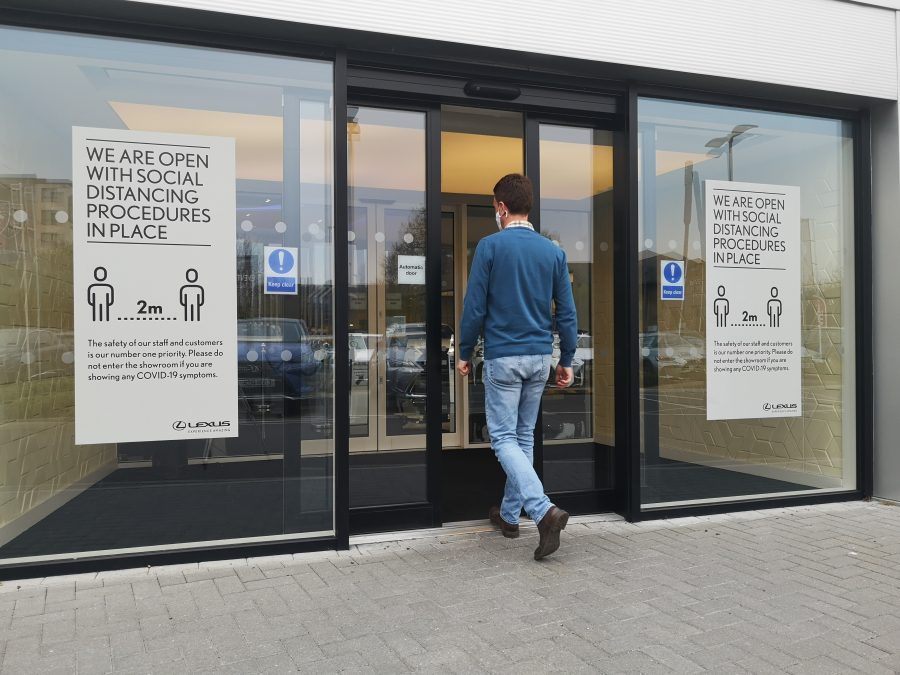 On arrival for your appointment, clear signage at the entrance reminds you of the need to maintain a healthy distance from other people and to refrain from entering if you are displaying any flu-like symptoms. The application of antibacterial hand gel is encouraged at every doorway and you are required to wear a mask inside the premises.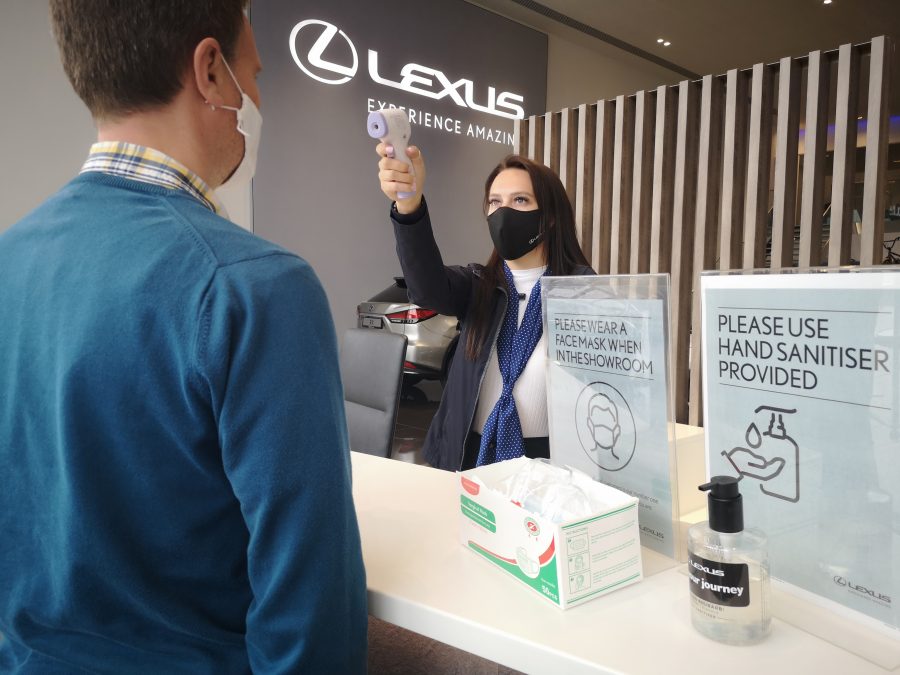 After being warmly greeted by reception staff, you are asked to briefly pause by the counter and have your body temperature taken with a non-contact infrared thermometer. Assuming that the reading is below the upper safety threshold, you are directed through to the waiting area and offered some refreshments. Hot drinks are now supplied in disposable (and 100% recyclable) cups in order to minimise the risk of cross-contamination.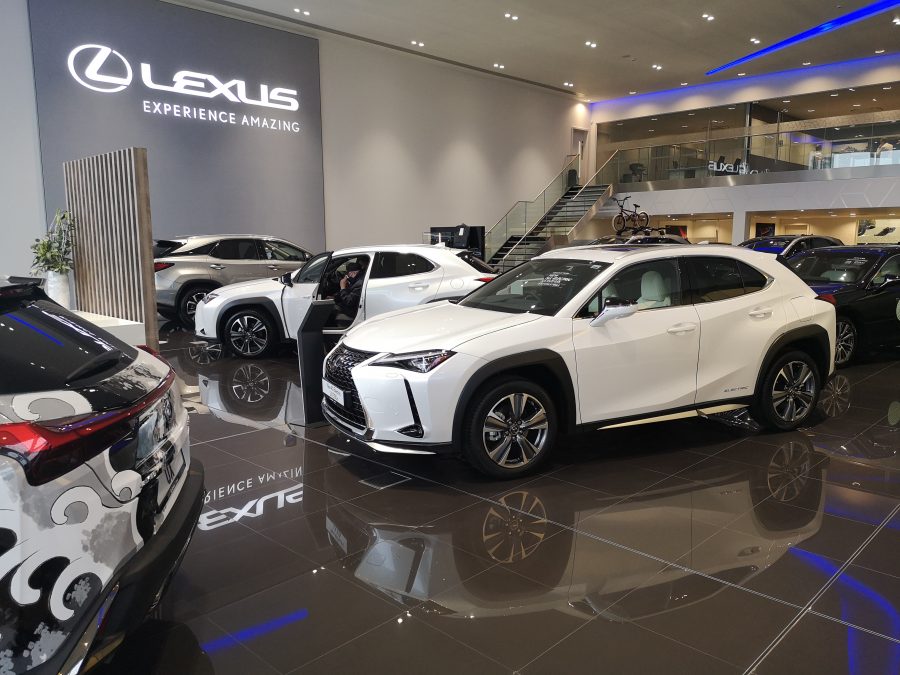 For this test-drive we wanted to focus on the new, all-electric Lexus UX 300e. Sales executive Collene Costidel was already aware of this from our telephone conversation. So after introducing herself, she directed us straight to a gleaming Sonic White example in the showroom and unlocked it for us. This presented Collene with the opportunity to showcase the UX 300e and highlight some of its many features but also allowed us to get a feel for the car in a calm, unhurried environment – an important consideration given the inclement weather on that day.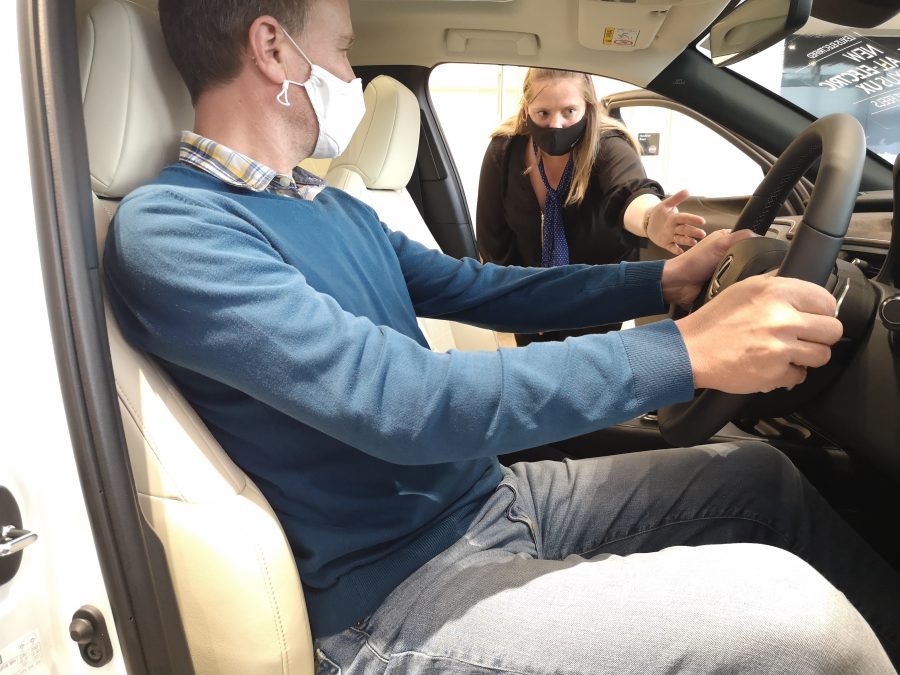 Test-drives are now unaccompanied, so this acclimatisation process is invaluable in allowing you to concentrate on getting the most out of your time behind the wheel when on the road. Each Lexus centre will be able to provide a number of route suggestions if you are unfamiliar with the area, and it is even possible to pre-arrange up to 48 hours with the vehicle for new car purchases.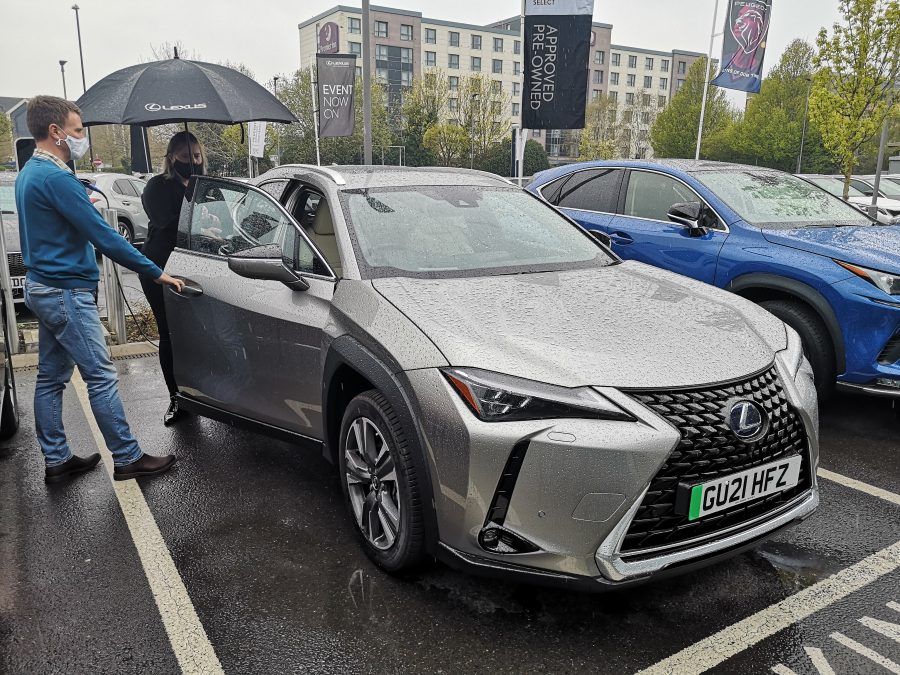 A Sonic Titanium UX 300e had already been prepared, sanitised and fully charged for our test-drive. And as it was now raining outside, Collene dutifully protected us from the worst of the weather with a large umbrella before waving us off as we departed – a touching example of omotenashi in action.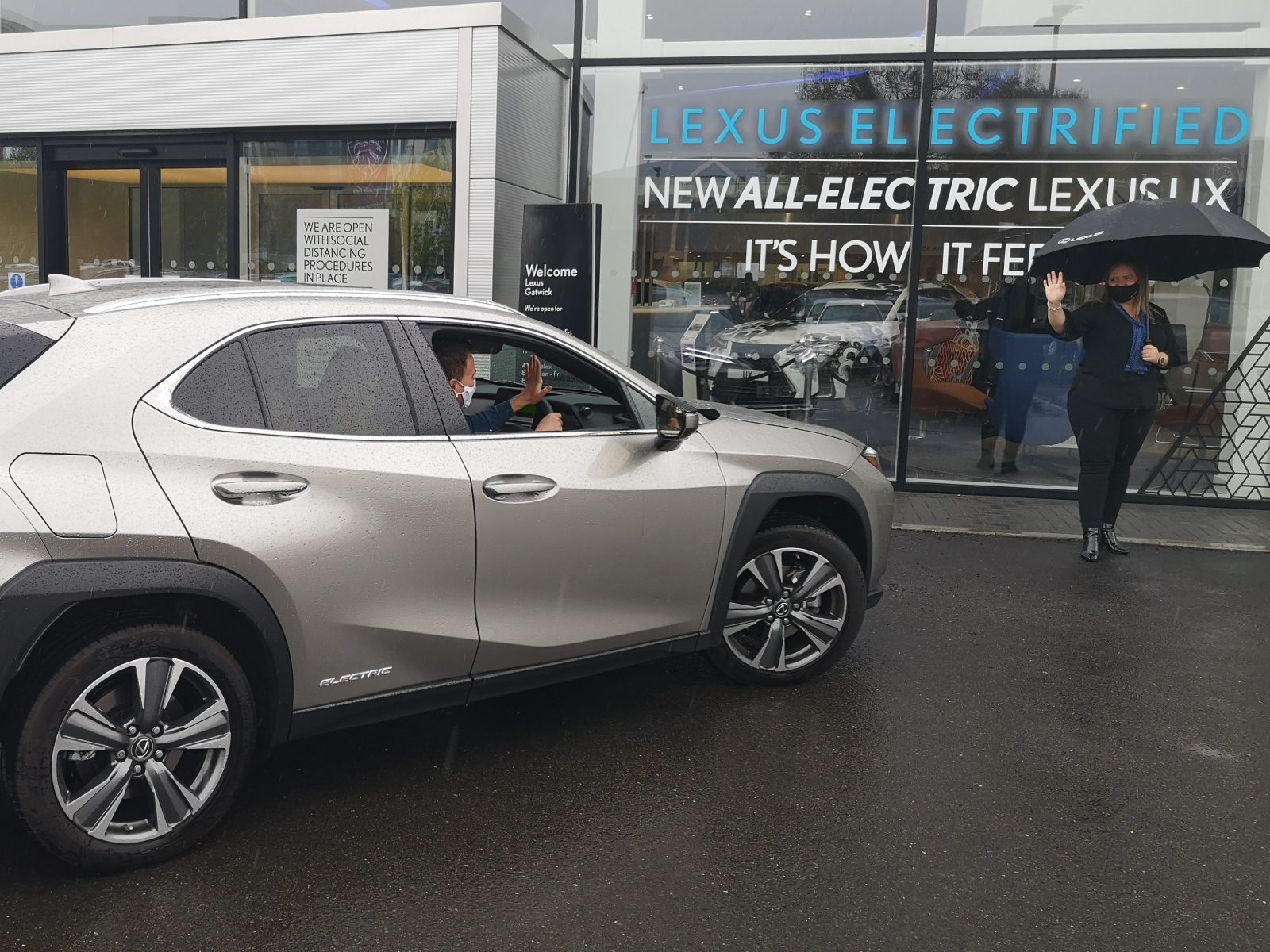 Interestingly, while we are away thoroughly enjoying the Lexus Electrified experience, the work of a Lexus host continues. This is the time when Collene organises a thorough examination of any vehicle potentially being taken in part-exchange, or if circumstances and availability allows, arranges for your existing car to be treated to a complimentary valet.
Upon your return to the centre, the demonstration vehicle is thoroughly sanitised again to prepare it for others. And it is even possible to conduct a back-to-back test-drive with another model if, for example, you are undecided between a full electric vehicle like the UX 300e or its petrol-electric hybrid sibling, the UX 250h.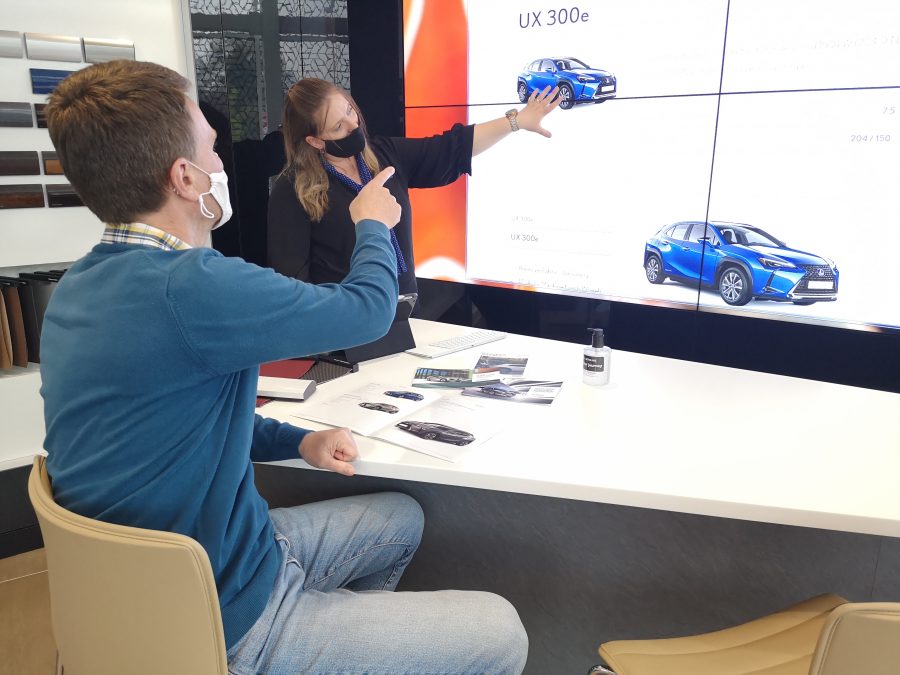 Once you have concluded your test-drives, this is now an opportunity to discuss any questions you may have with your host and let them guide you through the next steps in the purchasing process, perhaps over further refreshments. As well as using a large display screen to help configure your vehicle, every Lexus centre is equipped with paint and fabric samples in order to get a true sense of the colours and materials on offer. Your Lexus host will also confirm the valuation of any part-exchange vehicle and any finance arrangements.
Rather than making the experience of test-driving a new car more difficult, we found that new social distancing measures created an environment that is conducive to decision-making. The process is unhurried, and being alone in the car allows you the freedom to think, to drive familiar routes and make an honest appraisal without any outside influences. Meanwhile, the expertise of the Lexus host is shown in the way you are guided through the subsequent car-buying process: always feeling valued as a potential customer, having all the necessary information to hand and explained, and never feeling coerced into making a purchase. We recommend it!
Thanks to Lexus Gatwick for its assistance with this article