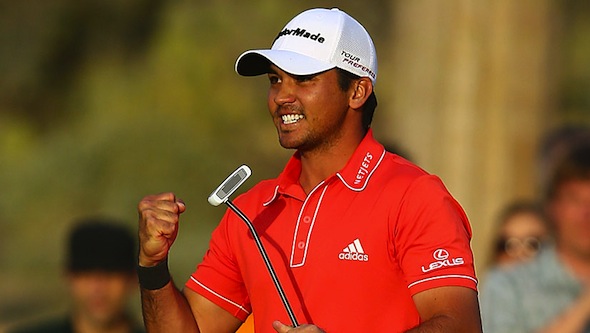 Lexus-sponsored golfer Jason Day won the World Golf Championship Match Play title at Dove Mountain in Arizona on Sunday.
Australian Day, 26, fought off two amazing all-or-nothing comeback shots by Victor Dubuisson in the final to take the win and $1.53 million in prize money. He also moves up to fourth place in the Official World Golf Ranking.
Day's consistency finally saw off the 23-year-old French challenger on the fifth extra hole by making a birdie as Dubuisson's luck ran out.
After the match, Day commented on Dubuisson's spectacular green shots to save par firstly from beneath a cactus, and then from a patch of roots surrounded by rocks. He said: "At that time, you're just thinking, 'Do I need to just hand him the trophy now after those two shots?'
"I kept shaking my head because there was a couple of time there where I thought he was absolutely dead — the tournament was mine.
"The biggest thing was, 'How much do I want to win?" I kept saying that to myself. Last night, I kept visualizing myself with the trophy," Day said. "I'm glad I could finish it off. But it was a close one."
The victory is the second career PGA Tour win for Day, following his success in the HP Byron Nelson Championship in 2010.
Love golf? See our exclusive video interview with Mark O'Meara here.