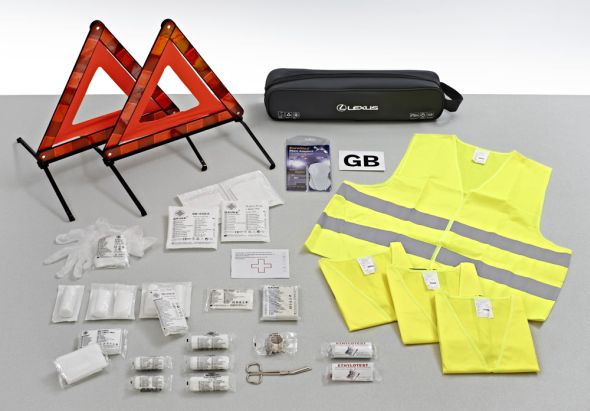 Mainland Europe may be just a short distance away and your Lexus is designed to be the ideal companion for a continental road trip. However, a spontaneous decision to drive abroad could put you at risk of receiving an on-the-spot fine if you do not have all the compulsory or recommended safety equipment on board.
While it is possible to buy each of the necessary items individually from different sources, Lexus has released a comprehensive European Safety Kit in its accessory range for all those who like to have everything together in one neat, handy package.
Included in the European Safety Kit are four high-visibility safety jackets, a first aid kit, two warning triangles, headlamp converters, two breathalysers and a GB sticker.
Contained in a branded carry case measuring approximately 47x11x11cm, this kit was designed to be carried at all times so you can always be prepared for the unexpected, whether driving in the UK or abroad. In fact, so compact is it that you should still be able to squeeze the proverbial kitchen sink into the boot!
Order your European Safety Kit from your local Lexus Centre at a cost of £55.
For more on official Lexus Part and Accessories, visit the dedicated section of the Lexus website.