The Lexus CT 200h is the first full hybrid vehicle to be launched at the heart of the small luxury car segment. It is also Lexus's first compact five-door car and takes its place as the new gateway model for the Lexus range.
Designed and engineered for a dynamic, rewarding drive, with Lexus's hallmark levels of quality and comfort, it will attract younger customers to the brand. Specifically designed and developed with the European market in mind, the CT 200h's size, packaging, full hybrid technology and ultra-low emissions address the key preferences of a young, highly discerning and environmentally conscious customer base. At the same time, no compromise has been made in the levels of refinement and driving pleasure that is synonymous with Lexus.
Lexus Hybrid Drive powertrain
The Lexus CT 200h is a full hybrid, capable of running on its petrol engine or an electric motor alone, or with both working in combination. The Lexus Hybrid Drive features an energy management system which delivers remarkably quiet operation, seamless acceleration and the dynamic performance expected by customers in the small luxury car segment.
The system comprises an Atkinson cycle 1.8-litre VVT-i petrol engine and a powerful electric motor that in combination delivers 134bhp, together with a 202V battery and a power control unit. A power split device automatically combines and reallocates power from the engine, electric motor and generator, as driving conditions demand.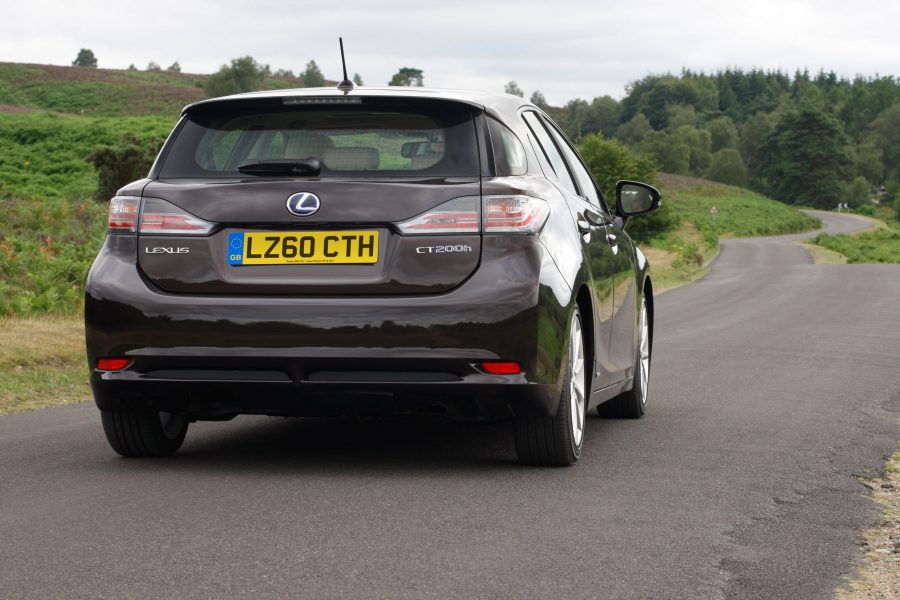 The electric motor works in tandem with the petrol engine to boost acceleration or drive the wheels on its own when EV mode is selected. In EV mode the CT 200h produces no harmful tailpipe emissions and can be driven for up to a mile-and-a-half at speeds up to 28mph. During deceleration and braking the electric motor works as a high-output generator to effect regenerative braking.
Driving through an electronic continuously variable transmission (E-CVT), the system gives the CT 200h nought to 62mph acceleration in 10.3 seconds (target figure). Combined cycle fuel consumption and CO2 emissions for CT 200h in the UK are 68.9mpg and a class-leading 96g/km respectively (provisional figures).
Driving moods and modes
The Lexus CT 200h has been engineered to perform in two different driving "moods", Relaxing or Dynamic, supported by four selectable driving modes: NORMAL, EV, ECO and SPORT.
From start-up and at speeds less the 28mph, CT 200h automatically operates in EV mode; the driver can also select EV mode manually. When the car reaches the limit of its range under electric power or exceeds 28mph, it automatically switches the petrol engine back on.
In ECO mode throttle response to accelerator pedal input is reduced and the air conditioning control is adjusted to maximise fuel economy. According to driving conditions, ECO mode encourages a relaxed driving style and can help the driver achieve a significant saving in fuel.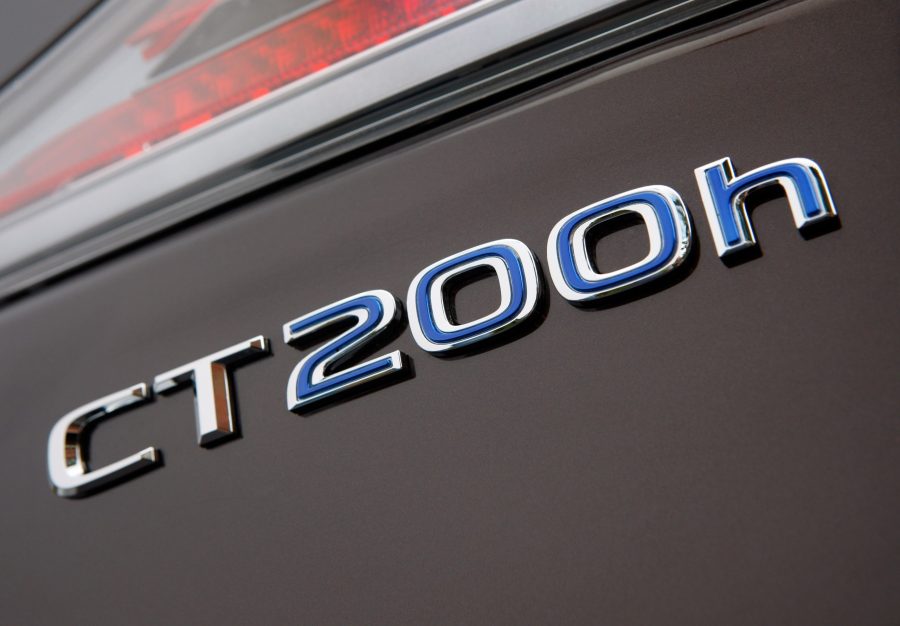 SPORT mode is tuned to deliver extra electric motor power to contribute to the Dynamic driving mood, with the supply voltage boosted by 150V to a maximum 650V. Engine revs are held longer and the throttle and electric power steering (EPS) settings are adjusted for quicker response and extra feedback. Operation of the Traction Control (TRC) and Vehicle Stability Control (VSC) is also rendered less intrusive. To help emphasise the change in mood, when the driver selects SPORT the instrument cluster backlighting switches from blue to red and the hybrid power indicator transforms into a rev counter.
Vehicle dynamics
The CT 200h has been developed specifically to deliver superior handling, a rewarding drive and the level of ride comfort expected of a Lexus. It is built on a new platform, has been given the lowest possible centre of gravity and features a high-rigidity lightweight bodyshell. Even the height, position and structure of the driver's seat have been precisely determined to contribute to the car's balance and enhance the driving experience.
To counter the level of vibration associated with a highly rigid body, Lexus has designed an optional lateral performance damper system – a first for the small luxury car segment. Used in place of fixed bracing, this features horizontal dampers located between the front suspension towers and the left and right sides of the rear structural frame.
Suspension
The CT 200h has a bespoke suspension design, comprising an L-arm MacPherson strut front system and a new, independent double wishbone and trailing arm set-up at the rear. Together they support the car's driving moods, combining the ride comfort essential to the Relaxing mood with the handling agility and stability appropriate for the Dynamic mood.
Steering
The lightweight, energy-saving Electric Power Steering is powered by a hybrid battery and contributes to overall fuel economy by only consuming power when steering force assistance is required.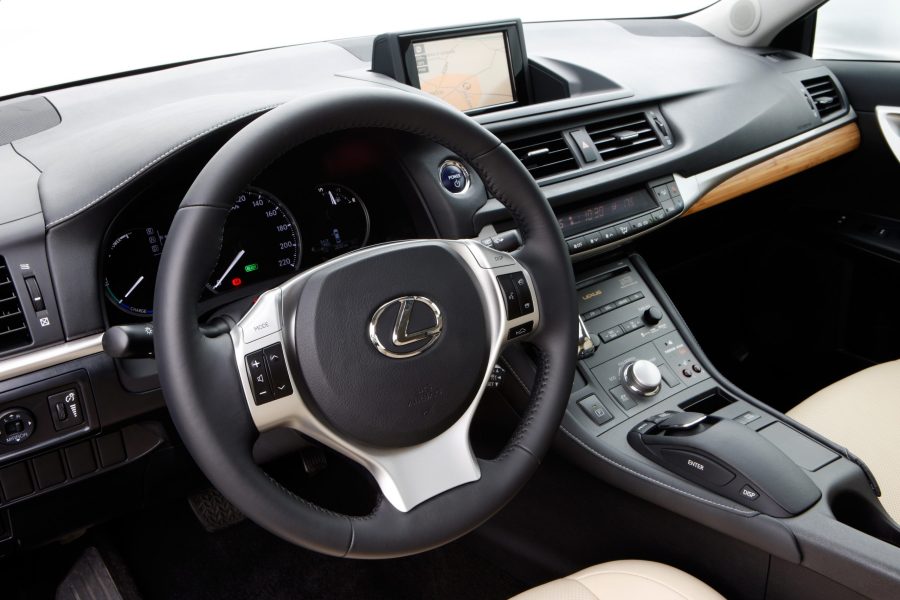 The steering is direct, with a 14.6:1 ratio and just 2.7 turns lock-to-lock. When the driver selects SPORT mode, the EPS automatically adapts the level of steering assistance, giving more direct feedback.
Aerodynamics
Computer aided design and wind tunnel testing was used to ensure the CT 200h achieved the best possible aerodynamic performance. Attention to detail both on the bodywork and underneath the car resulted in a coefficient of drag (Cd) of 0.29, which in turn supports fuel efficiency and reduces wind noise.-
Lexus CT 200h: Design
Elegance and excitement were the watchwords for the CT 200h's design, which is the latest interpretation of Lexus's L-finesse design language. Supporting the aim of bringing a younger generation of customers to the brand, the intention was to give the new car a dynamic quality. Overall the car measures 4,320mm long, 1,765mm wide and 1,440mm high, with a 2,600mm wheelbase.
At the front key features include a grille that is pushed forward of the headlamps to give a stronger visual integration with the centre section of the bumper. The lights themselves are set at a higher level than the grille – a styling feature shared by the latest Lexus models – and comprise (according to grade) either single halogen or double LED low beam lamps – a first for the segment – with integrated LED daytime running lights arranged in a distinctive arrowhead shape.
The sweeping lines of the body not only give the CT 200h a dynamic appearance, but they also play a key part in the car's overall aerodynamic efficiency.
In profile, the CT 200h is distinguished by a steeply raked windscreen, long, flowing roofline, sweeping character lines and Lexus's slingshot window graphic. The compact door mirrors have integrated LED turn indicator lights. At the rear there is a pronounced step in the tailgate which flows from the wheel arch shoulders, emphasising the wraparound rear window design and the car's firmly planted stance. The tail lights incorporate the L-shaped motif Lexus introduced in the LS limousine.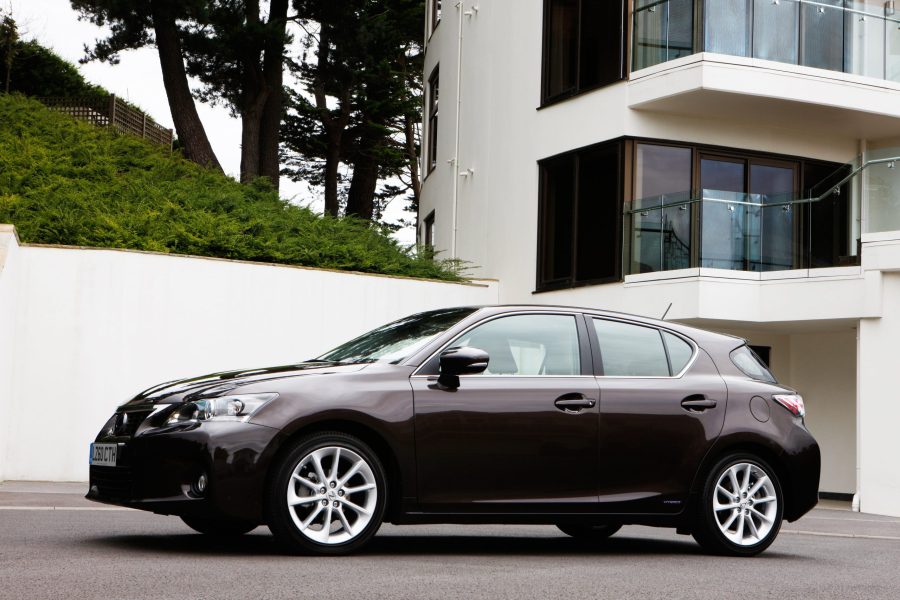 L-finesse design cues carry through to the CT 200h's interior, where the dashboard is divided into an upper Display Zone, with a seven-inch LCD multi-display screen, and a lower Operation Zone, including the shift lever and system controls. The cabin is airy and spacious, but the driver sits in a snug cockpit which creates a focused driving environment.
Driver and front passenger enjoy class-leading head clearance and shoulder room, while at the rear the leg and headroom have been maximised by designing thinner front seatbacks and flatter centre sections for the rear seats. The CT 200h's flat rear floor adds to the roominess.
Thanks to the hybrid battery being set as low as possible beneath the floor of the boot and the use of a trailing arm double wishbone suspension design with minimal intrusion in the loadspace, the CT 200h offers a competitive 375-litre luggage capacity. Fold the 60:40 rear seats flat and up to 985 litres of space is available.
Lexus CT 200h: Safety
The Lexus CT 200h offers the highest level of safety equipment in its segment and is designed to meet the highest, five-star Euro NCAP independent crash test standard for all-around protection of occupants and pedestrians.
In a first for the C-segment, the car can be specified with Lexus's pre-emptive Pre-Crash Safety system (PCS), with Adaptive Cruise Control (ACC). PCS uses millimetre-wave radar monitoring of the road ahead to detect potential hazards and assist the driver in reducing the risk of a collision. If the system determines a high risk of an impact, it will alert the driver, pretension the seatbelts and, as the driver applies the brakes, deliver supplementary brake assist. If the driver fails to brake and a collision is inevitable, PCS will automatically apply the brakes to reduce impact speed.
ACC works in tandem with PCS at speeds between 31 and 106mph, maintaining a safe, pre-set distance from the vehicle in front. Once the road ahead is clear, the CT 200h returns automatically to the selected cruising speed.
Standard active safety features include ABS with Brake Assist, Traction Control (TRC) and Vehicle Stability Control (VSC). Eight airbags are fitted, including knee airbags for the driver and front passenger. All five seats feature seatbelts with emergency locking retractors, with the front and outer rear seat belts additionally equipped with pre-tensioners and force limiters.
Lexus CT 200h: technical specifications*
Powertrain
Lexus Hybrid Drive
134/100
Max. system output (bhp/kW)
Engine
Engine code
2ZR-FXE
Number of cylinders and configuration
4 cylinders in line, Atkinson cycle
Valve mechanism
16-valve DOHC with VVT-i
Bore x stroke (mm)
80.5 x 88.3
Displacement (cc)
1,798
Compression ratio
13.0:1
Max. output (bhp @ rpm)
98 @ 5,200
Max. torque (Nm @ rpm)
142 @ 4,000
Emissions level
Euro 5
Motor/Generator
Motor type
Permanent magnet synchronous motor
Max. voltage (DC V)
650
Max. output (bhp/kW)
79/60
Max. torque (Nm)
207
Hybrid Vehicle Battery
Battery type
Nickel-metal hydride (NiMh)
Nominal voltage (DC V)
28
Max. output (bhp/kW)
37/27
Transmission
Transmission type
Electrically controlled continuously
variable transmission (e-CVT)
Differential gear ratio
3.267
Performance
Max. speed (mph)
112
Acceleration 0-62mph (sec)
10.3
Suspension
Front
MacPherson strut
Rear
Double wishbone
Brakes
Front (type/diameter mm)
Ventilated discs 255
Rear (type/diameter)
Discs 279
Steering
Type
Electric power-assisted rack and pinion
Steering ratio
14.6:1
Turns lock-to-lock
2.7
Min. turning radius (m)
5.2 (tyre), 5.5 (body)
Dimensions
Overall length (mm)
4,320
Overall width (mm)
1,765
Overall height (mm)
1,440
Wheelbase (mm)
2,600
Front track (mm)
1,535
Rear track (mm)
1,530
Drag coefficient (Cd)
0.29
VDA luggage capacity, rear seats up (l)
375
VDA luggage capacity, rear seats folded (l)
985
Weights
Kerb weight (kg)
1,370
Gross vehicle weight (kg)
1,790
Fuel Consumption
Combined
68.9
CO2 Emissions
Combined (g/km)
96
STEERING
Type
Electric power assisted rack and pinion
Steering ratio
14.6:1
Turns lock-to-lock
2.7
Min. turning radius
Tyre (m)
5.2
Body (m)
5.5
DIMENSIONS
* all data provisional subject to homologation
All information is correct at the time of publishing.