When Lexus outsources components for its vehicles, it's essential that the meticulous standards of Lexus quality and craftsmanship are upheld. Which is why Lexus specifies superior forged alloy wheels from the world-renowned experts at BBS Japan for models such as the IS F, RC F, GS F, LS F Sport and LFA supercar.
In times past, alloy wheels were usually the preserve of luxury and sports models, but nowadays it seems the majority of cars are supplied with alloy wheels. However, within the circle of alloy wheel production, it is fair to say that not all wheels are created equal.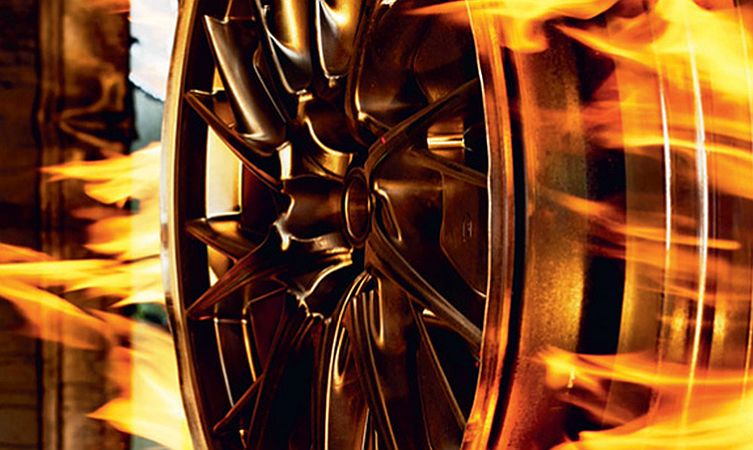 Most are manufactured using a casting process, which involves pouring molten aluminium alloy into a mould and leaving the metal to cool and harden. The alternative method is to forge the wheel – a more complex process that involves heating but not melting the metal in order to retain its molecular composition. The result is a stronger and often significantly lighter product than one which has been cast.
To get a better understanding of the forging process, we visited the BBS plant in Takaoka, Japan, and followed the craftspeople as they manufactured a one-piece forged Lexus alloy wheel.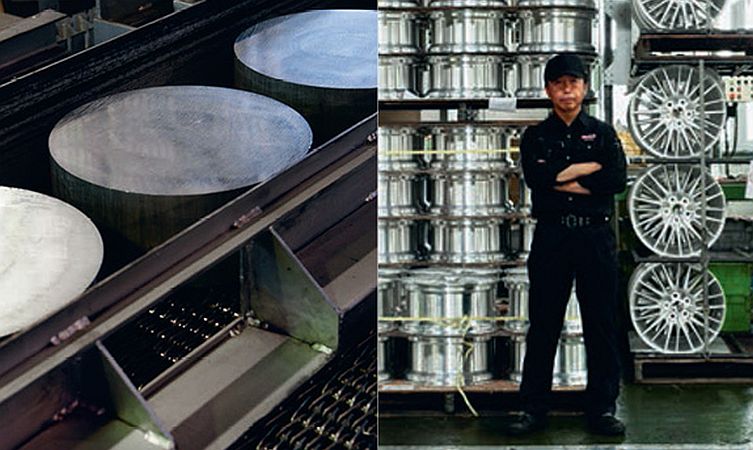 The process begins by heating a round billet of aluminium (above left) to about 500 degrees Celsius, at which point it is sent into a large hydraulic press where it is turned into a mould at a pressure of 9,000 tonnes. This squeezing process is repeated two more times until the face and inside of the wheel takes shape (below).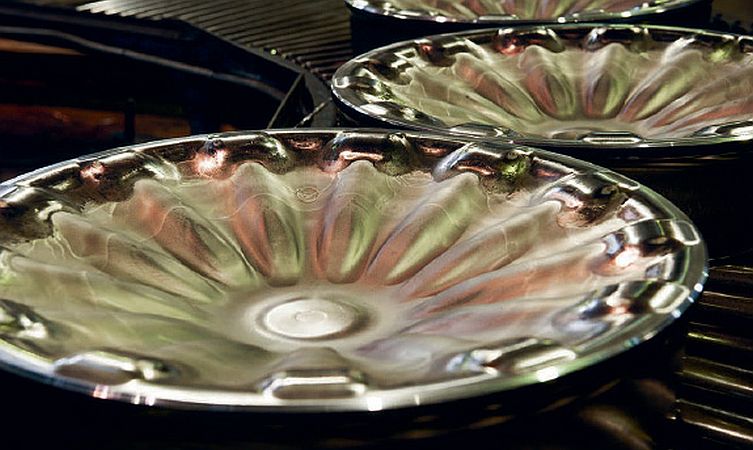 From there, the wheel undergoes a spinning process, where the aluminium cylinder's outer portion is physically milled into shape (below left). After roughly four to six minutes on the spinning machine the billet then undergoes a heating and cooling process to allow the aluminium molecules to fully bond together (below right).
A thorough cleaning process then prepares the wheel for human inspection and the next round of machining – a process called shot-peening.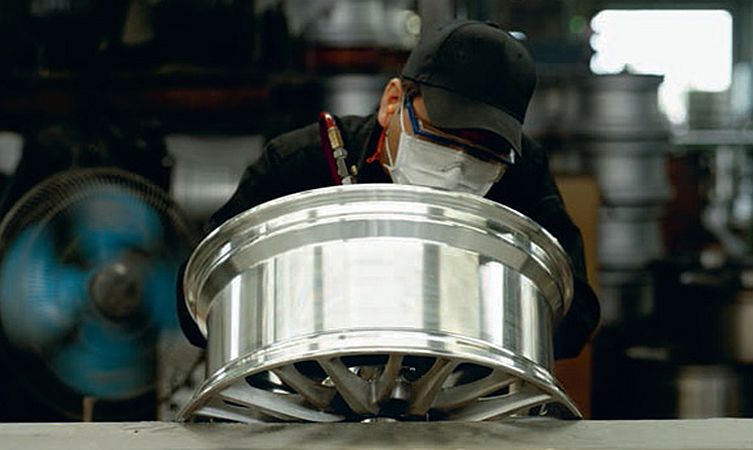 This is where a layer of compressive residual stress is added to the alloy by blasting it with metallic sand. Shot-peening relieves stresses built up during the manufacturing processes, thereby preventing metal fatigue and helping to prolong the life of the wheel.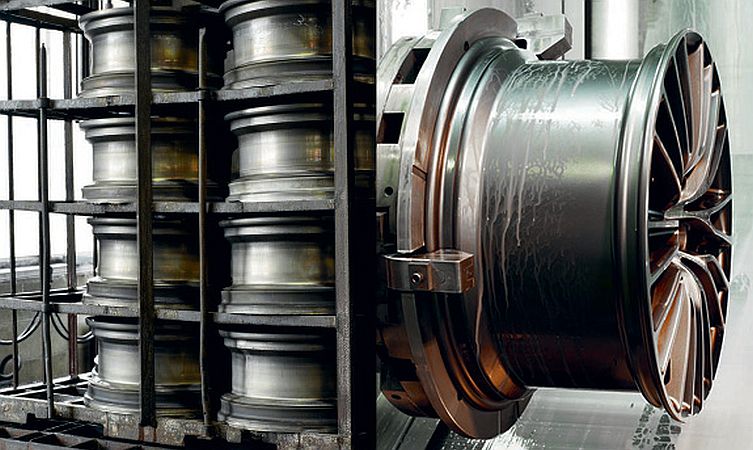 Wheels on the Lexus IS F, RC F and LS F Sport are taken through additional steps after painting, undergoing either a partial buffing or diamond-cutting process. The former is executed by a specialist who polishes part of the spoke to a mirror-like shine (below).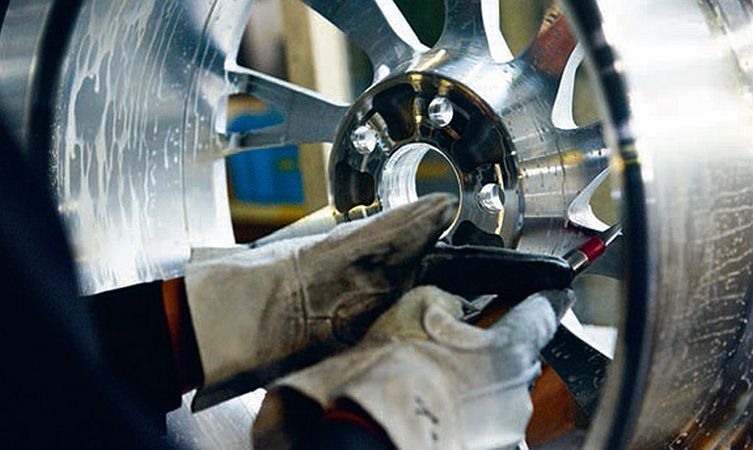 The latter procedure is performed at a separate plant, and consists of the spokes and rims being shaved by a specialised cutter (below left) with diamond blades to produce a smooth, clean metallic surface with sharp edges.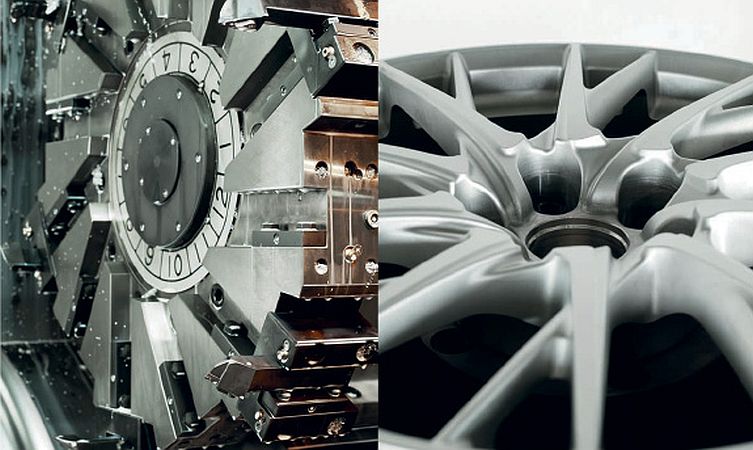 With so many expensive procedures and attention to detail lavished on the production of these alloy wheels by BBS Japan, you can be sure that the forged wheels on your Lexus will not only look fantastic but be strong, lightweight and long-lasting too.