A Lexus is engineered to deliver hundreds of thousands of miles of faithful service, witnessing occupants climbing in and out and sitting in its luxurious interior thousands of times in its lifespan. That's why we're committed to using the best materials which still feel special even after many years of use.
We asked artist Claire Lawrence to give us her unique insight into the leather Lexus uses in its interiors. She is registered as blind, and focuses her artistic expression on the tactility of a subject, rather than solely its aesthetic appeal. How would she rate the leather used in a Lexus? Watch our film to find out:
As she possesses a keen awareness of the touch and feel of a material, Claire provides a valuable insight as to the tactility, strength and durability of Lexus' leather interiors. Stretching the leather around a canvas to produce her art revealed how its thickness allows it to be supple, while still providing strength to the interior.
Good for you, Lexus, it can take a hell of a lot!
Claire's technique of burning holes into canvas wasn't easy to replicate with the Lexus leather. "Traditionally, I would burn through canvas just by aiming the blowtorch on it so you get interesting shapes," she explains. "I did that on my test pieces of leather and I was there for a good two or three minutes, so good for you, Lexus, it can take a hell of a lot!" In our own product testing, Lexus uses a similar burn-through technique to test the durability of our leather materials.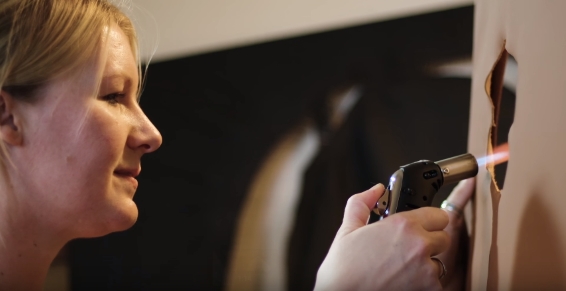 The other part of Claire's artistic technique involves sewing thread over the shapes created in the canvas. She did the same with the Lexus leather, resorting to scissors to create shapes inspired by the Lexus logo: "The other major challenge was the sewing – [the leather's] thin and it feels gorgeous, but to actually puncture it with a needle and pull thread through was quite a challenge."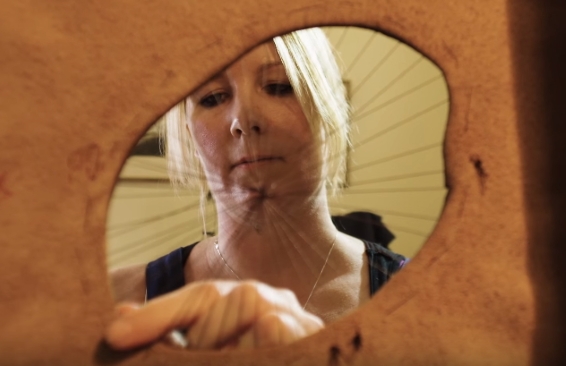 Like Lexus, Claire never takes the easy route with anything, realising that continually challenging oneself is the way to create something truly special. So every time you sink down into the sumptuous leather interior of your premium Lexus, ponder how Lexus' pursuit of perfection has created an environment that is strong yet supple, hard-wearing but soft to touch. It feels great, doesn't it?
Read more:
Lexus NX rides on the world's coolest wheels
Lexus launches world's first origami-inspired car