Lexus is introducing a package of upgrades for the 2023 Lexus UX 250h compact luxury SUV this summer, focusing on more style choices, improved multimedia and connectivity and a sporty new model grade, F Sport Design.
Launched in 2019, the UX is a stylish and capable urban crossover that enjoys the role of a gateway model to the Lexus brand. Built on Lexus's GA-C global architecture platform, it reaps the benefits of a low centre of gravity and a highly rigid body for a rewarding drive with faithful responses to the driver's inputs.  Its SUV credentials are enhanced with the option of Lexus's electronic E-Four all-wheel-drive system.
2023 Lexus UX: new multimedia systems
The revised 2023 Lexus UX 250h benefits from Lexus's new multimedia systems, giving a faster, more intuitive response, focused on the human-centred operation and increased functionality.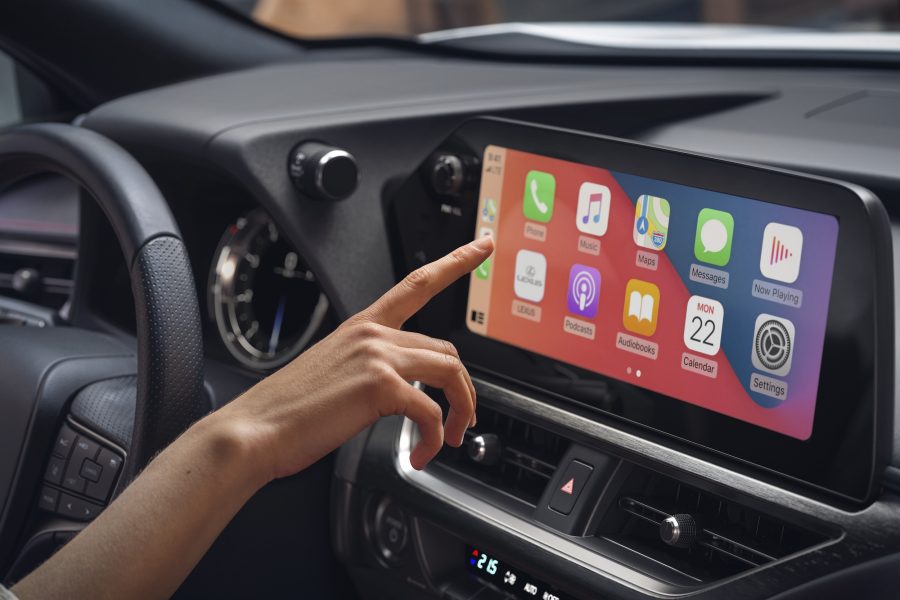 According to equipment grade, models are fitted with either eight or 12.3-inch displays, with touchscreen technology replacing the previous trackpad control. The new displays have been moved forward on the instrument panel, bringing them closer to the driver for comfortable operation. They present crisper graphics – in high definition on the 12.3-inch screen. Significantly increased computing power means command responses are quicker, while "always connected" cloud-based navigation is provided as standard, giving access to real-time road and traffic information for easier journey planning. The 12.3-inch system has embedded navigation, so operation is available in areas where cloud connection is unavailable.
The system's new voice recognition system includes the option of using the "Hey Lexus" onboard assistant. This makes for easier use of voice commands to make phone calls, operate the audio and climate control and search the net. It can link to cloud-based information, so, for example, it can be asked about nearby fuel prices and other local information. It is programmed to understand more conversational terms and is better able to recognise commands when there is background noise – the audio doesn't have to be muted and the microphones can identify whether it is the driver or front passenger speaking.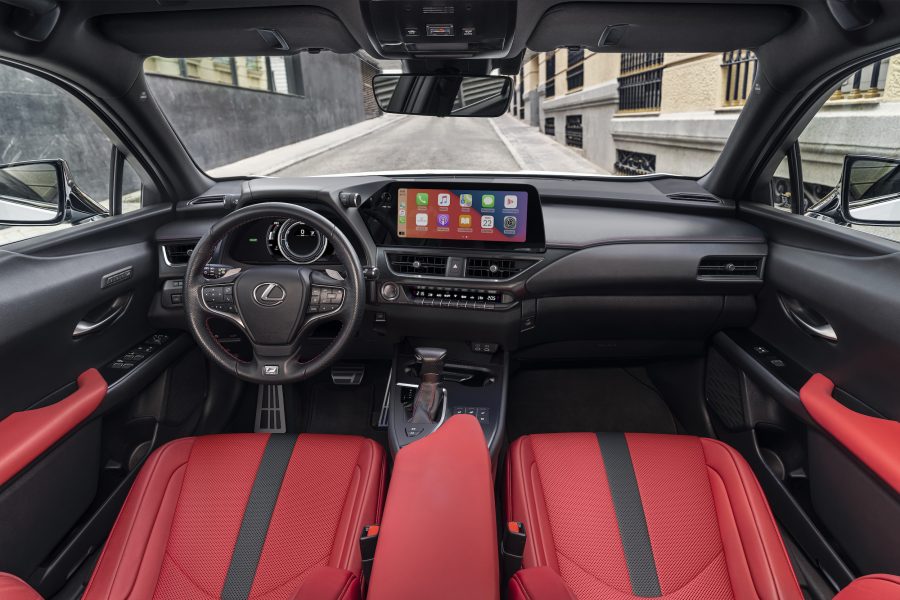 Smartphone integration via Apple CarPlay (wireless connection) or Android Auto (wired connection) is provided as standard and, for complete convenience, updates to the multimedia system software can be delivered over the air using the car's DCM (data communication module). Connectivity options include a USB-A port in the centre console box for playback of high-resolution sound sources and two USB-C ports for device charging on the console. The multimedia system can save the personal preference profiles of up to three people, customising the multimedia, audio and navigation settings.
The space on the centre console where the multimedia trackpad was located is now home to controls for the heated front seats or, where these are not specified, a handy small storage cubby. The console also features an illuminated tray in front of the air conditioning control panel, with space to hold a large smartphone.
True to Lexus's famous omotenashi hospitality, owners will be able to use the Lexus Link smartphone app to lock or unlock the doors or operate the air conditioning system remotely, so that the cabin can be cooled or warmed before they set off on a journey.
Introduction of new F Sport Design grade to UX 250h
The F Sport Design grade is a new addition to the 2023 Lexus UX 250h range, making powerful F Sport exterior styling accessible to more customers.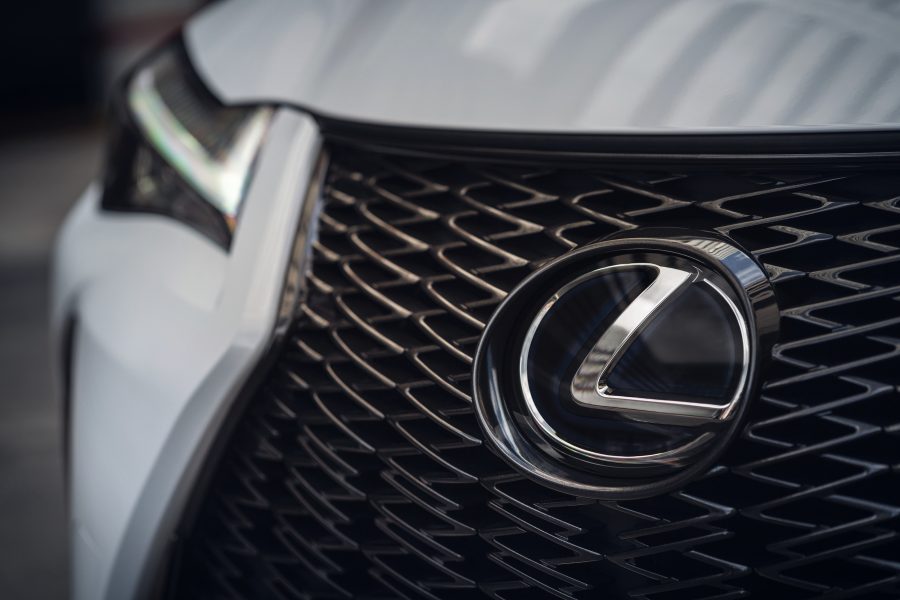 Its road presence is enhanced with the F Sport spindle grille, featuring a Lexus L-motif mesh pattern, finished in black with a chrome surround for the lower section that accentuates the car's planted stance. The same pattern is featured in the enlarged bezels housing the fog lights and cornering lights in the F Sport front bumper, with contrasting chrome L-shaped surrounds. The rear bumper also has an F Sport-specific design, with a jet black roof spoiler and moulding details around the light clusters. The 18-inch F Sport alloy wheels have a 10-spoke design and a dark metallic finish.
Other F Sport Design standard specification details include synthetic leather seat upholstery, heated front seats, dual-zone automatic air conditioning with Lexus' Nanoe-X air quality system, reversing camera, automatic wipers, LED headlights with Automatic High Beam, chrome roof rails, black wheel arch mouldings and Lexus "F" badging.
Revisions to UX 250h F Sport
The revised F Sport specification makes Adaptive Variable Suspension and front and rear performance rods standard features, elements that contribute to the model's sharper handling and chassis response and smoother ride quality on all road surfaces. The AVS's control system has been adjusted so there is a seamless shift to high damping force when conditions require, so there is a less abrupt change in vehicle behaviour. Tuning of the system has also reduced high and mid-frequency vibration.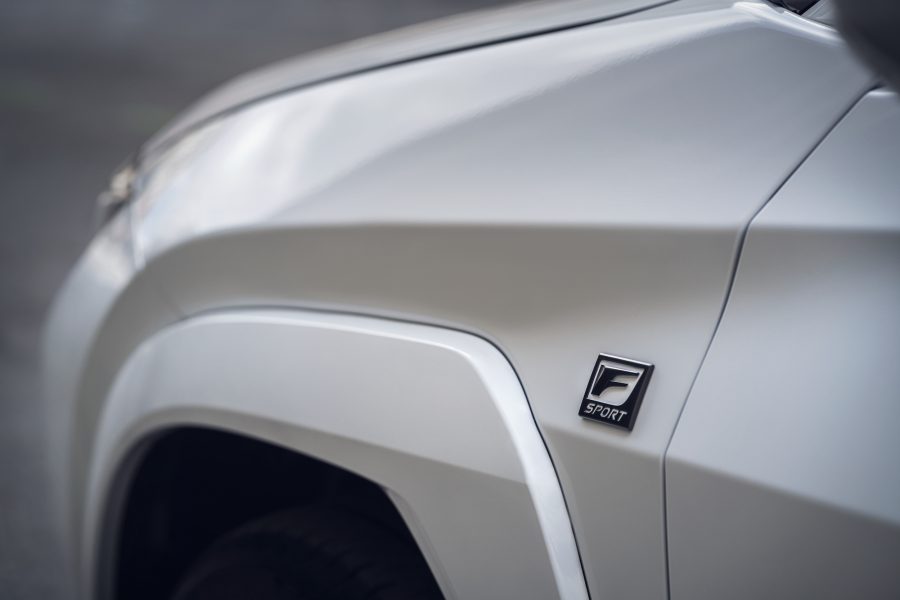 The steering feel has been improved with a new rigid joint between the top of the steering gearbox mount and the suspension member. In line with this extra rigidity, the shock absorber damping force has been appropriately adjusted for optimum performance.
Improved rigidity
Improvements to the 2023 Lexus UX include measures to further increase body rigidity with additional spot welds on the bottom edge of the side member opening and the lower back panel opening and a more rigid steel back door reinforcement.
Colour choices
The UX is available with a new exterior paintwork option, Sonic Platinum. This special finish uses Lexus's advanced sonic paint technology in which a layer just a few microns thick brings the metallic flakes in the paint into a closer, uniform alignment, creating an extra brilliance and deeper shading across the car's bodywork.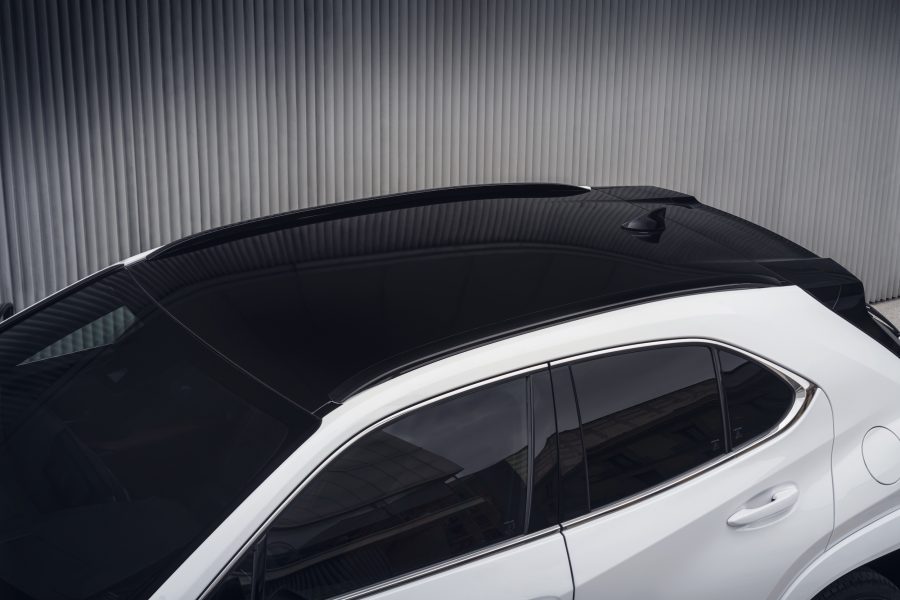 The revised range also provides a wider choice of bi-tone finishes, with six colours available in combination with a contrast black roof on the F Sport and F Sport Design models.
In the cabin, there is a new Hazel colour option available for all the upholstery options – fabric and synthetic and genuine leather – for all UX versions apart from the F Sport. The perforated leather upholstery has a fresh look with a new kagome stitchwork pattern, inspired by a traditional Japanese basket weave. The synthetic leather upholstery has a new sashiko pleating effect.
Lexus Safety System+
Revisions to the UX 250h's Lexus Safety System+ bring improved performance in the Pre-Collision System, equipping the car with Intersection Turning Assist for safer left and right turns across traffic at intersections and Emergency Steering Assist, which helps the driver steer to avoid obstacles without departing from their traffic lane. The Dynamic Radar Cruise Control adopts Curve Speed Reduction, which automatically adjusts the vehicle's speed to suit the radius of a bend in the road.
Efficient powertrain
The UX 250h's powertrain is unchanged, delivering excellent efficiency and refined performance with fourth-generation Lexus hybrid electric technology; the 2.0-litre system develops 181bhp/135kW.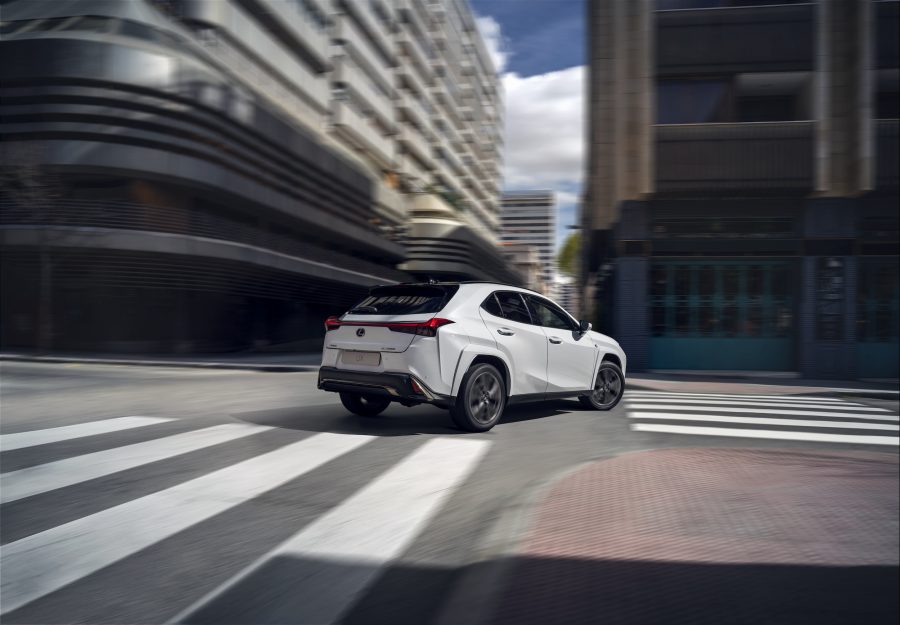 Following its launch in 2019, the Lexus UX rapidly became our best-selling model in Europe, with its urban twist on the luxury crossover theme resonating with more than 50,000 new car buyers. In order to make the hybrid Lexus UX 250h more alluring than ever, a number of exterior and interior refinements have been applied for the 2022 model year.
All information was correct at the time of publishing.