The new Lexus RX is equipped with a wealth of advanced technology features that are constantly at work to help you travel in safety – almost as if it offers the personal close protection of a bodyguard. These are designed to function whether cruising at speed, heading off-road or simply manoeuvring into a tight parking space.
Panoramic View Monitor
Negotiating a tight parking space or making your way over rough, unmade surfaces are familiar driving challenges that can result in bumps, scrapes and frayed tempers. However, the 360-degree Panoramic View Monitor in the new Lexus RX makes these tasks easier and safer by using an array of cameras to offer the driver an all-round view – even a bird's eye view – of the vehicle's immediate surroundings.
It works in conjunction with the Lexus Park Assist sensors and monitor, Blind Spot Monitor and Rear Cross Traffic Alert to make you aware of obstacles, hazards and other vehicles that may be hidden from view or getting dangerously close to the car, eliminating any blind spots. When reversing into parking spaces it can also add guidelines to the real-time camera images to help you steer precisely.
Lexus Safety System +
Lexus Safety System + is an integrated, multi-feature safety package that delivers exceptional levels of active safety and driver assistance to help prevent accidents.
The aim is not just to provide extra protection for the RX and its occupants, but to improve road safety generally
At its heart is the Pre-Crash Safety system with Pre-Crash Brake Assist, which uses a front-mounted camera and millimetre-wave radar to detect vehicles and pedestrians on the road ahead. If it calculates a risk of a collision, it automatically warns the driver and engages its brake assist mode to provide extra braking force the moment the brake pedal is pressed. More than that, if the driver fails to react and the system judges a collision to be imminent, the brakes are automatically applied to reduce vehicle speed and the force of any impact.
The same radar unit is used to provide Adaptive Cruise Control, which helps the driver maintain a safe distance from the vehicle in front, even at very low speeds. Once the way ahead is clear, the RX automatically accelerates to its pre-set cruising speed.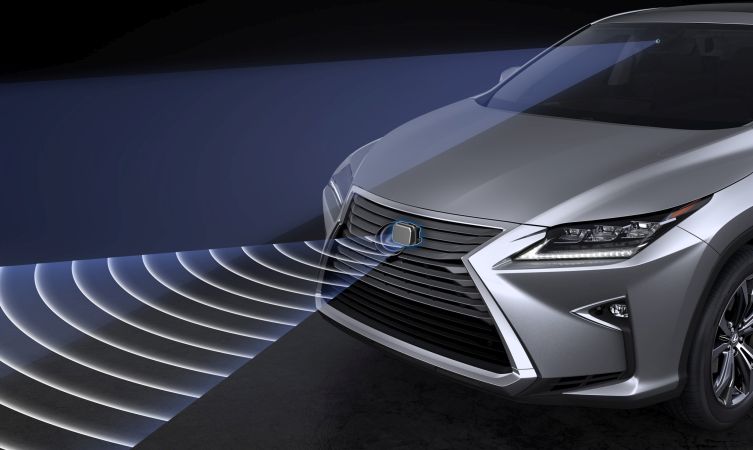 It also includes Lane Departure Alert and Lane-Keeping Assist, which uses a camera on the windscreen to track the vehicle's course and recognise when it is unintentionally deviating from its lane. The system will then help the driver steer safely back onto the correct path with an appropriate amount of steering control force.
Lexus Safety System + further includes Automatic High Beam, which detects oncoming traffic and vehicles ahead and automatically switches the headlights between high and low beam. The flagship Premier models add to this with the Adaptive High Beam system, which gives even better illumination by adjusting light distribution to avoid dazzling other road users.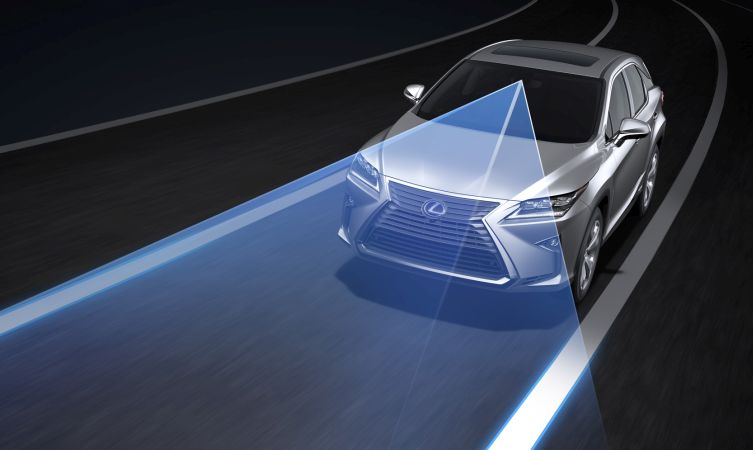 The driver also gains a 'second set of eyes' through the Traffic Sign Recognition system that recognises principal warning and command signs, and then replicates them on the multi-information display. This reduces the risk of the driver not being aware of speed limits, lane closures and other important information.
Help from a dozen assistants
With up to 12 different elements, the Panoramic View Monitor and Lexus Safety System + form the most advanced and comprehensive driver assistance package yet featured in the Lexus RX. The aim is not just to provide extra protection for the RX and its occupants, but to improve road safety generally.