We tour the United Kingdom in a Lexus CT 200h F Sport to discover the best cosy boutique hotels to stay at all year round. Fancy a weekend away somewhere or need to visit family and don't know which hotel will meet your luxurious standards, then we are here to help. This is our luxury hotel UK tour.
Luxury Hotel UK – North West England
Hotel: Askham Hall
We begin our Luxury Hotel UK tour by heading to the northwest of England in our Lexus CT to a couple of luxurious properties in Cumbria where we felt absolutely at home in a grandiose setting.
When the Lowther family decided to extend a welcome to paying guests in their 13th century, grade 1 listed home in Cumbria, they did so without hiding the place of its homely feel. No matter how grand the surroundings are, you will feel like this is a place where you can kick your shoes off at the door and curl up on the couch. Feeling a million miles away from the rat race, surprisingly it's only a 10-minute drive from the M6 and it makes a perfect weekend escape for anyone who likes the good things in life.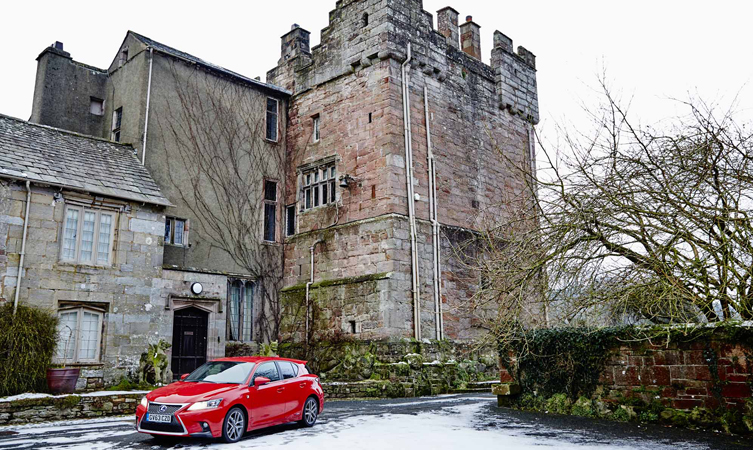 If you make it past the fierce-looking gryphons guarding the main entrance, you'll find a far warmer welcome indoors. But it's never formal; staffing levels are not at usual hotel levels, for example. You won't be clicking your fingers for a drink here, although there is always someone around to look after you. Just help yourself from the well-stocked honesty bar instead.
Askham Hall is surrounded by 40 acres of lush Cumbrian grazing land; the views from the Hall to the Eden Valley are wonderful. Beyond the topiary-lined gardens lie Knipe Scar and the River Lowther. You can feel the stress lift in a place like this, lounging on sofas piled with fat cushions and watching a crackling fire. With nothing to hear but birdsong and nothing to think about but what treats await at dinner time, it's a hard place to leave.
The rooms
Here at Askham Hall, your private quarters have more personality than the usual high-end hotel, which at times can feel rather identikit-deluxe. The 13 rooms feature oriental textiles, four-poster bedsteads, patchwork tiling and contemporary paintings and the requisite touches like power showers and Bluetooth radios. The Lonsdale Room is a favourite, with a fantastically decadent bathroom with a canopied ceiling and views from its site in the hall's 12th-century Pele Tower.
Food and Drink
Chef Richard Swale is a local lad who went off to train in London, France and Denmark before returning to make his mark at Askham Hall. His menu makes full use of the on-site kitchen garden and game from the surrounding countryside, so expect the likes of Lowther venison, partridge and grouse to feature. Eat in the bright, restaurant with huge windows or for a cosier gathering, the private panelled dining room for residents is an exceptional setting for a celebration dinner – menus are available from around £45 per person
Activities
The family have a stretch of the River Lowther available for fishing salmon and brown trout they may even ask to buy your catch for use in the restaurant or their nearby pub, the George and Dragon in Clifton. Or take the car to Ambleside, and return (via low gear) for half of the Cumbrian ale at the Kirkstone Pass Inn at the top of the hill known locally as The Struggle. Back at Askham Hall, you can pre-book beauty and spa treatments so you look your best before that special dinner.
Hotel: Silverholme
Driving on to another ancestral seat, the Graythwaite Estate has been home to the Sandys family for 500 years and now they've opened the gates to guests. And what a setting. There are more than 5000 acres of forest and woodland here, edging Lake Windermere.
There is a choice of 18-holiday cottages on the estate, but if you want to live in real luxury for a special occasion, there is something very special awaiting the most discerning guest. Silverholme is a magnificent Georgian manor house that sleeps 18, expertly renovated and furnished by Camilla Sandys in 2012.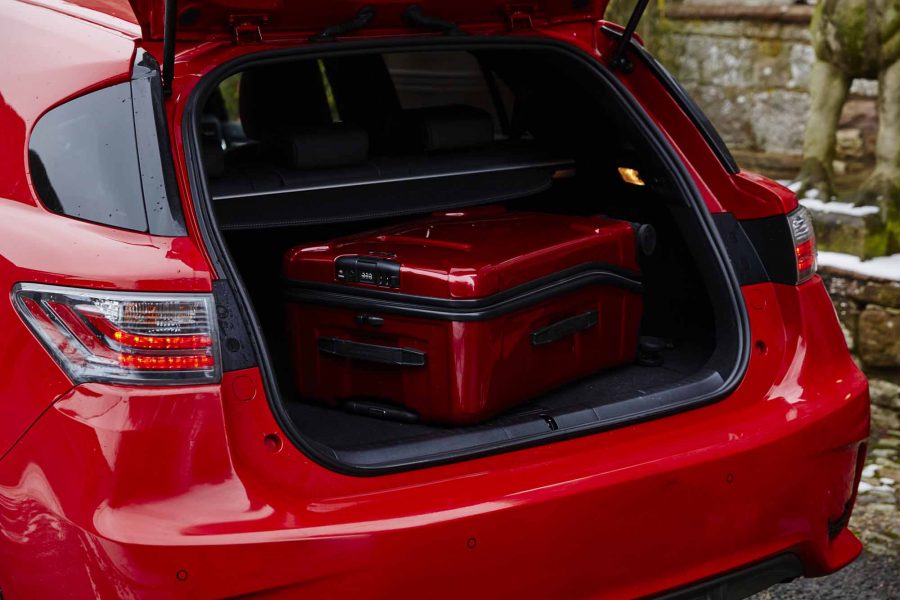 Huge windows mean you can immerse yourself in those lake views and the best quality furnishings and equipment mean this is a self-catering experience like no other. There's a surround-sound TV room, library, a private jetty… we could go on. You'll even take pleasure in being in the kitchen, for example – hand built, with the latest technology and wide doors opening to lake vistas. Now that's what we call a home-from-home.
The rooms
There are eight rooms in the main house, all with light and luxurious soft furnishings, king-size or twin beds and killer views. The noisiest guests in your party won't mind being 'banished' to the gatekeeper's cottage, which takes the total of guests invited to eighteen. No one will feel short-changed here – every room is perfect in its own way, with indulgent bathrooms and plenty of sofas to sprawl on.
Food and Drink
You can choose to cook for your guests, with room for everyone to be seated in that fantastic kitchen, or in the more formal dining room. The team at Silverholme can arrange for full gourmet catering or just a shopping delivery if you'd prefer. Your wish is their command.
Activities
Want to keep moving? There's a concierge service here, so anything from a helicopter tour of the lakes and mountains to a Segway trail along the private roads of the estate can be arranged. Try clay pigeon shooting, take a hot air balloon ride or just get a league going in the table tennis room. You also have access to a fitness room and heated pool, so everyone should be happy, even those who want to sit in the perfect spot, G and T in hand and watch.
Luxury Hotel UK – The Cotswolds
We next stop off in the Cotswold countryside during our Luxury Hotel UK tour to visit two luxurious hideaways that are very different in style. One is a relaxing retreat with green credentials and the other is a stylish and chic bolt-hole for some famous faces.
Hotel: The Old Swan and Minster Mill
It's difficult to think of a more typical English setting than the village of Old Minster. It's an idyllic kind of place where strangers bid each other 'good afternoon' and the gurgle of the river and chink of ice in a G&T glass are the only sounds to disturb your post-lunch stroll in the gardens. It's traditional, yes, but in the best sense. Quality is timeless.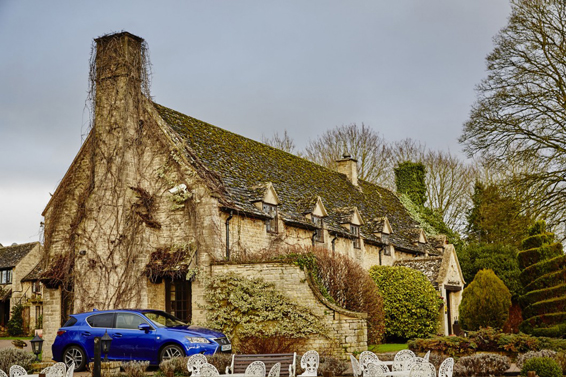 As the name suggests, the property is spread over two different locations by the River Windrush. The Old Swan is a heavily-beamed, 600-year-old inn, Minster Mill has an additional space that's more contemporary. Both are outstanding and chock full of places to relax and enjoy the surroundings. Whether by a huge open fire or on a deckchair by the river, this is a place that just demands you de-stress.
The rooms
Fourteen of the rooms are in the Old Swan itself and are beamed and beautiful, with antiques, fine linens and four posters. At Minster Mill, there are a further 44 guest rooms and although smaller in general, they have a luxurious feel and some even have private terraces with fire pits. Bathrooms are indulgent, beds are un-leavable and the views over the riverside and surrounding country are a dream.
Food and Drink
Let's start with the service. It's perfect. Friendly, unforced, professional and knowledgeable, each meal from the stupendous breakfast buffet to after-dinner brandy is a pleasure.
The menu is extensive but unpretentious, both in the bars, terrace and more formal Lovell Room. Delights such as Oxfordshire beef and Hobgoblin Ale pie, Cotswold rack of lamb with wild garlic or a cocktail of crayfish from the Windrush can feature on menus that change daily.
Activities
Take one of the hotel's Pashley bicycles for a trundle through the Cotswold lanes or walk through the surrounding 65 acres of gardens and wildflower meadows. Take a picnic hamper from the hotel – they'll pack up anything from afternoon tea to champagne and canapés.
The Archimedes Screw in the grounds is a must-see, its water power supplies the energy for the entire Minster Mill side of the property. We're looking forward to the addition of indoor and outdoor pools in 2016 alongside a sauna, steam room and terraces for sun-worshippers to relax.
Hotel: The Wheatsheaf Inn
The Cotswolds may be known for its chocolate-box cottages and sleepy villages, but it also has a growing reputation as a place where the cool cliques like to party.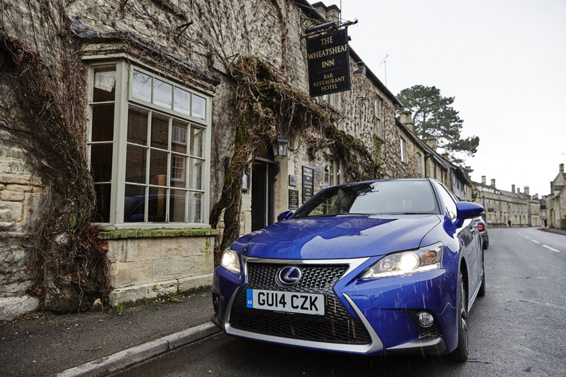 Kate Moss's wedding guests Lily Allen, Charlie Watts and John Lydon stayed here at The Wheatsheaf Inn. Its mix of bed and breakfast deluxe and a perfect boozer has certainly attracted a host of rock and rollers who definitely don't come here for an early night with a good book (though those Hypnos beds with Egyptian cotton sheets are certainly tempting.)
The Wheatsheaf is in Northleach's honey-stoned High Street and is the quintessential Cotswold pub. This is a former coaching inn dating from the 17th century, where rabble-rousing highwaymen and travellers drank to raucous excess.
The place is somewhat more elegant than it may have been in those days, with a pared-down palette of Farrow and Ball's best and portraits – one being of La Moss herself – eyeing the patrons. Locals and weekenders mingle in one long bar and dining area, but there are lots of nooks to hide in with a paper and a pint if you're feeling less sociable.
The rooms
Choose from a 'good', 'very good' or 'excellent' bedroom – we'd say depending on how much time you're going to spend there. As rooms have the likes of Bang and Olufsen TVs, freestanding tubs and gorgeous organic toiletries, you won't be disappointed if you spend less.
Some rooms are in the main building, others surrounding the lavender-lined courtyard at the rear of the inn which may be a noise issue or those who like to be in pyjamas by 9.30. This is a place to share the good times, after all.
Food and Drink
Dine on gastro-pub classics in the courtyard or take over a leather banquette table in the dining room, but whatever you do, don't over-order if you want to enjoy pudding. Portions are generous.
If you're celebrating with a bigger party, there's no hire charge to take over one of the Wheatsheaf's private dining rooms. 'Feasting' menus are available for the whole table to dig into a suckling pig, slow-cooked lamb or whole poached salmon.
Activities
You are superbly placed to explore the Cotswolds here. Get the wellies on and take a bracing walk or drive through the lush countryside to Cheltenham Races or Blenheim Palace which is only 10 minutes away.
This spectacular location has events, exhibitions, a food festival and even jousting in the grounds depending on the time of year – there's always something going on. And when you retreat to the Wheatsheaf at the end of a busy day, have a massage or beauty treatment at the cute little treatment shed on the grounds.
Luxury Hotel UK – East Anglia
Next in our tour of amazing, luxurious hotels, we take the Lexus CT to East Anglia to visit the Wilderness Reserve in Sibton, Suffolk, and The Hoste in Burnham Market, Norfolk.
Wilderness Reserve

No need to hang out with the hoi-polloi. If you're one of those who believe 'hell is other people', (or at least strangers), then Wilderness Reserve is the perfect location for a private weekend retreat spent with friends and family.
Whether you cosy up with the one you love best or gather friends together for an indulgent house party, you will never forget this special place near Suffolk's Heritage Coast.
There's a superb variety of accommodations on this immaculate 4,500-acre estate, catering for differing sizes of parties. Our favourites are the smallest and grandest choices: Hex Cottage, a dinky thatched hideaway for two that was formerly the woodcutter's home.
At the other end of the scale, the grand Sibton House, designed by Decimus Burton in 1827, is where you can be Lord or Lady of the Manor for the weekend with up to 23 guests of your choice.
The rooms
As you would expect, Sibton House is all about tasteful living on a grand scale, with, sumptuous beds, marble bathrooms and luxurious living quarters with squishy sofas. Cosy up in Hex Cottage and you'll also find every comfort – except electricity and wifi. That means romantic candlelight by your canopied bed, crackling fires and a roll top bath topped with hot water care of an Esse range in the kitchen.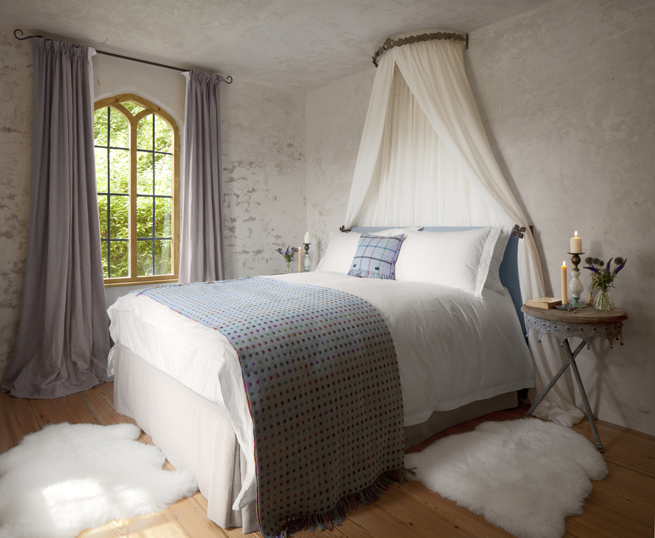 Food and Drink
Self-cater or choose from a locally-sourced menu. If you're having a celebration, the dining room at Sibton House or outdoor terrace are both incredible settings for dinner and the staff at Wilderness Reserve can arrange fine dining from £65 per person. Enjoy the catch of the day from Southwold or Blythburgh pork with a specially selected flight of wine for every course as an option.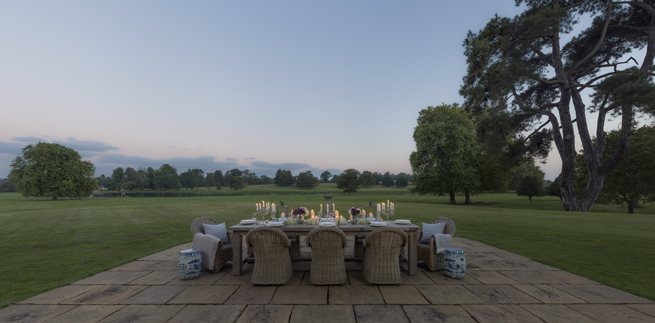 Activities
Survey your empire – walk the wonderful grounds or in warmer months, laze by the naturally filtered swimming pool or organise a tennis match. Anything from kite-surfing to golf can be arranged, or if you're less energetic, there's a fantastic cinema room full of sofas for Sibton House guests.
Hotel: The Hoste
Heading north to Burnham Market, we're in Nelson's Norfolk. England's naval legend was born near The Hoste, the village's boutique hotel which has quite a reputation for its superb service and locally-sourced menu.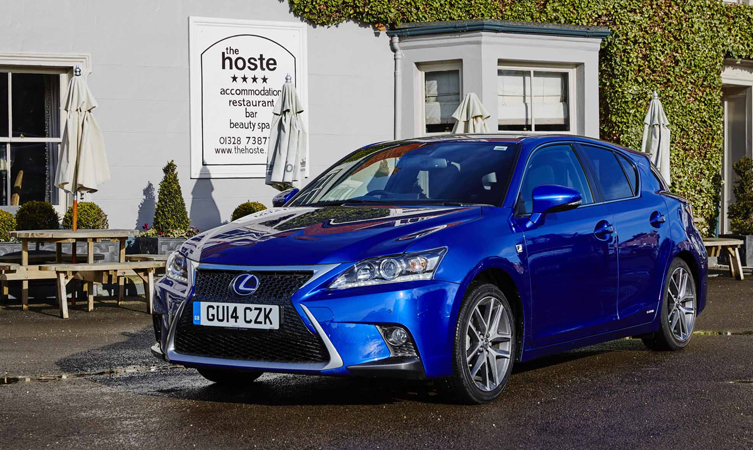 You're spoiled for choice at The Hoste. Stay in the main hotel and you'll be in a building that dates back, in part, to the 16th century but manages to feel un-stuffy and contemporary.
Or hop over to Vine House on the other side of the village green for Georgian elegance and rooms with chic interiors. Those who like a quirky location will love Railway House, a ten-minute stroll away on the other side of the village, with the option to stay in a restored railway carriage.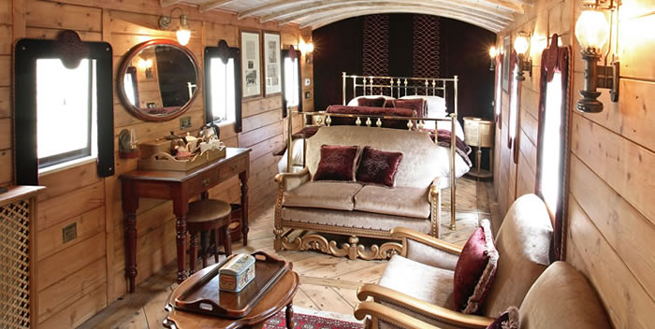 The rooms
There's a variety of rooms on offer over the various locations, and all are tastefully decorated. Some have huge tubs, brass beds and walk-in showers, others feature four posters or beds with beautifully upholstered headboards and views over the green.
Food and Drink
Formal or casual, in the airy Garden Room, buzzing restaurant or bar, the food here is outstanding. Featuring ingredients from named local suppliers, you can expect seafood and fish of the highest calibre – don't miss the Norfolk Coastline Assiette, the best of the sea featuring lobster risotto, Cromer crab and Brancaster oysters – or order from an extensive menu stuffed full of British modern classics.
Activities
The Georgian village of Burnham Market is full of interesting little boutiques and the Hoste's own Nelson exhibition will while away a few hours, but you really can't come here without a trip to the wide expanses of beach on the North Norfolk Heritage Coast. Winter or summer, they're the perfect place for picnics, dog walks and blowing away the cobwebs. Back at The Hoste, book into the spa for their signature Clarins treatments or just sink into the hot tub in the courtyard for a pre-dinner soak.
Luxury Hotel UK – The South
As we continue our tour of Luxury Hotel UK tour, we take the Lexus CT to a couple of the best weekend retreats in the south.
Hotel: The Bell
When did it become acceptable to stay in the pub all weekend? When it's The Bell in Ticehurst, who cares what anyone thinks? This eccentric establishment has long been at the forefront of destination boozers in the south and if you like a tipple after a long drive, head into the beautiful East Sussex countryside to pull up a pew by the fire and prepare for a weekend of laughs and unexpected luxuries.
What seems to be like another well-kept high street pub holds plenty of surprises when you step through the door. Not only is The Bell in Ticehurst a real centre of the community, but it's also a favourite with out-of-towners and always has a buzz about it.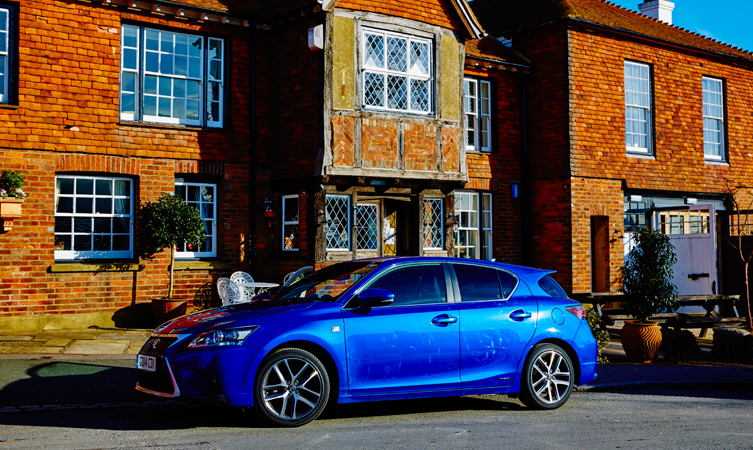 The bar and dining area are in one long room, with eclectic chairs and a pillar made of books, sewing machine tables and tasselled fez lampshades. And as for the men's room – who knew French horns could be put to such use?
The rooms
No matter what you go for, from a compact double in the main building to the luxury lodges or Love Nest in the grounds, you will be in for a treat. For a start, most of the rooms have silver birch trees growing in them which is not something you see every day. Every space is unique and has a host of different quirks, anything from a bright yellow 70s phone to a shiny copper bathtub, a tailor's dummy to a cosy wood burner. Turn your key in the door and be prepared.
Food and Drink
When you check in to your room, you'll find scones, jam and clotted cream under a bell jar and that sets the pace for a weekend of indulgence. If you want pinkies-out fine dining, then this may not be the place for you. What The Bell does supply, though, is gastro pub fare at its best, the kind of menu that looks more and more amazing with every sip of your pint.
Home roasted loin of pork with apple mash, devilled lamb's kidneys, and a fish supper featuring the best chips we've sampled this year. Local produce is used where possible and as expected, the wine list is wide-ranging and ales are local.
Activities
If you're booked into a lodge room, it'll be tempting to crash in front of your personal outdoor fireplace with the papers but we say, a Sunday stroll around Bodiam Castle or Pashley Manor could well set you up for a stupendous Sunday lunch back at The Bell.
Hotel: Albion House
Ramsgate has seen an upturn in interest from weekenders looking for an old-fashioned seaside escape and Albion House is playing its own part in the rejuvenation of this part of the Kent coast.
Like its near neighbour Margate, the town can be an odd mix of the down-at-heel and uber-trendy but Albion House is bringing a touch of the deluxe to an area that's definitely on the up. Just an hour and a half from London, this is a trailblazing hotel that will attract – and welcome back – city weekenders.
Albion House was built in 1790 as a holiday retreat and was host to a young Princess Victoria and her family in 1835. As home to Ramsgate Town Council it then fell into disrepair before its Regency grandeur was beautifully restored over the last few years.
From its majestic position on the cliff above the town, the view is of the Royal Harbour and the sea beyond. (So of course, that means sunsets are to be enjoyed from your room with a glass of fizz.) If you're feeling more sociable, the airy Town Bar has squashy sofas and armchairs and some fantastic cocktails. The rooms Twelve of Albion House's fourteen rooms have a stupendous sea view with the pick of them all being the Drawing Room Suite on the first floor.
In tones of cream and gold, its floor-to-ceiling French doors open out onto a wrap-around balcony where you can drink in that sea air before cosying up in front of its open fire. Throughout the hotel, Italian marble bathrooms are super-indulgent and the organic cashmere-lined beds are pretty heavenly.
Food and Drink
With dark walls, white linens and a firelight, this is a special place to dine. Lime and jerk spiced sea bass, Harissa rump of lamb or mushroom risotto with Kentish blue cheese are all tempting, as is a wine list that features organic wines that are rumoured to be practically hangover-free. If afternoon tea appeals, Albion House does it in style, with guests helping themselves from a table groaning with scones, brownies, Victoria sponges and sandwiches.
Activities
Take a fascinating tour underground at Ramsgate Tunnels and see where people were up to 60,000 people sheltered during the war. Then take a walk along the golden beach at Ramsgate Main Sands, or whizz out to sea to take a powerboat tour of an offshore wind farm or go seal-spotting with Horizon Sea Safaris.
Luxury Hotel UK – The Midlands
We travelled in our Lexus CT 200h to the next stop of our Luxury Hotel UK tour, the heart of England.
Hotel: The Elms
BC (before children) weekend breaks meant indulgence, relaxation, and an escape from the daily grind. Dinner a deux, the Sunday papers, a glass of fizz, an afternoon snooze… then the patter of tiny feet brought the end of minibreak hedonism and the start of stressful 'are-we-there-yet?' ordeals. Sound familiar?
It can be difficult to imagine me-time combined with familial harmony when you have a car full of kids who can test your patience before you've left the driveway. Luckily, there's a hotel group that understands the demands of modern parenthood perfectly. Luxury Family Hotels just get it. They know exactly what every frazzled parent longs for – special moments with children and me-time too – and they really do deliver family-friendly perfection.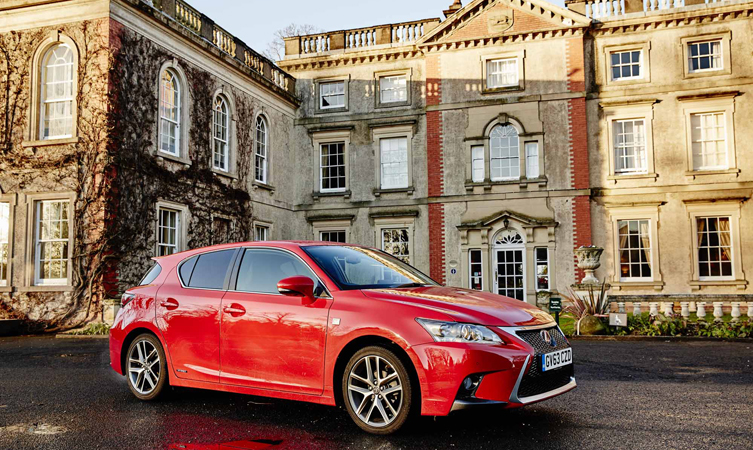 The Elms sits on 10 acres of glorious grounds overlooking a verdant Worcestershire valley. The extraordinary thing about this hotel is that it manages to be luxurious but 'lived in'. You feel almost like you've been invited to stay at the home of a terribly generous friend (albeit one who happens to live in a Queen Anne manor house with spa facilities.)
You won't feel like you're walking on eggshells if your children screech their way around the gardens, drop a biscuit on the carpet or refuse their vegetables.
The rooms
Huge beds and sofas, indulgent bathrooms and floor space generous enough to mean an extra kids' bed doesn't mean shimmying around the rest of the furniture, this is a relaxed style at its best. You'll find all the usual in-room luxuries and child-friendly touches such as a DVD player and discs and a baby-listening device.
Food and Drink
Dine with children on the terrace (the fussiest of little diners won't faze chef) then let the baby listening service take over. The chic dining room is where to remind yourself of dinner as a couple – remember that? Chateaubriand for two, a Worcester White double-baked soufflé or perhaps sea bass bouillabaisse? This is a menu full of grown-up temptations.
Activities
If you don't get it together to leave the hotel and grounds over the course of a weekend, you won't be disappointed. Why would you when The Elms is designed for family time, from croquet and trampolines to a fairy trail through the gardens and football nets on the lawn. Have a swim, a soak in the indoor/outdoor hot tub or a spa treatment – solo, if you like, since staff will entertain children at the Bear's Den club while you indulge.
Hotel: Mallory Court
Built-in a Lutyens style, this 31-bed manor is quintessentially English. With its preened topiary and tall chimneys, it looks like something from a period drama. As you sweep around the circular drive to the entrance, you may be forgiven for wondering if a butler should greet you rather than the friendly reception staff.
The rooms
With 20 rooms and 11 suites, there's quite a range of rooms to choose from. Go for one that overlooks the gardens and you'll be in for a treat as there are far-reaching country views beyond and some beautiful sunsets.
The décor here is on the traditional side of contemporary – it's all very tasteful and understated, so perhaps not your style if you like your interiors quirky. Bathrooms are large and luxurious, with tubs deep and surrounded by marble. In-room Nespresso machines are a nice touch, as are complimentary fruit and nuts.
Food and Drink
The beautiful grounds at Mallory Court are more than just a photo opportunity; the kitchen garden is the source of herbs, fruit and vegetables for Michelin-star standard kitchens. Menus served in the more formal, oak-panelled Dining Room feature updated British classics such as saddle of lamb, roast pigeon and Cornish crab. The Brasserie, meanwhile, is about comfort food – braised ox cheek, chicken and leek pie and braised belly pork, with desserts featuring sticky toffee pudding and warm chocolate tart. There's a great selection of cheeses too.
Activities
Mallory Court sits on 10 beautiful acres, so take your time to explore the expertly tended grounds. (We defy you not to want to clip your hedges when you get home.) If you're feeling more energetic there's a tennis court but with no pool or gym, you may simply be forced to collapse with a cream tea on the terrace or a glass of something by the fire on chillier days.
Luxury Hotel UK – Scotland
We cross the border from England to Scotland in our Lexus CT for the next stop on our Luxury Hotel UK tour and discover two gems.
Hotel: Cromlix
Purring past the gatehouse and through the 34 acres of wooded grounds of this beautiful hotel, it's easy to see why the Wimbledon winner didn't have to stray too far from home to find a worthy investment project.
The property alone cost £1.9 million and a further undisclosed – but obviously generous – sum was ploughed into the hotel's rejuvenation. And what an amazing space, with 10 rooms and five suites all tastefully decorated with antiques and luxurious linens in a style you could say was to be expected of Murray – expertly executed yet never flashy.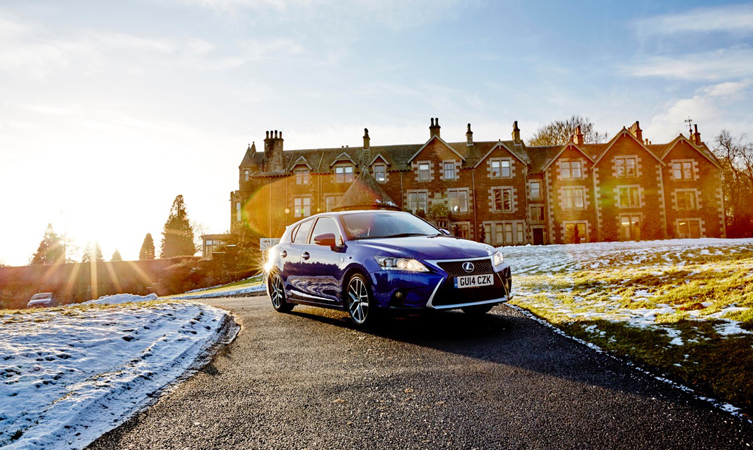 The hotel is a baronial beauty, built in 1880 in the 'cottage style', so no stuffy staterooms or sweeping staircases here, just cosy nooks with a log fire in every grate, oak panelling and wonderful views out to the surrounding beauty.
Today, the building marries old and new beautifully, from the banquette sofas and cathedral roof of the conservatory restaurant to flat-screen TVs hidden behind ornate wall mirrors in the guest rooms.
The rooms
Suites are named after Murray's favourite Scots, so Burns, Mackintosh and even Ferguson get an honourable mention. Close the door on your private space and you'll find the rooms are vast, with generously proportioned hallways, private lounges and lavish bedrooms with canopied beds you will dream of long after checkout.
The bathrooms are truly deluxe, some featuring steam showers and ornate copper tubs. Arran Aromatics have created a bespoke ginger and bergamot signature scent for Cromlix, and the scrubs, lotions and foams make indulgent bath times a treat. In-room spa treatments are also available.
Food and Drink
Dine at the hotel's Chez Roux restaurant and you'll have the finest of Scottish produce given a classic French twist by menu consultant, the masterly Albert and dispatched from the open finishing kitchen where the brigade work with a flourish. Scottish seafood, Loch Duart Salmon, Angus Beef and local game feature in a menu that also stars Roux's signature soufflés and terrines. The three-course set dinner for £31.50 is superb value.
Activities
Those who can manage to tear themselves away from the fireside in the drawing room or library can fish in the hotel's own trout lake, try clay pigeon shooting or play tennis on the outdoor courts, where Murray was given special dispensation to use Wimbledon's colours. Stirling Castle is around a 20-minute drive and of course, you must stop off at your Olympian host's golden post box in his hometown of Dunblane.
Hotel: Fonab Castle
Taking the CT 200h F Sport further north on our Luxury Hotel UK tour, Fonab Castle was next on our road trip plan. This compact luxury hotel is a new addition to the luxury hotel line-up in Scotland and does not disappoint.
A short drive from the town of Pitlochry, just over the River Tummel, you'll find Scotland's latest five-star hotel. For years, the castle itself was used, rather less glamorously, as offices for the hydroelectric board. Just behind the property, you'll see the Bond-esque Pitlochry Dam where the hills fall into an awe-inspiring view along a glassy Loch Faskally.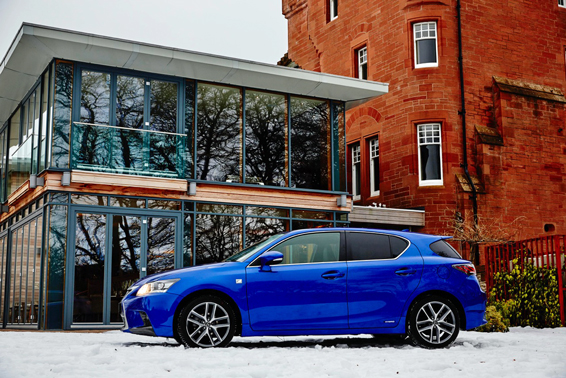 In 2002, the Clark family bought the property and set about reinstating some important architectural features and introducing new additions such as the modern cedar-clad extension to the main building and a state-of-the-art spa.
It's the family's passion and commitment to making every tiny detail of the property perfect that makes Fonab special. From the door handles to cutlery, curtain linings to mattress toppers, everything is of the very best quality and has been personally chosen by the Clarks.
Instead of the fussy, dark interiors, you may expect from a turreted Scottish castle, there's a welcoming and warm contemporary style with bright velvet sofas, Cole and Son wallpapers and fantastically comfortable beds in guest rooms that have iPod docks, multi-channel international TV reception and Nespresso machines.
The rooms
Choose from a room in the main castle building (when we visited, rumour had it a member of the royal family had just checked out of the spectacular penthouse suite) or the Woodland rooms, some of which have glass-fronted balconies overlooking the loch.
And this is where Fonab is so unique. Turn your back on the hotel for a moment and drink in those views of Faskally and the mountains beyond. Have afternoon tea in the lounge with its modern fires and enormous windows or dine in the Brasserie and your head will turn to the loch – it's just spectacular.
Food and Drink
Dining here is consistently good, with the Brasserie featuring an extensive grill menu of classics. Sandeman's fine dining restaurant offers an eight-course gourmand menu that includes more adventurous dishes of seared west coast scallop, Scottish lamb cannelloni, curried monkfish or crispy ox cheek. The sommelier's flight of matching wines is a perfect addition to a fantastic culinary experience. And since the restaurant is named after George Sandeman, who built the castle and was the founder of the famous port company, it would be rude not to have a small after-dinner sample of his legacy.
Activities
If you can spare some time for a few beauty treatments, or perhaps just a swim, the hotel's modern Spa was recently opened and has a compact pool lined in shimmering tiles, a thermal suite with an ice fountain, treatment rooms and a nail bar.
You won't have to opt for a pampering session to feel cosseted here though, as it's the superb staff that makes a world of difference to your stay. Stroll over the bridge to Pitlochry, or follow the River Tummel on a drive to the Queen's View, a spectacular vantage point where, on a good day, you'll see as far as the mountains of Glencoe in the west. Unforgettable.
Luxury Hotel UK – London
We've left our favourite till the last of our Luxury Hotel UK tour. The Eccleston Square Hotel in London is the perfect place if you love Lexus – its mix of technology and style is the ideal place to park our CT200h for the weekend.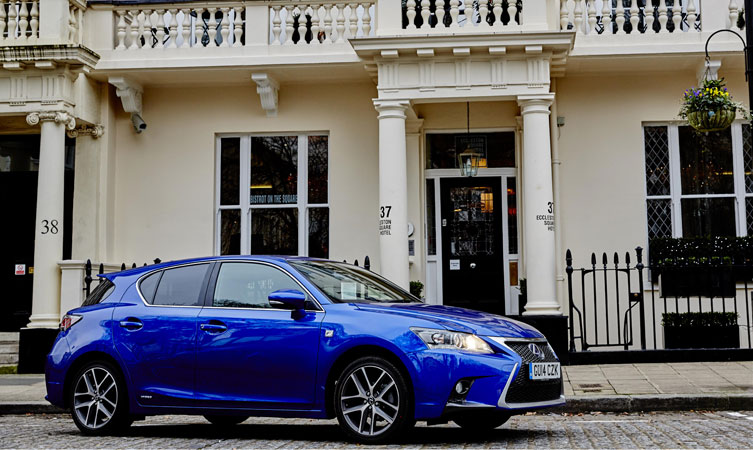 Hotel: Eccleston Square
If you drive a Lexus, you'll undoubtedly appreciate the marriage of style and technology we've found in this very special place to stay in London. With beautiful interiors and thoughtful, high-tech touches to make your stay a little bit special, Eccleston Square Hotel is a perfect idyll in the capital.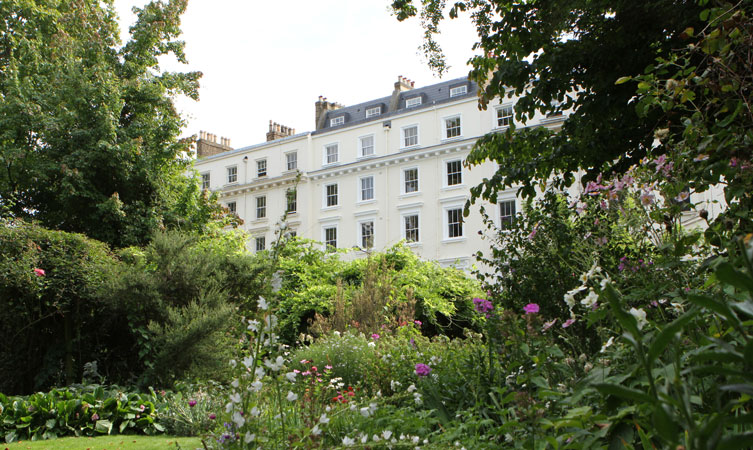 This beautiful stucco building was completely gutted and renovated by the current owners to create the hotel. It's the attention to detail that makes this a very special place. Special interior features have been kept, but the luxury refurb and cool interior styling mean Eccleston Square is in a different class altogether. The chevron marble floors in the public rooms are simply stunning, with a small cocktail bar, and cinema room where guests can enjoy private screenings or just flop in an armchair with the papers.
The rooms
Where to start? These may not be the biggest rooms in London, but if there's another small hotel more built for comfort then we're yet to find it. The Hästens beds are sublime – costing £12k each and you can tell. They rise, fall, and even vibrate and the Italian bed linen is of the highest quality. Puffy duck-down duvets and thoughtful touches like multi-plug sockets in European, British and American formats, USB ports and a Nespresso machine make it geek heaven.
There are TVs hidden in the bathroom mirrors, magic shower screens that are opaque at the touch of a button, and surround sound. There's also an in-room iPad you can use to order everything from a 3D movie from the hotel library to hair straighteners to room service. We had all three. And when you're sitting, perfectly coiffed in a £12k vibrating bed eating a club sandwich it's tempting to stay put.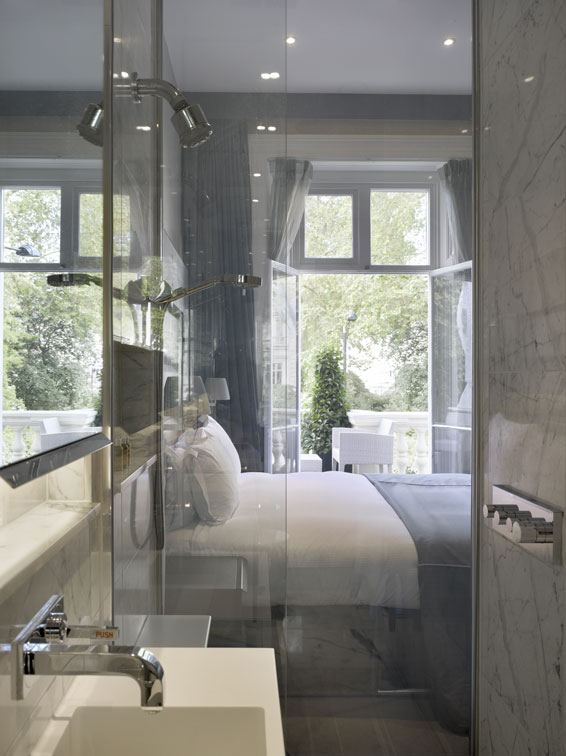 Food and Drink
In the summer months, the bonus of staying here is access to the private garden square opposite. The hotel will put a delicious picnic together – champagne recommended – and you can find a little oasis right in the middle of the city. The intimate dining room is the last word in style and the menu is centred on firm favourites and comfort food, cooked and presented beautifully. Fish and chips, pizza, mini burgers – if this is a hotel based around unpretentious comfort and joy, why pretend you'd rather nibble on a cordon bleu ration? Through breakfast, brunch, afternoon tea and dinner, it's all about having exactly what makes you happy.
Activities
Have a game of tennis if you're feeling a bit more energetic – there's a private court in the resident's garden square. Shop in nearby Elizabeth Street, where you'll find chic boutiques, artisan coffee, quirky independent stores and fantastic fashion. If you're going on to the airport, it's a five-minute walk to the Gatwick Express train. That said, you may find, that having found Eccleston Square, you won't feel the need to escape this little cocoon of comfort at all.
All information is correct at the time of publishing.