The Lexus RC F GT3 is about to embark upon its second full season of motorsport. Just as they did in 2017, 3GT Racing will be entering two cars into the GTD category of the IMSA WeatherTech SportsCar Championship.
The first race of the season is one of the world's most challenging – the Rolex Daytona 24 Hours. It will take place at the world-famous Daytona Speedway on 27-28 January 2018.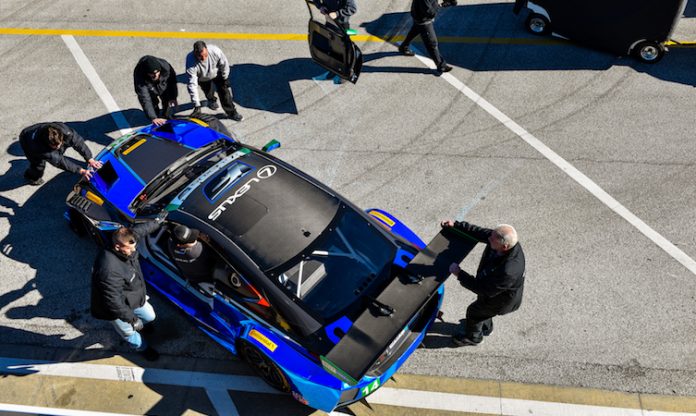 American veteran Scott Pruett brings a 50-year motorsport career to a close at Daytona, in what will be his final race before retiring to become a Lexus brand ambassador. A ten-time (five overall, five in-class) winner of the Rolex 24 and the man who played a key role in helping to develop the Lexus 'F' high performance performance cars, Pruett will be joined in the #15 car by 26-year-old British hotshoe Jack Hawksworth, along with Dominik Farnbacher and David Heinemeier Hansson. The #14 sister car will be driven by Bruno Junqueira, Philipp Frommenweiler, Dominik Baumann and Kyle Marcelli.
Shortly after practice for Daytona, we had a chat with team-mates Scott Pruett and Jack Hawksworth.
Blog: How has your testing gone in preparation for the 2018 Daytona 24 Hours?
Scott: Testing went really well. We're so much further ahead than we were last year – it's night and day. We knew very little about the RC F GT3 at Daytona last year; we only received the car in Autumn 2016 and we still had a lot to learn. This year we have a full season of racing under our belts and have a better understanding of how to set up the car and get the most out of it.
Jack: The 'Roar at the 24' test gave us a pretty good chance to evaluate the Lexus RC F against all the other cars that we're up against, and we know the competition's tough. From what we experienced, the speed of the car is there and we felt very competitive all week. We've made really a big step forward both in terms of the reliability and performance of the car, and all little issues from last year have been ironed out.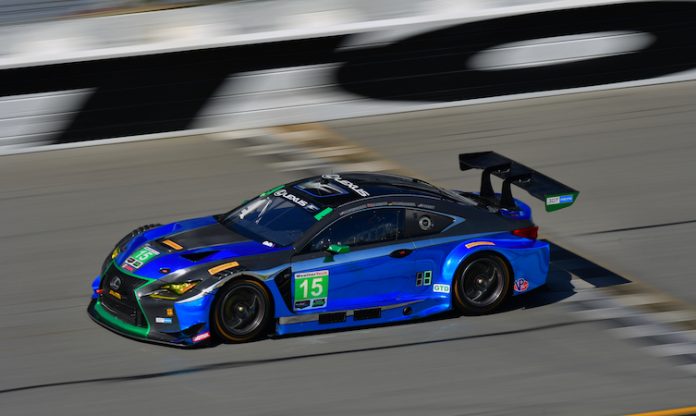 Blog: What developments have been made to the Lexus RC F GT3 ahead of the 2018 season?
Scott: We've upgraded the car with a new anti-lock braking system, which is probably the biggest performance gain we've made for this year. We struggled with braking last season; it was inconsistent and there was no adjustability. The new system gives us more flexibility during a race, and as a driver, I can be can be a lot more confident under braking.
Jack: Yes, the ABS has made a big difference, not just in terms of performance but also in terms of driveability. Other than that, it's an evolution of last year's RC F GT3, strengthening certain components, such as the front splitter, because there's a lot of wheel-to-wheel combat in GT3 racing!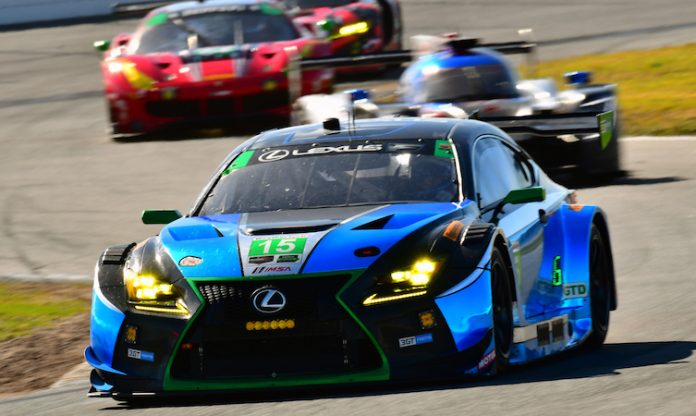 Blog: Scott, you've won at Daytona an incredible ten times, so you know better than anyone what it takes to win at the 24. What unique challenges does Daytona present to car, driver and team?
Scott: In a 24-hour race it's all about teamwork and execution. There are four drivers in each car, the pit crew, the strategists on the pit wall – and to be successful you need to bring all those elements together seamlessly, which isn't easy. Over the entirety of the race you're going to have around 27 or 28 pit stops.
On top of that, you also need to be able to react to circumstances and conditions and be able to make the right calls at the right time under pressure. You also need a bit of luck to win. Although I hate to think about that as a driver, the reality is you sometimes need a bit of extra help to get to that chequered flag first.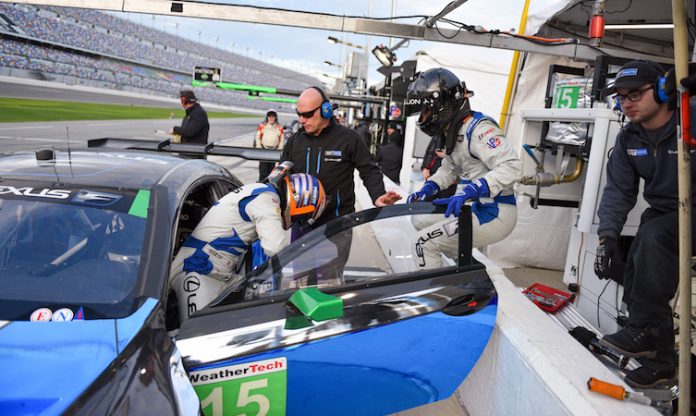 Blog: You raced at Daytona for the first time last year, Jack. What are the biggest challenges from your perspective?
Jack: Daytona is like two different tracks, so it's a balancing act when you're trying to set-up the car. The straights are extremely long, you spend 68% of the lap at full throttle and you reach top speeds of up to 180mph. That puts a lot of stress on the motor and makes the aerodynamic efficiency of the car extremely important.
In contrast, the tight infield section hasn't been resurfaced for a while and has very low grip levels. You need to have enough downforce to be quick through the infield section but you also need to keep aerodynamic drag to a minimum so you can reach top speed. On top of that, the other three drivers need to be happy with the handling too!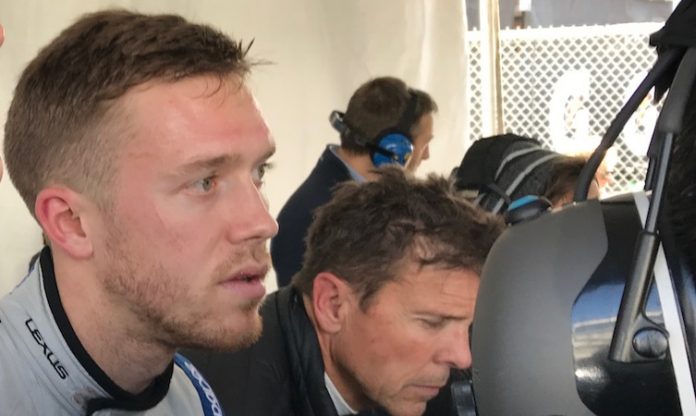 Image above: Jack Hawksworth (left) with Scott Pruett
Blog: What's it like driving at night?
Jack: When you get in the car at night you go out on track, do two or three laps and think that you're flying, but when you look at the lap times you can actually be a couple of seconds off. It takes your brain a couple of laps to adjust to the speed in the dark. The hardest thing, though, is probably dealing with the traffic because you can't see what's behind you.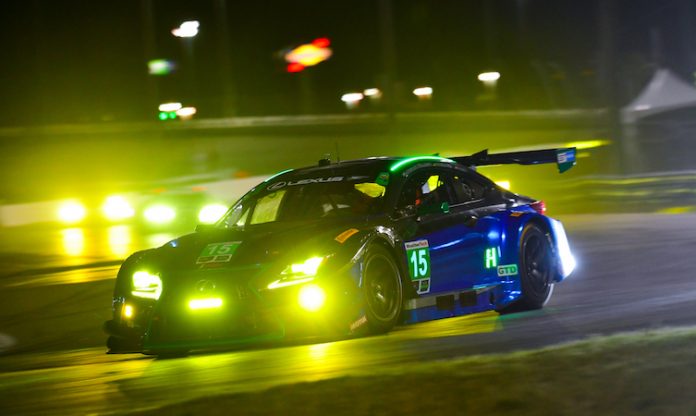 Blog: What preparations do you make in the lead-up to a grueling 24-hour race?
Scott: I do more long-distance training before Daytona, because you know you're going to be driving for six or seven hours of this race and you need to be in a condition to drive for three or four hours at a time. I got too many injuries from IndyCars and can't run anymore, so I use bike and rowing machines. It's incredibly boring but the end justifies the means!
Jack: On top of fitness, the most critical thing in GT racing is being able to deal with the heat. Your hydration leading up to the race, and what you drink during the race, can make or break your weekend. We don't just drink water either, we need to replace lots of electrolytes, salts and minerals, because you can very easily lose 3-4 kilogrammes in bodyweight during a stint.
Blog: Daytona must be a very special place for you, Scott. What has this success meant for your career and how does it feel to be competing in your last race there?
Scott: I have so many great memories at Daytona. I think my very first race here was in '85, and a lot of things have changed since then. The thing I can say is the excitement that I got coming in that day is no different than the excitement I got coming in this weekend. For me to win Daytona five times overall and five times in class, it's very special. What better place for me to compete in my last race?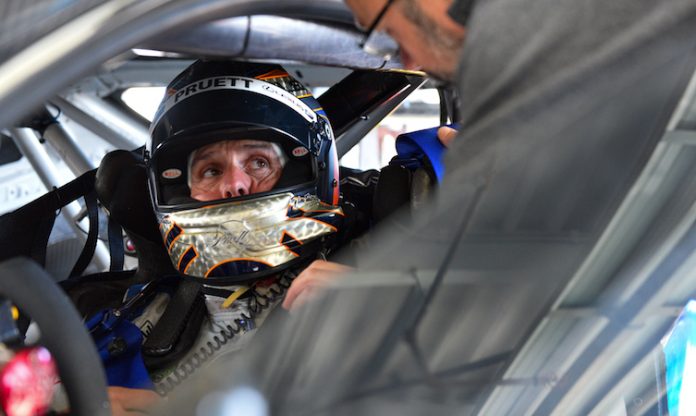 Blog: We're guessing you won't be slowing down too much then?
Scott: I am heavily involved in the Lexus Performance Driving schools, so I'm going to continue to get my adrenaline fix. I have also been invited to the Goodwood Festival of Speed by Lexus UK and am really looking forward to learning more about Lexus culture in Britain.
Blog: What Lexus do you use for your daily driver, and what do you like most about it?
Scott: I drive a GS F. I have three kids, so being a four-door it's very functional as well as a beautiful, well-balanced, high-performance machine. When you sit in the GS F and get behind the wheel it has all the refinements you would expect from Lexus and you can't fail to be impressed by all those little details like the stitching. Lexus really does think of everything.
Jack: I have an RC 300h and I absolutely love it. The thing I really like about the RC is the interior; it's just really classy. It's extremely comfortable on long journeys and the economy of the hybrid system is impressive – I can get 550 miles from one tank. I also drive differently in the hybrid. If I had an RC F I wouldn't be able to resist driving everywhere as quickly as possible, but with this car I'm always trying to beat my fuel mileage record!
Thanks very much for taking the time to speak with us. We wish you both the best of luck for Daytona.