Lexus LC 500 models swept the podium last weekend in round three of this year's Super GT championship at Suzuka Circuit.
This superb result over 300km of intense racing in 40-degree track temperatures marked the first podium lock-out for Lexus in the top GT500 class of the 2019 series. It also provided a well-deserved first season victory for the #36 au TOM'S team with drivers Kazuki Nakajima and Yuhi Sekiguchi.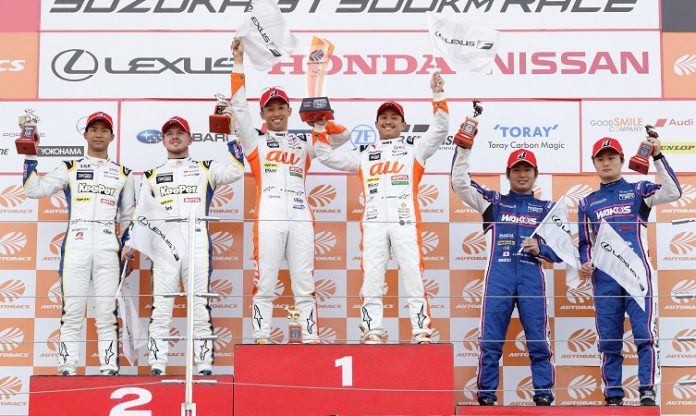 Read more: Lexus LC 500 locks-out the top six places in 2017 opener
The 52-lap race began in the mid-afternoon, with the #36 au TOM'S and #37 KeePer TOM'S Lexus models leading the pack after a strong qualifying session. And it wasn't long before the #6 Wako's Lexus matched their pace, leapfrogging from fifth to third so that LC 500 coupes occupied the top three spots in the early stages of the race.
A safety car session from laps 17 through 21 compressed the field to within touching distance of each other. But as the timing also coincided with the start of routine pit stops, the battle continued in the pits as each team raced to make the necessary driver and tyre changes.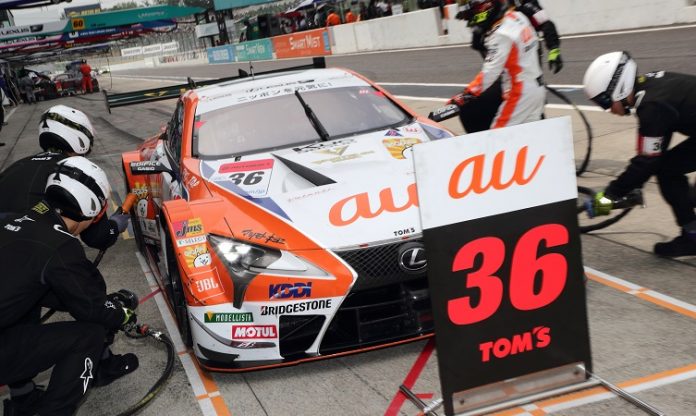 Once all pit work had been carried out, the order of the top three remained as it was. However, Sekiguchi in the lead #36 car took the brave decision to slow his pace in order to preserve his tyres. This again compressed the field and brought the rival LC 500s within immediate reach of the lead.
As soon as he knew the tyres were guaranteed to last the course, Sekiguchi nailed it, leaving the #6 and #37 LC 500s to battle furiously for the second step of the podium. That position changed hands again and again until lap 48 when, with five laps to go, the #37 KeePer TOM'S car used a slower-moving GT300 class car to make a decisive – and ultimately successful – move to seize second place.
By the end of the race at Suzuka, six of the top seven finishers were Lexus LC 500 models. And pundits were quick to note that the Super GT podium had not been dominated like this since round seven at Autopolis last year. Currently, the #38 Zent Cerumo LC 500 is topping the championship, with five more rounds to go.
But that wasn't the only success for Lexus at Suzuka. In the supporting GT300 class, Morio Nitta and Sena Sakaguchi took a hard-fought victory in the #96 Lexus RC F. This result was the second consecutive win for the K-tunes team at Suzuka in Super GT and marked Nitta's record-breaking 22nd class win.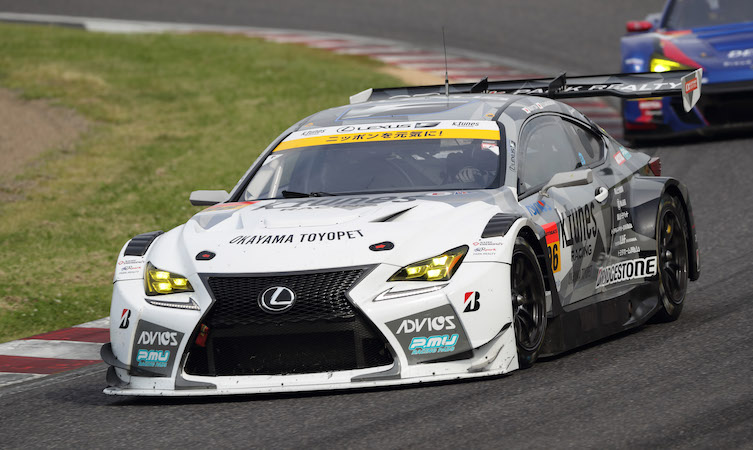 Learn more: Official 2019 Autobacs Super GT site