In September 2015, Lexus, in association with Guardian Labs, collaborated with award-winning London-based leatherworker and designer Úna Burke.
The project gave birth to a one-off couture dress, which was hand-crafted from the high-grade leather used in the Lexus CT 200h. Strikingly contemporary and rich in detail, Úna's CT-inspired dress is instilled with Lexus DNA. The piece made its official debut at New York Fashion Week 2015.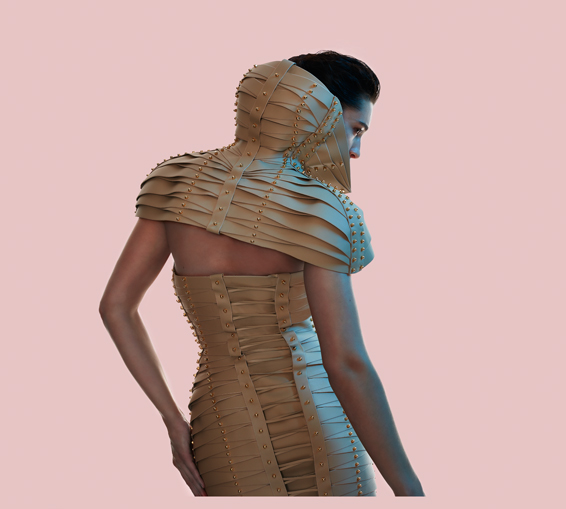 Ireland-born Úna – who studied for a masters in Fashion Artefact at the London College of Fashion – is world-renowned for her avant-garde leather and brass accessories, basques and handbags. She first came to the industry's attention in 2009, when her graduate showcase won the coveted design award for best static collection. Soon afterwards, Una set up her own self-titled label, and in the years since, she has designed and produced garments for feature films including The Hunger Games: Mockingjay Part 1, has exhibited in over twenty countries and counts Taylor Swift, Rihanna, Lady Gaga and Madonna as fans.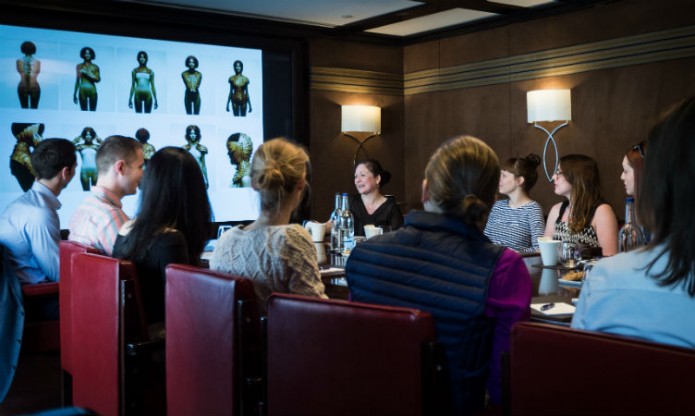 On Thursday May 6 – as part of London Craft Week –  the CT dress was displayed at the 45 Park Lane Hotel in Mayfair. We sat down with its charmingly humble creator to discover what compelled her to work exclusively with leather, to collaborate with Lexus; what she took away from the project, and how those in the craft world can enter into mutually beneficial partnerships with brands outside of their industry.
Lexus Blog: Úna, thanks for speaking with us today. Let's start by talking about how the project came to be. Did you pitch the idea for the dress to Guardian Labs and to Lexus, or were you approached?
Úna Burke: The Guardian contacted me directly and proposed me to Lexus. I received quite a secretive phone call informing me that a company (Lexus) was looking to collaborate and produce a key piece as part of an advertising campaign to showcase craftsmanship.
LB: How quickly did the project move from idea to reality?
UB: It was quite a short lead time, and I think that's because we had a very clear idea immediately of what we could do. I had drawings and designs which we could draw from to create a piece, which meant that we could send information to both parties (Lexus and The Guardian Labs) swiftly, and were confident that we had something that was going to look good.
LB: What made you say yes to this project and decide to work with Lexus above other car manufacturers?
UB: Lexus has very similar values to me – that was very important. The brand stands for luxury, high quality and has a similar customer-base.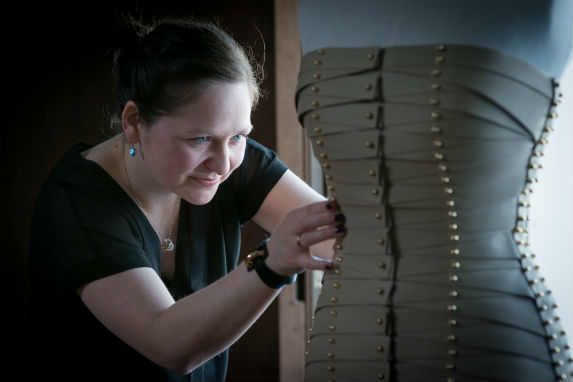 LB: Where did your inspiration for the dress come from?
UB: I'm all about producing works that combine beauty with strength and protection. I find much inspiration from medieval war armor, so I took those concepts and looked at them in the context of a car. Lexus produces vehicles that are very beautiful, but are also functional and safe. You can see this in the dress' form, which is pulled in at the waist to showcase the wearer's curves. The addition of lace at the rear makes it comfortable to wear and adaptable to various sizes.
LB: Lexus famously tests its leather to the extremes by freezing it, burning it with a blowtorch and subjecting it to high degrees of humidity. How do you test and decide upon which leather you will use to produce your collections?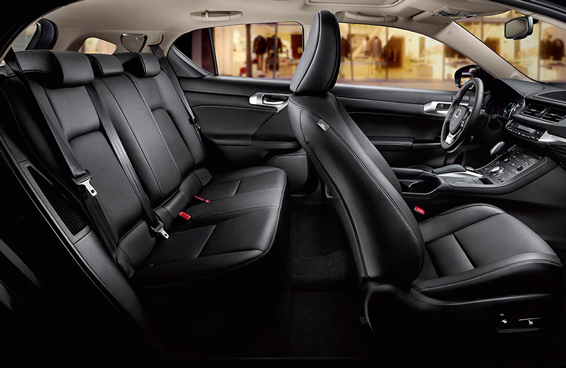 UB: I discuss a number of contributory factors with various tanneries before committing to a hide. I use a tannery in Italy that prides itself on using old-fashioned production processes that are less harmful to the environment. We conduct wearer trials with our products before they go to market, and collect feedback from participants which is fed into our production studio.
LB: Lexus and Úna Burke Leather are both luxury brands. What does luxury mean to you and what is the best way to express it creatively?
UB: Hand craftsmanship and the human touch have become increasingly appealing in a fast-paced, machine-made world and to me, that is luxury. Time and sincerity are really important; I find that people love it whenever I post work-in-progress or behind-the-scenes images of my work onto social media.
LB: What did you learn from working with Lexus?
UB: That soft leather can be used in the manufacture of my pieces. Lexus leather is softer than the harder, more rigid leather that I normally use. Now we're experimenting with new lines using this type of softer hide.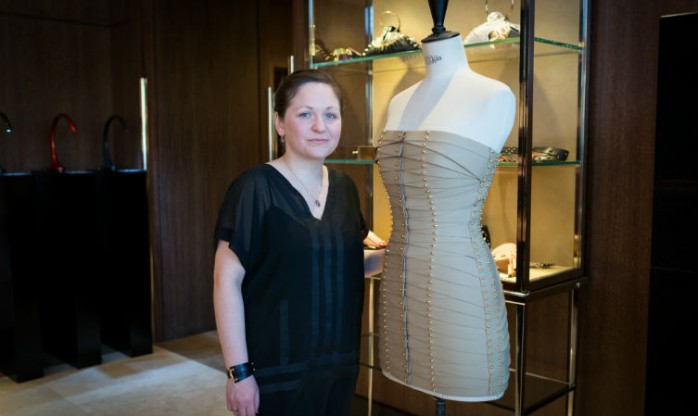 LB: What advice would you give to someone who has a particular skill or expertise to add to the world of fashion, craftwork or luxury and is looking to work with a company that could provide them with exposure in a world which may otherwise be unaware of their existence?
UB: Keep getting your work out there. When it comes to social media, use relevant hashtags. I know lots of people in the UK, US and Republic of Ireland who have gotten commissions through Instagram. Our industry is not like it used to be in that if you didn't live locally you wouldn't get a job.
I would also say: be flexible. When I started out I had no money and a lot of debt – my first PR assistant's desk was a pile of boxes that we had to place next to a window to get wi-fi from the neighbours!
It's hard work, but it's lovely to make something with your hands. It's so rewarding.
LB: Thank you for your time Úna. We wish you continued success and hope to meet again soon.
UB: Absolutely. Thank you.
Watch how Úna produced the Lexus dress using leather from the CT 200h here.
Further information about Úna Burke Leather is available on the company's website.
Lexus Blog wishes to thank Úna Burke Leather, London Craft Week and the Dorchester Collection of hotels for their assistance.