The Lexus Great British Bike Ride is now well underway, with hundreds of riders working hard to travel on pedal power alone from Land's End to Twickenham. Of course, there's a very good reason why so many people would choose to cycle over 300 miles in just four days – in fact, there are three. The event raises money for Help for Heroes, the Rugby Players' Benevolent Fund and the RFU Injured Players Foundation.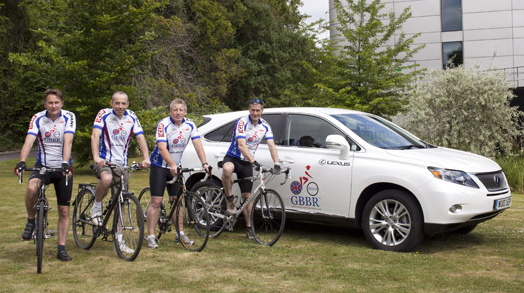 We wish everybody taking part the best of luck, whether they are cycling the whole route or tackling one of the individual stages. Four riders we know who are definitely looking forward to cycling into a packed Twickenham stadium this Saturday are the Lexus team (pictured), made up of Paul Marshall, Paul Clack, Paul Vecchione and Jon Micklefield. They've swapped their desks at Lexus HQ for the open road and we will find out next week what it was like to take part in the event – and whether all their training paid off!
The Lexus team are no strangers to the world of bicycles. Lexus unveiled its own two-wheeled bicycle concept at last year's Tokyo motor show. Combining hybrid technology with L-finesse design, the Lexus Hybrid Bicycle concept is designed to boost the rider's pedal power with the help of an electric motor and Lithium-ion battery. Unfortunately, as the bike is only a concept, none of the Lexus team's riders have the advantage of its hybrid power at this year's event.
If you would like to help the Lexus team reach their target, you can do so by showing your support and donating in aid of the three very worthwhile charitable causes – just click here.