The training is a distant memory, hundreds of miles have been covered and tens of thousands of pounds have been raised for charity. But what did the Lexus team think of the inaugural Lexus Great British Bike Ride? Now they're off their bikes, we've managed to catch up with them to find out more.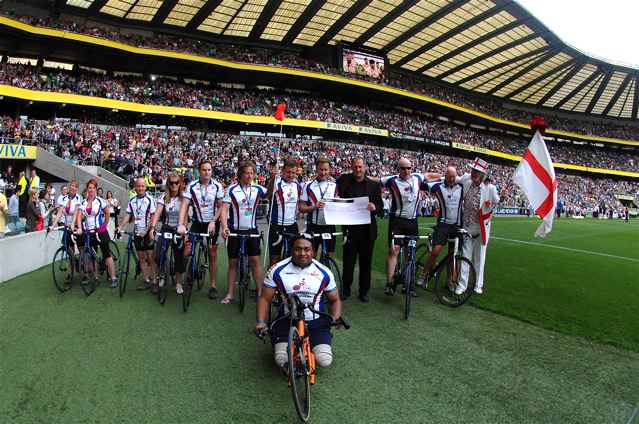 If you're not up to speed, the 2010 Lexus Great British Bike ride began on the 1st of September, with 150 riders setting off from Land's End with the aim of riding into the grounds at Twickenham Stadium just four days later.
The reason for such a gruelling challenge? Apart from being a personal test for each cyclist, the event raised money for Help for Heroes, the Rugby Players' Benevolent Fund and the RFU Injured Players Foundation.
The Army and local rugby clubs all pulled together to help organise the ride, which included early morning starts, punishing hillclimbs and even the odd game of rugby in the evening – in case riding 90-plus miles in a single day wasn't enough!
As well as sponsoring the event, Lexus added support of the four and two-wheeled variety. RX 450h hybrid SUVs and IS sports saloons were on hand as support vehicles along the route, while riders from Lexus head office and the Lexus Centre Network took on the four-day riding challenge.
Despite longer stages than expected – including a very gloomy stint through Dartmoor – the team stuck to their promise of riding every mile. The acid test for any physical challenge, we asked if they would do it again. "Absolutely. It was great fun with brilliant camaraderie from everyone involved," replied Lexus UK's Jon Micklefield, whose words were echoed by his teammates, Paul Marshall, Paul Vechionne and Paul Clack.
In fact, the ride reaffirmed the benefits of teamwork, communication and perseverance, with every rider pulling together to provide much needed encouragement to reach the finishing line.
And what a finish it proved to be. A packed Twickenham Stadium rippled with applause as thousands of rugby fans greeted the riders midway through the day's scheduled rugby fixture. With a cheque for £89,000 presented to event ambassador Richard Hill MBE by Paul Marshall, General Manager Marketing and Strategy at Lexus, the organisers took a fantastic first step to reaching their target of £1.5 million over the next five years.
"It was a humbling experience and everybody was brilliant, from the supporters along the route to the crowd in the stadium. New friendships were made and a lot of people are already talking about doing it again next year," remarked Paul Marshall.
It's not too late to show your support – click here to donate and help the Lexus Great British Bike Ride to hit the £100,000 mark. And if you're wondering what the best tip is for any budding cyclist thinking of taking on such a challenge. "Tuck in behind Martin Johnson," says Paul Marshall. It seems the rugby legend and England team manager is the best defence against a strong headwind!
Click here to see more images from each day of the Lexus Great British Bike Ride 2010.