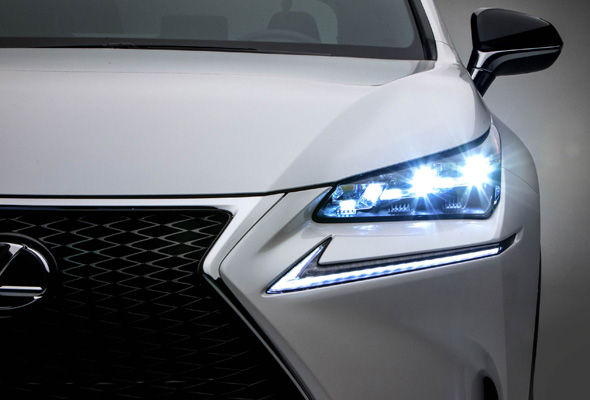 Lexus fully exploits the brilliance, rapid-action and low-energy benefits of LED technology in its lighting design for the new NX 300h crossover. Both exterior lights and the lighting in the cabin make extensive use of LEDs to improve safety, visibility and perceived quality.
According to model grade, up to 90 LEDs are used in the external lights. All versions have LED low-beam headlights, daytime running lights, fog lights and rear lamp clusters, plus courtesy lights in the doorhandles that also serve as puddle lights.
The LED design of the front fog lights on Luxury, F Sport and Premier versions of the NX 300h provides a clever low-speed cornering function. As the driver operates the turn indicators to negotiate a turn or junction, two LEDS in the lights automatically adjust to give better illumination in line with the car's direction of travel.
The LED headlights on the Premier grade model have an automatic high beam function, which uses a camera mounted on the windscreen to pick up on-coming vehicles and traffic ahead. When it detects that the road ahead is clear, it switches the lights to high beam, dipping them again when necessary to avoid dazzling other road users.
The NX 300h has a welcoming lighting sequence that begins as soon as you approach the car, carrying the key. As you draw near, welcome LEDs illuminate the door handles and shine down on the ground immediately below. At the same time the Remote Touch Interface touch pad will light up in the cabin (where fitted).
Attention to detail inside the NX includes footwell lighting that centres on the position of the front seats and the use of LEDs for the rear dome light, to give better night-time visibility. For the first time in a Lexus, there are touch-controlled switches in the headlining to operate the dome and map lights.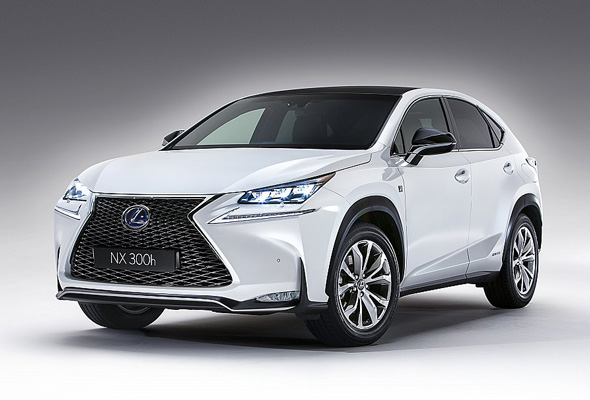 See also:
Lexus NX review
Lexus NX price and specification revealed
Agnieszka Radwanska models the Lexus NX
Lexus NX arrives at UK HQ