We head north in the Lexus CT 200h Sport to two of Scotland's most fabulous small luxury hotels.
See also:
Lexus CT compact luxury tour: The Midlands
Lexus CT compact luxury tour: The South
Lexus CT compact luxury tour: East Anglia
Lexus CT compact luxury tour: The Cotswolds
Lexus CT compact luxury tour: The North West
Cromlix Hotel
Kinbuck, near Dunblane
Stirlingshire
So you're an international sports star looking for the perfect venue for a spring wedding?
How fortuitous to own a five-star hotel just outside your home town with its very own chapel. Welcome to Cromlix Hotel, the location for tennis champ Andy Murray's marriage ceremony to Kim Sears and fairy-tale venue worthy of any celebrity occasion.
In our search for the very best compact luxury hotels in the UK, we took the Lexus CT 200h F SPORT (what else?) on a drive through snowy Stirlingshire to survey the Murray pile. Purring past the gatehouse and through the 34 acres of wooded grounds of this beautiful hotel, it's easy to see why the Wimbledon winner didn't have to stray too far from home to find a worthy investment project.
The property alone cost £1.9 million and a further undisclosed – but obviously generous – sum was ploughed into the hotel's rejuvenation. And what an amazing space, with 10 rooms and five suites all tastefully decorated with antiques and luxurious linens in a style you could say was to be expected of Murray – expertly executed yet never flashy.
The building
The hotel is a baronial beauty, built in 1880 in the 'cottage style', so no stuffy state rooms or sweeping staircases here, just cosy nooks with a log fire in every grate, oak panelling and wonderful views out to the surrounding beauty.
Today, the building marries old and new beautifully, from the banquette sofas and cathedral roof of the conservatory restaurant to flat screen TVs hidden behind ornate wall mirrors in the guest rooms.
The rooms
Suites are named after Murray's favourite Scots, so Burns, Mackintosh and even Ferguson get an honourable mention. Close the door on your private space and you'll find the rooms are vast, with generously proportioned hallways, private lounges and lavish bedrooms with canopied beds you will dream of long after checkout.
The bathrooms are truly deluxe, some featuring steam showers and ornate copper tubs. Arran Aromatics have created a bespoke ginger and bergamot signature scent for Cromlix, and the scrubs, lotions and foams make indulgent bath times a treat. In-room spa treatments are also available.
The food
Dine at the hotel's Chez Roux restaurant and you'll have the finest of Scottish produce given a classic French twist by menu consultant, the masterly Albert and dispatched from the open finishing kitchen where the brigade work with a flourish.
Scottish seafood, Loch Duart Salmon, Angus Beef and local game feature in a menu that also stars Roux's signature soufflés and terrines. The three-course set dinner for £31.50 is superb value.
The activities
Those who can manage to tear themselves away from the fireside in the drawing room or library can fish in the hotel's own trout lake, try clay pigeon shooting or play tennis on the outdoor courts, where Murray was given special dispensation to use Wimbledon's colours. Stirling Castle is around 20 minutes' drive and of course, you must stop off at your Olympian host's golden post box in his hometown of Dunblane.
The verdict
Cromlix is very much like its owner: quietly ambitious, understated and a real winner.
Need to Know:
Cromlix Hotel, Kinbuck, Near Dunblane, Perthshire, FK15 9JT
www.cromlix.com
Telephone 01786 822125
Rooms from £160 per night
Fonab Castle Hotel
Pitlochry
Perthshire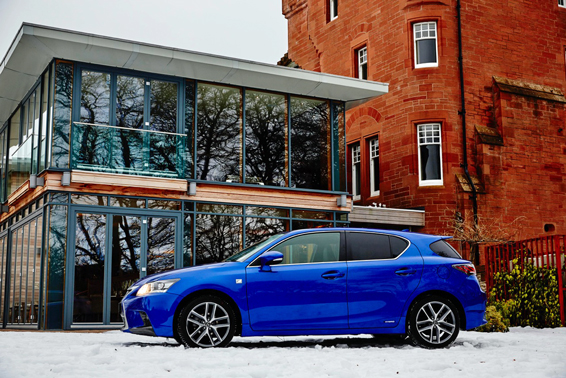 Taking the CT 200h F SPORT further north, Fonab Castle was next on our road trip plan. This compact luxury hotel is a new addition to the luxury hotel line-up in Scotland and does not disappoint.
A short drive from the town of Pitlochry, just over the River Tummel, you'll find Scotland's latest five-star hotel. For years, the castle itself was used, rather less glamorously, as offices for the hydro-electric board. Just behind the property you'll see the Bond-esque Pitlochry Dam where the hills fall into an awe-inspiring view along a glassy Loch Faskally.
Instead of the fussy, dark interiors you may expect from a turreted Scottish castle, there's a welcoming and warm contemporary style.
In 2002, owners the Clark family bought the property and set about reinstating some important architectural features and introducing new additions such as the modern cedar-clad extension to the main building and a state-of-the-art spa.
The building
It's the family's passion and commitment to making every tiny detail of the property perfect that make Fonab special. From the door handles to cutlery, curtain linings to mattress toppers, everything is of the very best quality and has been personally chosen by the Clarks.
Instead of the fussy, dark interiors you may expect from a turreted Scottish castle, there's a welcoming and warm contemporary style with bright velvet sofas, Cole and Son wallpapers and fantastically comfortable beds in guest rooms that have iPod docks, multi-channel international TV reception and Nespresso machines.
The rooms
Choose from a room in the main castle building (when we visited, rumour had it a member of the royal family had just checked out of the spectacular penthouse suite) or the Woodland rooms, some of which have glass fronted balconies overlooking the loch.
And this is where Fonab is so unique. Turn your back on the hotel for a moment and drink in those views of Faskally and the mountains beyond. Have afternoon tea in the lounge with its modern fires and enormous windows or dine in the Brasserie and your head will turn to the loch – it's just spectacular.
The food
Dining here is consistently good, with the Brasserie featuring an extensive grill menu of classics. Sandeman's fine dining restaurant offers an eight-course gourmand menu that includes more adventurous dishes of seared west coast scallop, Scottish lamb cannelloni, curried monkfish or crispy ox cheek.
The sommelier's flight of matching wines is a perfect addition for a fantastic culinary experience. And since the restaurant is named after George Sandeman, who built the castle and was the founder of the famous port company, it would be rude not to have a small after-dinner sample of his legacy.
The activities
If you can spare some time for a few beauty treatments, or perhaps just a swim, the hotel's modern Spa was recently opened and has a compact pool lined in shimmering tiles, a thermal suite with ice fountain, treatment rooms and a nail bar.
You won't have to opt for a pampering session to feel cosseted here though, as it's the superb staff that makes a world of difference to your stay. Stroll over the bridge to Pitlochry, or follow the River Tummel on a drive to the Queen's View, a spectacular vantage point where, on a good day, you'll see as far as the mountains of Glencoe in the west. Unforgettable.
The verdict
Friendly and welcoming, without the 'butlers in a row' regime some five-star hotels favour, this is a Scottish home from home you won't want to leave.
Need to Know:
Fonab Castle, Foss Rd, Pitlochry, Perthshire, PH16 5ND
www.fonabcastle.com
Telephone 01796 470140
Rooms from £140 per night
Lexus CT 200h photography by John Rowley www.johnrowley.eu