After the AIM Vasser Sullivan Racing (AVS) team's promising debut at the Daytona 24 Hours in 2019, it went on to score two GT Daytona (GTD) class wins in its first season in the IMSA WeatherTech SportsCar Championship. Now with victory in its sights, AVS has called on the services of reigning NASCAR Cup champion, Kyle Busch, to bolster its driver ranks for the Rolex 24 – the series' blue riband event and one of the world's most prestigious races.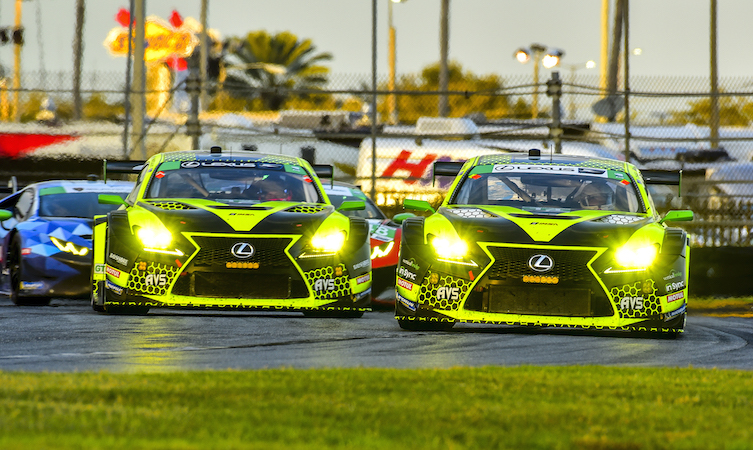 Racing for AVS in the Rolex represents a major departure for Busch, who normally drives a Joe Gibbs Racing Toyota Camry with a distinctive M&M's paint scheme in the NASCAR Cup Series. He took five race wins on his way to winning his second title last year, but this weekend at Daytona he'll swap the Camry for an AVS Lexus RC F GT3.
Busch has won NASCAR races on Daytona's famed banked oval but has only once before raced on the infield road course, in a Lexus Riley prototype in 2009. "We didn't fare too well that day," he recalls. "I was slow, and the car was slow. I'm looking forward to being faster this time around."
Kyle Busch: Start with simulation
Preparation for the pre-event 'Roar Before the 24' test started with a simulator session at Toyota Racing Development (TRD) in Salisbury, North Carolina. On hand to coach him through it was AVS Lexus regular, Britain's Jack Hawksworth, who also showed his talent in a one-off NASCAR Xfinity appearance in 2019 in a Joe Gibbs Camry. Hawksworth, Parker Chase and 2017 GTD winner Michael de Quesada will be teammates to Busch in the #14 AVS Lexus at Daytona.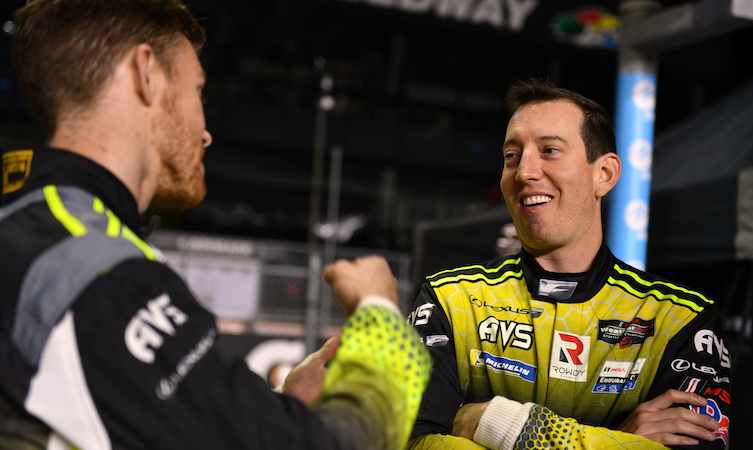 "The simulator was very useful, a great learning tool," says Busch. "We came out with a great baseline for the Roar and a better understanding of what to expect. I'd probably have been completely lost without it. Jack's been my biggest supporter and we've been looking over data together. I've also talked to Townsend Bell [who drives the #12 Lexus] and my other teammates, who are helping me out and getting me up to speed, getting used to what this form of racing entails."
Kyle Busch: Master the brakes
By Busch's own admission, it's a major adjustment to switch from the Camry stock car to the RC F GT3 machine.
"My NASCAR driving techniques are embedded in my brain and I have to get rid of those," he admits. "But I'm getting more accustomed to what this car can take and how the driving techniques differ between the two vehicles.
"The braking is the biggest adjustment. I'm used to big, heavy stock cars, where you have to start the slowdown process way early, the braking zone lasts forever and by the time you turn in you've got to be off the brakes because otherwise the inside wheels will lock up. And because of the weight, you can easily overheat the brakes and create a soft pedal.
"It's a completely different technique with these [GTD] cars, which have ABS. You can drive the snot out of them, throw them into the corner and stomp the pedal as hard as your leg will allow you to, then figure out where the apex is and get through it!"
Kyle Busch: Light 'em up
Busch spent the Roar establishing his braking points, adjusting to the car and learning how to manage the tyres. And as he did so, his lap times came down, and became more consistent. He also spent time running at night, although perhaps he has more experience in this area than his teammates…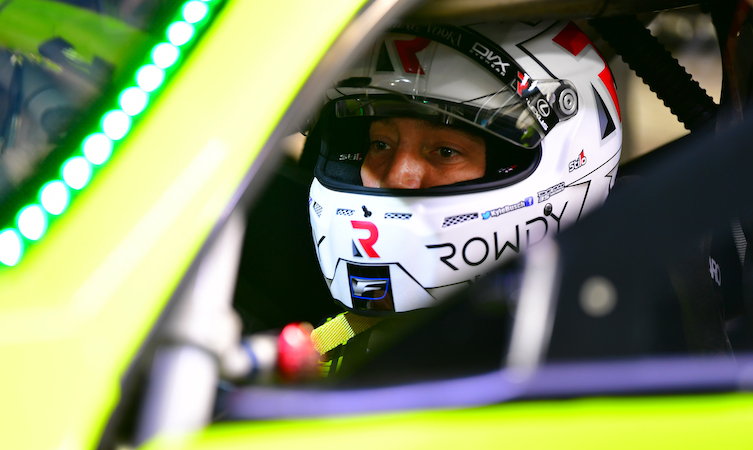 "I was fine with the evening session, there was plenty of lighting out there," he offers. "They asked me if I wanted the headlights tuned so that I could see better, but I said, what do you even need the headlights for, there's plenty of light! I raced local short tracks, some of them dirt, when I was growing up and there wasn't much light at those places. Seems like my eyes still work OK."
Kyle Busch: Ready for the body slam
It's an unusual experience for this perennial NASCAR front-runner to be regularly passed by much faster Daytona Prototype international (DPi)-class cars, but the AVS team, and in particular spotter Tony Hirschman, are there to help. Busch has had to adjust to the different on-track etiquette, too.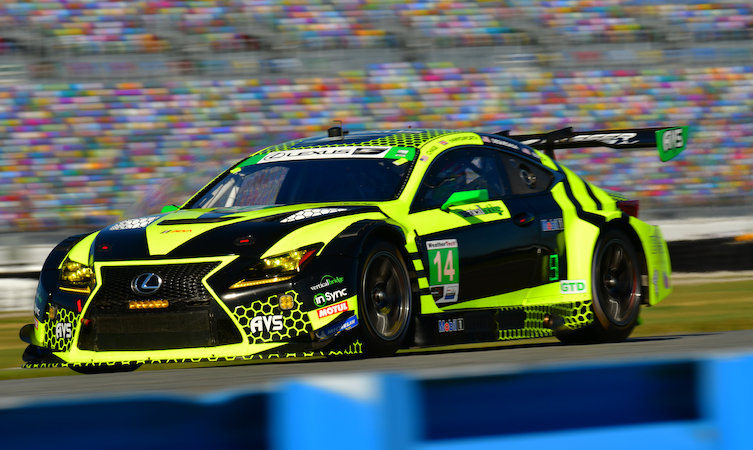 "I learned from Jack that correct road course driver etiquette is not to ever be on the outside of another guy because they'll just force you off," he explains. "He was quite entertained when he ran his NASCAR race at Road America last year that guys would actually give him room on the outside of a corner and not just throw him off on the dirt. He said, wow, there's a lot of driver camaraderie side-to-side but not front-to-rear, whereas in IMSA it's the opposite – you can't touch front to rear but they'll body slam you if they need to, I guess!"
Kyle Busch: Time to win
Busch's gruelling, 36-race NASCAR Cup schedule means that further outings in the RC F are unlikely, but he's not ruling out returning to IMSA racing at a later date – perhaps in a GT LM or DPi car, were Lexus or Toyota to move to another class. Le Mans is also on his radar. But for now, he's focused on helping AVS secure a GTD win at Daytona – and taking home one of the Rolex watches that are given as prizes to the winning drivers.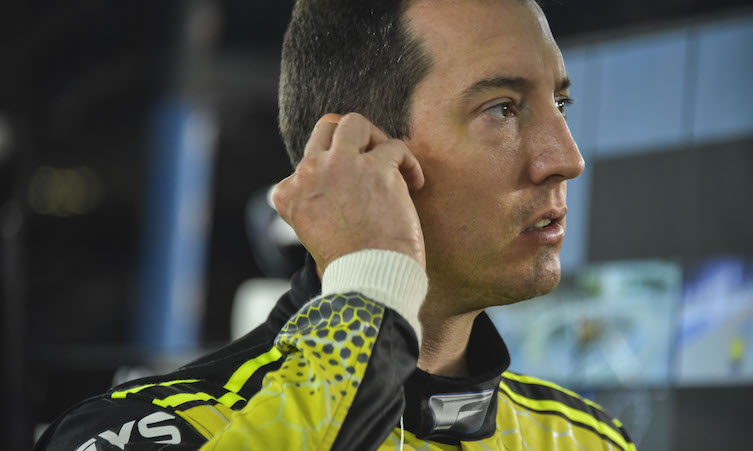 "You want to be able to come out here and win this thing," he says. "Being able to come to the Rolex 24 is about having fun, but also about doing a good job for these guys at AIM Vasser Sullivan – and coming out of here with a watch. There's a lot on the line so hopefully we can get it done."