"The reason why I chose to do a running stitch on this piece is that it can't be replicated by a machine – it's very clearly done by hand," says Otis Ingrams, as he carefully threads a needle through the soft orange leather.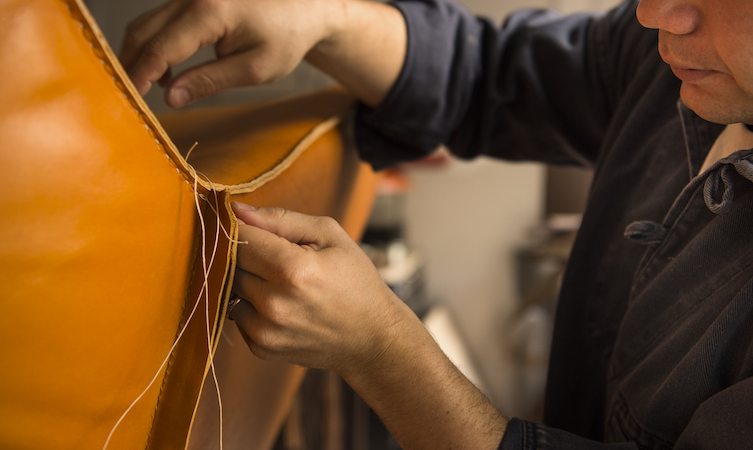 The first artisan to feature in our In Search of Takumi series of films, Ingrams is considered one of the best young leatherworkers in Britain, having completed an apprenticeship at the revered Bill Amberg Studio.
Now Otis owns his own studio, OTZI, which he set up in 2013 to create bespoke pieces, all crafted by hand and using only the finest materials. For Otis, the handmade nature of a certain product or object imbues it with a quality that machines and computers just can't recreate.
"Leather's a very special material for me," he enthuses. "It has huge potential. You can use it for almost anything and with a wide range of other materials."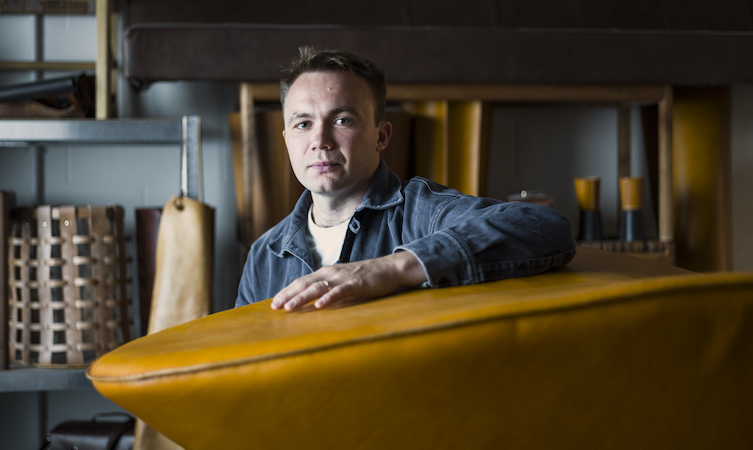 We met Otis at his North London studio, as he puts the finishing touches to a unique leather seat inspired by the design and Takumi craftsmanship in the Lexus LC.
The inspiration
So how did the award-winning design of the Lexus LC influence the sleek shape of the chair? "The LC is incredibly sculptural," remarked Otis, as he inspects the stunning Sonic Silver Lexus LC 500h. "Part of the Lexus LC that I focused on was the interior panel of the door. It's got a smooth appearance and really nice flowing lines."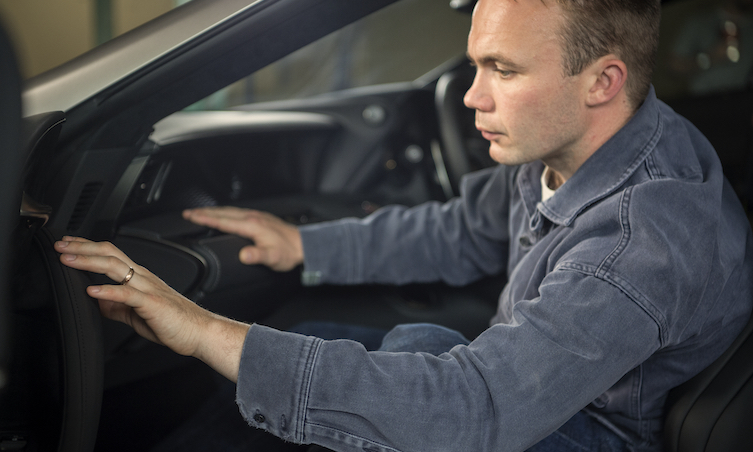 "I was trying to mix the sense of speed, dynamism and acceleration that you get just from sitting in the car or simply looking at it, and trying to translate that onto a piece of furniture," he continues. "I read that the level of craftsmanship in Lexus upholstery is second to none and they spend a really long time focusing on that; making sure that it's the most comfortable, it's got the best stitching, they use the best hides for it, so I also wanted to try and recreate that."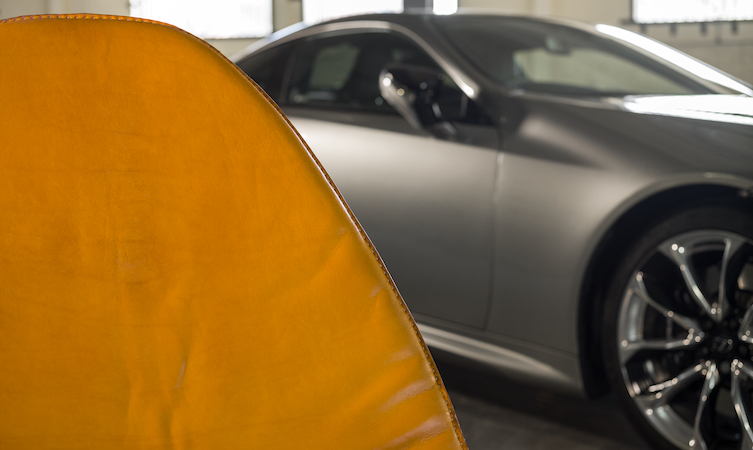 The process
It's rare that something should come out perfectly at the first attempt, so creating a piece that was finished and looked highly polished was something of a challenge for Otis, who only had one shot.
Read more: Lexus Design Dome – where high tech meets handcrafted
"I decided on the size of the piece first, scaling the design up to the point where I knew I could use a full cowhide – quite rare in a piece like this. Once you have your templates they all have to be scored and then cut out really carefully," he explains.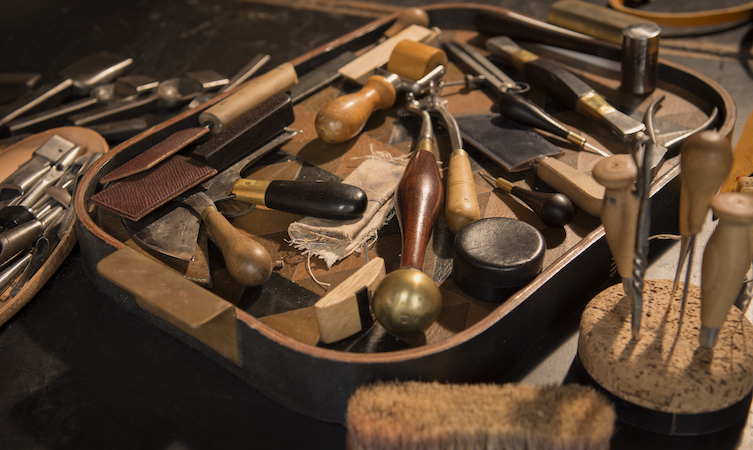 The selection of the leather was also really important, stresses Otis: "The material has to be suitable for what you're working with. I decided on a really thick leather for this because I wanted the seat to have structure, and I also wanted it to have that generosity and quite a firm feel when you are sitting in it."
Once the leather has been cut using the templates, Otis performs a process called skiving. Using a knife, he carefully reduces the thickness of the leather from a couple of millimetres down to around half a millimetre, making the material much more pliable.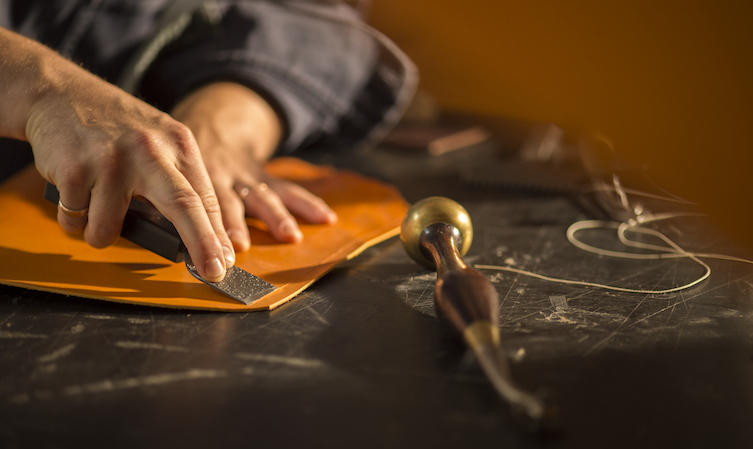 "Then the leather is smoothed out and stretched around the frame," he says. "It's then glued into place and stapled into place. Then the edges are very carefully seamed together. A tool called a pricking iron is used to mark out all the stitch lines around the edge."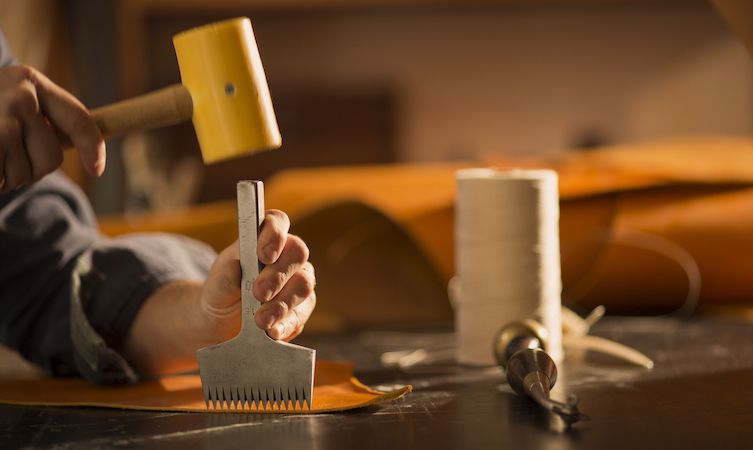 Next, the thread is cut. Otis is using a natural linen thread that has been run through beeswax. It is being threaded through the whole piece, by hand, using a needle. He uses a knife to remove any excess and, once that thread is set, Otis runs a guideline around the edge.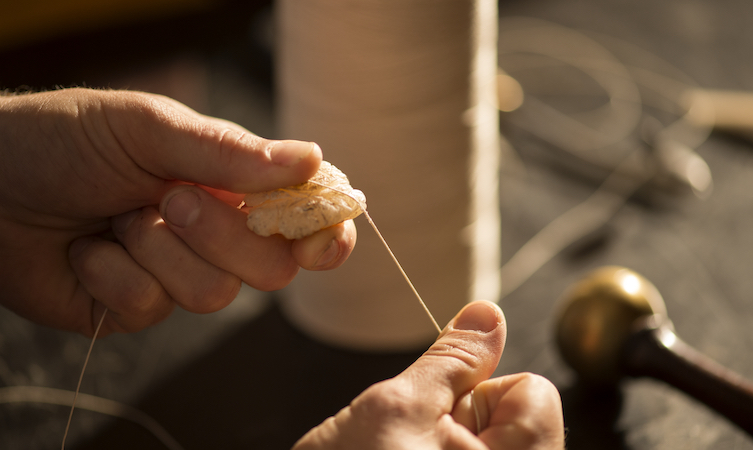 The edges are then bevelled using a small plane. For the finishing touch, Otis rubs a wax solution onto the edges, burnishing them in order to create a shine that really brings the piece together.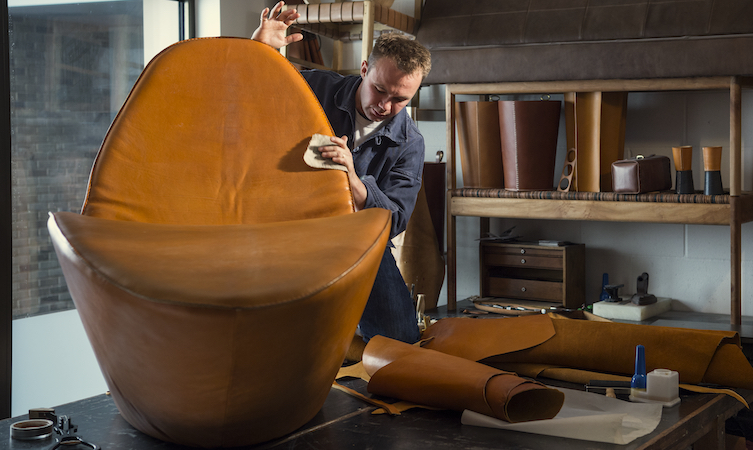 The importance of craftsmanship
As we admire the chair next to its muse, the Lexus LC, the conversation turns to the importance of craftsmanship in a modern world where technology is advancing at a rapid rate.
"I feel that craftsmanship is still relevant today and will always be relevant. It always means a lot to see when there's been a human interaction," he says.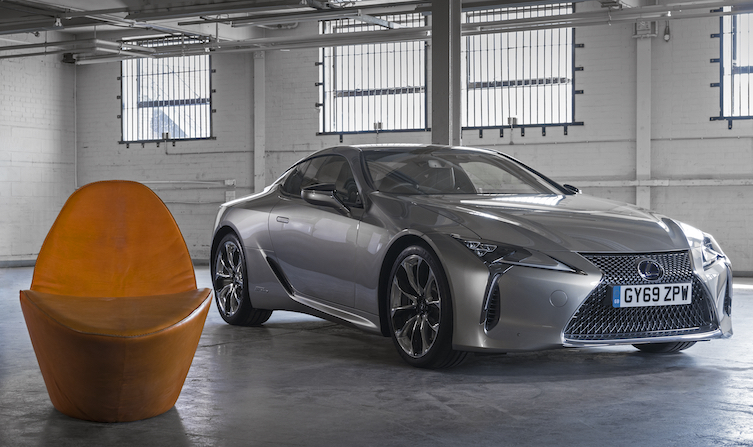 "I chose this design to mimic the synthesis of that traditional craftsmanship and modern production techniques that you see in Lexus factories. You have the advanced machinery that is producing these incredibly complex shapes and then coupling that with the traditional handcrafts and hand tools, fusing those two things together."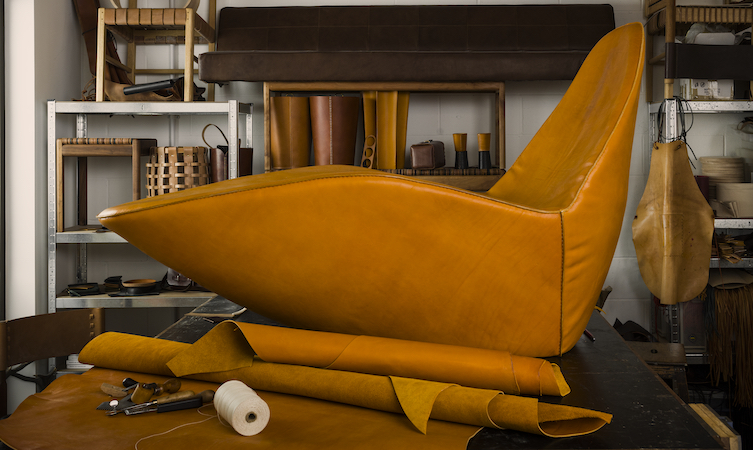 Otis concludes: "I think that there will always be a need for craftsmanship because no matter how complicated or intricate a piece that's been made by computer-aided design, robots or machinery can be, those objects always lack something – and that's a human quality."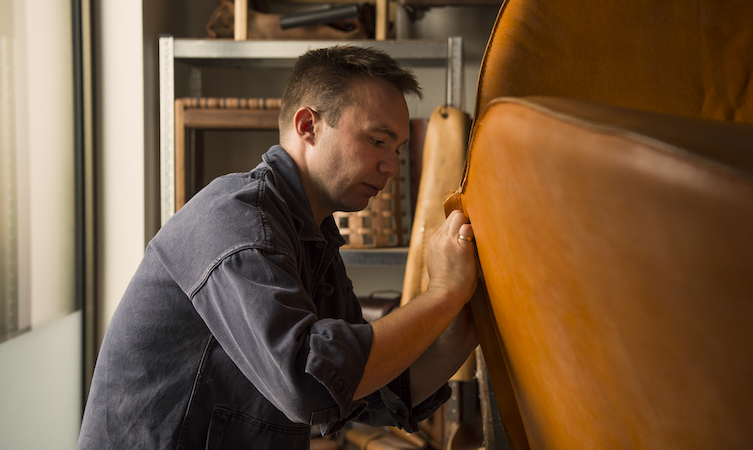 What is In Search of Takumi?
In Search of Takumi is a series of five films that draw parallels between the fine Takumi craftsmanship in Lexus cars and highly skilled artisans in the UK. Each episode will focus on a different Lexus car and material. An expert British craftsperson will then create a bespoke piece inspired by the design of the vehicle, and crafted from the material featured within it.