Lexus has lined up a world-first appearance for its new LF-CC concept car at the Paris motor show at the end of the month, and we're delighted to be able to bring you a sneak preview. We think you'll agree that it captures what Creating Amazing is all about.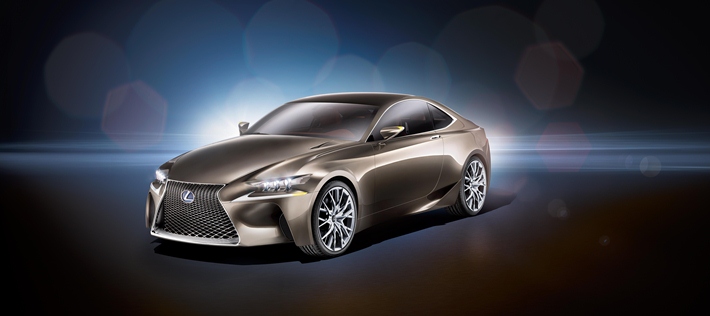 The LF-CC is not simply a one-off special to get the flashbulbs popping, it displays design and engineering ideas that Lexus will be applying to its future showroom models – and sooner than you might expect.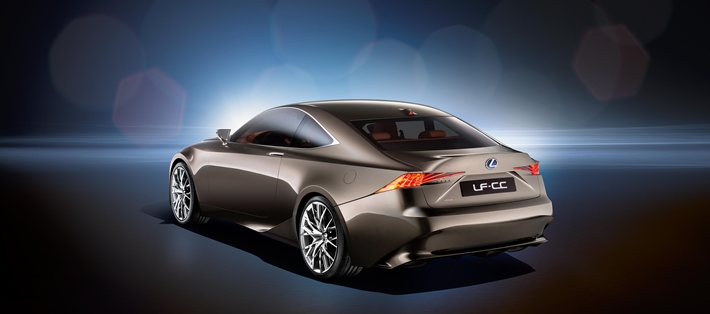 It follows on from the award-winning LF-LC sports coupe concept which debuted at the Detroit show earlier this year, but is a more compact model with styling that will influence the lines of a new Lexus compact executive car that will be launched in the near future. It also demonstrates Lexus's commitment to creating cars that deliver a great driving experience and harness the potential of advanced technologies.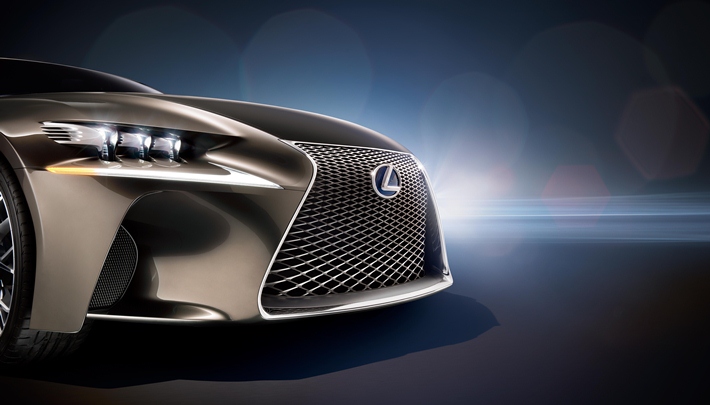 You can't miss the exterior styling, in particular the boldest interpretation yet of the spindle-shaped grille that has become a signature feature of all new Lexus models such as the Lexus GS, the Lexus LS and the updated Lexus RX. The triple-LED projector headlamps are set in a narrow gap between the upper and lower wing surfaces and separate daytime running lights are integrated into the upper bumper surface.
Viewed side-on, LF-CC shows off a strong convex curve all the way from the bonnet, through its steep-raked windscreen to a high point towards the rear of the cabin – a detail that emphasises the car's powerful rear-wheel drive. At the rear the treatment is equally powerful around the car's flanks, and in a neat touch the stop lamp LEDs are integrated into a 'shark fin' antenna.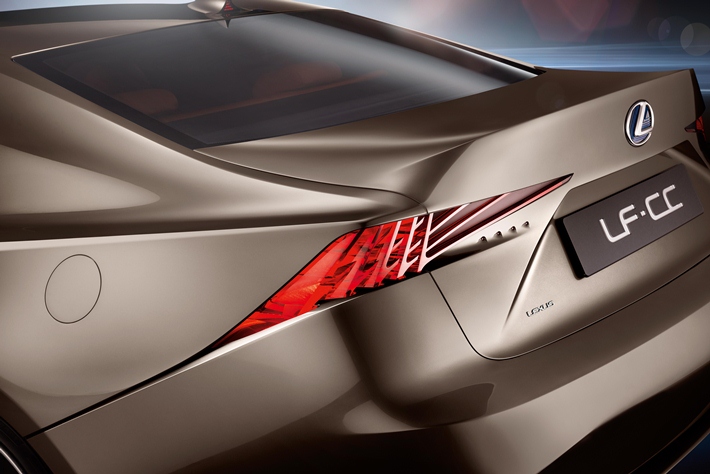 'Progressive luxury' is the watchword for the interior, which delivers both a spacious cabin and a snug driving cockpit, with further extension of Lexus's work in defining the best possible HMI – human-machine interface – technologies. The driver sits low in the car, with a wide-grip steering, sports-style pedals and high-visibility dials.
Lexus is about luxury and the finest quality, too, so the interior is swathed in an amber-coloured leather that contrasts with the Fluid Titanium exterior, a new paint finish that accentuates the sculpted bodywork's interplay of light-catching and shaded surfaces.
Under the bonnet there's a new full hybrid powertrain that uses a new 2.5-litre four-cylinder petrol engine. We'll be seeing this development of Lexus Hybrid Drive in a new model soon, too and the expectation is that it will come in below the vital 100g/km CO2 emissions benchmark.
It promises to be powerful and ultra-smooth too, and it's destined to be the most efficient in its class, with more than 2bhp for every g/km of CO2 produced.