In Japan, cherry blossom is more than just the first sign of spring. It is a symbol of renewal, of regeneration – and a reminder that life, like the flowers themselves, is both fleeting and fragile. Beneath the blushing boughs of sakura, Japanese people gather for picnics and parties – welcoming winter's end, yes, but also refreshing old friendships, forging new ones, and planning for the year ahead.
It's a time to hit 'pause' for one sweet-scented moment – and as cherry blossom sweeps through our own fair country, perhaps we should be doing the same. The time-honoured tradition of hanami ('flower viewing') calls for nothing more than great company and a few pinkening petals – so rouse the kids, rally some friends, or treat the dog to an extra-long walk.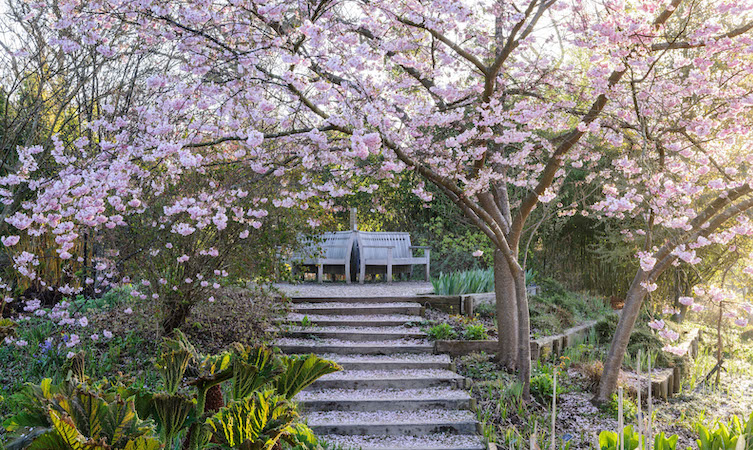 The following locations will soon be laden with cherry blossom: the perfect setting to wave goodbye to winter and stroll into spring.
RHS Garden Wisley, Surrey
Visit Wisley this spring, and you'll enter the estate through an avenue of 140 blossoming cherry trees – a fitting introduction to this glorious garden. With its pure white flowers and light perfume, the Prunus x Yedoensis species is beloved throughout Japan, and was selected for Wisley by RHS experts for its beauty and resilience. rhs.org.uk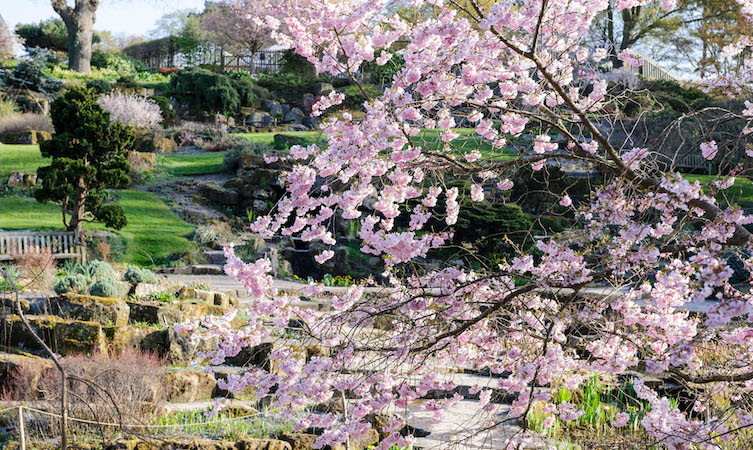 Royal Botanic Gardens, Kew
Kew's 'Cherry Walk' is unmissable in every sense of the word. Linking the Temperate House and Palm House, this blossoming boulevard showcases some truly sublime sakura – best enjoyed between April and May.
Pause for a moment, too, at the three Japanese Landscapes – located near the Chokushi-Mon (Japanese Gateway). These perfectly-pruned idylls were designed in the image of traditional Japanese gardens, complete with stone lanterns, raked gravel, and a fragrant flourish of cherry trees. kew.org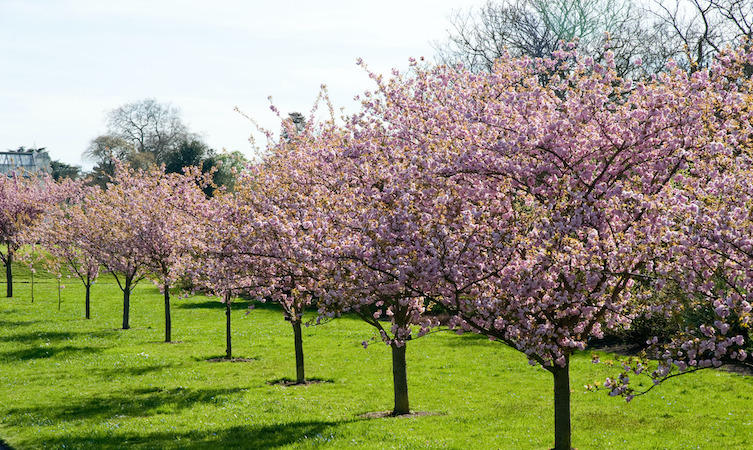 Hinton Ampner, Hampshire
Thanks to its variety of cherry blossom species, Hinton Ampner is festooned with flowers from March until May. The first to burst are the Kanzans' frilly fuschia blooms, which transform the orchard into a riot of pink – swiftly followed by the more delicate, paler petals of the Shirotae trees (also known as 'Mount Fuji'). In the Vyne walled garden, the sakura lingers until late spring. Dog-friendly; nationaltrust.org.uk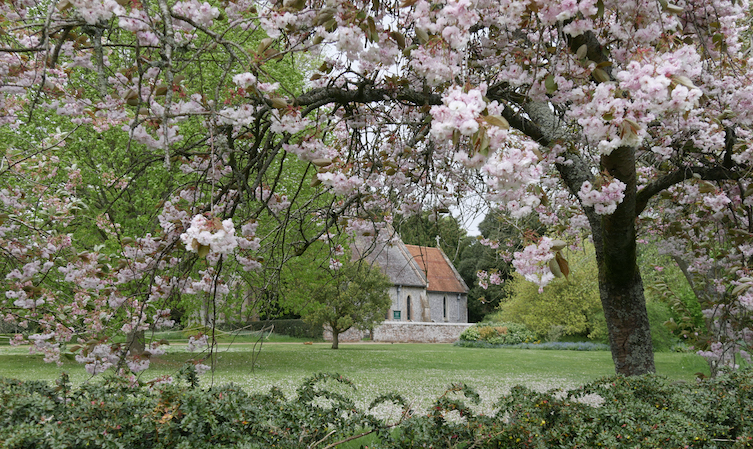 Batsford Arboretum, Gloucestershire
Batsford is home to the UK's National Collection of Japanese Flowering Cherries, which encompasses around 70% of all known cultivars. Highlights here include the Yoshino, whose pillowy pink boughs were imported directly from Japan; and the Umineko, which is covered with soft snow-white flowers. The blossom will be in full swing throughout April. Dog-friendly; batsarb.co.uk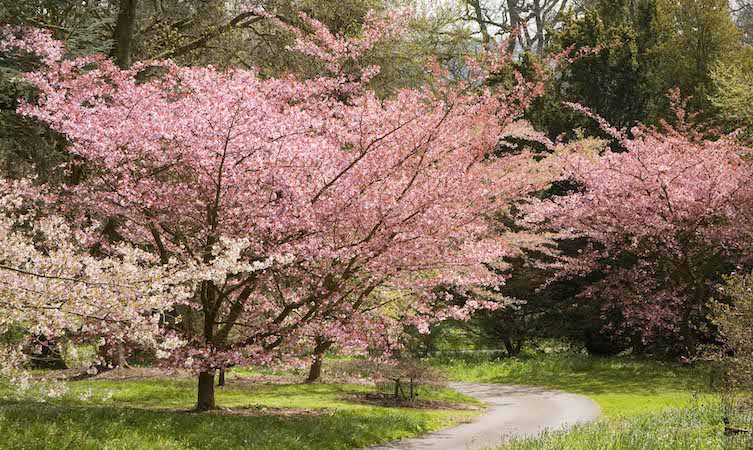 RHS Garden Rosemoor, North Devon
Cast your eyes to the cherry treetops at RHS Rosemoor: you'll spot pretty pastel Beni Yutaka blooms, the cream-coloured Somei Yoshino, and the dazzling white Tai Haku – all planted during last year's nationwide Sakura Cherry Tree Project. The trees were donated by Japanese businesses, as a symbol of friendship and respect between the UK and Japan. rhs.org.uk
Birmingham Botanical Gardens
From as early as February, the treetops of Birmingham Botanical Gardens are dotted with rosy blossoms – but by April and May they're utterly laden with flowers. Sweet-scented cherry trees frame the main lawn (a beautiful spot for picnics), while the Gardens' seasonal walking trail highlights the best of the blooms. Look out for budding magnolias, azaleas and rhododendrons too. birminghambotanicalgardens.org.uk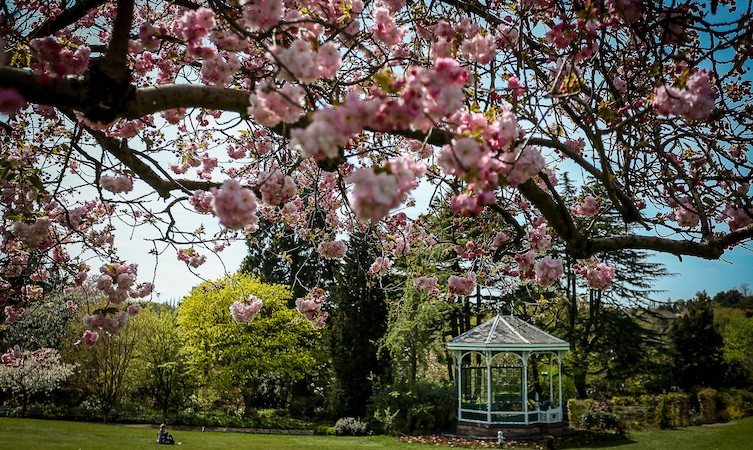 Read more: Lexus LC blossoms in 'sakura' season