The Lexus UX Concept makes its world debut at the Paris motor show next week, showcasing Lexus's vision for a future compact SUV. It represents a new step in the development of Lexus design and a redefinition the kind of driving experience people can enjoy.
The vehicle's on-board HMI (human-machine interface) technology has been designed to provide innovative, three-dimensional displays, in tune with progressive customers who live and work in an always-connected environment.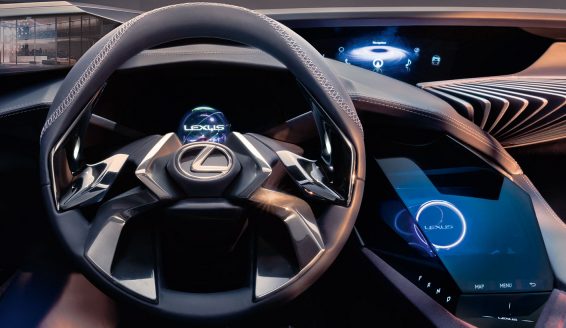 The driver's instrument binnacle houses a transparent globe which appears to float, like a hologram and contains a combination of analogue and digital information, creating a functional yet unexpected user interface. The centre console features a prominent, faceted crystal structure within which a hologram-style display of air conditioning and infotainment system information can be clearly seen by both driver and front seat passenger.
The UX Concept also benefits from the latest advances in in-vehicle electrical technologies. It features electrochromatic windows and a system of e-mirror cameras that are much slimmer than conventional door mirror housings.

All the switchgear is electrostatic, housed beneath transparent covers.
The fin motif seen in the front pillar design is replicated on the dashboard in a new audio experience for Lexus customers – a demountable sound bar.
Stephan Rasmussen from the UX Concept design team at Lexus's European Design Centre, ED2, said: "Our brief was to create a new genre of compact crossover; a vehicle that could create something unique from a customer's point of view – an innovative, three-dimensional, fully immersive user experience."
The UX Concept will make its world debut on the Lexus stand at the Paris motor show on 29 September.