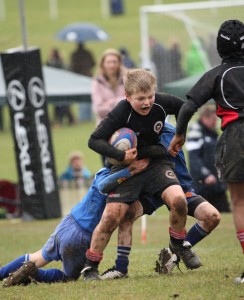 On Sunday 4 March the finals of the 2011/12 Lexus National Schools Rugby Tournament took place at Epsom College. Since the competition began in November last year, 56 teams and just under 900 boys have taken part in a total of 118 hard-fought matches.
The rain didn't stop play or dampen the spirits of the boys taking part, all of whom displayed determination and a genuine love of the game. The winners have certainly earned the right to call themselves this year's best team in school rugby in their respective age groups!
Lexus is proud to sponsor this grass-roots rugby tournament and as part of this support we provided over 600 families with complimentary professional photos commemorating the tournament. All the players' parents had the chance to win a training session for their sons team with rugby legend Richard Hill. Congratulations to Annie Sutcliffe who scooped the prize for her son William and his rugby team at Aldro School.
So who were the winners and runners-up? In order of youngest teams first, we congratulate…
U8 Winners: Denmead & Q.E.G.S. (shared)
U8 Plate Winners: The Beacon
U9 Winners: Denmead & Shrewsbury House (shared)
U9 Plate Winners: The Croft
U10 Winners: Warwick Junior
U10 Runners Up: Kings House
U10 Plate Winners: Cranmore
U11 Winners: Q.E.G.S. v Shrewsbury House (shared)
U11 Plate Winners: Lanesborough & Rokeby (shared)
U13 Winners: Aldro
U13 Runners Up: Northcote Lodge
U13 Plate Winners: Beechwood Park
Well done to all the teams that took part – we'll see you back on the pitch for more matches next year!
To find out more about the competition, visit the Lexus National Schools Rugby Tournament website, here.