Spring is a joyous time: the days are longer, temperatures rise, and nature bursts back into life. We commemorate this re-awakening by putting a European spin on Japan's famous sakura season celebrations with the help of the Lexus CT 200h.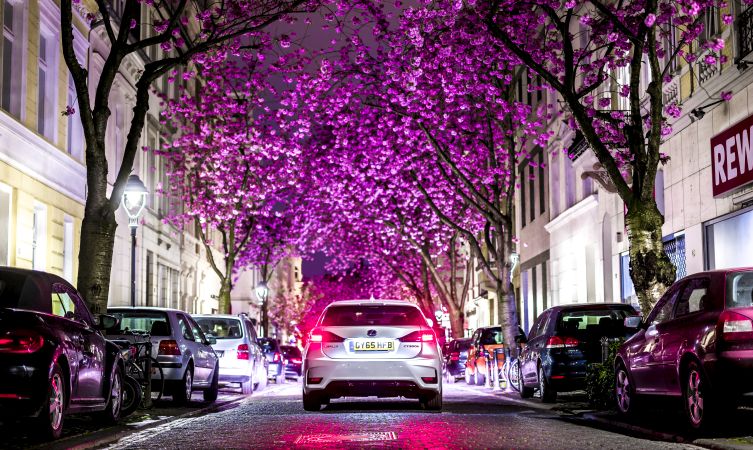 In Japan, the onset of spring is visualised in the numerous species of cherry blossom trees, the spectacular blooms of which are a symbol of life and have become an enduring icon of Japan as a country. Celebrations surrounding what is known as sakura season last from late January to late April as the warm front activates life and colour from the southernmost outpost of the archipelago in Okinawa to the northern island of Hokkaido.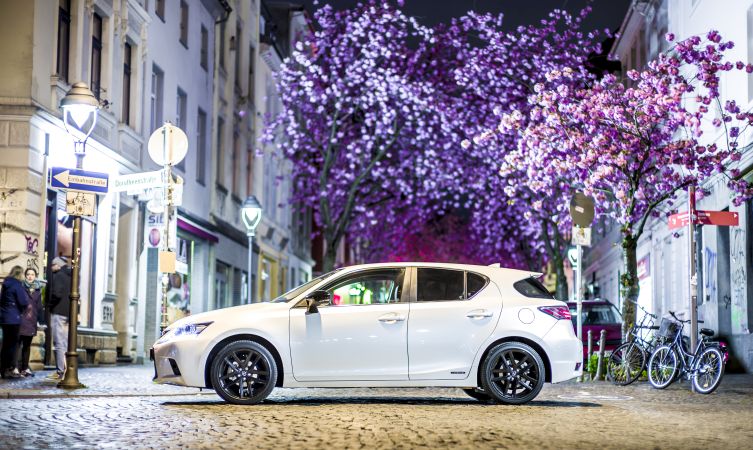 During this time, Japanese people like to create hanami, or cherry blossom viewing, opportunities by picnicking with friends and family underneath the mood-boosting blooms. This tradition will often involve food and drink products infused with the aromatic flavours of cherry blossom as well as fresh, seasonal produce cut into the delicate shape of the petals.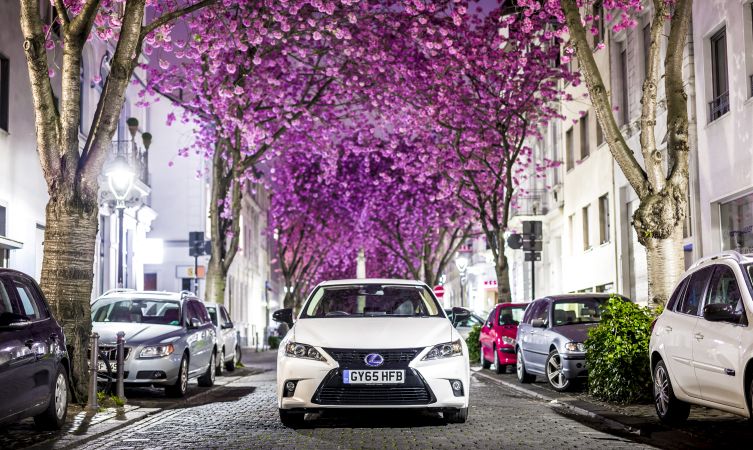 Opportunities to experience cherry blossoms are not limited to those in Japan of course. Many European cities host similar festivals but as most are in parklands and gardens it is not possible to enjoy hanami along with your car. However, a street called Heerstrasse near the centre of Bonn, Germany, is renowned for being lined with dozens of cherry blossom trees all the way along its length. In fact, so admired is Heerstrasse that the city puts on an annual festival in celebration of this spring explosion.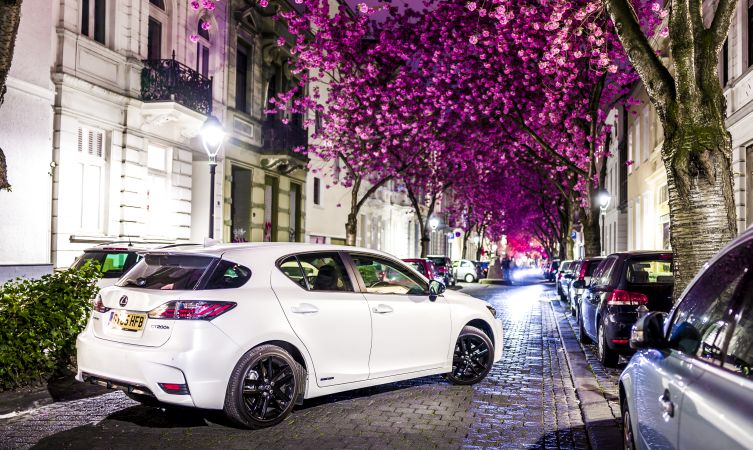 Our choice of transport to Germany was obvious in this instance. For such a celebration of plantlife it had to be the Lexus CT 200h – not only for the environmental performance of its hybrid powertrain but because it was the first car to use a new plant-derived plastic in its interior construction.
Lexus has been using soy- and castor seed-based materials for years but this particular material, called bio-PET, exchanges the petroleum-derived constituent of most PET plastics for a raw source material that is biological and renewable. What's more it can be easily recycled at the end of its life.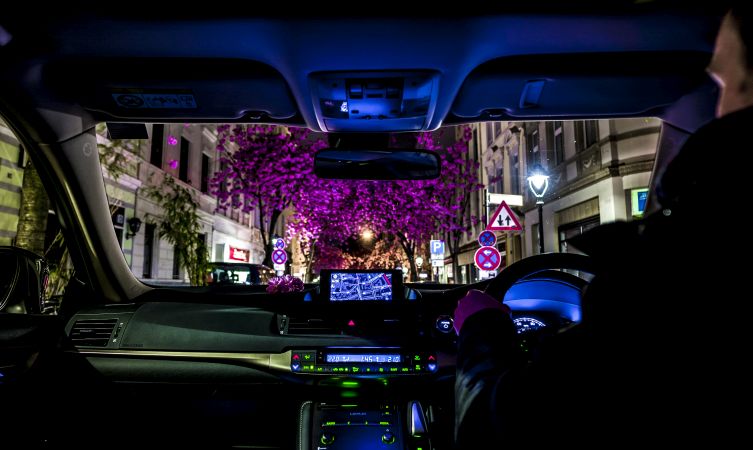 Heerstrasse is one of the many narrow, cobbled side roads that comprise the Bonn-Zentrum district. Thanks to its famous blossoms, this residential street is so popular with tourists and amateur photographers that it is virtually pedestrianised during the day. Adding to the buzzing atmosphere is a selection of art galleries, cafes and bars, many of which spill out across the pavement in order for customers to take in the sights. Vehicle thoroughfare is also discouraged by double-parking, confusing one-way signage and monuments in the middle of the road.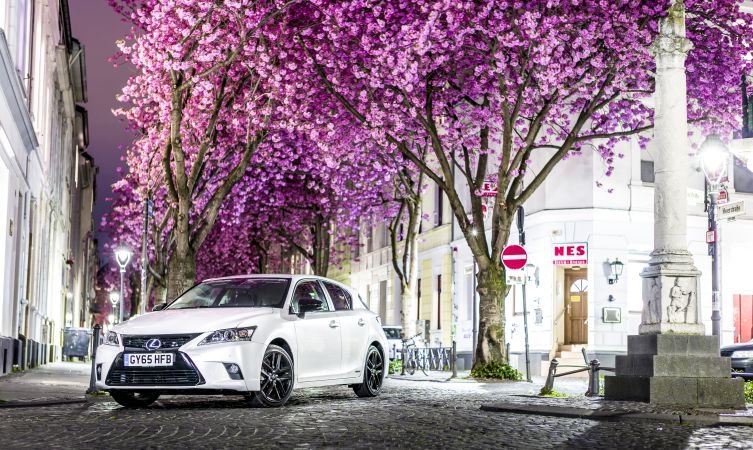 We found that the only way to enjoy some peaceful one-to-one hinami time on Heerstrasse is to return in the middle of the night. Aside from hearing the occasional footsteps of midweek merry-makers stumbling home after a few too many Kölsch beers, the serenity is welcoming. Indeed, the blossoms appear to create an insulating layer that generates an added feeling of cosiness and tranquility. A perfect opportunity to highlight the silent-running qualities of our CT 200h Sport in EV mode.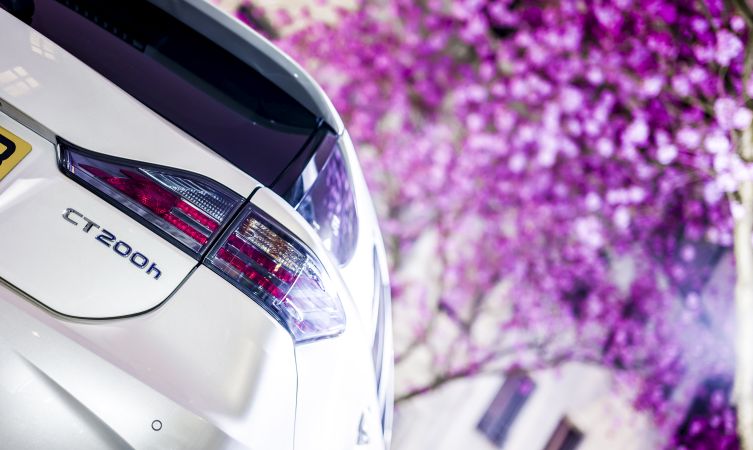 Similarly, noise reduction technology built into modern cameras allows skilled users to capture pin-sharp, low ISO night-time images. So while a photoshoot like this may take the life-giving sun out of the equation, the spectacular display of cherry blossoms takes on a different and somewhat ethereal dimension with gentle lighting from below.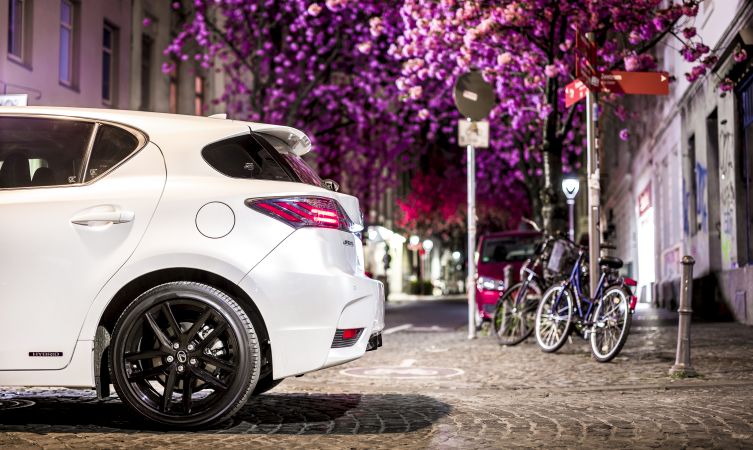 Looking upwards from underneath one of the many cherry blossom trees lining both sides of Heerstrasse, street light picks out the cascading blooms and turns them into spectacular fireworks frozen against the dark blanket of the night sky. But then when you stand in the middle of the road and gaze down its length horizontally, the blossoms blend into one long, frothing cloud of pink that almost obliterates the sky.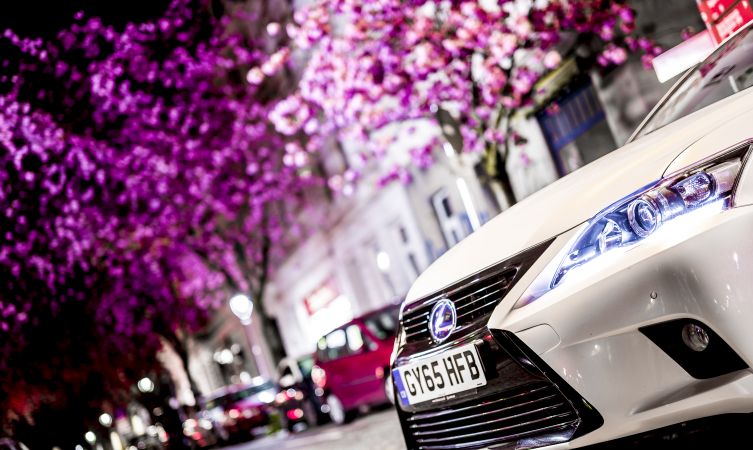 Cherry blossom trees throughout Europe should be at their most spectacular right now, so the opportunity to celebrate sakura season and enjoy some hinami time should be seized as soon as possible. But if all else fails, why not download one of these stunning photos and make it your desktop image. Simply click the following link to be taken to our special Sakura Season album on the official Lexus UK Flickr site.
All information is correct at the time of publishing.