We head into the Cotswold countryside in the Lexus CT to visit two luxurious hideaways that are very different in style. One a relaxing retreat with green credentials and the other a stylish and chic bolt-hole for some famous faces.
See also:
Lexus CT compact luxury tour: Scotland
Lexus CT compact luxury tour: The Midlands
Lexus CT compact luxury tour: The South
Lexus CT compact luxury tour: East Anglia
Lexus CT compact luxury tour: The North West
The Old Swan and Minster Mill
Old Minster, Oxfordshire
It's difficult to think of more typically English setting than the village of Old Minster. It's an idyllic kind of place where strangers bid each other 'good afternoon' and the gurgle of the river and chink of ice in a G&T glass are the only sounds to disturb your post-lunch stroll in the gardens. It's traditional, yes, but in the best sense. Quality is timeless.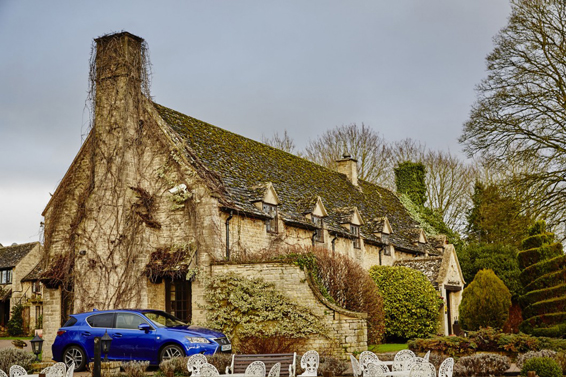 The building
As the name suggests, the property is spread over two different locations by the River Windrush. The old Swan is a heavily-beamed, 600 year old inn, Minster Mill having an additional space that's more contemporary. Both are outstanding and chock full of places to relax and enjoy the surroundings. Whether by a huge open fire or on a deckchair by the river, this is a place that just demands you de-stress.
The rooms
Fourteen of the rooms are in the Old Swan itself and are beamed and beautiful, with antiques, fine linens and four posters.
At Minster Mill, there are a further 44 guest rooms and although smaller in general, they have a luxurious feel and some even have private terraces with fire pits.
Bathrooms are indulgent, beds are un-leavable and the views over the riverside and surrounding country are a dream.
It's traditional, yes, but in the best sense. Quality is timeless.
The food
Let's start with the service. It's perfect. Friendly, unforced, professional and knowledgeable, each meal from the stupendous breakfast buffet to after-dinner brandy is a pleasure.
The menu is extensive but unpretentious, both in the bars, terrace and more formal Lovell Room. Delights such as Oxfordshire beef and Hobgoblin Ale pie, Cotswold rack of lamb with wild garlic or a cocktail of crayfish from the Windrush can feature on menus that change daily.
The activities
Take one of the hotel's Pashley bicycles for a trundle through the Cotswold lanes or walk through the surrounding 65 acres of gardens and wild flower meadows. Take a picnic hamper from the hotel – they'll pack up anything from an afternoon tea to champagne and canapés.
The Archimedes Screw in the grounds is a must see, its water power supplying the energy for the entire Minster Mill side of the property. We're looking forward to the addition of indoor and outdoor pools in 2016 alongside a sauna, steam room and terraces for sun-worshippers to relax.
Verdict
Perfect rooms, wonderful food and exemplary staff make a Cotswolds classic paradise.
Need to know
Old Swan & Minster Mill
Old Minster, Minster Lovell, Oxfordshire, Cotswolds, OX29 0RN
Telephone: 01993 768126
Rooms from £169
The Wheatsheaf Inn
Northleach, Gloucestershire
The Cotswolds may be known for its chocolate-box cottages and sleepy villages, but it also has a growing reputation as a place where the cool cliques like to party.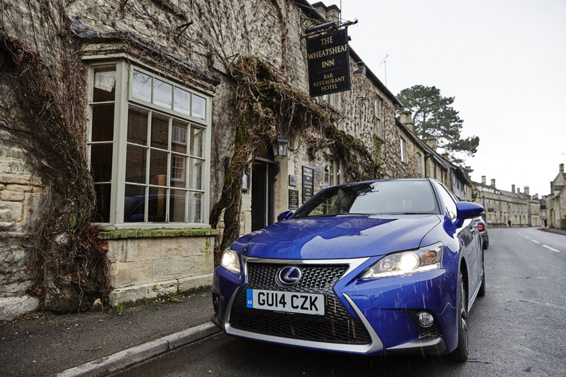 Kate Moss's wedding guests Lily Allen, Charlie Watts and John Lydon stayed here at The Wheatsheaf Inn. Its mix of bed and breakfast deluxe and a perfect boozer has certainly attracted a host of rock and rollers who definitely don't come here for an early night with a good book (though those Hypnos beds with Egyptian cotton sheets are certainly tempting.)
The building
The Wheatsheaf is in Northleach's honey-stoned High Street and is the quintessential Cotswold pub. This is a former coaching inn dating from the 17th century, where rabble-rousing highwaymen and travellers drunk to raucous excess.
The place is somewhat more elegant than it may have been in those days, with a pared-down palette of Farrow and Ball's best and portraits – one being of La Moss herself – eyeing the patrons.
Locals and weekenders mingle in one long bar and dining area, but there are lots of nooks to hide in with a paper and a pint if you're feeling less sociable.
The rooms
Choose from a 'good', 'very good' or 'excellent' bedroom – we'd say depending on how much time you're going to spend there. As rooms have the likes of Bang and Olufsen tvs, freestanding tubs and gorgeous organic toiletries, you won't be disappointed if you spend less.
Some rooms are in the main building, others surrounding the lavender-lined courtyard at the rear of the inn which may be a noise issue or those who like to be in pyjamas by 9.30. This is a place to share the good times, after all.
The food
Dine on gastro-pub classics in the courtyard or take over a leather banquette table in the dining room, bit whatever you do, don't over-order if you want to enjoy pudding. Portions are generous.
If you're celebrating with a bigger party, there's no hire charge to take over one of the Wheatsheaf's private dining rooms. 'Feasting' menus are available for the whole table to dig in to suckling pig, slow cooked lamb or whole poached salmon.
The activities
You are superbly placed to explore the Cotswolds here. Get the wellies on and take a bracing walk or drive through the lush countryside to Cheltenham Races or Blenheim Palace which is only a 10 minutes away.
This spectacular location has events, exhibitions, a food festival and even jousting in the grounds depending on the time of year – there's always something going on. And when you retreat to the Wheatsheaf at the end of a busy day, have a massage or beauty treatment at the cute little treatment shed in the grounds.
Verdict
If you like a little luxury with a whole load of cool, this place takes a bit of beating
Need to know
The Wheatsheaf Inn
West End, Northleach, Gloucestershire, GL54 3EZ
Phone 01451 860 244
Rooms from £120
Lexus CT photography by John Rowley